Review by Angel Woodard
Like so many others out there, I'm frequently looking in the mirror, wishing for a magical elixir for my skincare woes. My skin has multiple personalities and finding a product line that tended to all my skincare needs has always been a challenge. 
I was speaking with a friend over lunch, talking about my skincare challenges and she cued me into the fact that she had been using these products that contained truffle extract (her skin looks fabulous, by the way).
Being envious of her complexion, I set out to learn more about truffle extract for skincare and came across Truffoire, and their line of truffle infused skincare. I decided to go all in and see if the results were as great as they hype. 
Here is what I discovered. 
Wait, What's So Great About Truffle Extract?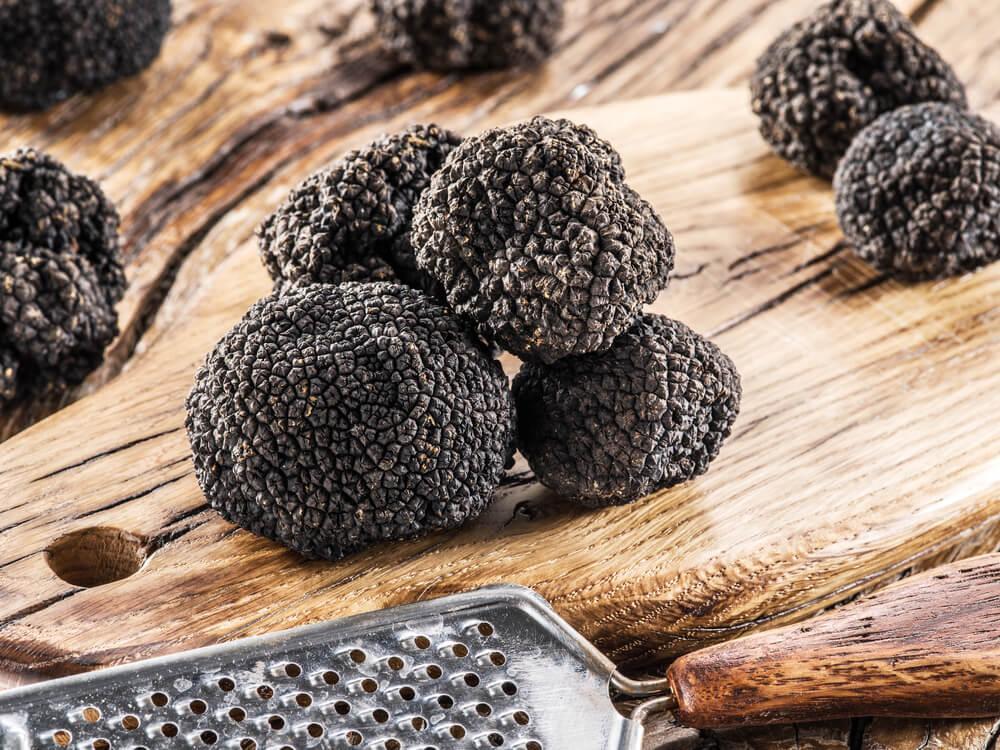 I know exactly what you're thinking – truffles, for your skin? I spend so much time learning about new skincare products and the most effective ingredients (It's a bit of an obsession of mine) and truffle extract was something that was completely new to me as well. 
When I opened my first moisturizing cream from Truffoire, little did I know that I was about to meet the product that would change my skin, and my perception of skincare forever. 
Being one that has always favored natural, more gentle skincare, I've tried so many different lines of products. Some that worked well, and others as you can probably guess, not so much. 
I also think that when it comes to skincare, a healthy dose of skepticism is a good thing. According to one study, more than a third of the global spend on skincare goes to natural, organic products. As consumers, we're concerned about the toxicity of using harsh chemicals on our skin every single day. 
Truffoire uses into the purest, most natural and most effective skincare ingredients to create products that are gentle and free of toxins. To me, this was enough to make me want to try them. 
After spending a great deal of time doing my own research on the Truffoire brand and their various lines, I was excited to see if truffle extract would turn out to be my new favorite skincare ingredient, and it did. Here's why:
Truffle extract stimulates cellular regeneration

Truffle extract produces a bright, fresh, healthy looking complexion

Truffle extract has anti-inflammatory properties that soothe redness and irritation

Truffle extract has antioxidant properties that help destroy free radicals 

Truffle extract instantly soothes the skin while it firms and uplifts  

Truffle extract contains fatty acids that plump up fine lines 

Truffle extract has an

incredible moisturizing effect

Truffle extract leaves your skin firmer, and more plump

Truffle extract has a silky, luxurious feel that leaves your skin feeling wonderful
When we put all these benefits together, what does it all mean? Skincare that contains the purest quality truffle extracts, like that found in Truffoire's White Truffle Collection work almost magically to restore skin to a beautiful, healthy balance – leaving it looking and feeling softer, radiant, and youthful. 
After trying the White Truffle Collection, I can say with certainty that truffles aren't a delicacy that will be reserved for a special dinner any longer. They're the luxurious skincare indulgence that I now treat myself to daily. Here is a bit more about my experience with the Truffoire White Truffle Collection.
Truffoire White Truffle Collection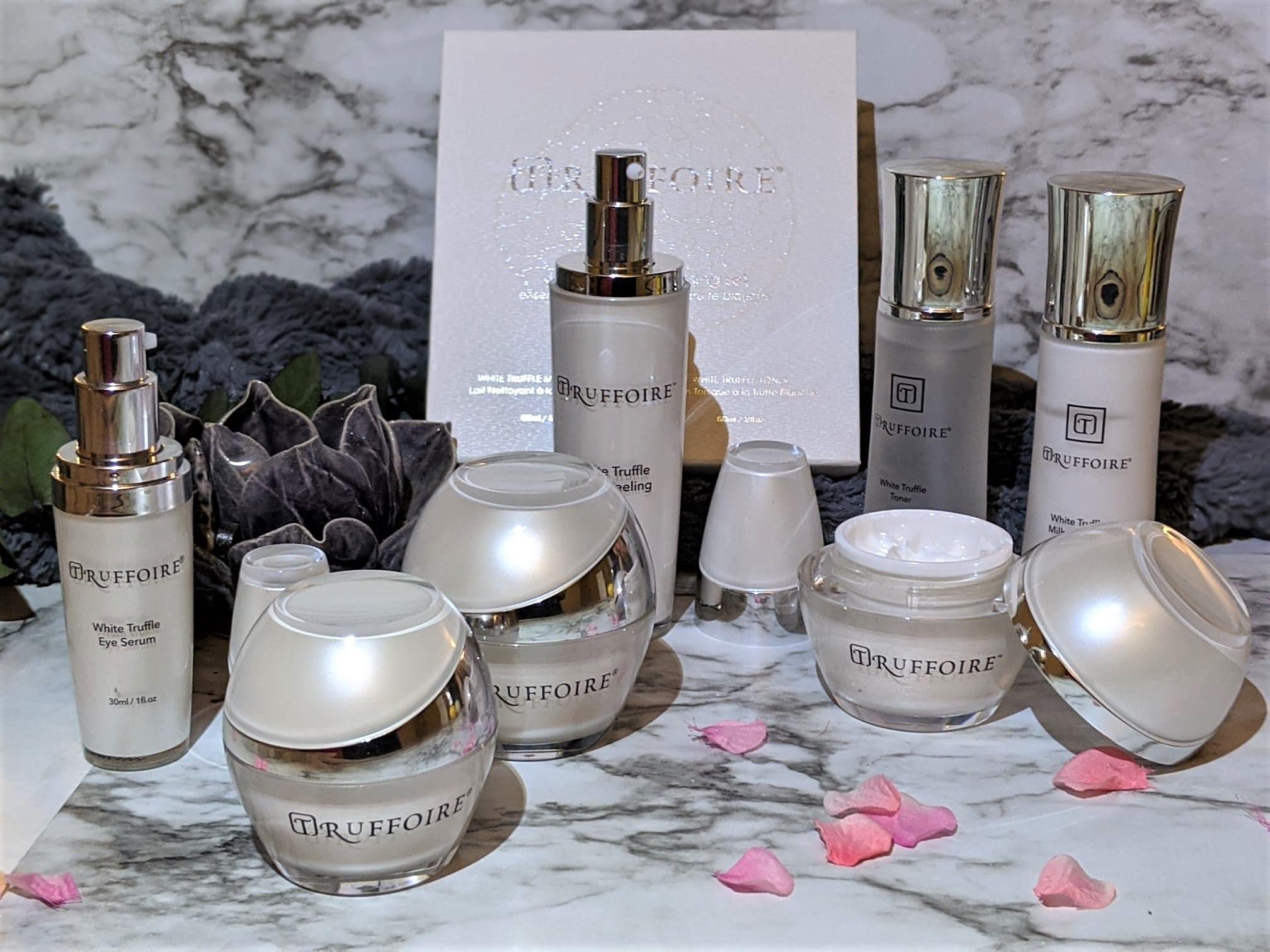 Let me start by saying that I'm not someone that just dips their toes in when trying out a new skincare line. I think that it's unfair, and often inaccurate, to judge and entire line of products on the performance of one singular product. 
I've also had enough experience with skincare to know that often products from the same line are formulated to work together. There's a synergy that occurs, and the combined results almost always far exceed what you might get from using a singular item from a product line alone. 
When I try out a new product, my testing process goes something like this:
I like to use some of the products individually somedays, and then together on others. This gives me a better idea of how the products perform for my skin and whether or not we're compatible. 
Before I start talking too much about the individual products in the White Truffle Collection, let me say that I have very sensitive skin – and it's moody. 
My skin can be dry one day, oily the next, and it always seems to react by becoming inflamed and itchy to any skincare product that is even the slightest bit irritating. One of my very first impressions of the Truffoire line is that my skin felt soothed, almost instantly. 
This was something I experienced across the board with all of their products. 
I don't say this very often because I understand how frustrating it is to care for sensitive skin – and how long it can take to restore balance once it's irritated but Truffoire is a line that I would personally recommend, even for the most sensitive skin types.  
White Truffle Cleansing Kit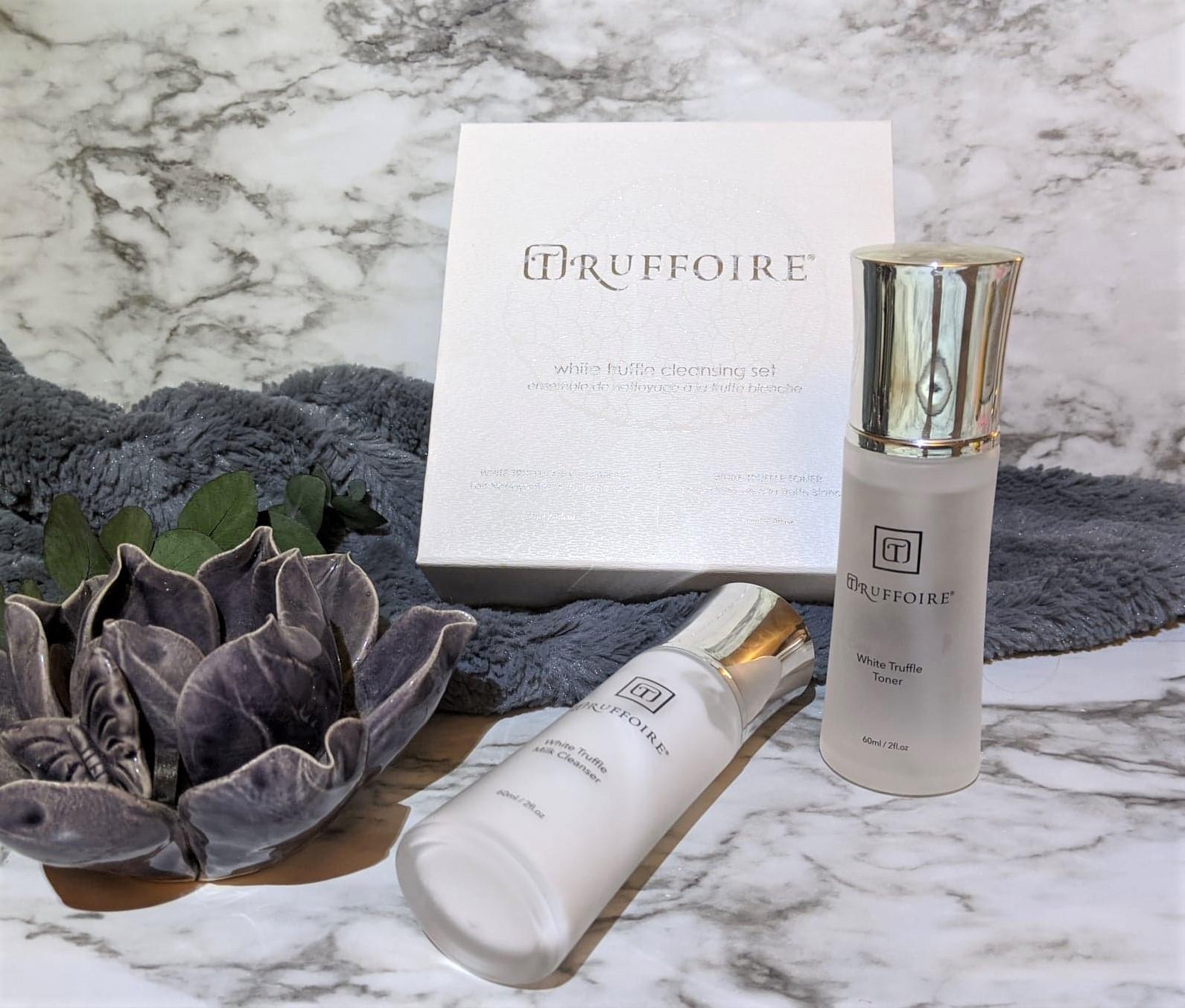 Cleansing and toning are the foundational elements of any good skincare routine. Gentle cleansing and toning is essential for a healthy looking complexion. Truffoire's White Truffle Milk Cleanser far exceed my expectations, and left my skin feeling soft, clean, and without a hint of dryness or residue. 
The White Truffle Milk Cleanser is infused with white truffle extract and feels absolutely luxurious on your skin. What I really love about this cleanser is that you need such a small amount. I'm long past the days of measuring the quality of cleanser by the amount of foam it produces. 
In fact, I've learned the hard way exactly how irritating all those foaming ingredients can be. Truffoire White Milk Truffle Cleanser contains none of these ingredients, and the smallest amount from the delicate pump glides onto my skin like silk. 
The first thing I noticed was how well the cleanser effectively draws out impurities, while remaining gentle and nondrying. It rinsed from my skin easily, with just a few splashes of water and left my skin soft and clean feeling. 
There were no feelings of tight dryness, not even around my chin and forehead, which seem to be my trouble spots for dry skin. This is a major win in my book. 
After gently patting my face dry, I followed up with the second component of the White Truffle Cleansing Kit: 
The White Truffle Toner 
Like the cleanser, the toner is also infused with white truffle and other gentle skincare ingredients. If you're someone who is normally turned off by toner because you don't like walking around feeling like you have a sticky mask on your face all day, I beg you to give this toner a try. 
I used an average cotton pad to apply the toner to my skin, making sure to touch up on my oilier trouble zones, like around my nose. The toner lifted up all remaining impurities without a trace of stickiness. 
The White Truffle Toner left my skin feeling soothed and refreshed. Honestly, if I would have stopped here with the White Truffle Collection, I would have been a fan. However, the creams, serum, and moisturizer have completely won my heart. 
White Truffle Day Moisturizer 
It doesn't matter what your skin type, a gentle, quality moisturizer for the face is a must.
If you're someone who likes to streamline their skincare routine to as few steps as possible, Truffoire's White Truffle Day Moisturizer, along with the White Truffle Cleansing kit offer the perfect combination. 
The White Truffle Moisturizer performed right where the cleanser and toner left off, leaving my skin incredibly soft and hydrated. 
For the most part, my skin is dry but I do have a few oily patches. As someone with classically defined "combination" skin, I have a hard time with moisturizers that are too heavy. My main problem with many of the day moisturizers that I have tried is that they sit heavy on top of the skin. This wasn't the case with the White Truffle Day Moisturizer. 
I love to touch my products and feel them between my fingers before I'm comfortable applying them to my face. When I first opened the White Truffle Day Moisturizer, ne of the first things I noticed was the texture. 
It was creamy and silky but it also seemed to magically absorb into my skin. The results were the same as I applied the moisturizer cream to my face. The lightweight cream absorbed into my skin quickly and didn't leave behind a heavy or sticky residue. My skin felt moisturized and protected.
When you first open the White Truffle Day Moisturizer, there's a nice, lightly floral scent. It doesn't contain smell that is chemical or "loition-y", and it's not in any way overpowering. This is great attribute for those of us who are sensitive to scents. The cream is also formulated with key antiaging and protective skincare ingredients, including:
Vitamin A

Vitamin C

Vitamin E
This is a powerful combination of antiaging, anti-inflammatory vitamins that my skin soaked up and loved, and I'm convinced that it's the best moisturizer for dry skin that I have ever tried. 
After the first use, my skin felt soft, cosmetics went on smoothly, and my complexion looked great throughout the entire day. I was also really impressed with how this lightweight moisturizer kept my oily zone well into the evening. 
White Truffle Night Cream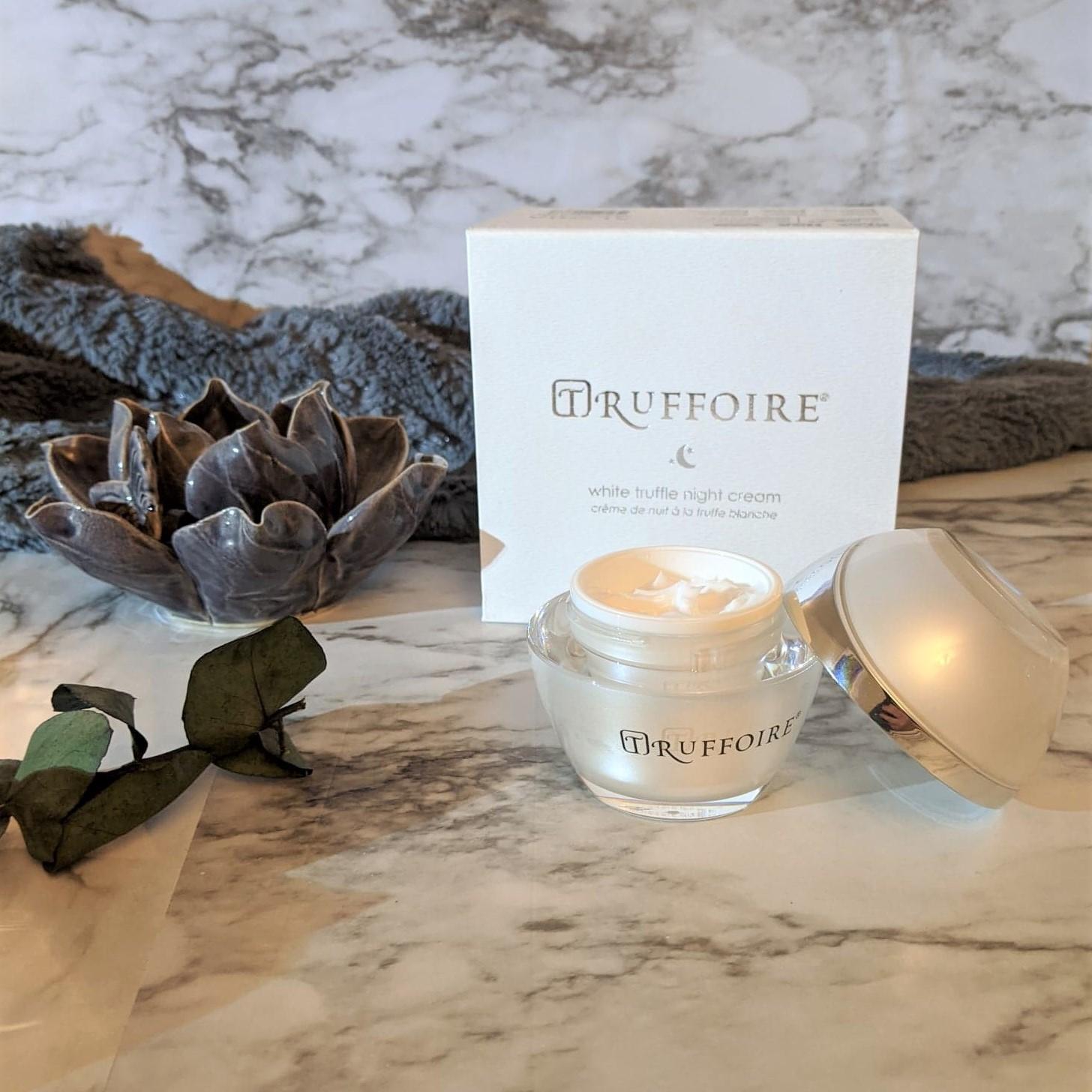 The first thing that comes to my mind when talking about Truffoire's White Truffle Night Cream is, what an indulgence! I've already mentioned that I'm not a fan of heavy creams on face, even when my skin is at its driest. 
The White Truffle Night Cream is leagues above other nighttime treatments in that it's silky and decadent but not a bit heavy.
Much like the day moisturizing cream, the White Truffle Night Cream has a soft floral scent, which I found to be relaxing as I went through my evening routine. I cleansed and toned using the White Truffle Cleansing Kit and then applied this luxurious nighttime moisturizer for my face. 
When I woke, my skin was soft and after a few uses I began to notice that my skin looked more youthful in the morning – signaling that this cream was performing wonders while I was asleep. 
White Truffle Eye Cream
Like many others out there, my eye area is one of my trouble spots. Can I see a show of hands to let me know I'm not alone?
Every morning, I wake up to an undereye area that's puffy, a little discolored and beginning to give away the secret of how many decades of life I have under my belt. 
Fine lines and wrinkles are a natural part of the aging process and can be caused by a decrease in collagen production, UV exposure, and something as simple as the repeated smiles and other facial expressions you make throughout the day. 
In other words, simply living life. 
The eye area is one of the first places we begin to notice the signs of aging, and it's also one of the most sensitive. Allergies, a night of poor sleep, and even stress often show themselves first in the eye area. 
Friends let me tell you that Truffoire's White Truffle Eye Cream is like a soothing, magical eraser for the tender undereye area. 
After dabbing the lightweight cream around my eyes, it absorbed almost instantly. In it's place it left the tender area of skin feeling soft, with the finest lines plumping up and barely being visible. 
What I really loved was how much this eye cream brightened my appearance. I usually wake up nice and early to give my undereye puffiness time to calm down before I apply cosmetics. The White Truffle Eye Cream reduced my puffiness a noticeable amount almost instantly (which means I have extra time to sleep in each morning now!).
After using the White Truffle Eye Cream for a couple of weeks, the results seem to be sustaining themselves. My undereye area looks much fresher, even on days when life gets so hectic I forget to use it. 
White Truffle Eye Serum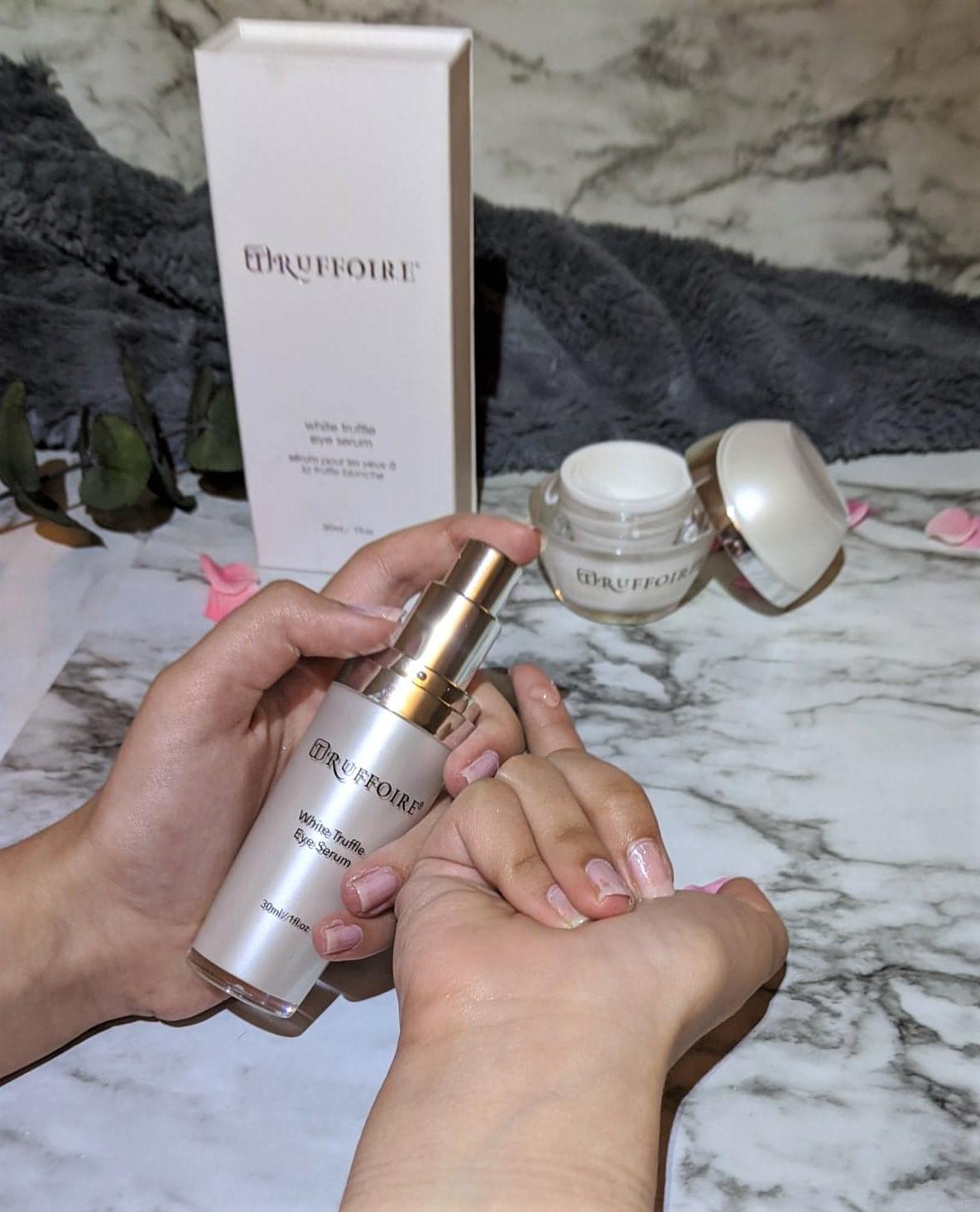 I LOVE serums. They're such a refreshing alternative to creams and feel wonderful on the skin. Due to my intense love of them, I'm also extremely picky. 
Let me just say that the White Truffle Eye Serum not only passes my test, it has become my new best friend. 
A drop of this serum on your fingertip is like pure heaven for your eyes. I actually apply this before I use the White Truffle Eye Cream. It prepares the area to accept the hydration of the cream and also amplifies the results.
But, even on its own, the White Truffle Eye Serum is one of my favorites. Here's why:
The tiniest drop is enough for my entire eye area

The serum is light and non-greasy

Fine lines seemed to completely vanish

Deeper laugh lines were plumped up

Dark circles disappeared

My eye area looked tightened and restored
I seriously think this serum took 5 years off my appearance just by its ability to freshen and firm my sensitive eye area. 
As someone whose undereye area is often puffy and dry due to allergies, I seriously can't rave about this serum enough. 
White Truffle Facial Peeling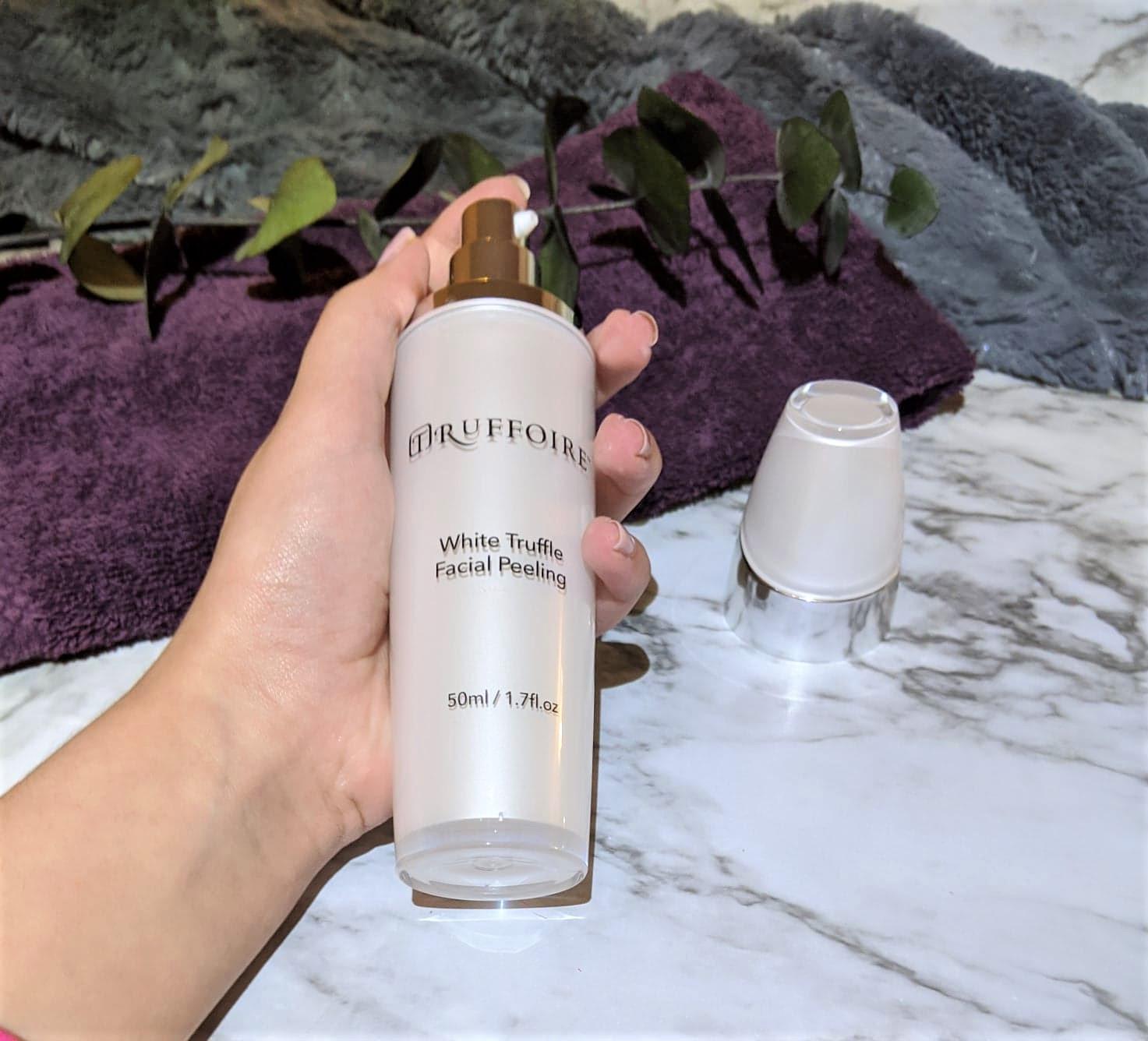 I can be a bit impatient, and I love seeing immediate results. The White Truffle Facial Peeling treatment really appeals to this part of me. 
Friends, I could literally see the old, dead skin that was dulling my complexion being lifted away from my face. This is the most transformative peeling product I have ever used. 
First, it's not a harsh exfoliant. The gel like peeling treatment slips easily over your skin. I applied a layer to dry skin and rubbed gently in an upward motion, as the instructions suggested. Without needing to rub hard, I began to notice that the gel was picking up the top layer of shedding skin and gently lifting it from my face. 
It is important to rinse your face thoroughly after using the White Truffle Facial Peeling, and after patting my face dry, my skin had an incredible vibrant, youthful glow. 
Not only was the dullness gone from my skin, my complexion just looked fresher.
Each day our skin comes into contact with all sorts of products, dirt, sweat, bacteria, and chemicals from the environment. Using the White Truffle Facial Peeling treatment twice a week removes the layers of dead skin that trap these unpleasantries. 
A Special Indulgence 
So, for the most part I stuck with the White Truffle Line from Truffoire. The company also offers a couple other luxurious lines that I'd love try at some point in the future. For now, I'm perfectly content with the White Truffle Collection and will continue to use it to beautify my skin. 
That said, I did splurge on a little something from the Black Truffle Collection:
The Black Truffle Illuminating Facial and Eye Mask 
When I opened this box, I was instantly excited to try this treatment out. I patiently waited though, until I knew I'd have some delicious, quiet solitude to completely soak up this experience. 
It might sound a little cliché, but as soon as I put this mask on and laid back to rest while it did its work, I instantly felt like my bedroom was transformed into a spa. 
First, this mask feels wonderfully cooling against the skin. As it works you can feel it being absorbed but it isn't until you peel the mask away that you witness the true results. 
Honestly, when I peeled this mask away, my first impression was that I looked like I had a mini face lift. My skin looked firm but not tight. My complexion was brightened, and my eye area looked better than it had in years. 
Want to know the best part?
My skin felt softer, more supple and looked more radiant than it has in probably a decade. You're talking to a devoted lifetime fan of this facial treatment. 
The Verdict
I have a confession. I've become more than a little smitten with Truffoire's product line. These products that use luxurious, natural truffle extract have transformed my skin so completely that I've gained the confidence to leave the house without makeup. 
Speaking as someone who has suffered from rosacea and slew of other skincare issues of the years, this is an incredible statement of the quality of Truffoire's products. 
Truffoire offers a several lines of top quality, luxurious skincare that features ingredients straight from the hands of Mother Nature. If beautiful, radiant, and youthful skin is your goal, Truffoire is the perfect partner in skincare.