The Best Eyebrow Shape for Your Face
|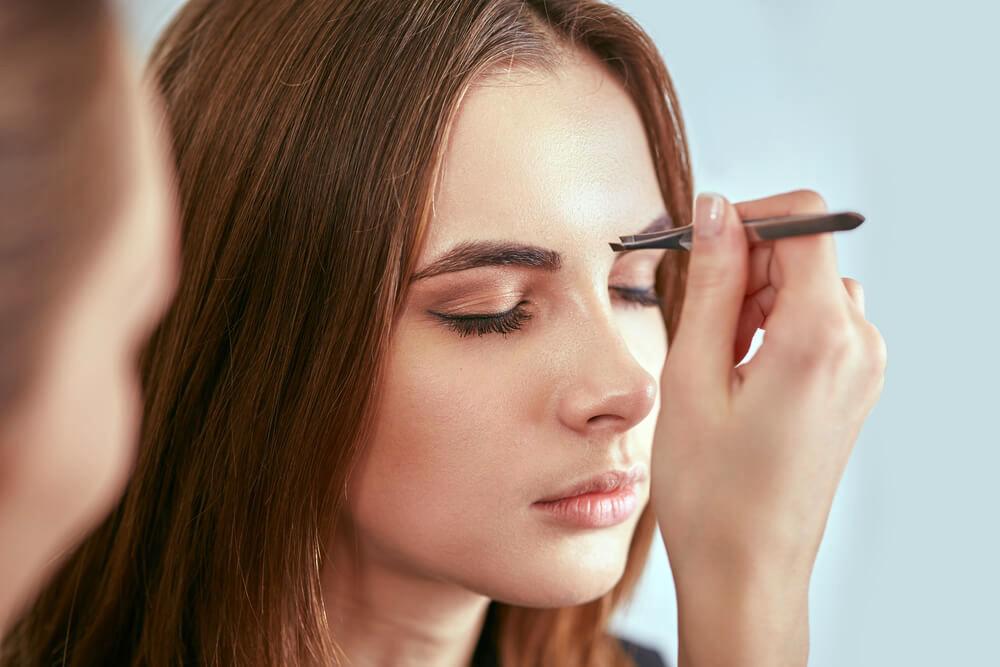 Eyebrows are an important facial feature. Apart from defining your eyes and framing your face, perfectly done brows can give you an instant glam. Natural eyebrows come in different shapes, thicknesses and lengths. You should factor this when you want to shape yours. 
Of utmost important is the shape of your face. While there is no set standard for perfect eyebrows, considering your face shape might just be what you need to flatter your face and probably give yourself a pass to get away with little makeup. Here is more information on the best eyebrow shape for your face and a little more on identifying your face shape.
Oval Face Shape
This shape presents a face that is longer than it is wide. The cheekbones slightly protrude to give the sides of the face a curved appearance. The shape is completed by a rounded chin and forehead and with no sharp angles. This is usually considered the ideal shape for highlighting your eyebrows.
An oval face shape fairs well with a soft angled eyebrow. The eyebrow should go straight up before curving gently downwards. The curve is slightly rounded and tapered towards the outer edge. Ensure that the arch is minimal so as to bring balance to the oval shape which can sometimes come out as a long-shaped face.
The thickness of the brow is determined by the size of your eyes, lips or forehead. If your features err on the large size, then go for a thick brow. This will help to balance out your face without drawing too much attention to your brows. Similarly, if the dimensions of your face are on the slimmer side, then go for a thin brow. 
To give you an idea of this face think of Kate Middleton, the Duchess of Cambridge or the actresses Julianne Moore and Jessica Alba. It's the shape that most women go for with contouring haircuts and brow designs. The trick to pulling off the perfect brow for round faces however lies in letting your facial features guide you.
Round Face Shape
A face is considered round if it's almost as wide as its long. The face has an appearance of less bony and more padded skin. Although the cheekbones are less visible, this is where the face widest. At a fast glance the lack of definition in a round face can be said to be similar to that of a baby.
With this shape, your eyebrow design should be aimed at giving your face a slimming effect. The design should also give the illusion of an oval or a long face shape. To achieve this, go with a high arched brow. Create the high arch by applying lines that go up and down. 
The lines should start at the base of the brow and follow a straight line before they slope off forming a sharp arch. The straightness of the brow will draw attention away from the round shape while the high arch adds dimension and a little length to the face. Avoid rounded brows that only add to the 'roundness' of your face and are less flattering.
You can borrow a leaf from Jennifer Hudson, Olivia Munn, Selena Gomez and Ginnifer Goodwin all who have curvy faces.
Long Face Shape
If your facial features are even in dimensions, then you are likely long faced: The forehead, jawlines and cheekbones are almost equal in width with the face tapering to an oval chin. The shape can easily be confused with an oval one. The difference being that long faces are usually more elongated and less narrow on the cheekbones.
This shape calls for eyebrows that will make the face look shorter. For this you need a flat brow shape. The design is accomplished by applying horizontal lines. This has the illusion of preventing your eyes from moving up and down, giving you a less vertical stretch. 
The brow's tails should be extended eastwards and westwards, and slightly beyond the eye corners. You should however be mindful of the extensions to avoid a dragging effect that results in droopy-looking eyes. A long face shape can also do with soft low or high arch, as long as the horizontal element is more pronounced.
To get a visual of how a flat brow shape flatters your looks, observe close up photos of celebs like Sarah Jessica Parker, Milla Jovovich, Lisa Kudrow and Liv Tyler. While they may ascribe to different beauty styles, their eyebrows are usually done in a way that draws attention from their long faces.
Square Face Shape
Square faced people have a forehead, cheekbones and jawline that are about the same width. It is like a rounded shape but with strong angles. The most prominent feature of this shape is the square jawline.
The shape can work two ways; a strong and angled brow that balances the prominent jawline or a curved one that softens the sharp angles. The angled brow can have low, medium or high arches. The higher the arch, the slimmer your face appears. A good example is Jessica Simpson. For others like Angelina Jolie, a soft arch does the magic.
If you would rather lean on the curved option, try the S shaped brow or a low, soft arch that comes down neatly. Keep off rounded or flat brows; they do nothing to enhance a long look. 
Also, with a square shaped face, the idea is to draw attention from your jawline. Eyebrows that are barely there will do nothing to help. In fact, you can thicken the brows a bit and make them more pronounced by making them a shade or two darker. Keira Knightley has definitely mastered the art.
Heart Face Shape
The heart shaped face is similar to oval but with a chin that tapers to a point. Your forehead is wider than the chin while the cheekbones and jawline are defined. This shape already draws attention to your eyes and forehead.
The right eyebrow should soften your angles and make the wider part of your face seem less wide. This will also make the chin appear less sharp. Flat and straight brows will only exaggerate your forehead so you should avoid them.
Instead, go for softly curved or rounded brows. They help to even out your facial features while creating a heart look that blends with the face. When the brows are shorter and closer together, they draw attention to the middle of the face, creating the illusion of a narrower face. 
While you are at it, avoid very thin brows; they don't flatter your face at all. You can try thick brows but also keep them less bushy and well groomed. While sharp arches are a bad idea for this face, you can opt for a controlled arch which lies somewhere between curved and arched. 
If you are a heart shaped faced beauty, you are in the company of celebrities like Scarlett Johansson, Reese Witherspoon, Halle Berry, and Zooey Deschanel among other celebrities.
Diamond Face Shape
This is one of the uncommon face shapes. The face is angular with a short forehead and the widest part being the temples. Generally, the face is wider and fuller. It also comes with a slightly pointed chin.
While there isn't so much you can do about the extra width, the right eyebrow shape can make your face appear less broad. This shape doesn't work well with high arches as they are bound to exaggerate the width of your face. 
The best eyebrow shape is a soft curve. It is meant to soften your look and create the illusion of a narrower face. To draw even more attention to your brows, go thicker and fuller. If you choose to go this direction though, ensure that the brow is shorter and only do medium thickness for longer brows. Why? Longer and fuller eyebrows may give you a bushy and plump look.
Some celebrities with diamond face shapes to check out include Tyra banks, Megan Fox, and Queen Elizabeth
Identifying the Shape of your Face
Sometimes, the difference between great eyebrows and lousy ones is ignorance about the different face shapes and what works best for each. Don't trust your mirror and don't go experimenting with your eyebrows. At least, start by learning a thing or two about your face below.
Here is how to go about this:
Step 1: To get the length of your face, use a ruler to measure from the top of your forehead (at the hairline) to your chin. Ensure that you take the middle measurement that runs cross the tip of the nose. 
Step 2: To get the width of your face, measure your forehead horizontally at the widest point followed by measuring your jawline at its widest (at about an inch down from the ears). The larger of the two measurements is your face's width. 
Step 3: Measure the width of your cheekbones.
The verdict: 
Square face: The length and the width are equal with the jawline being angular.
Long face: The length is longer than the width.
Oval face: The length is at least an inch longer than the width with a curved jawline and your cheekbones are the widest feature of your face. In addition the forehead is tall and less wide than the cheekbones.

 

Round Face: The length and width are equal with soft circular features. This includes a rounded jawline and cheeks.
Heart Shape: The length can be equal or longer than the width. The defining factor here is the other features; forehead is wider than the jaw line, a rounded hairline, a narrow jawline and a pointy chin. Bonus feature: A V-shaped hairline at the center of the forehead.
Diamond shape: The length is shorter than the width. Additionally, the cheekbones are wider than the forehead and the jawline has a narrow chin with a strong point
 

Tips for Perfect Eyebrows

Knowing the shape of your face and the right brow shape is not enough if you are not going to do it right. The following tips should help you either do it right or ensure that it is done right.
The eyebrow should start at the bridge of your nose. If you are not sure exactly where it should start, hold a pencil vertically at the side of your nose bone.
To avoid the not-so-cool rainbow shape, the arch should be about two thirds of the way out
Ensure you don't cut your brows too short; think of an imaginary straight line that runs from the corner of your nose, through that of your eye to where your brows should end. If you make them longer though, they shouldn't go beyond where the head starts
Keep your brows well controlled and groomed; neither too thin nor too bushy
If you have wide-set eyes, keep them soft and fill them in to make sure they start further in. This draws everything in and 'bridges the gap'
For close-set eyes, your brows still need to extend the entire length of your brow bone. If need be, use an eye pencil to extend them and avoid a thin sharp 'arrow' shape
So What's the Takeaway?
There is more to eyebrow shapes than what looks great on your favorite celebrity. While your preferences, the thickness and shape of your eyebrows definitely matter, your face shape is an even greater determinant. Different face shapes look great with different eyebrow shapes and yours in no exception. 
Identifying the shape of your face and the eyebrow shape that goes with it is the first step to getting the perfect eyebrow shape. Once you have this at your fingertips, you have the option of doing it yourself or letting a professional do it. 
If decide to go with a DIY, you might as well get it right because you might have to grow out any mistakes you make!