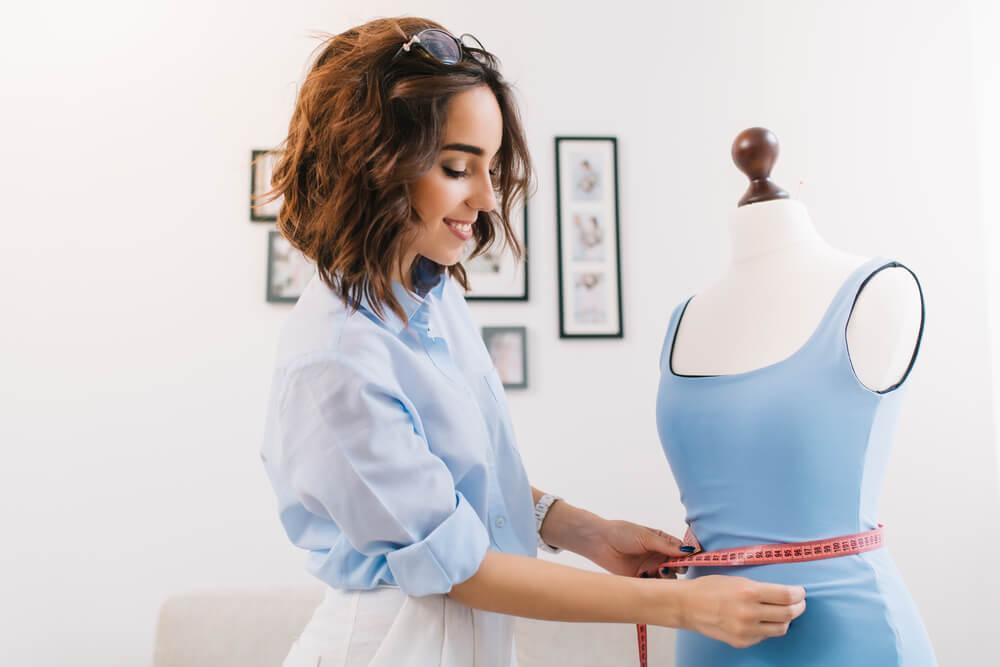 The Future of Fashion: 7 Teen Designers Making a Name for Themselves
|
They say children are the future…
Well, never has it been more apparent than in 2019.
All around the globe, teens are going on a strike for our climate, realizing the dire circumstances we find ourselves in. They're changing the power structure, making their own rules.
If that doesn't show the power behind today's teenagers, then we don't know what does.
When it comes to the fashion industry, teenagers are creating new pathways and trying to find their expression. They are trying to make the industry their own, to bring their own view into the mix.
Here are 7 teen designers that you should be on the lookout for!
1)
Melissa "Missy" Jade Aiello
When she was just nine years old, encouraged by a teacher, Melissa started sketching models and famous people. She decided to put her sketches on a T-shirt, which led to her T-shirt line – Tees By Missy X.
The original T-shirt had the image of Karl Lagerfeld (what a way to start!), followed by Anna Wintour, John Galliano, Drake and Bob Marley and other famous figures.
Runway models and hip hop stars have been wearing her T-shirts (most notably, Wiz Khalifa) and Melissa even appeared in several fashion magazines.
And, this year, we have good news for everyone who missed Missy (since she took some time off to graduate from high school – good for you, girl!), she is re-launching her T-shirt line.
So, get in line for her line, ASAP.
2)
Moziah Bridges
Now the president and creative director of Mo's Bows (how cute is that name, seriously?), Moziah Bridges started making his own bow ties when he was just 9 with the help of his grandma.
He sold his products in markets, where a few magazines took notice and featured him. Then he went on to appear on "The Steve Harvey Show" and "Shark Tank," which is when his company really took off.
In 2017, he even signed a licensing contract with the NBA, how cool is that?
His plans now include graduating from high school and studying fashion design to improve his brand.
As he says himself, his goal is to become a fashion mogul, and we have no doubt that he'll manage to achieve his dream.
3)
Evan Sharma
https://www.instagram.com/p/B3XsrOCgGL9/?utm_source=ig_web_copy_link
Our next pick comes from the frozen lands of the north.
No, we're not talking about Scandinavia or Russia.
We're talking about the land of hockey, the land of maple syrup and Justin Bieber.
That's right – we're moving to Canada for this young up-and-coming designer.
Young Evan Sharma is mostly known as a prodigy in the art world. After selling paintings for more than 20,000 dollars, Sharma has decided to enter the fashion industry with the streetwear label RBLB he launched for this spring.
As he says himself, he wants to be "an intersection between the luxury and the streetwear sectors." He is influenced by modern culture from the streets of major urban areas and the rugged Canadian geography.
The word of his art started going around when one of his early works started creating quite the wave on social networks. He even went on to participate in the Fashion Future Stars at the Parsons School of Design, for which the university had to waive its age limit of 19 for entrance.
Now, Evan is determined to transfer his enthusiasm for art into the fashion pieces he creates. He takes "inspiration from fashion into art and vice versa, from art into fashion."
4)
Ria Maria
https://www.instagram.com/p/B2bsjf5nFvE/?utm_source=ig_web_copy_link
For the next teen fashion designer, we are going aaaalllll the way to the hot sandy dunes of Dubai.
Born and raised in Dubai, Ria Roy is a 16-year-old girl who has recently launched her own clothing line – Ria Maria.
As a new brand, Ria is trying to challenge tradition in fashion of the UAE.
As she herself says, comfort and functionality are the bases of her collection. Also, due to the area in which she lives, her main fabrics are light and can be easily layered.
The basis of her brand is finding beauty in the urban chic aesthetic.
Her plans include spreading her empire – she wants to open more stores in the region, as well as internationally and to make Ria Maria more accessible to people who are not from the UAE.
5)
Josh Birch Jones
As one of the youngest people (if not actually the youngest person) to ever exhibit at the famous London Fashion Week, Josh Birch Jones has a pretty high goal – he wants to become the top fashion designer of the 21st century.
As he says himself, he wants to become "as big as Alexander McQueen and Chanel."
The fact that he has already showcased his collections at London Fashion week, tells us that he's on the right track.
His love for fashion comes from an unlikely place – quite literally, his mom's wardrobe. He was always interested in textures and fabrics, which is how he started sketching them, giving them his own, unusual twist.
He also intends to show his collections in Paris, Milan, New York and Dubai.
Josh already has the making of the best of the best, so you should definitely watch out for his next move!
6)
Essynce Moore
https://www.instagram.com/p/B3Isc9SFpLk/?utm_source=ig_web_copy_link
You'd do well to remember this name.
Not only is 17-year-old Essynce Moore a rocking fashion designer on the rise, she already has several published books under her belt! She is also a motivational speaker and an actress!
What a power move.
She loves to inspire and empower people whenever she gets the chance.
She started designing clothes at just six years old, turning her passion into quite the business chance six years ago, when she launched her official line – Essynce Couture, L.L.C.
Essynce has even shown her designs at New York Fashion Week.
And what started her drive for clothes? Well, apparently – the fact that there was something missing! As she says, she always wanted to change them a little, which is why she started drawing her designs in her sketchbook.
After her mother noticed, they decided to make a few of her sketches, which gained traction online and – voila! A line was born.
She even launched the Essynce Couture Spa and Boutique, which caters exclusively to children and teens. This is meant to give them their own place to be pampered.
7)
Dalton Bidula
The 18-year-old Dalton Bidula developed his own style early on.  Being interested in trends, but wanting to expand on what's on offer, Bidula started working on his own expression.
Why?
Well, because, why not?
"If someone else can do it, why can't I?" he asks.
That is how Shape Streetwear came to be. In 2017, he launched his line with the collection called Incognito Black, which only had two pieces! But, of course, as with most good things in life, his line has grown exponentially.
When it comes to the style, it's casual, meant to be worn every day. The focus of his line is on simple geometric shapes.
Pretty neat, huh?
According to Bidula, his idea is to show that "every great projects starts with actually starting it and improving it over time."
Coming from someone who started with just a two-piece collection, going on to showcase his collection at the Denver Fashion Week, that speaks of something, right?
Not Teens Yet, But Already Making a Name for Themselves
While the teens we've mentioned deserve to be on this list for their innovative and genuine style, there are some other kids who should not be forgotten simply because they're not in the "teen" stage yet.
Like their fellow young designers, they also show a zest for fashion and a striking work ethic that is unparalleled, even among much older designers.
Here are some not-yet-teens (tweens, if you will) that are sure to rock the fashion industry in the years to come (even more than they're rocking it now).
Kheris Rogers
https://www.instagram.com/p/B3FbhFNHnTV/?utm_source=ig_web_copy_link
Even though not technically a teenager (but soon to be), 12-year-old Kheris Rogers deserves a mention in the future of fashion department.
She is the youngest person to ever show during Fashion Week!
Also, she started her clothing line Flexin' in My Complexion for quite a personal reason – she wants to empower people of color to feel confident.
Her clothes were worn by Alicia Key and Lupita Nyong'o, among other famous people. She says this is particularly important to her, as Keys and Nyong'o inspire young girls, which is also what she wants to do. Inspiration is at the core of her actions, if you will.
Lebron James also selected her to be a part of the campaign for his collection with Nike.
Her goal is to have her own clothing stores, for which she definitely has our wholehearted support!
Haileigh Vasquez
You might know her as the young child fashionista, one of the princesses of Instagram, but recently she has started looking into expanding her kingdom.
Her trendsetting days began when she was just three years old, bringing her thousands and thousands of devoted fans.
She has expressed her wish early on to become a fashion designer when she grows up. She has already walked the runway on New York Fashion Week, and now's the time to take a look at the other side of the coin.
In 2017, she landed a deal with Target to design a clothing line, which would include children's apparel and accessories called "Art Class." According to her, the line is meant to encourage kids to express themselves through their outfits, just like they would do in actual art classes.
So, remember her, because she is definitely going to go places.
Jayden Allyn Washer
Another incredible story of an 11-year-old going to New York Fashion Week.
Jayden Allyn Washer is a sixth-grader from Houston, TX, who only started designing this year!
This really shows how children can achieve so much when they only set their mind to it.
His first show was in March, when he showcased his pieces, intended for kids, at the Contemporary Arts Museum Houston.
When it comes to his collection for the New York Fashion Week, he says that he had Houston born and bred Beyoncé and Lizzo as his inspirations. Apparently, he wanted to create a fashion line which would help women feel loved and beautiful.
And if that is not beautiful in and of itself, then we don't know what is…
Well, except maybe his clothes.
His intention is to participate in more local fashion shows and to help grow Houston's fashion industry. He also wants to expand his online store in the future.
Enhle Gebashe
At just 10 years old, Enhle Gebashe from Johannesburg founded Enhle Babes Couture, a brand dedicated to making kids' fashion dreams come true.
Enhle specializes in glamorous African prints, creating custom-made clothes for her target market.
According to her, she wants to design "African prints, dresses, and anything in between that a princess can wear."
And her clothes do look like they could be worn by great princesses.   
She has already been featured in magazines and on TV programs, which might prove to be the boost that her brand needs.
Raina Haus
https://www.instagram.com/p/BylhO0GAtIA/
Already an experienced seamstress at age 11 (seriously, what are they feeding these kids, when they're this talented?), Raina Haus launched her first collection at Saskatchewan Fashion Week last year.
Now, at age 12, her eye for style and her skill will take her to the next level of the fashion scene.
She got an invitation to the Saskatchewan Fashion Week when she was just eight years old, when she decided to create a special dress for herself. There, she caught the eye of local designer, Dean Renwick, who offered her an internship and a chance to help her skill grow.
She has her sights set high.
Raina wants to go to fashion school, in order to become a fashion designer who showcases her clothes in New York, Paris, Milan or LA.