Thinking of ways to treat your mom on mother's day could sometimes be a bit tricky. However, if we really want to give her one of the best days ever, we will not give up in looking for ways to make this day special for her. Here are 12 ideas as to how to treat your mom to a mother's day that she will never forget:
Take Her Out for Lunch and A Movie
This is probably one of the most common ways to celebrate mother's day. Treat her for lunch in a restaurant which offers her favorite cuisine. There are a lot of restaurants that offer special mother's day deals on their menu.
You can try out these promos as a cheaper but viable alternative. You can also try out lunch buffets. Here, your mom gets to enjoy a variety of cuisines and you do not have to pick among their menu offerings.
After lunch, you can check out if there is a good movie that is showing. Maybe you can watch that with your mom and the whole family as well so you can have a family day out. Take the time to bond with each other because moments like these are often rare especially when kids are all grown up.
Surprise Her with Breakfast
You can make mother's day a whole lot special if you, together with your siblings, will all join forces to make breakfast for your mom. The day before the actual mother's day, coordinate with everyone to wake up earlier than mom. This is the first step; otherwise, she would end up cooking breakfast for everyone. Also, it is better to decide on the breakfast menu beforehand to skip any quarreling during the morning.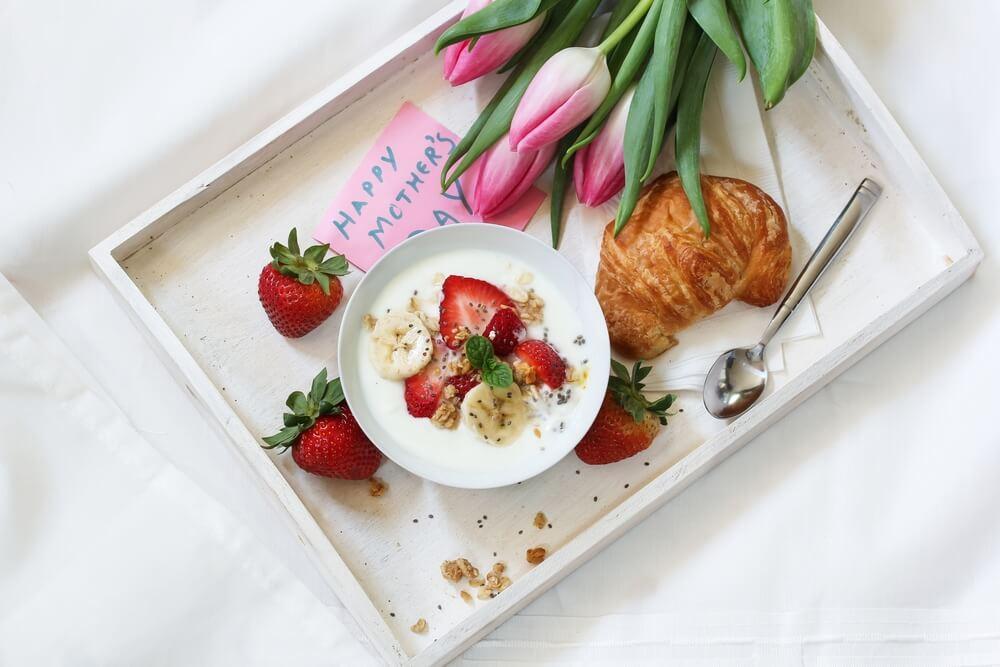 Once you are all done with the cooking, prepare the food nicely in the breakfast tray and decorate as you wish. Quietly sneak into your mom's bedroom and surprise her with that breakfast. It is up to you if you wish to wake her up or not (this really depends on the mood per mom).
Finally, we all know that moms are the best in making breakfast, but there is no harm in trying. Our moms will always love us for the effort even if we overcook the eggs or toast the bread way too much.
Give Her a Day Off
Moms are the number 1 in-charge in the house. They take care of everything for us from preparing food, cleaning the house, doing the dishes, washing our clothes, up to sorting out our socks. They just know everything about the house.
We sometimes take this for granted but in reality, like any other job out there, housekeeping is also a tiresome 24/7 job. Worse is that they never get to have an actual day off!
Perhaps one of the best treats you could ever give to your mom is a day off. During mother's day, let her wake up late, watch TV, eat, and rest; while all the kids, and probably even the dad, take charge of the household chores for once in a year.
She would really appreciate not having to sweep the floor, prepare meals, and look after everyone's welfare just for one day. You can even let her just sleep as this is perhaps every mom's ultimate wish: just a quiet and uninterrupted sleep.
Be Her "Health Buddy"
You can also opt for a healthy mother's day wherein you can join your mom to hit the gym in the morning. Sweat it out together and take the time to have a bonding with each other. As you spend the time working out, you can talk things over and catch up on life events especially if you happen to live separately from her now. Aside from actual work-outs, you can also join her in yoga, Karada, or pilates.
Aside from the physical activities which improve your mom's well-being although she has aged, you can also bond over preparing healthy food like salads and the like. You can be her "kitchen buddy" and you can both try doing healthy shakes together or mixing up different kinds of salad and other healthy treats. You can also accompany your mom to shop for healthy herbs and spices for family meals.
Throw a Mother's Day Party
Another idea is to decorate the entire house for mother's day, perhaps with flowers and balloons, and then throw a surprise mother's day party. You can invite your family and friends to this party to celebrate a special day for your mom.
In one area of the house, maybe the garden, you can set up a stage where your mom has a special seat for the "Queen" of the house. You can even have her wear a special dress and a crown for the occasion.
During the party, you can enjoy various activities including games where both kids and adults can participate. You can also have a portion wherein the attendees could share their happiest memory together with your mom.
Afterward, there could be a video presentation which tells about how great a mom she is. You can also watch her favorite movie in the outdoors or sing her favorite songs in the karaoke. Complete this experience with a really sumptuous meal for the entire family to share.
Prepare a Family Picnic
You can also plan a simple day out with the family through a picnic. Choose a good park, probably one that is not too crowded, and then set up your picnic blanket there. Bring the entire family together along with some snacks and drinks to share. Spare your mom from the job of preparing the food. You can have it done as well. You can also bring some board games which you can play and enjoy as a family.
Also, you may invite other family members or friends to spend the picnic day with you. If you opt to have a picnic near a lake, you can also go fishing. If you have a nearby terrain and especially if you have kids with you, biking is also another activity that you can share together.
Finally, remember to disconnect from social media first and keep your phones away. This is a good chance to spend quality time with your mom, so make the most out of it.
Give Her the Perfect Gift
We all know what makes our moms happy. We all know that one thing that they would like to have or that one present that would lighten up their day. Whatever it is – a flower vase, a new dress, or a nice pair of shoes – you could make the effort to buy it for her even days or months before mother's day. Mothers like it when we take the time to think about what they need and want.
However, you do not always need to buy something. She would not even mind if you handcraft something for her. She would probably love it more because you took the time and effort to make her something for mother's day.
A well-written card, a scrapbook of beautiful pictures and memories, or a vase of letters of appreciation for her already makes a perfect mother's day gift. No need for expensive items. Our moms love us regardless of the gift we give.
Let Her Have Some Pampering
This is another thing that every mom would love to have. In fact, they really deserve it. You can treat your mom to a full body massage in the spa, complete with a manicure and pedicure package, or to the sauna or Jacuzzi. You can also bring her to the salon so she can choose to have her hair groomed as well.
You can also treat her with skincare products such as face mask, sunscreen, body lotion, face cream, and all the like. With the stress caused by the daily grind, whether from work or from doing household chores, moms sometimes forget to give attention to proper skin care. If you want to go really luxurious, try out exclusive brands like Orogold. They have a Cleopatra Nano Regimen that is oh-so-divine.
Attend A Concert Together
Depending on your mom's interests, you can be her companion in watching a sought-after opera, play, or concert. Moms often love classical operas or piano rehearsals, so you could treat her to this one. Surprise her with the tickets and let her dress up for it. For an added bonus, you can also treat her to a fancy snack or dinner after the show. This would really complete the experience.
You can also arrange a meet-and-greet with your mom's favorite artist, perhaps a musical band, a chorale, or any other group of artists. This would require a bit of a connection, though, but there is really nothing you cannot try for your mom, right? True enough, she would thank you millions of times for having that opportunity to not only witness the performance of the artist she loves but also meeting them in person.
Take A Day Trip
Especially if your mom loves to travel, you can buy her a plane ticket to a place that she really loves or somewhere she has never been to before but has always wanted to go there.
You can also arrange for a day hike with the family, an overnight on the beach, or a simple road trip where your mom gets to enjoy the outdoors. You can travel to wherever your mom wishes to go.
You can even have a "no-itinerary" trip and just go out there wherever the roads take you.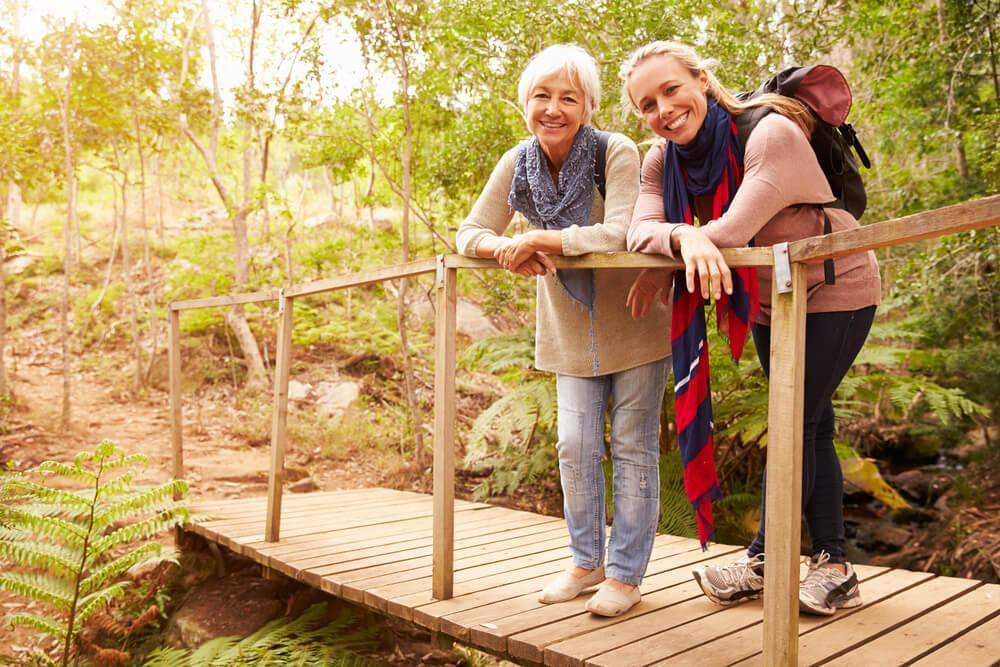 If your mom is one of the adventurous types, the family can also go camping in an area where there are available activities like wall climbing, rappelling, zip line, cliff diving, or an ATV ride.
But if that is too extreme, you can opt for a day of swimming in a laid back beach. At night, you can go stargazing beside a bonfire as the entire family makes music together and shares hilarious stories and laughter.
Join Her in "Mom Things"
In some cases, your mom can have a hobby that is different from yours. You may love the outdoors, but she may rather choose to stay inside the house. You may love to go to the mall, but she may want to just bake desserts. It is important that you first determine what it is that your mom loves to do or where it is that she loves to go.
Upon knowing these things, take the time to join her in doing them. She may request that you join her in a painting or cooking class. Even if it is not really your type, still come and be with her. She would greatly appreciate it.
Sometimes, moms tend to look for the company of other moms because they know that their kids are busy with their own lives already. Therefore, it is really a big deal if for once, kids would go out of their way to be with their moms in whatever their moms would love to do.
Go Shopping With Her
Aside from pampering, another thing that moms surely love is shopping. They love to buy new clothes especially if there are babies at home. They also enjoy checking out the home equipment and kitchen tools section of the department stores. They love to look for items which could probably be useful in the house just like a new bed sheet, curtain, or pot holder.
So you can go and treat your mom for a shopping spree. This can be the time for you to use those free gift certificates that you have been accumulating from your office parties. It is also a good time to earn points for your credit card while your mom shops away.
Remember, it is not every day that moms get to go shopping in the malls or in the groceries with their kids and family members. They mostly do this alone especially when their kids are old enough, so mother's day is a good time for them to have a shopping companion.
So go and meet up with your siblings and brainstorm for the best idea to make Mother's Day really special for your mom. Just a bit of creativity and some help from the internet will get you to that perfect idea in no time!