Dewy skin, highlighted skin, glass skin – however you want to call it, the trend of having your face appear as if it was drenched in water seems to be all the rage these days.
And while some people are blessed with naturally radiant skin, the rest of us have to cheat our way to this look – of course, by using makeup!
Still, you'll be relieved to hear that it's entirely possible to rock that coveted glow, as long as you master these helpful tips and tricks.
Start the Night Before
Every journey to beautiful, illuminated skin starts with quality skin care.
Therefore, if you want to rock a glowing complexion in the morning, it's necessary to start with your routine in the PM.
And the best way to do this is layering as many hydrating products on your face as you possibly can.
The growingly popular skin care layering philosophy suggests that applying multiple moisturizing products on top of each other will help supercharge your skin with water and all other nutrients in a quicker and more effective way.
Now, how to navigate your way thorugh all these skin care products might sounds challenging at firsts, but it's actually pretty straightforward.
All you need to remember is to start with the most lightweight products, then work your way towards more heavy-duty formulas.
In reality, the process would look like this. After you've finished removing your makeup and washing your face, begin by toning your skin with a hydrating toner.
Next, apply a nourishing essence, which will replenish your skin with the initial layer of moisture.
Next, it's time for serum and ampoules that will infuse your skin with highly concentrated H2O and nutrients, upping your glow game.
Slap on a Sheet Mask
Whether you have time to go through an elaborate skin care routine the night before or not, one simple step can certainly get you closer to that delightful glow – a sheet mask.
These skin care game changers are capable of infusing your cells with a concentrated dose of hydration and rejuvenating nutrients in a matter of minutes.
How do they work?
It's simple: take one out of its packaging, unfold it and place it on your face so the holes for the eyes and mouth are aligned. Spend the next twenty minutes doing whatever you like (maybe a selfie to commemorate your skin care efforts?) while the mask works its magic.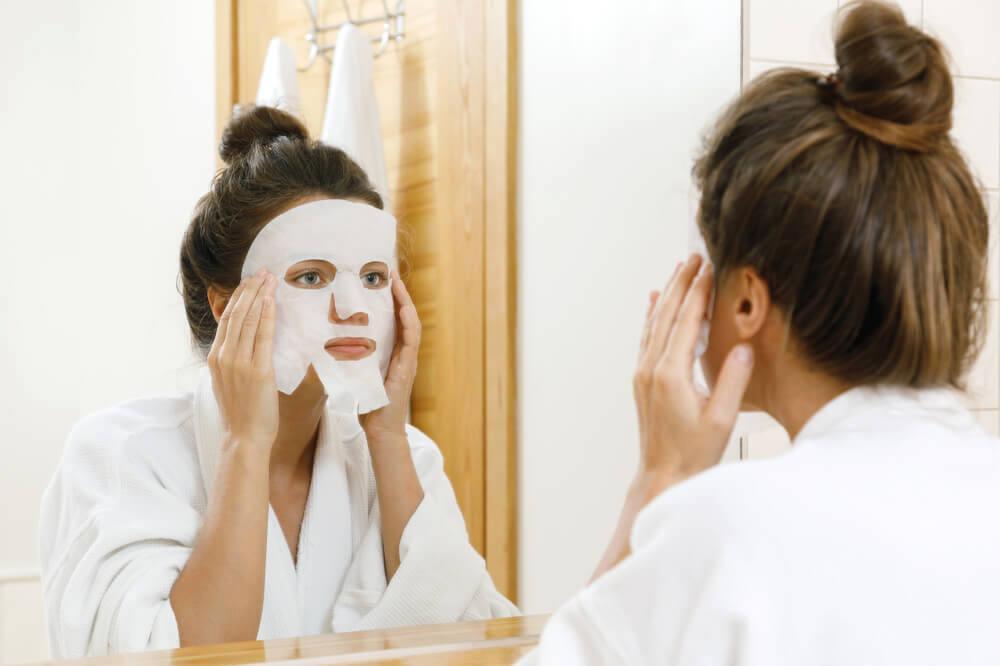 Remove it, then gently pat the residue into the skin. Bam – instant glow! To lock in the moisture, you can even add an additional level of your face cream.
When picking the right kind of sheet mask for securing that radiant finish, go for products enriched with ingredients like snail mucus, hyaluronic acid or niacinamide.
Choose the Right Kind of Primer
Once you've mastered the right kind of skin care for increasing the moisture levels in your cells, it's time to move to actual makeup.
And every thought-out look starts with a good primer. These formulas secure longevity of makeup, but they can also help you achieve a particular kind of finish on your skin.
To that end, primers can be divided into several categories:
Mattifying primers – intented for oily skin types, help block out excess grease
Blurring primers – for people with enlarged pores and other kind of blemishes on the skin
Color-correcting primers – blocks out imperfections with counterbalancing shades
Illuminating primers and strobing creams – help illuminate makeup from within
The last one is what you want to use if you want to ensure your look has that illuminated-from-within effect.
As tempted as you can be to apply your illuminating primer or strobing cream all over your face, you should be strategic with its use.
Make sure to apply it on the high points of your face – the cheekbones, bridge of the nose, cupids bow and center of the forehead.
Also, when picking the right kind of primer for your skin, consider your undertones: cool-toned skin will look better in pearly, silvery shades, while warmer skin tones will be complemented with champagne and golden hues.
Go Easy on the Foundation
Now that you're all done prepping and priming your skin, it's time to move on to your foundation and other base products.
It's essential that you get this step right, as the look of your base will be the factor that makes or breakes your dewy beat.
In order to let that sheen come through, it's important to start with selecting the right kind of foundation.
For one, try to stay away from overly dry, matte or full coverage products, as they will likely block the natural glow and contribute to a more cakey look.
On the other hand, lightweight formulas such as hydrating fournations, even tinted moisturizers and BB and CC creams can all work great for evening out your skin tone without restricting the natural radiance.
Once you've settled for your ideal base product, it's time for application.
To that end, it's best to apply your product with a light hand, as this will help balance your complexion without piling too much coverage on your face.
Using your fingers can be a great way to distribute the product while achieving a natural finish. Alternatively, makeup sponges can also help you get that airbrushed finish, while also sheering out the formula and helping your skin glow from within.
Add a Few Drops of Oil
If you're looking to secure that illuminated look, two ingredients are of equal importance: water (which we already mentioned) and oil.
The latter is the key to nailing that deliciously shine-packed finish associated with healthy and youthful-looking skin.
That's why you will certainly benefit from introducing oils in your regular makeup and skin care regimens.
As daunting as this may sound at first, oils are actually quite versatile and can be incorporated into your beauty routines and makeup looks in a number of ways.
For example, you can add a couple of drops of facial oil into your moisturizer and use that as a primer with an added dose of shine.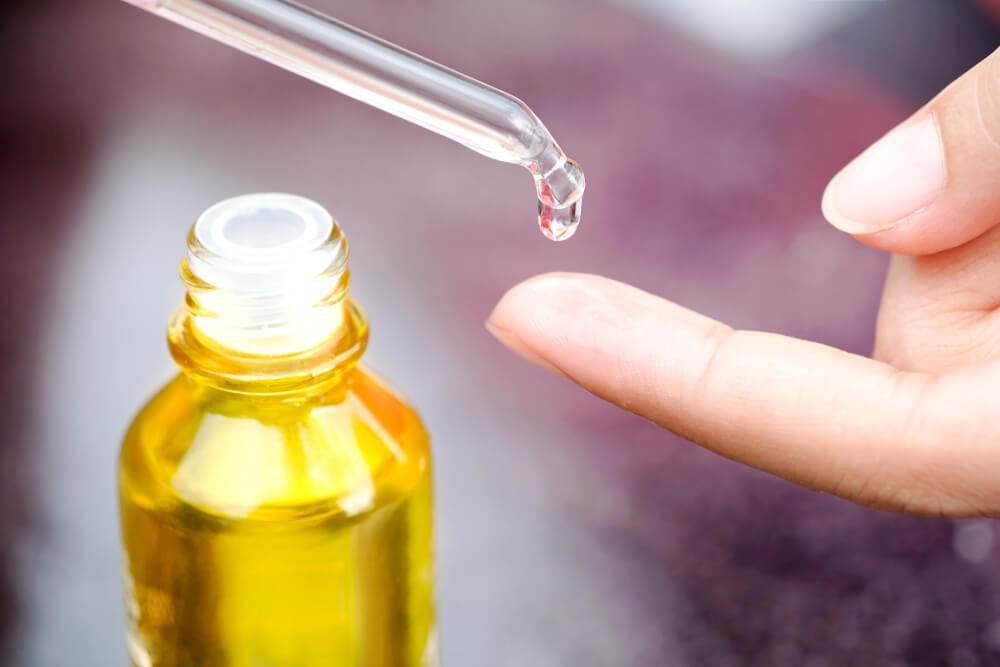 Alternatively, infuse your foundation or other base product with a touch of oil and you will instantly have a more luscious, radiant finish to your skin.
And if you're not sure which oil to pick up if you want to snatch that glowing goddess look, here are a couple of pointers:
Jojoba oil is known for its skin-rejuvenating and moisturizing properties
Avocado oil can be used by all skin types, even oily
Olive oil packs a punch when it comes to shine and hydration
Roman chamomile oil is a good option for mature and irritation-prone skin
Thanks to these oils, not only will you get that dewy look, you will also be feeding your cells with all those precious nature-derived nutrients.
Skip Cakey Concealers
Glowing skin often implies imperfection-free skin.
And if your complexion is not naturally flawless, you might feel prompted to just slap on your concealer even at the tiniest blemish.
However, if you want your skin to retain that glow, you should actually be conservative when applying your concealer.
When it comes to correcting under-eye circles, it's best to go for a hydrating formula with light-reflecting properties. This will give you're a decent amount of coverage without settling into fine lines and giving you the cakey look.
Hydrating concealers can also be used to cover up any general imperfections, such as redness, irritation or blemished skin.
If you have acne, zits or scarring that requires extra coverage, you can go for a thicker consistency. However, make sure to only correct the affected area. You can do so using a small brush – this technique is called pinpoint concealing. When you're finished applying concealer, use a clean blending brush to feather out the edges and make the correction look seamless.
Use Liquid Blush
So far, you might have noticed a certain pattern in the tips for achieving radiant skin: liquid good, powder bad (generally).
Keeping with the theme, if you want to add some pigment and bring color back into your cheeks, it's best to do so with a cream or liquid blush.
This step will give you that healthy flush without dulling the shine you achieved with your base application.
For a super laisses-faire approach, dab a tiny amount of your cream and liquid blush on the apples of your cheeks and blend it out using your fingers.
To achieve a seamless finish, grab whatever tool you used for your foundation (brush or beauty sponge) and mix the leftover product with your blush. This will blur the edges between your blush and your base makeup, creating an even more natural finish.
When choosing your blush, make sure to go for something understated; a shade that will mimic your natural flush.
Be Strategic with Your Highlighter
Now, if you want to glow for the gods, you know the quickest way to achieving that is to dust your face all over with your favorite highlighter.
However, as tempted as you can be to go wild with shimmer in the fashion of a true Instagram influencer, you might want to take a step back.
Placing the highlighter on the face in a smart and strategic way will allow your skin to glow in a flattering, natural way.
How do you achieve that?
Well, by focusing on the areas that would be hit by the light naturally.
In most cases, this will be the high points of your face: tops of your cheekbones, center of the forehead and the bridge of your nose.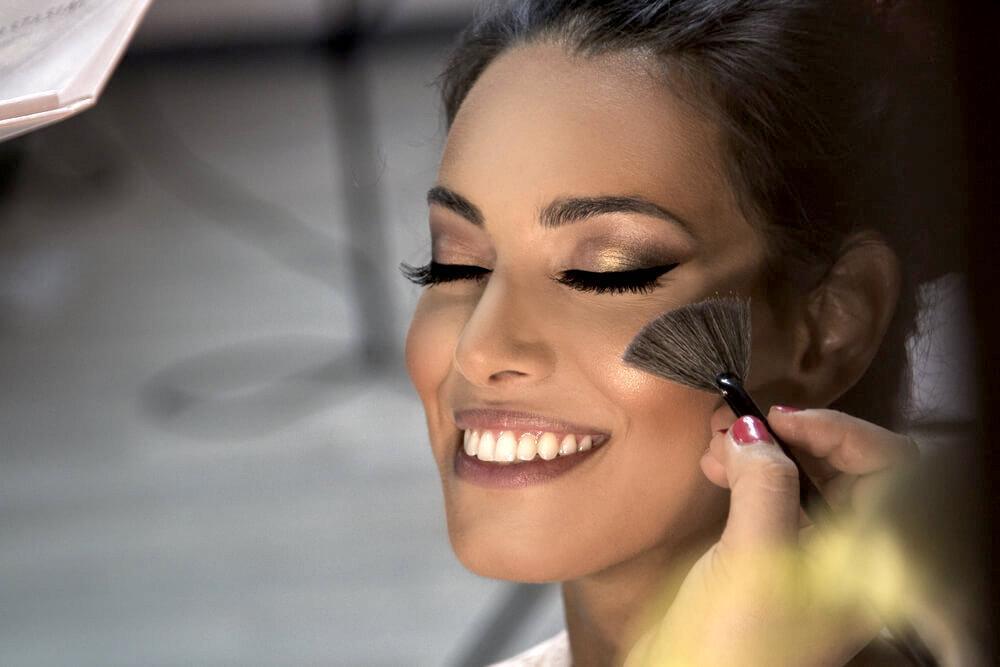 For an even more shimmer-packed look, dab a bit of highlighter onto your cupid's bow, brow bone and the tip of your nose.
The trick to nailing a natural looking highlight is to pick a color that will be best suited for your skin tone.
If your skin has cool undertones, you might want to pick a hue that's on the pinker, more pearly side.
Alternatively, if you have a warm-toned complexion, you will look amazing in golden and champagne-toned highlighters.
Another useful advice is to avoid using highlight on the less-than-ideal areas of your face.
If you're experiencing acne, enlarged pores or any other kind of imperfections, it's best to skip the highlighter on this area, lest you emphasize the flaws.
Hydrate Your Lips
Ok, so now that your face is looking unmisatakably radiant, you might want to employ one more trick for appearing as if you're dripping in moisture.
And that's coating your lips with a product that will increase the hydration of your pout.
There are several ways to do this:
Moisturizing, high shine lipsticks
Lining your lips with a pencil, then adding a layer of lip balm or gloss on top
Lip glosses and hydrating lip tints
By ensuring your pout looks moist and juicy, you will add to the overall glowiness of the skin.
Finish With a Setting Spray or a Face Mist
Those who value longevity of makeup are probably already aware how crucial it is to include a powder at the very end of your makeup routine.
However, powders (both pressed and loose) can dull the shine in your skin and contribute to that overly matte, and sometimes even cakey look.
So, how do you make sure your makeup doesn't budge, but still retain that luscious glow?
Your prayers have been answered – these days, setting sprays are becoming increasingly popular for locking in makeup without ending up with an overly powdered finish.
This product-locking formula is great for finishing off your look without losing that precious glow you've spent all this time achieving.
How do you use setting sprays?
It's simple – just shake the bottle and spritz it 2-3 times across your face from a distance.
But wait, even if you manage to keep the product last all day long, how can you ensure your glow doesn't go away after a few hours?
This might be the ideal opportunity to invest in a facial mist – which will not only replenish your skin with shine whenever you decide to spritz it on, it will also boost your cells thanks to a high concentration of complexion-plumping nutrients.
And there you go, now you know how to get that lush glowing look that seems to be the number one makeup trend these days. Once you master these techniques, we have no doubt you will achieve that show-stopping radiant finish on your skin.