When it comes to looking for style inspiration, the fashion weeks that take place in the fashion capitals of the world, from Milan to Paris to London, are always a great starting point.
For 2018, the Paris Fashion Week shows were especially noteworthy when it came to menswear, with several standout looks and ideas to be seen.
Quilted Jackets
Fashion and practicality often do not mix, with many runway pieces being too bold and flamboyant for everyday wear.
However, when it comes to quilted jackets, the opposite is true, with just about every style produced for Paris Fashion Week being completely wearable.
Take a look at Versace and GMBH for some traditional padded jackets, with the finest of tailoring, or Marni and MSGM if you would prefer your quilted jackets to have a vintage touch to them.
Man Bags
Man bags are nothing new, and have been around for quite some time now.
However, each time they are heavily featured in major fashion shows, such as the 2018 Paris Fashion Week shows, they slowly edge their way more and more into the world of mainstream fashion.
What does this mean for you?
It means that you will find a much greater variety of man bags available at stores near you.
Not sure what sort of bag style to go for?
There are plenty of options out there, such as:
Cross-Body Bags –

these are extremely on trend now, with everyone from Kenzo to Louis Vuitton putting out their own version of these bags at Paris Fashion Week

Men's Wrist/ Clutch Bags –

these may seem a bit extreme to some, but many stores claim that this style of bag is actually a bestseller, because they are so handy for storing documents, phones and wallets

Shoulder Bag –

these are larger, and come in so many different fabrics, from canvas to leather

The Backpack –

being a hands-free style, backpacks are perfect for men who are always on-the-go

The Holdall –

these were one of the first styles of bags to be carried by men, way back in the 18

th

century, and are useful for just about every situation 
Suits Cut on the Bias
Cutting garments on the bias is a technique that is often utilized by womenswear designers, because this allows the fabric to drape more freely against the body.
Not sure what cutting on the bias means?
It refers to cutting fabric against its grain, rather than along with it.
It is a classic technique, and one that John Galliano has now brought into the menswear world.
How?
With a vivid blue suit, which had been cut entirely on the bias. This enabled the suit to really fit the model's body in such a beautiful way, flowing so well with his movements.
Want to own a suit like this?
In order to really wear the finest of tailoring, you will need to have your suit made-to-order, rather than purchasing a ready-made one.
Cowboy Boots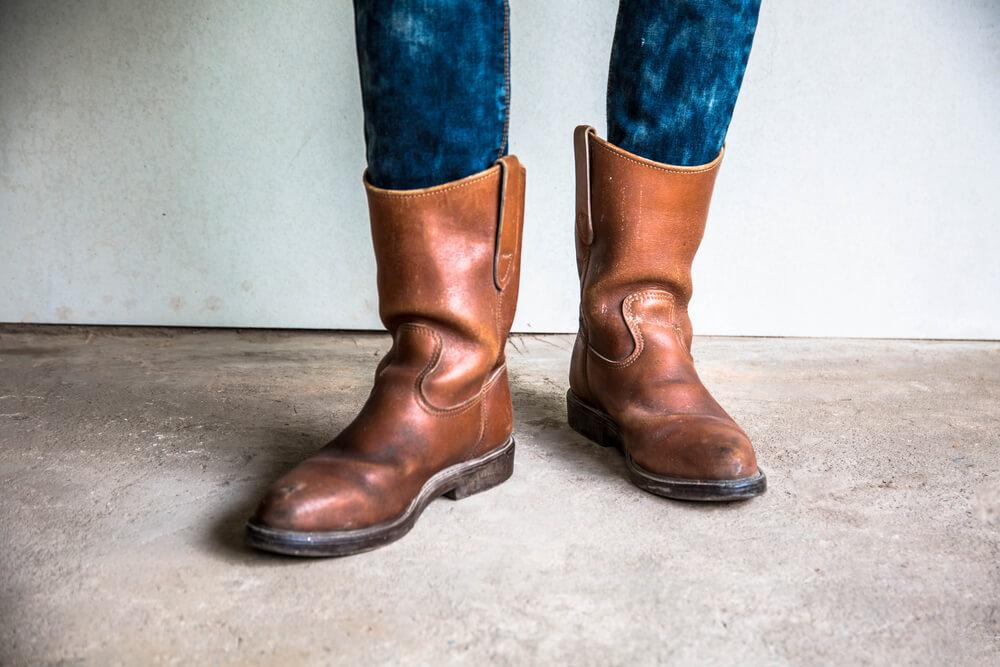 Cowboy boots were seen on so many different runways during Paris Men's Fashion Week, with an incredible array of styles worn.
Not into cowboy boots?
That may only be because you haven't yet seen the latest offerings from some of the hottest designers out there.
Brioni boasts some of the best cowboy boots seen at the shows, with a perfectly pointed toe and a high cut, but loose, leg.
For something a bit more extravagant, check out the boots from Paul Smith and Wooyoungmi, both of whom have created heavyweight boots that feature embellishments.
Can't decide what to wear with cowboy boots?
Here are a few ideas:
Jeans always work well, but make sure that they are boot cut, so that there is room for your boots to fit underneath them. Unless you are actually going to be riding a horse, you would be best off not tucking your jeans into your boots

Dress trousers can be worn with cowboy boots too, just make sure that they are loose enough so that you cannot see the shape of your boots through your trousers

A collared shirt paired with some cowboy boots always looks ultra stylish, whether this may be plain white or a patterned shirt

When it comes to outerwear, there are so many styles that work well with cowboy boots, from denim and leather jackets to a traditional trench coat 
Need some help purchasing your very first pair of cowboy boots?
Your best bet would be to buy them from a store, rather than online, as you really do need to try them on. Many boot styles feature quite narrow toes, so if you have broad feet, you will need to look for a pair that are not too narrow, otherwise they will end up putting too much pressure on your toes as you walk.
White Running Shoes
Do you prefer sportier styles of footwear over cowboy boots?
If so, it is time to buy yourself a pair of white running shoes.
Fortunately, with all of the fantastic designs seen at Paris Fashion Week, this job will not be difficult, as there really is so much to choose from.
Take a look at Gucci for some seventies-inspired styles, while the bubble-soled bouncy shoes from Fendi are definitely impressive. Jimmy Choo and Giussepi also have some futuristic, sock-style shoes worth looking at, while the running shoes from MSGM are much more low-key, making them ideal for those who would prefer something subtle.
80's-Inspired
The nineties have been dominating the fashion industry lately, but Paris Men's Fashion Week turned back time a little more, with many designers being inspired by the eighties instead.
To get even more specific…
It was the corporate world of the eighties that really inspired designers.
Balenciaga is the perfect example of this, with their fashion show taking place at a tree-lined park. With eighties tailored jackets, Hawaiian-printed shirts and so much more, this was definitely a standout collection.
Of course, the eighties were also about unstructured tailoring and flowing garments, and this is something that Demeuelemeester brought into their collection, giving their garments quite a soft and romantic feel.
The collection from Lemaire was similar. Although the color palette used was quintessentially Lemaire, being quite minimal, the silhouettes were oversized and dramatic, with everything from flowing trench coats to loose shirts tucked into high-waisted trousers.
Exotic Adventures
Fashion will often take you on a journey, and this is what many designers tried to do during Paris Men's Fashion Week.
Wondering what the journey was?
It was an adventure in an exotic land, with so many of the collections no doubt giving viewers the travel bug. 
One of the best designers to do this was Paul Smith, whose collections always tend to feature plenty of color and life. This season, he paired suits with Hawaiian shirts, giving a vibrant flamboyance to corporate wear.
Ami did things a little differently…
Rather than trying to give his viewers a taste of another country, his collection was focussed on overseas travellers visiting Paris, which is extremely fitting for Paris Men's Fashion Week, as these shows attract visitors from all over the world.
Again, Hawaiian shirts were featured in the collection, along with PVC shorts, as well as socks worn with sandals, which are another huge trend in themselves.
Socks with Sandals
Wearing socks with sandals has always been quite a controversial move, with many considering this to be one of the greatest fashion faux pas out there.
However, things are changing…
During Paris Men's Fashion Week, quite a few different brands sent their models down the runway wearing socks and sandals, from Lucien Pellat Finet to Maison Kitsune.
In fact, there have even been a few male celebrities, such as David Beckham and Justin Bieber, who have also been spotted out and about wearing socks with sandals. 
Not sure if you can get into the idea of wearing socks with sandals?
The verdict on this trend is 50/50, with many people still hating the idea, but others growing to love it.
The key here is to ensure that this look fits in with your overall aesthetic, and make sure that you choose to wear the right socks, such as a smart wool sock that will help to elevate this casual look.
Bright Colors
Menswear often features quite muted colors, with many men afraid to take the plunge when it comes to wearing something brighter and bolder.
However, as you can see from the image above, wearing a bold color does not mean that your outfit will necessary look extravagant. Instead, by picking the right shade, and styling it correctly, bold colors can still look relatively toned down, and will not overwhelm an outfit.
Bright and vibrant colors were seen at so many of the shows at Paris Men's Fashion Week, and this is a trend that is so perfectly suited to the summer months.
Tartans and Checks
There were actually quite a few different interesting prints seen at Paris Men's Fashion Week, but the ones that tended to dominate the runways were tartans and checks, both of which are British-inspired.
While these are both classic patterns, designers brought them into the modern day by playing around with their proportions…
Etro boasts some blazers with a bold checked print, while Versace has created some standout tartan suits. Ralph Lauren is another brand to look at, with their gray on gray checks being quite subtle.
Voluminous Shearlings
A shearling coat is a must for the cooler months, and there were definitely plenty to choose from at Paris Men's Fashion Week.
As always, when it comes to classic garments, designers add their own twist. With the shearling coat this year, the twist is an oversized silhouette.
These give an outfit so much volume and stature, and can be worn for just about every occasion.
Want to know which designers to look at for shearling coats?
Here are some of the best:
Berluti

Alexander McQueen

Dior Homme

Lanvin

Phillipp Plein
Outdoor Vibes
Do you often spend time in the great outdoors?
If so, some of the clothing that you wear for your outdoor adventures may be bang on trend for 2018.
During Paris Men's Fashion Week, many brands sent out garments that had clearly been inspired by outdoor activities. The python hiking boots from Louis Vuitton are the perfect example of this, while Giorgio Armani has created some boots that remind you of a Swiss mountain climber from back in the thirties.
Of course, these garments are unlikely to be practical if you actually do want to wear them on a hike…
This is where Christopher Raeburn's collection stands out. This British designer sent a spectacular range of boots, trousers and coats down the runway, all of which could easily be worn while climbing a mountain.
Dropped Shoulder T-Shirts
Dropped shoulder t-shirts have sleeve seams that are lower than usual, giving the shirt a slouchier and more casual feel.
There were quite a few of these styles seen at Paris Men's Fashion Week, with Dior, Vetements and Sunnei having some of the best.
This is still a relatively new, but easily wearable, style in menswear, so may take some time to catch on in mainstream stores. 
Teal
When it comes to menswear fashion shows, blue is often the color that dominates.
While this stayed true for Paris Men's Fashion Week, the blue was more of a teal, rather than the darker and deeper shades that are normally seen.
Just about every brand out there has created something for 2018 in this gorgeous shade of blue, so you should have no trouble at all finding something that you like.
Menswear used to be extremely rigid, but times are quickly changing, and men now have just as much choice when it comes to fashion as women do. For those of you looking to mix up your style a bit, each of these ideas and trends will no doubt be able to inspire you, helping you to put together some interesting new outfits.