Between the gorgeous brown-reddish foliage, the joy of finally being able to layer clothes and pumpkin spice-flavored goodies at every step, is there anything not to love about fall?
Not to mention that this season is ripe for trying out new makeup looks, as well as experimenting with bolder colors and techniques that weren't all that practical in the scorching summer temperatures.
Whether it's a simple makeup look for your day-to-day activities or a full glam face for a night out with girls, this list will help you learn all about the hottest autumnal makeup looks (and how to achieve them)!
Soft Peachy-Nude Look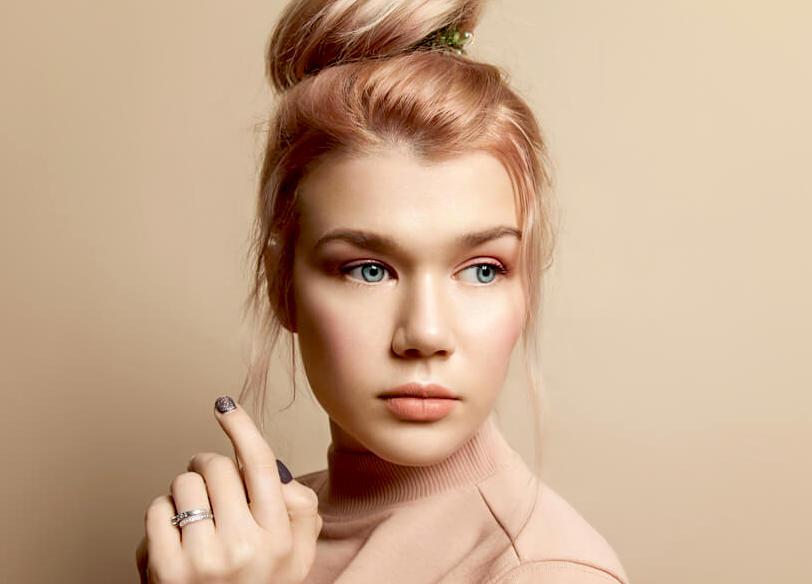 This romantic, ethereal makeup look in coral tones is the perfect subdued go-to for the fall.
The fresh-faced effect can be achieved by strategically applying a small amount of base product (light coverage foundation or tinted moisturizer) and buffing it out with a kabuki brush or beauty blender. Any remaining imperfections can be corrected with light-handed pinpoint concealing.
The key to nailing this look is to have all the separate makeup product blend seamlessly into each other, which is why it is useful to opt for formulas that are rich in moisture as opposed to compacts or powders. For example, a cream or liquid blush in peachy or coral-y hue will bring out the natural color of your cheeks and can also double up as crease shade.
Continuing with your eyebrows, keep them low-key by brushing them out and lightly filling them in with taupe shadow or pencil.
Give your eyes a more awake look by applying nude pencil on the waterline. Take it a step further by putting a dab of creamy highlighter in the inner corners of your eyes, tip of your nose, cupid's bow and cheekbones.
To finish off the look, apply a hydrating lipstick in salmon or peach shade and blend it out with your finger to blur the edges.
Statement Eyeliner and Dark Lips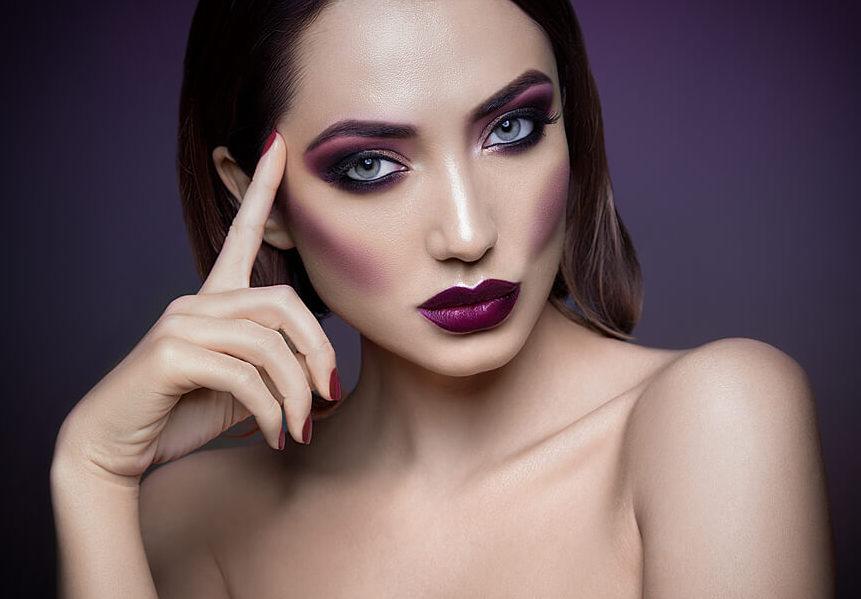 The liquid eyeliner + bold lip is an infallible combo that works regardless of the season. And yet, in the fall you might want to temporarily step away from bright reds and oranges and pick up shades that are a little more in tune with the season.
Since this is a pretty full-on look, make sure to cover any imperfections on your skin – wearing a dark lipstick can emphasize blemishes and other areas of hyperpigmentation.
Darker shades of lipstick can also drown out the color from the rest of your face, so be sure to warm up your skin with a bit of color, especially in the hollows of your cheeks, around your forehead and along your jawline.
To bring back radiance into your skin, dust a tiny amount of gold or champagne-colored highlighter on the top of your cheekbones and in the inner corner of your eyes.
Give your eyebrows a bit of fullness with a brow pencil or brow mascara. Since this is an eye and lip-heavy look, it's best to keep the brows in tune with the rest of the face.
As for the eyeliner, opting for a black one is always a good choice if you want to keep it classic. However, if you want to make this look even more autumnal, choose a brown, purple or burgundy liner instead, as it will compliment the overall look and give it a more cohesive appearance.
If you want to add even more drama to your eyes, glue on a pair of falsies and apply mascara to keep them in place.
Line your lips with a dark-color pencil that compliments your skin tone: pink-based purples for cooler tones and deep reds and burgundies for people on the warmer side.
Apply liquid lipstick with a steady hand; if you happen to mess up the edges, correct your errors with a touch of concealer and a small angled brush.
Nude Lips and Smoked Out Bronze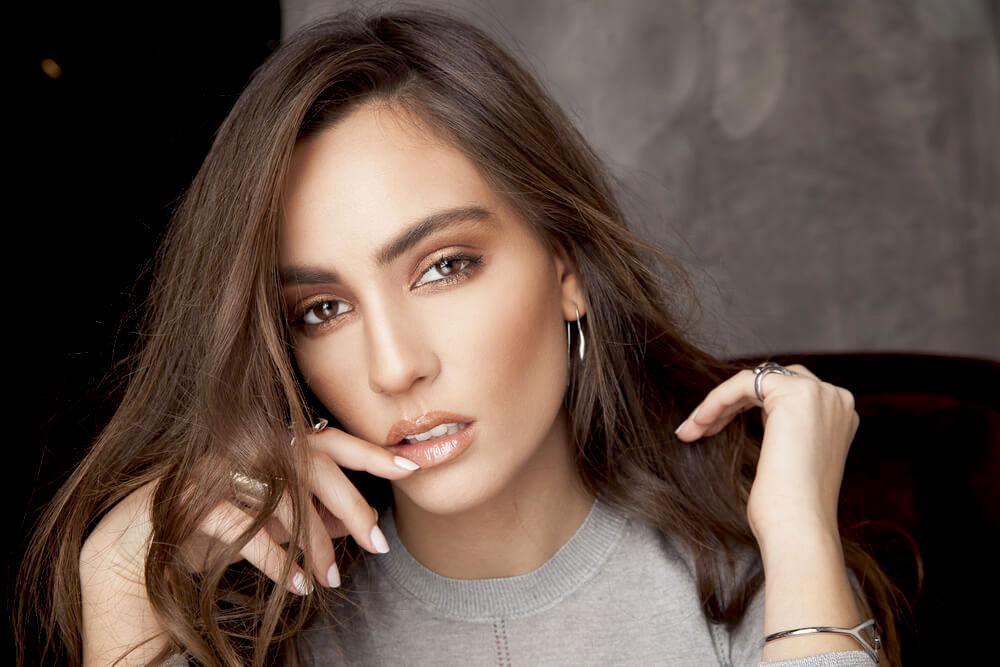 This classic nude lip and smoky eye compliments most complexions and it's super-easy to pull off if you are looking to add a bit of va-va-voom to your everyday look.
Start off by applying a thin layer of foundation with a velvety finish. Next, give your skin a soft tanned appearance by applying warm-toned bronzer on the outer parts of your face. You can use the same product to lightly contour your cheeks for a more sculpted look.
Give your cheeks a pop of color with peachy or orange-toned blush.
Now for the eyes: begin by applying a shimmery gold or champagne-colored eye shadow all over lid. Define the crease with a warmer brown or copper shade and smoke it out with a blending brush. Use the same color to define the lower lash line. For extra definition, tightline your eyes with brown or black pencil.
Coat your lips with a generous layer of your favorite nude lip gloss and voila! You're bronzed fall look is complete.
Ruby Lips and Yellow Eye Shadow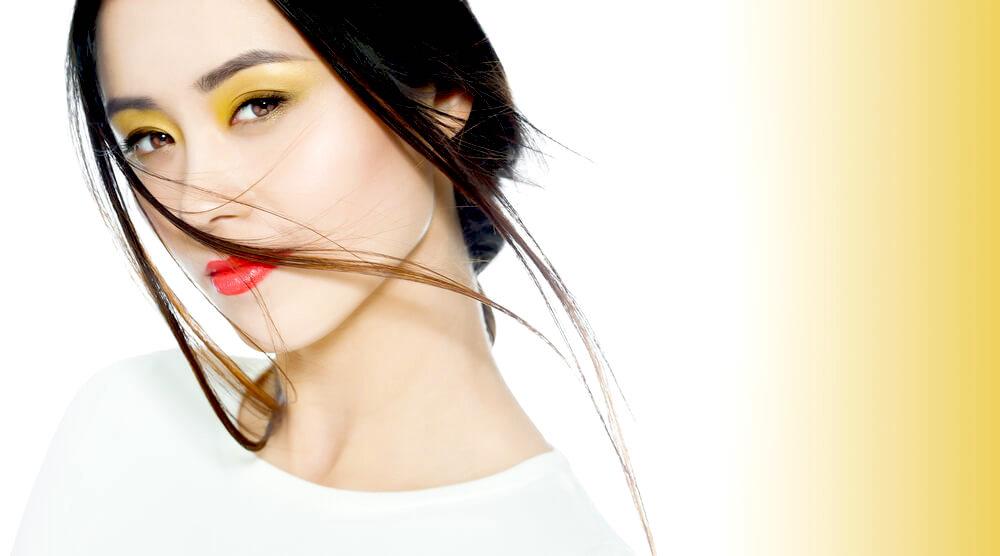 If you've been paying any attention to the most recent makeup trends, you will have noticed that yellow eye shadow has been all the rage these days. And what better season to incorporate it into your makeup routine look than fall?
As with any look that tends to be on the more intense side, it's best to keep the rest of your face subtle when wearing highly pigmented colors like yellow.
This means a light base and a touch of concealer where needed. Add a bit of color to your cheeks with light pink or peach-colored blush.
Even though yellow eye shadow might seems daunting to work with at first, it's actually quite easy: you can achieve the desired effect just by packing it all over your eyelid and blending it out with a brush or even your fingers for a more laissez-faire look. For added contrast, add liquid black eyeliner and coat your lashes with heavy-duty mascara.
As for your lips, apply a shade that will match the yellow on your eyes – if not sure, go for the reds that edge towards orange rather than pink.
Luminous Base and Bold Lips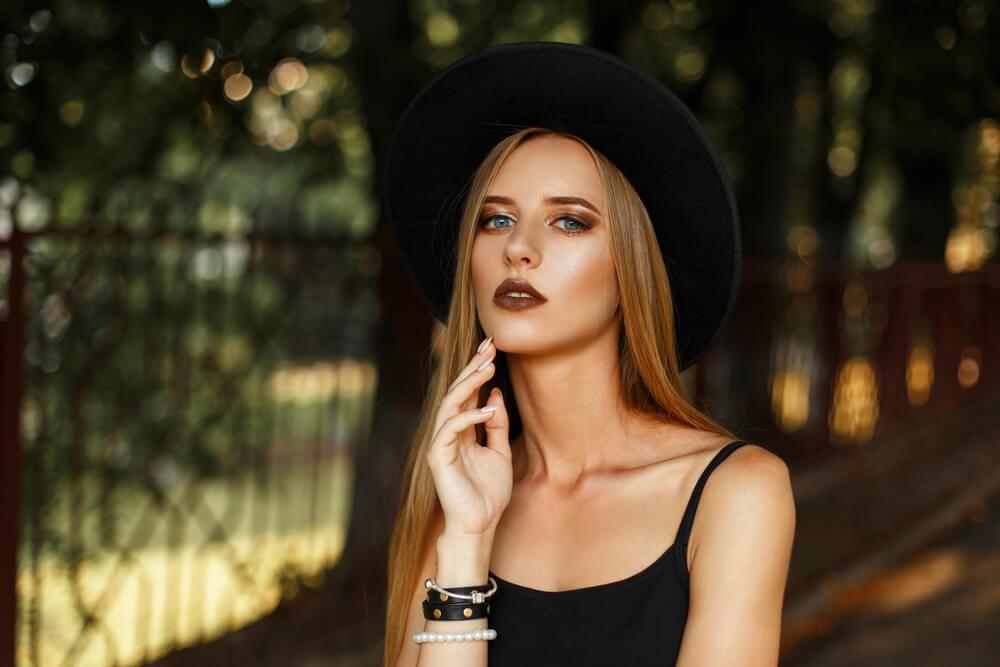 Fall is not just about clean lines, dusty tones and matte finish. It's easy to incorporate the wildly popular highlight trend into traditional fall makeup looks. Here's how to do it.
Start off with an illuminating primer and apply it on the parts of your face that you want to be accentuated:
Top of the cheeks
Center of the forehead
Bridge and tip of the nose (think of an exclamation point)
Cupid's bow
For foundation, opt for a lightweight formula that still offers a good coverage. Add a touch of powder only on areas that might get oily (sides of the nose, forehead, chin), avoiding parts of your face that you want to remain radiant.
Add some definition to your face with cream contour, which you can lightly apply with a brush or makeup sponge for a more airbrushed finish.
Apply a light, shimmery shade all over the lid and blend out the crease with a coppery tone. Add a deeper shade of brown on the outer corners of your eyes and feather it out with a brush. Define the lower lash line using the same color, then add the lightest shade in the inner corners of the eye and on the arch of the brow. Make your eyes pop by lining your lashes with a dark pencil and applying a generous coat of mascara.
Finish off the look by applying a rich, moisturizing lipstick in burgundy or brown (or black, if you are feeling really audacious!) and dusting a dash of powder highlight on the tops of your cheeks and the tip of your nose.
Subtle Eyes and Wine-infused Lips
If you want to rock that bold fall lip but in a way that's wearable for most day-to-day occasions, you might want to try this makeup look that will give you the understated vibe while still bringing attention to your lush lips.
For this look, you can get away with less coverage. Opt for base products like:
BB creams
CC creams
tinted moisturizers
Next, block out under-eye circles and any pigmented blemishes with a creamy concealer that won't add texture to your skin. Set any correcting work with a light touch of translucent powder.
Keep the eyes natural by applying a wash of eye shadow in a shade slightly lighter than your skin tone. Curl your lashes and add a coat of brown mascara to boost their volume and length.
Finally, keep you lips neat and defined by lining them with deep purple liner and filling them in with a highly pigmented wine or burgundy lipstick.
Sultry Red Eyes and Neutral Lips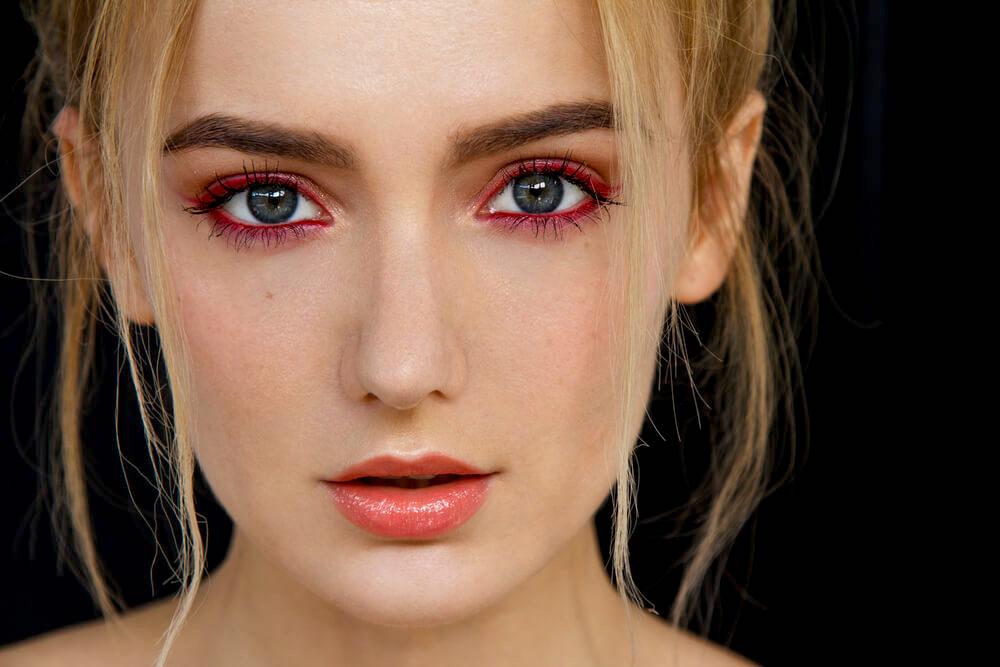 If you are looking to try out a different kind of evening look that's not all about coppers and browns, you should definitely try out this striking combination of defined red-toned smoky eyes and understated lips.
Begin by applying a light coat of foundation with a brush or beauty blender. Make sure to thoroughly conceal dark circles around your eyes, as red shadow will only bring them out if not they're not blocked properly.
Since the focus of this look is on the upper part of the face, make sure your brows are well-defined by shaping and filling them in with pencil that's a shade lighter than your natural hairs.
Lightly contour the sides of your nose, bringing the shade up to your eyebrows.
Use a neutralizing eye primer that will conceal your lids' natural pigment and give you a clean canvas to work with. (Bonus point: it will also make your eye shadow stay put for the rest of the day!)
Now, for the eyes: the trick for achieving this look is to pick a shade of red that best compliments your skin tone. Here are a couple of essential guidelines:
Red with bluish pigment for fair, cool-toned skin
Orange-reddish for medium complexions
Highly-pigmented brown-red for darker skin tones
Once you've found your match, apply a small amount of shadow on your lids and blend until it looks seamless. Next, take a small angled brush and dip it in water or contact lens solution to make the color more pigmented. Go back in your red eye shadow and apply a thin, but well-defined line along your upper lash line. Wing it our once you reach the outer corners of your eye.
Smoke out the eye some more by applying the same eye shadow with a small rounded brush on the lower lash line. Add a touch of pinkish highlighter in the inner corners. Finally, frame your eyes by applying red pencil all along the water line.
Keep the lips neutral by coating them with a gloss or lip tint that will compliment the red eye shadow.
Add a bit of light pink blush on your cheeks and your look is complete!
Ultra-Minimalist Everyday Look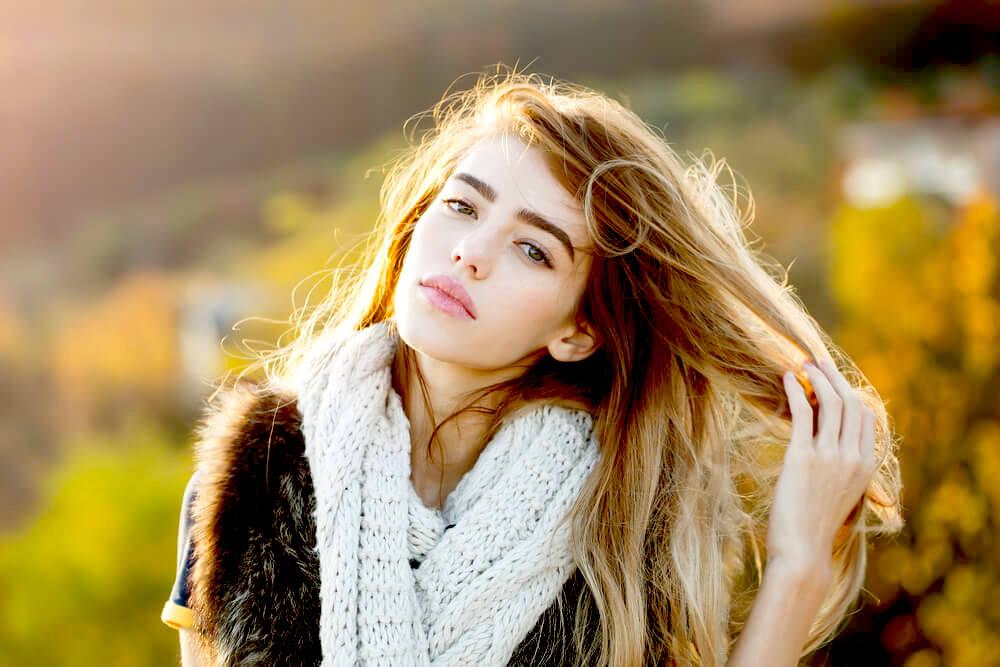 This effortless makeup look is ideal for those who don't like to spend hours in front of the mirror before going about their day.
For the base, you can start off by applying a small amount of primer to blur out the imperfections, then BB cream if you feel like you need extra coverage. Cover dark circles with a moisture-packed illuminating concealer that won't crease during the day.
If your lashes need a bit of plumping, coat them with a thin layer of clear or brown mascara to keep in tune with the natural theme.
Brush your eyebrows upwards and fill out any empty patches with brow shadow for a subtler effect.
Dust a tiny amount of soft pink blush on the apples of your cheeks and across your eyelids in wide, sweeping motions.
Line your lips with a shade that emphasizes their natural color, then coat them with clear lip balm to achieve the soft, velvety effect.
There you go – now you know how to achieve those coveted makeup looks that will go perfectly with the autumnal season. Time throw on your favorite scarf and boots, go outside and show your fall-ready face to the world!