Review by Heather Howell 
I have tried a lot of skincare in my lifetime, and most of it in recent years as my adult acne has made a mess of my skin. A lot of products I tried may have helped to calm down my breakouts, but my skin ended up brittle, irritated, and full of dark spots. Of course, fine lines and skin elasticity have always been a concern, but most heavily moisturizing products don't work well with those that are formulated for clearing up breakouts.
I was lucky enough to come across Lavelier and I decided to try one of their night repair creams. I had already used another of their skincare lines and loved the results, so I decided to take a chance on their Marine Evening Repair Cream. Skincare is always a big part of my daily routine, so choosing to add a new item was not the easiest decision, but it is one that I am glad I made.
Who Is Lavelier?
https://www.instagram.com/p/CEkFijXHiIj/?utm_source=ig_web_copy_link
If this is your first time hearing about the company, you are in for a treat. Most of the Lavelier products are aimed at turning back the clock on the visible signs of aging while also helping your skin battle UV rays.
Their ingredients are safe and gentle on the skin, and you only need a small amount to cover your whole face. The prices are a bit on the higher side, but you are getting a luxury product and premium results. As I mentioned before, you really only need a small amount so a little goes a long way. Think along the lines of Tatcha or Patrick Ta, but more refined and less targeted towards those with already perfect skin.
My Skincare Concerns
Skincare is a very personal ritual that will vary from person to person. No two people have the same skincare concerns or needs, though many may use the same products.
Age also plays a big role in what skincare products you should use and in what concentrations. If you are 20 or under, your skincare needs will be rather minimal and focus more on cleansing rather than on repair and anti-aging. Of course, those with acne have a whole different set of needs and can come from any age group.
My age group is the 30's crowd, which is not quite aging skin, but certainly, skin that can benefit from extra TLC. I never had acne as a teen but was unfortunate to develop it as an adult around the age of 27. I have been through the gamut of skin care products that are meant to cure acne, dry out acne, prevent acne, and so on. Like most people of any age, I have the bad habit of popping pimples when they appear. This of course leads to redness, irritation, and scars.
Aside from acne, my skin is neither oily nor dry, it behaves for the most part. The caveat to that is that my skin is extremely sensitive. As long as I don't use any products on my face, my skin will behave, as soon as I introduce something new, its pimple or irritation city. Can you imagine that till now I don't even wear foundation because I have yet to find one that won't break me out!
My main concerns with skincare are healing acne scars, restoring moisture to my skin, and battling the fine lines and dark circles that come with being a working adult.
The Ingredients in the Lavelier Marine Evening Repair Cream
Before I go into my results of using Lavelier Marine Evening Repair Cream, let's talk about the ingredients. There are a lot of different ingredients that work together to help heal the skin and give you a radiant glow overnight, but let's talk about the ones that I have found are the most effective.
Coral Seaweed Extracts
https://www.instagram.com/p/CCMHai4gWil/?utm_source=ig_web_copy_link
Seaweed has been used a youth booster and holistic aid for centuries. In some countries, it is part of a daily diet, but in recent years it has frequently found its way into skincare. In skincare, it helps to reduce the size of pores, lower excess sebum production, and fight inflammation. Seaweed also has healing properties that will brighten your complexion and soothe the damage of daily sun exposure.
Mineral Oil
There are a few different mineral oils in the Marine Evening Repair Cream that target dark spots, dryness, pigmentation, bacteria, and underperforming skin cells. These oils are gentle and help to heal your skin in a way that is simply more than just a nice surface appearance. They go deep down into the lower layers of your skin to target and repair unseen damage which results in firmer, brighter, more youthful-looking skin overnight.
Propylene Glycol
This ingredient may sound like a fancy lab experiment but it is actually one of the most hydrating ingredients in this night repair cream. It works to help all of the other oils and active nutrients penetrate your skin barrier where they can work their magic. Another feature of this ingredient is to keep your product from freezing in the winter or melting in the summer. Trying to rub a brick of frozen moisturizer on your face is never fun!
Helianthus Annuus
Sunflower seed oil is a powerful tool in the fight against skin damage and acne. This oil helps to naturally reduce inflammation while also working to restore the skin barrier. This is important for those who use harsh products that may strip the barrier or damage the skin. For me, acne cleansers and exfoliators leave my skin dry, this helps to restore the balance without triggering a breakout.
Shea Butter
Most people think of hair care when they hear Shea butter, but this fatty ingredient is full of rich nutrients that are great for your skin. It is full of vitamins and has a high concentration of fatty acids that will soften skin and help support skin cell repair. Shea butter also has a diverse range of healing properties which is important for those who are looking to reduce acne scars and other skin damage. It is also anti-inflammatory, which is great for those who spend a lot of time in the sun or who are looking to calm the skin after uncommonly course skincare treatments. It is one of the main ingredients in the cream that helps to even the skin tone, soothe and condition the skin.
Glyceryl Stearate
This is a form of stearic acid that is used to give the product that rich creamy texture while also locking in all of the moisture. Though it is common in skincare products, this skin conditioner works with the other key ingredients to help nourish the skin and restore it after typical free radical damage.
My Skincare Routine With the Lavelier Marine Evening Repair Cream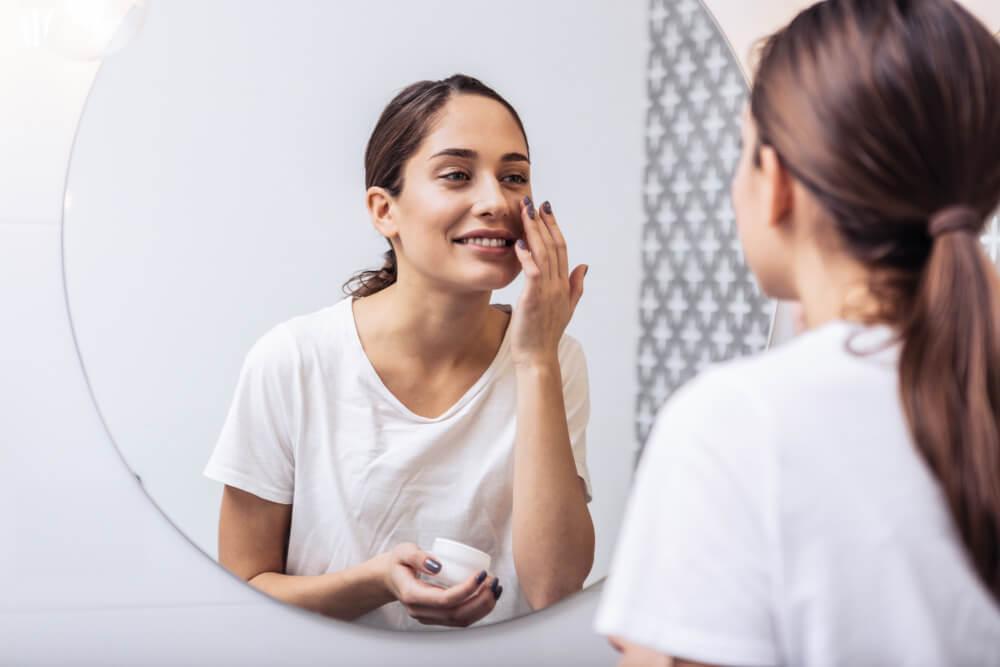 Now that you know my skin type and my general concerns, let me go over my skincare routine using Lavelier Marine Evening Repair Cream. Keep in mind all of the helpful ingredients I mentioned above, and you will understand why I love using Lavelier Marine Evening Repair Cream at night every day.
Step 1: Deep Cleanse
I do suffer from adult acne as I mentioned, so I take cleansing very seriously. On days that I am not suffering from a breakout, I will use a gentle PH balanced cleansing foam to wash away the dirt and grind from the day. I don't wear foundation, so I typically won't need a heavy cleanser, but sometimes I will use one if I spent a lot of time outside.
On days that I do have an active breakout, I will use either a prescription cleanser or a facial cleanser that has dedicated acne-fighting ingredients. I will start by cleaning off the day with micellar water, followed by an acne-fighting cleanser. As we all know acne products are extremely drying, which is good for pimples, but bad for the rest of your skin.
Step 2: Tone And Balance
On no breakout days, I will use a simple toner to help restore the general pH balance to my skin and get rid of any lingering dirt. There are a few different toners I use, the lighter ones for the summer, and heavier ones for the winter months. It is important to be gentle with your skin and always tone. Cleansing often strips the barrier from your skin and also gets rid of the natural oils that moisturize and protect your skin. If I am suffering from a breakout, I will usually skip this step as I notice is caused my acne to flare up further.
Step 3: Serum & Booster
You have probably seen at least a million ads for serums online. While many people assume it is just hype or an extra step that no one needs, I suggest you never skip it. The serum you use should target your particular skin concerns and be suitable for your age. For me, I use a vitamin C serum every day unless I have an active breakout. There are a few different serums I use, but make sure that you choose one that is suitable for your particular face. If you use retinol, this is also the step where you should apply them. I don't use them all the time, but I will sometimes use them under my eyes.
Step 4: Moisturize
This is the most important step in any skincare routine. A lot of people will stop after their serum, but you really need a moisturizer to lock it in. I will apply my under eye cream and any retinol during this step. If I have an active breakout, I will also apply spot cream only on the affected areas. I also will use a spot lightener every other day during this step to help speed up the fading of old acne scars. During this step, I would also put on a moisturizer.
I have day creams and night creams, and those that are best used in winter. I replaced all of them with the Lavelier Marine Evening Repair Cream instead. After putting on my spot treatments, eye cream, and retinol, I will go in with a light application of Lavelier Marine Evening Repair Cream all over my face. I make sure to pat it in gently with dabbing motions as opposed to rubbing it in with circular motions. If you use other products intended for certain areas of your face, such as spot treatments, patting on your Lavelier Marine Evening Repair Cream will prevent your other treatments from traveling all over your face.
My Thoughts On The Marine Evening Repair Cream
https://www.instagram.com/p/BrI1N4IH0P4/?utm_source=ig_web_copy_link
I have been using the Lavelier Marine Evening Repair Cream for about a month now and I am very impressed with the results so far. Any good skincare product takes time to work, but with the Lavelier Marine Evening Repair Cream started noticing a change in my skin after just a few days.
Lavelier is not tested on animals and is also free from parabens which is important if you are dedicated to your anti-aging regimen. The gentle night cream absorbs into your skin and should be applied after your cleansing steps, and immediately following your elixir or serum steps. If you only cleanse, tone, and moisturize, then the marine evening repair cream will be your last step.
The cream is rich in antioxidants from the Coral Seaweed extract and gives your skin a lush, plump feel thanks to the infusion of ethically-sourced Shea Butter. While nothing works better for making you feel more youthful than a good night's sleep, the Lavelier marine evening repair cream is the next best thing.
I have been using this nightly as the last step in my nightly routine and I have noticed that I wake up with noticeably healthier, luminous, and generally plumper skin. If you are in the market for a luxurious skin cream that will work overnight, I suggest you give this one a try.