Though we'd usually be pulling out all of our favorite fall-colored lipsticks and blushes right about now, Covid-19 has other plans for us! And, as we're not too keen on wasting our fave shades by smudging them on the inside of a mask for no-one to see, we're making the most in the only way we know how… with statement eye makeup! Keep scrolling to discover all of our favorite eye makeup looks with tips on how to create them…
After Dark Eyes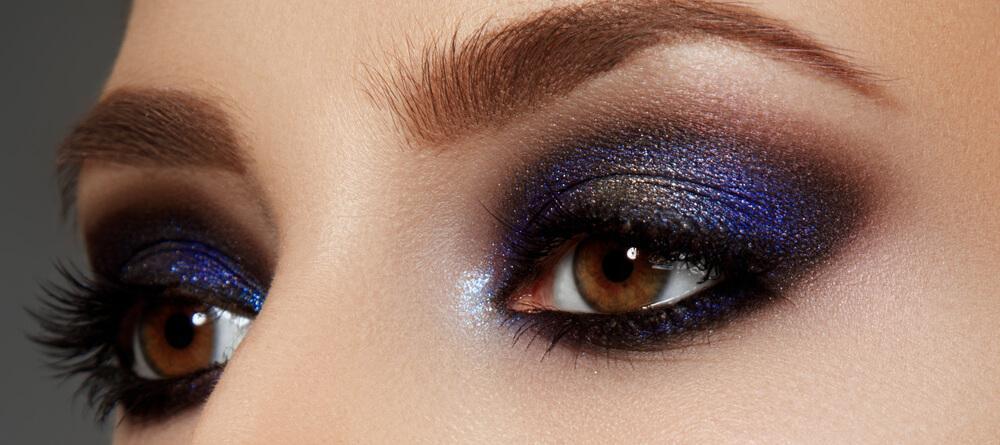 Starting with a particularly dramatic look, we're loving dark statement eye makeup right now. Its moody color palette with hints of winters-night blue is perfect for this time of year. Plus, it'll make a lasting impression for an evening out whilst we're still rocking our masks and keeping each other safe!
We also recommend filling in your brows for a bold finish with this particular eye makeup look. It'll stop them from fading into the background against the strong eyeshadow colors. Plus, they'll frame your eyes beautifully which is something we all need when wearing a mask.
How To Create This Look…
Start by priming your eyelids to make sure your makeup stays in place for as long as you need it to.

Next, go in with your darkest, preferably black, eyeshadow color. Take it up just above the crease of your eyelid and fill out a cat-eye shape. You'll also want to take this color along the bottom lash line with a thinner brush for precision.

Then, blend slightly so the lines aren't super harsh.

Next, take a high pigmented, deep blue shadow with a little sparkle and add this over the top of your black base. Position it in the middle of the eyelid then blend out. 

Finish off with a black pencil liner inside the bottom lash line and at least two coats of jet black lengthening mascara.

We also recommend adding a touch of silvery blue to the inside of your eye near the nose to bring out the blue tones of this look and make your eyes really pop!
Soft Pink Shadow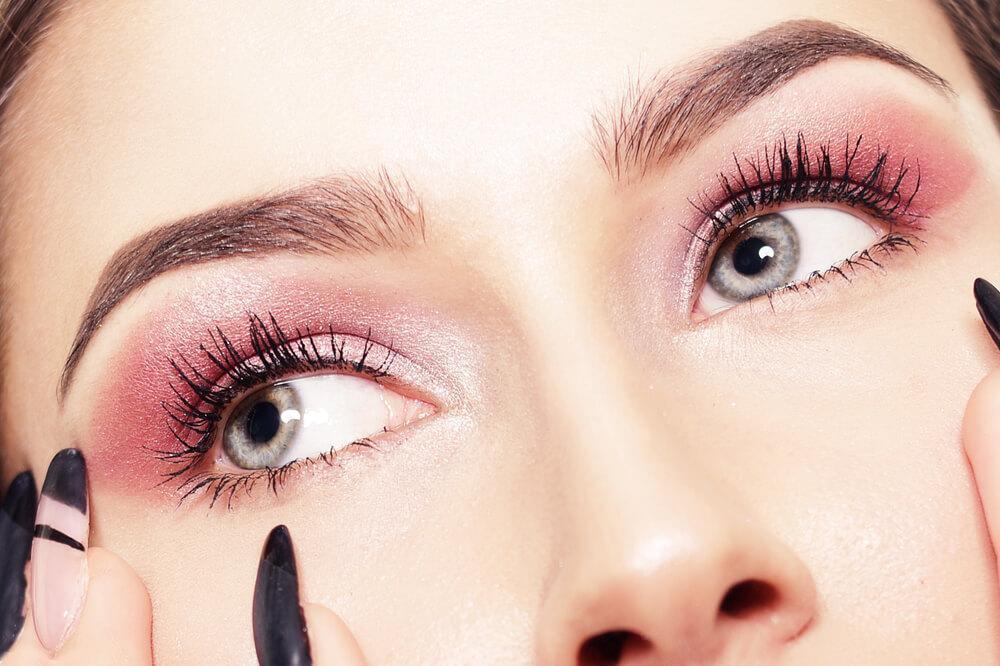 Looking for something on the softer side?
We have you covered!
This romantic pink eye makeup look has us seriously swooning! Not only is it extremely pretty, but it's also a look that will work both day and night. Perfect for when you have a particularly busy day of work and social events. After all, you may be running from place to place wearing that mask, but you still want and need to look your best.
What's more, all you'll need to create this look is three simple makeup items and minimal time. That's always a plus in our book!
How To Create This Look…
Prime your lids so they're ready for color to be added. This step is essential when we need our eye makeup to last that little bit longer on a busy day!

Next, apply your chosen shade of pink. This can be anything from a soft powder pink to a daring shade of fuchsia! Whatever pink works best for your day and your outfit, go with that. Be sure to draw the color up and over the crease of the lid to create a statement look. Then, blend it out to avoid harsh lines. 

Finally, yes, we said 'finally' already! Apply two coats of black lengthening mascara to curled lashes and you're all set. 

Make sure your brows are combed and filled in once again to frame this eternally pretty, yet chicly subtle makeup look. 
Glamorous Green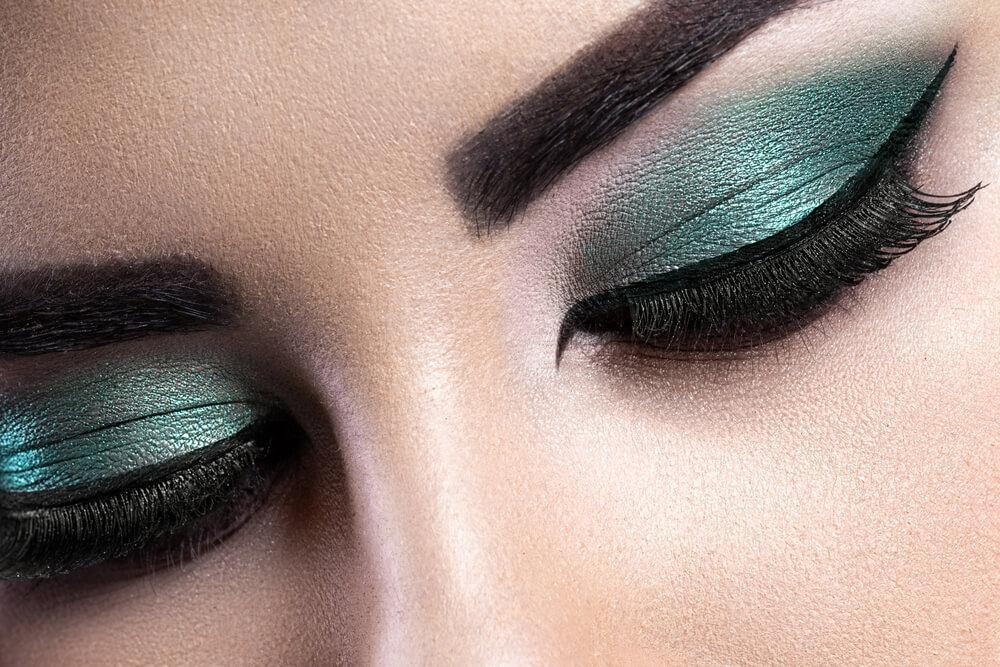 Whilst face masks may not feel like the most glamorous accessory in your collection, they are undoubtedly the most essential right now. so, since there are no two ways about it, we might as well add the glamor where we can. How? By complementing our masks with a fabulous eye look of course!
Nothing shouts glamorous like a gorgeous shade of deep green eyeshadow. So, grab yours and get to work creating an eye look so unforgettable, you won't even notice you're wearing that mask anymore!
How To Create This Look…
Prime your eyelids and make sure your brows are looking strong and neat in terms of color and shape. This will make sure they're still noticeable next to this vibrant shade!

Next, using a reflective, dark green powder across your lids blending out towards the edges of your eyes. If your 

eyes are on the hooded side

, simply blend the color up a little to enhance that gorgeous green! Then, blend this out so it'll mesh well with the liquid liner on the next step. 

Take your liquid liner and draw a fairly thick line from the inside of your eyes to the outside. Finish off the line with a flick to make the cat-eye shape. This will look amazing when all you can see is your eyes above your mask!

Finish off by curling your lashes and applying the darkest black volumizing mascara you can get your hands on. This will be incredible next to the drama of your deep green shadow!
Perfect Pencil Liner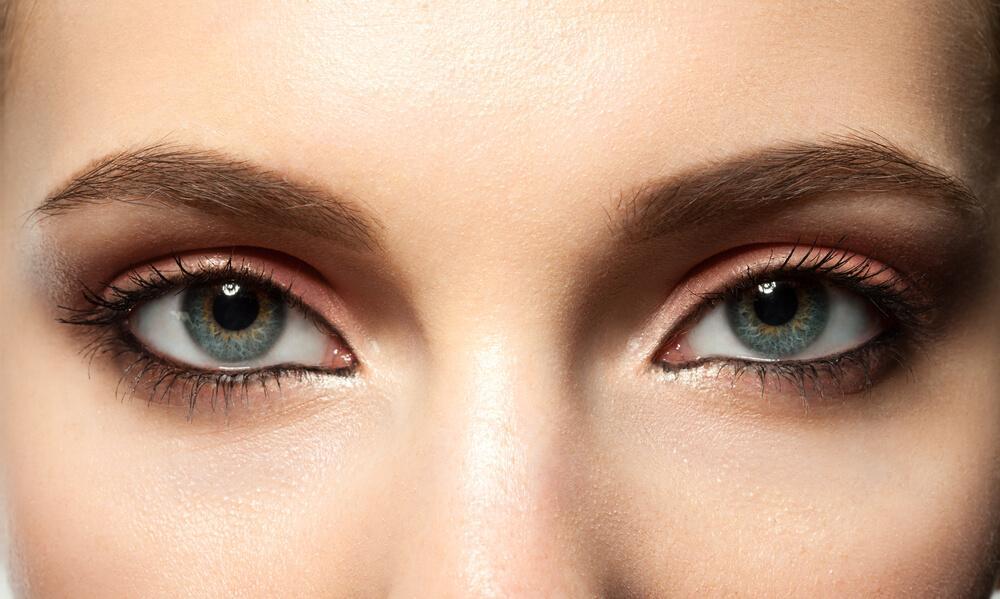 Not all eye makeup looks need heaps of color to make them impressive. There are always other amazing ways to make your eyes the main feature when you're wearing your mask. 
Such as, you ask?
Statement pencil liner!
That's right. If you wish to forgo shadows and colors all together, this is the look for you. Choose to give your eyes a mysterious edge with liner inside the eye, or slick on some liquid liner along the top lash line to open up your eyes and give them shape and definition. If you're feeling really adventurous, why not try both together?! 
How To Create This Look…
To create a simple eyeliner look that takes next to no time, yet still looks incredible, start with primed lids!

There'll be no need to add color, however, we do suggest a light dusting of beige shadow to open up your eyes whilst smoothing out the lids and offering definition.

Now, use your ring finger to gently expose the inside of your lower lash line. 

Apply your pencil liner here in a light sweeping motion so not too much product is applied

. A little goes a long way with this technique!

Once you're done, take your finger away and repeat on the other side. If you have enough product on each, move on to the next step,. If you need a little more go ahead and add a touch more product but don't overdo it as it'll end up smudging very quickly into the corners of your eyes.

Finally, finish off by curling your lashes, and sweeping a little lengthening mascara at the top and bottom!

If you'd like to try this look during the daytime but feel black make up is too harsh for your day, try using brown liner and mascara for a subtler, yet equally stunning, finish!
Smoke & Glitter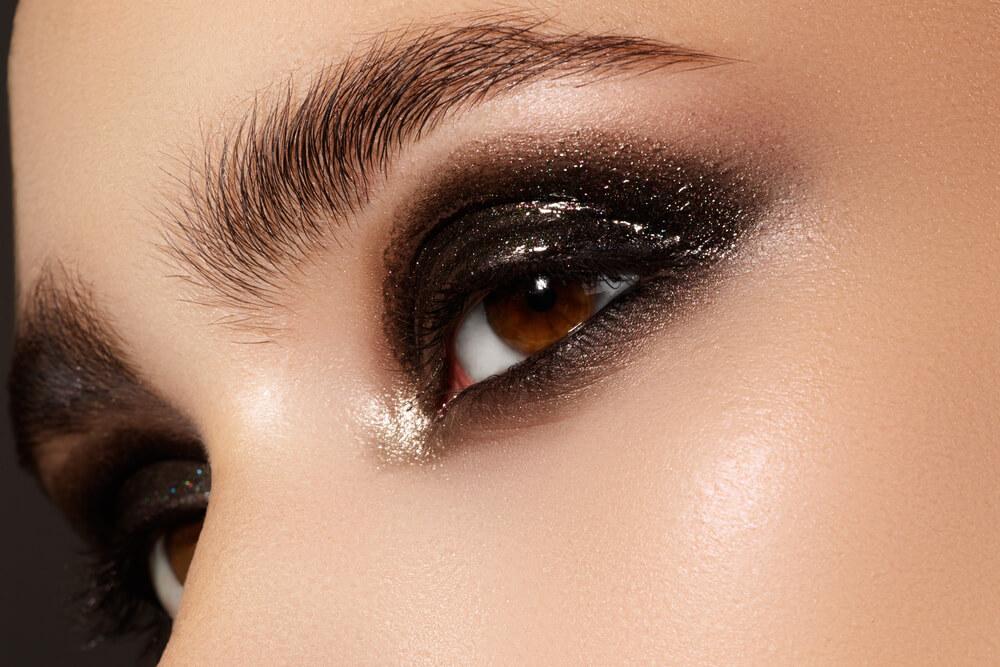 This theatrical eye makeup looks is one of our absolute favorites. Not only is it wonderfully dramatic and frankly, unforgettable, it's also super easy to create. Yes, even if you have little to no experience with makeup application! We plan on wearing this one to any and every winter event possible this year…
Want to know how to create the look yourself?
Keep on scrolling!
Now, this particular look uses black eye gloss of course, however, you can also choose to create the look with a nude gloss for something more natural. Or, go for a different color all together if darker tones aren't your thing! That said, we're feeling daring and want to make sure our eyes stand out over our masks, so, we're going straight for this stunning jet black shade.
How To Create This Look…
Begin with primed lids as usual and take extra care to make sure your primer is dry before applying your gloss.

Next, reach for your black eye gloss.

Seeing as this is a different texture to usual shadows, we like to apply gloss using our ring finger to ensure even distribution. Smooth it all over your lid and slightly above for extra drama! 

Comb your brows and fill in any gaps to give them a strong look that coordinates with the deep black shade on your lids.

Finally, finish off with a gentle sweep of black mascara. This will add definition to your lashes without stealing focus from your gorgeous, glossy lids!
Bright Eyes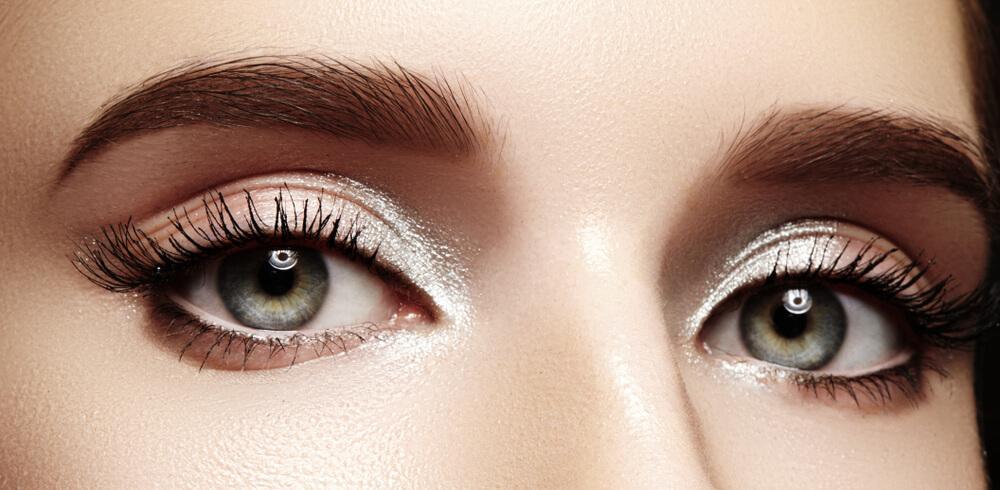 With the right color and technique, even the simplest eye looks can be super striking peeking above your face mask. We also love looks that can be worn throughout the daytime without needing to be changed for our evening commitments. 
Thankfully, this one's perfect for those with busy schedules and little time to create intricate makeup looks before starting their day!
How To Create This Look…
With eyelids primed and eyebrows combed and filled, you're ready to begin this look!

Take a reflective eyeshadow with a high pigment, and a little sparkle. Use either your finger or a brush to smooth it across your lids. 

Make sure to pay attention to the inner eye area next to your nose. Popping a little of your reflective eyeshadow powder here really opens up the eye and makes them sparkle! 

Once this is done, go ahead and add a little eyeshadow beneath the bottom lash line. This will draw even more attention to those beautiful eyes of yours whilst making this more of a statement look too!

Finally, curl your lashes and apply a separating mascara to your upper and bottom lashes. This will open up your eyes even more. Plus, the light and feathery appearance of your lashes will look unbelievable next to your bright and beautiful eyeshadow. 
Autumn Shades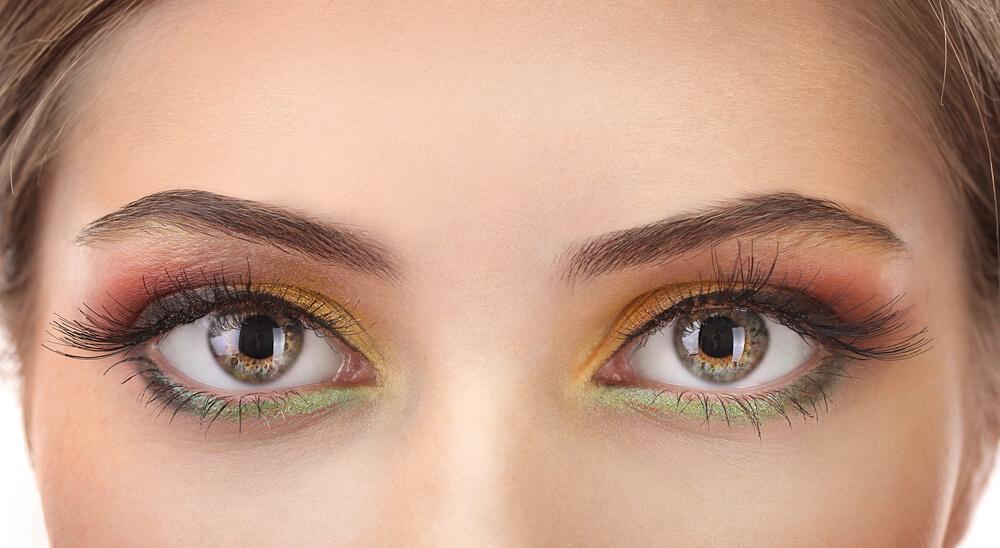 Us too!
Read on for our final, fall-inspired eye makeup look that's ideal for mask wearers everywhere!
Now that fall is officially here, we're excitedly embracing the outside world in all of its colorful glory. From autumnal oranges to crisp greens to murky yellows, every shade is so inspiring and will look amazing on your lids! 
If you too have fallen head over heels with all of the shades nature has to offer during this coziest of seasons, this look is for you. Get those eyeshadow palettes at the ready…
How To Create This Look…
You'll want to have your eyelids primed and your brows combed before beginning. You can afford to

 go nice light on the brows for this look as we want them light and feathery to reflect the season!

Next, choose three complementing colors from your favorite eyeshadow palette and prepare to blend!

Start with the lightest color at the inner corner of your eyelid. Sweep the powder towards the center and stop there. Your work doesn't need to be super neat at this stage so don't worry if it looks a little strange!

Select your second color and work this from the center of your eyelid towards the outer corner of your eye. Now, using your finger or a brush, whichever gives you the most flexibility and ability for precision, blend the two colors lightly together in the center. 

Now, take your third color and sweep it all the way along beneath your bottom lash line. blend it out a little but leave the color pretty strong so it compliments the two on your eyelid. 

Finish off with brown mascara to lengthen and separate the lashes for a light and feathery, fall finish!