A woman is only as elegant as her nails. Some women dislike wearing glitter on their nails – but others have learned to appreciate that a little glitter never hurt anyone. You just need to apply it and the rest will follow. Plus, applying glitter on your nails will only add some glam in your life.
So, if you love glitter and want to try out some new, fancy designs, here are some great, popular ideas. All of them can be adjusted for your own preferences – and no one stops you from using other colors. The designs themselves, however, are definitely worth trying out.
A Word on Nail Glitter
There's a reason why they call it "nail art;" you need to be very careful with each stroke. However, the advantage of glitter is that even if you are not very skilled or steady-handed, you can still pull off some nice designs. You just need to know how to incorporate glitter properly in your nail art.
To begin with, to make the glitter pop out, you always need to add a base. Dark base colors are trending nowadays – but if you want a lighter, ethereal look, then you can use a lighter tone as well.
Moreover, glitter can be used in a variety of ways. You can paint your entire nail glitter, you can add a stripe to the margin of your nail, or you can create a French manicure with glitter. The beauty of nail art is that you can create whatever you want, as long as you like it.
People are even making teeth nail art – so you have all the freedom that you want. You can even make weed nail art, for all anyone cares.
Indeed, glitter can be fairly difficult to remove – which is why many women are turned off by this type of manicure. However, a very easy way to take it off is to follow these steps:
Take a cotton ball the size of your fingernail (or just a tad bigger) and soak it in polish remover.
Cover your entire nail with the cotton ball.
Wrap your fingertip with some tin foil and leave it there for around three minutes.
Take off the foil and cotton ball and wipe off the excess. The glitter, along with the base should have come off.
Repeat the process on the other fingers with a new cotton ball each time. It's that simple!
Once you have all this down, it's all about the creativity. Take your base color, your glitter, and go nuts with your new designs!
The Best Glitter Nail Art Designs
Looking for some specific ideas to decorate your fingertips? Here is what is currently trending on the Internet – no matter if you are a crazy soul or a classy one. You just have to pick out the right event or environment for them.
Red & Silver Christmas-Inspired Nail Art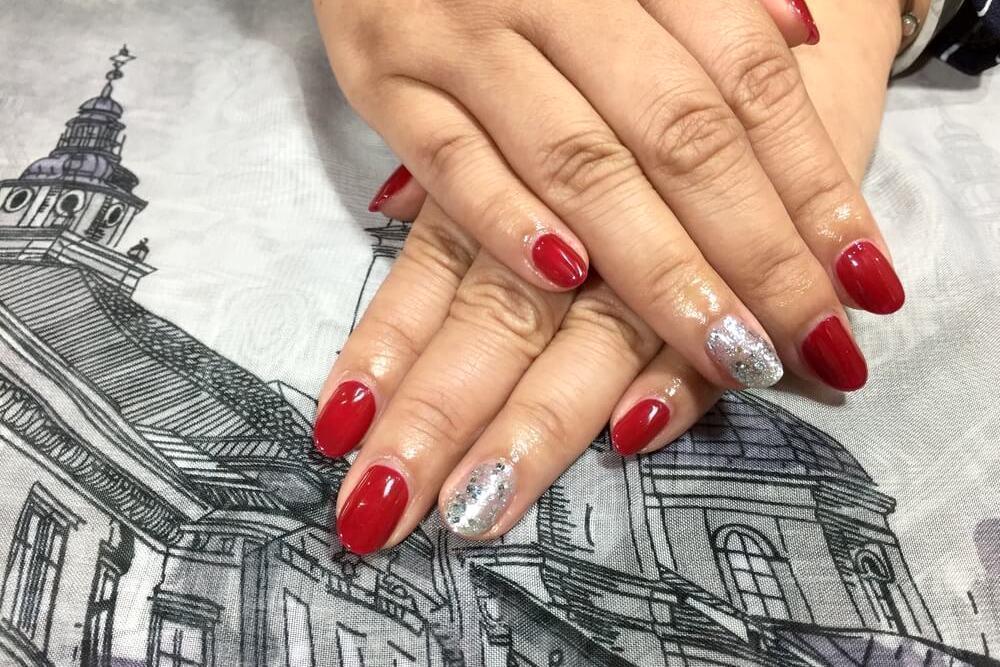 If Christmas is approaching, yet you have no ideas how to make your Lady Christmas costume pop out, then you might want to try out this design. Made with red and silver themes with just a bit of glitter, this design looks both classy and festive.
The reason why this model is so popular is that it has enough glitter to be tasteful. All nails have a matte or metallic red color – except for the ring finger. This one has been painted with silver glitter, popping out among the other fingers.
Plus, considering that these nails are nothing too crazy, you can wear them to a Christmas party – and then take them to work the next day. Also, you can play with any other shade of red. Therefore, if you want to go for a darker or a lighter color, then go for it. You'll still be able to maintain the theme.
Golden French Manicure with Red Lacquer
When in doubt, always go with French. There's something very chic about painting your nails a nude color – and then finishing everything off with white tips. French manicure has come a long way and the beauty of this kind of nail art is undeniable. Plus, you're free to improvise – which is how this design came to life.
The pink nail polish was replaced with golden glitter and the white appliqué is now red lacquer. It looks brilliant and classy – with a bit of a festive look to it as well. You can easily wear this to a Christmas party – or a Valentine's Day date. Plus, since there aren't any flashy designs on it, you can practically wear it with almost every outfit.
Black Dragon Nail Design
The Black Dragon is one more model that you will learn to love – particularly if you love monochromatic colors. Being a combo of black and silver, this manicure is a classic – but one that will definitely make you stand out as a classy woman of the society.
Plus, the advantage is that it's not difficult to do either. You paint all of your nails black – except for the ring finger. Depending on how see-through the glitter polish is, you can use a black undercoat for the glitter – but if it's clear, you should go for a silver base color instead.
The advantage of this nail art is that it's nothing too fancy or intricate – meaning that after an event, you can take them to a day's work. Plus, due to the colors used, you'll be able to match them with any outfit.
Polka Glitter Nail Art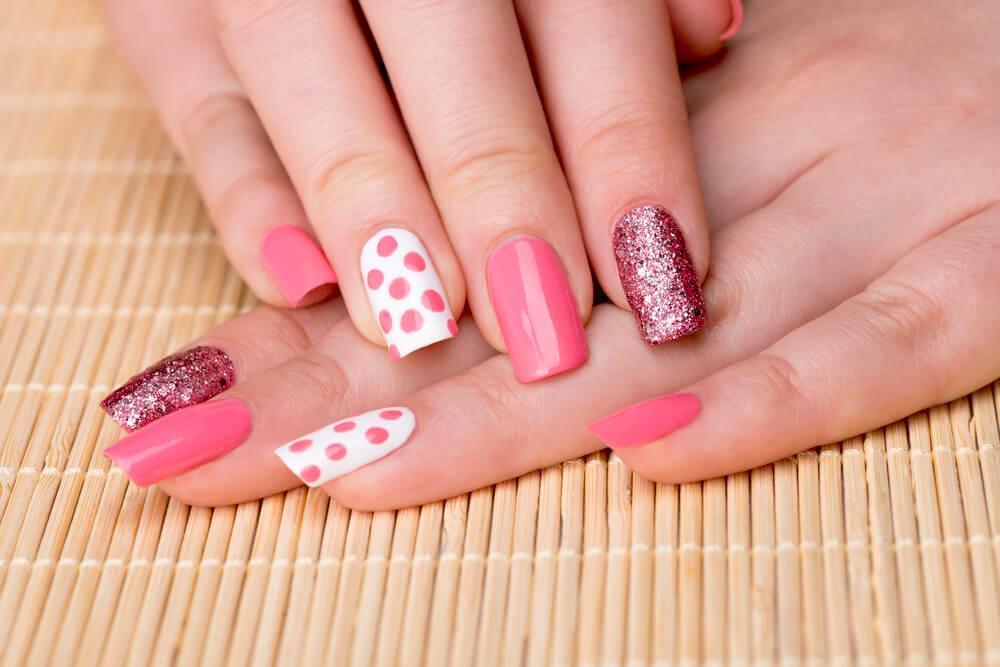 Glitter and polka dots – it's a unique and tricky combo. For some, it would seem like too much to add both these styles in one manicure. However, if added tastefully, each nail can complement the other.
For this design, you will need a matte (or regular) pink nail polish, a white one, and a pinkish (close colored) glittered nail polish. Paint all your fingernails pink, except for the index and the ring finger.
Now, add a white base to your index finger and let it dry. After that, take the pink nail polish and start drawing polka dots. If you can't do it with the brush, you might want to take the tip of a bobby pin; it will work just as well.
Now it's time for the index finger. Before adding the coat of glitter, you might want to add a base as well. It can be either white or pink – depending on how you want the undertone to be. Once you have added the glitter and everything has dried off nicely, you should finish it off with a transparent, protective coating.
Flower and Hearts Glitter Nail Art
If you like glitter, but not enough to plaster it on an entire nail, then you might like this model in particular. You can use pink or red, depending on your preferences. Other than that, you will need some transparent nail polish, black, and glitter.
After which you can play. You should coat two fingernails with a matte, full base – ideally, the thumb and the pinky finger. This will add the impression of a frame. Once you have done that, you can start playing.
Draw a few hearts on the margins of the fingernail. You'll want to make it a half-half so that there is also some clear area around the hearts. After that, take the black and glitter – and start drawing the flowers.
The glitter will work to decorate the "flowers." The resulting design will be chic and feminine – boosting the confidence of every woman out there. Granted, it won't be a pattern that is easy to master – but with enough patience (or a good manicurist) it should become very easy to get done.
Bridal Glitter Manicure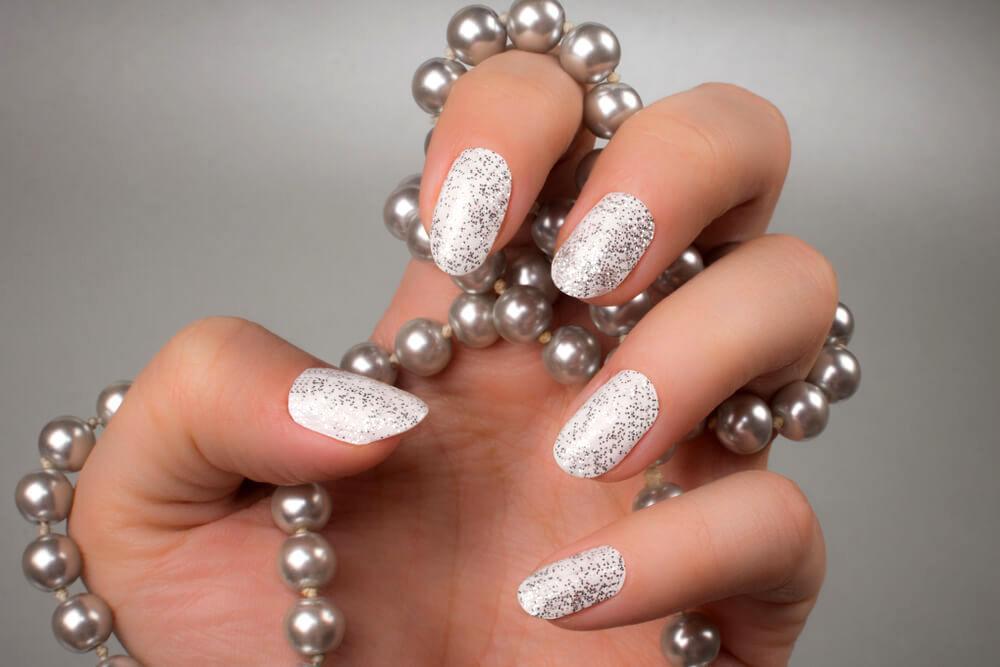 If there's ever a right time when you should wear glitter, that's at your wedding. Obviously, the glitter has to be white or silver – otherwise, it would mess with the whole "bride in white" concept.
Looking at this manicure, you'd think it was pretty straightforward to do – but the truth is a bit different. There's art to it as well – and you need to have a steady hand.
First, you need to start with a white base, to make the glitter polish pop. This will also provide some uniformity to the top glitter layer. To make the glitter more visible and "diamond-like," you might want to go for a silver hue.
Sure, white glitter might be a more "bridey" choice – but it won't be so visible over the white base. This way, it will look like you have diamonds instead of fingernails. Add some rhinestones in the mix as well, and you have the perfect bridal combo.
Black Glitter Halved Nails
If you are more on a darker side and can't go out without a little bit of black nail polish, then this model is certainly for you. It resembles a black French manicure – but with bigger French tips. Obviously, this will also depend on the length of your nails.
Basically, to get this look, you will need two types of polishes (aside from the regular protective coating), which are black and glitter.
To make the glitter stand out, you might want to go for a navy color – or something dark that is not black. After the black base has dried, apply a nail tape, marking where you want the French tip to start – and apply the glitter. Finish it off with a protective transparent coat, and you are done.
Luxury Blue Nail Art
You don't want anything to fancy – but you still want to look like royalty every day. For this reason, you might want to try out this Luxury Blue design that speaks "Blue Blood" from every core.
There are two ways for you to go around this design. You can go for full glitter coverage, French tips – or a combination of both. Regardless of your choice, it will still look fancy enough to be acceptable in a daily environment.
For the mixed coverage, you might want to do a French glitter tip on all your nails, except for the ring finger. That one should receive a blue base coating and then a full glitter coat. For best results, make sure that the glitter polish is also a shade of blue.
Red Tip French Glitter Manicure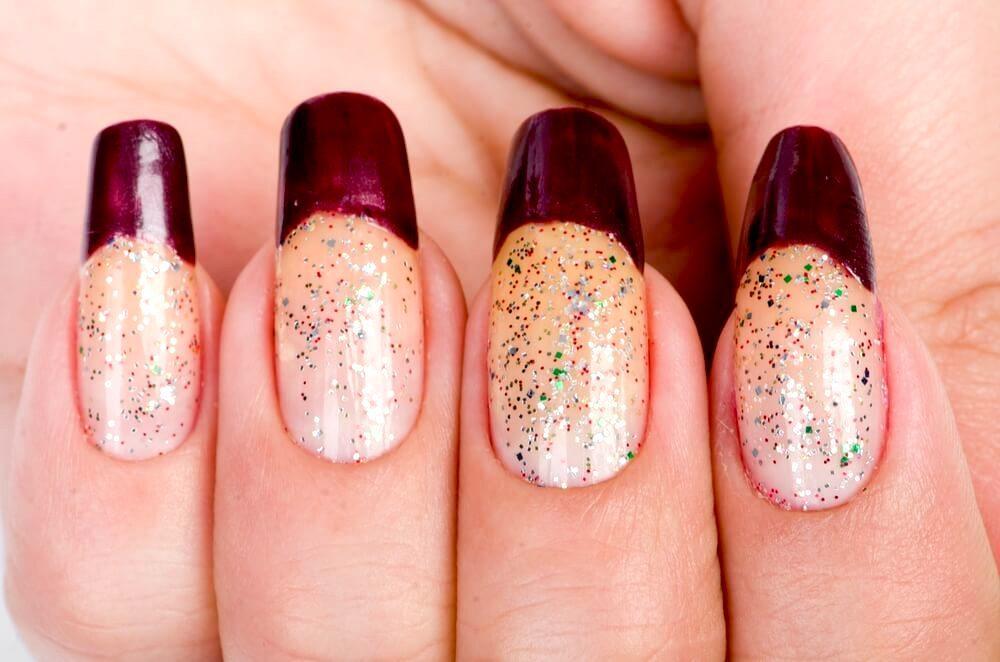 French tips strike again – this time, with a classic model that still manages to look fancy. Unlike other models, this one does not necessarily need a base coat for the glitter; you add it simply as nail polish and allow it to blend in with your actual nail.
To add a dab of color, however, you need to make the French tips in a different color – and dark red is always a fabulous choice. You can use any shade of red that you want – as long as it fits your personal preferences.
However, bear in mind that each color shade has its own meaning. Darker shades make you look sexy and mysterious – while lighter shades make you look feminine and classy. Choose the one you believe fits your personality most.
Final Thoughts
When life treats you with boredom, strike back with some glitter. Glitter has now become an accessory to anything; you can add it to your hair, your face – and particularly, your nails. And the beauty of glitter is that you can use it however you want; it will still look beautiful.
The nail art designs presented above are simple – but classy enough to be worn in any kind of environment. You can go with them in the evening to a nightclub, and no one will lift a strange eye if you wear them to work the next day.
Be creative, play with the glitter and choose the colors that you like. However, make sure the result is something to represent you.