I was sent these high-quality, luxury items by Introstem in exchange for an honest review. They've sent me four products, and today I will be discussing how to use them, the benefits I noticed, and my overall review.
A Peek at Introstem
Introstem prides themselves in having keeping a gentle but effective formula. They make their products with the biggest aging factors in mind, such as climate, air, and sun damage. Using carefully chose ingredients such as grape stem cell extract and hemp seed oil, Introstem promises to give skin a youthful, plump, and clear appearance without any parabens. Their website features pages such as key ingredients, what to use for certain concerns, and more important FAQs. Other products besides what I am reviewing today include a Stem Cell Facial Toner, Stem Cell Firming Eye Cream, and various creams, exfoliators, etc. If any of the products reviewed today spark your interest, give the page a preview.
Some important ingredients used throughout their products:
Hemp seed oil:

Contains omega-6 fatty acids, which help inflammation and encourage growth and cell generation

Hydrating without clogging pores; helps dry skin while reducing acne caused by oils

Regulates oil production levels in the skin

Read more

here

Grape stem cell extract:

Protects against UV stress

Antioxidant properties

Proanthocyanins: stabilize collagen, reduce swelling

20x more effective than vitamin C and 50x more effective than vitamin E

Improves cell regeneration; grape stem cell replicate skin cells on our face, brightening and smoothing overall appearance
Before getting into the products I will say that most of their products range in the $300-$2,000 area, and the packaging and jars feel luxurious. All ingredients seem to all be well-thought about in relation to skin concerns. Needless to say, I was expecting high quality from the beginning.
I kept up with my regular skin care routine throughout the week of using these products. I will say that my skin has already been improving in the last few months, but certain concerns keep arising that I'm hoping Introstem can solve.
Hydro Face and Neck Cream
The Hydro Face and Neck Cream is full of anti-aging vitamins and peptides to "firm, lift, improve appearance of skin elasticity." I personally loved the scent of this cream as well as the consistency. It feels great when you apply it to your skin; it's thick without being too heavy and leaves no greasy residue behind. It absorbs quickly and leaves a smooth appearance on the face.
Some major ingredients include:
Hemp seed oil – hydrates; regulates oil production levels in the skin
Grape stem cell extract – improves cell regeneration; protects against UV; contains antioxidants
Retinyl palmitate – improves skin tone and promotes new skin cells
Collagen – provides elasticity for vibrant and plump skin
Dulcis (sweet almond) oil – moisturizing skin while providing essential fatty acids; includes vitamin E for protection and keeping skin looking healthy and smooth
Shea butter – conditions, tones, and soothes skin; includes vitamin A for clearing blemishes, vitamin C for collagen production, and vitamin E for its soothing properties
Glycerin – draws moisture to the skin, reducing dry patches while nourishing and maintaining glowing and healthy skin
Safflower seed – removes dirt and oil while hydrating skin, resulting in glowing and smooth appearance
Green tea leaf extract – contains antioxidant and soothing properties
The instructions say to apply this cream to the face and neck twice daily for best results. I followed my regular skin routine with my typical cleanser before applying this every morning and night for a week. I've loved using it every time, and I feel somewhat of a difference in my skin, though I'm sure I will see more drastic improves down the line with this cream in particular. I will provide skin pictures later in the review. What I loved about this was how hydrating it felt without making my face feel sticky in the slightest. I have pretty dry skin, so not having to use a thick moisturizer after using this at nighttime is a huge bonus.
Stem Cell Night Repair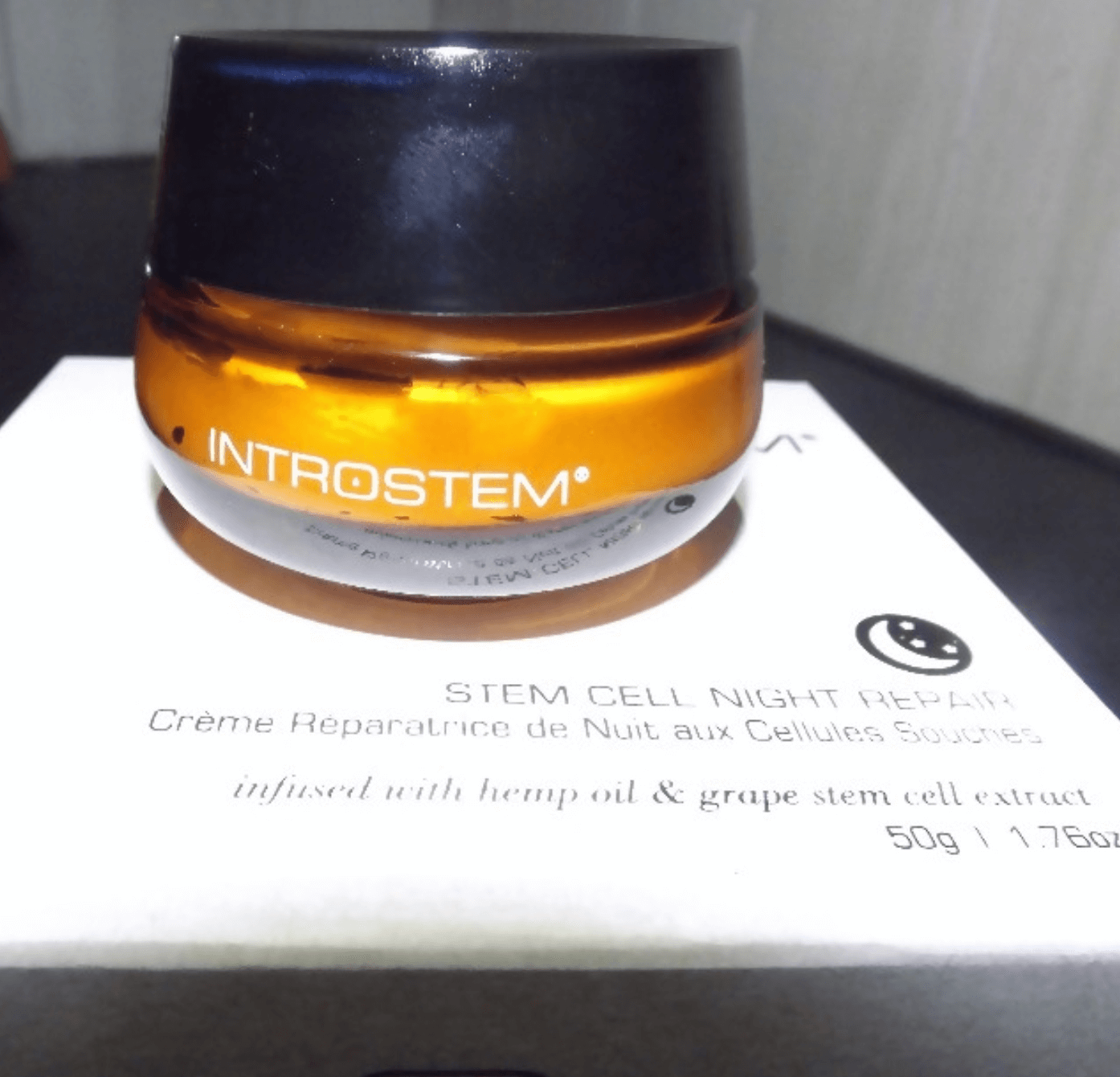 This night cream was especially exciting because I'd just run of my last overnight cream! The Stem Cell Night Repair is meant to restore your skin to its natural and healthful appearance, making skin brighter and more radiant. It comes in a short, thick glass jar that feels decently heavy and well-made. Upon first opening, it had a pleasant smell, and I liked this scent more than the first cream. Application is pleasant and the product feels very lightweight when rubbed into the skin. Again, this cream left behind no greasiness or weird residue.
Some ingredients to highlight are:
Grape stem cell extract – improves cell regeneration; protects against UV; contains antioxidants
Hemp Seed Oil – hydrates; regulates oil production levels in the skin
Essential fatty acids – includes omega-3 and omega-6
Sunflower seed oil – contains vitamins A, C, E, and D; removes bacteria while renewing skin healthy skin cells; provides moisture to the skin
Jojoba oil – soothes dry skin, aides in chaffing and chapping
Shea butter – conditions and tones
Directions are to apply this repair cream to the face each evening. I did as the box says to do on a cleansed face each night along with my Hydro Face and Neck Cream. Personally, I like this product a bit more than the Hydro cream. This night repair cream just feels so smooth and goes on so lightweight. It absorbs super quickly and makes your face feel instantly smooth. I applied this for two nights before using the overnight mask, and I felt I may have seen a tiny bit of a difference in just the first two nights alone. Waking up, my skin felt super soft and radiant! After a week of use, the Stem Cell Night Repair by Introstem is now one of my favorite products of all time.
Lumi-Cell Overnight Mask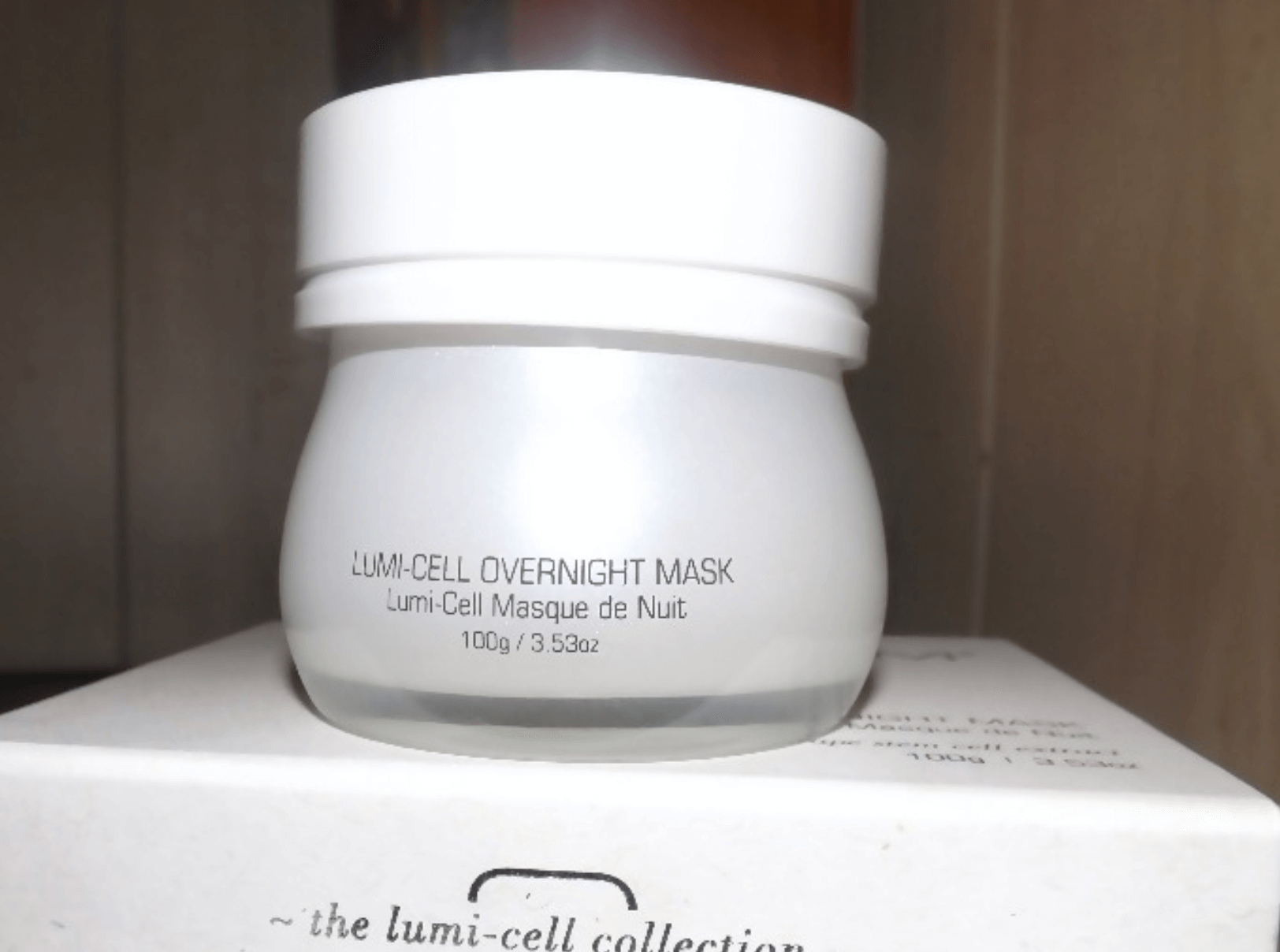 Introstem's Lumi-cell Overnight Mask was designed to give a brighter and more energized complexion to the skin. My initial impression of this product in particular was, "Wow." The jar is pretty big and very pretty. The mask itself looks pearlescent and has an amazing smell and feel!.
It is made from a mix of fruit extracts as well as important vitamins. Some to point out include:
Bilberry – anti-inflammatory and antioxidant properties; cleans skin while helping to prevent blemishes and cell damage
Gogi – high in antioxidants; prevents signs of aging and protects against sun damage
Acai berry – contains essential amino acids, fatty acids, and vitamins; known for its anti-aging properties
Noni – contains vitamins A and C; antioxidants to fight against aging and bacterial infections
Pomegranate – High in vitamin C, meaning it naturally brightens the skin; fights inflammation, dark spots, bacteria, and aging signs
Hemp seed oil – hydrating; provides nutrients and encouraging cell regeneration
Grape stem cell extract – protects against sun damage, helps cell regeneration and collagen production
Sodium Hyaluronate – holds ten times its weight in water, making it an extremely hydrating ingredient; promotes blood circulation; helps nutrient absorption; encourages wound healing
Squalane – balances oil production, keeping skin moisturized; anti-inflammatory benefits helping acne and eczema
Vitamin A – powerful antioxidant
The box directions say to apply this Lumi-cell Overnight Mask once a week. I first applied it on my third night of using my Introstem products, and it immediately became my favorite of the four I received. This jar had the best smell of them all, and the feeling of application is splendid. The beautiful and soft mask rubs right into the skin and is to be left overnight. Many overnight masks leave skin wet, sticky, or tacky, but this one left my face feeling 100% smooth and perfect. This mask almost feels like rubbing a cloud into your skin, no exaggeration.
The morning after applying the mask, I truly saw a brighter complexion when I looked in the mirror. I have struggled with dull skin for a while, so finding products like these give me hope for bright skin days! I am so excited to continue using this and to see even more of an improvement in my skin. Especially because overnight masks are important in achieving healthier looking skin, which you can read about here.
Stem Cell Day Moisturizer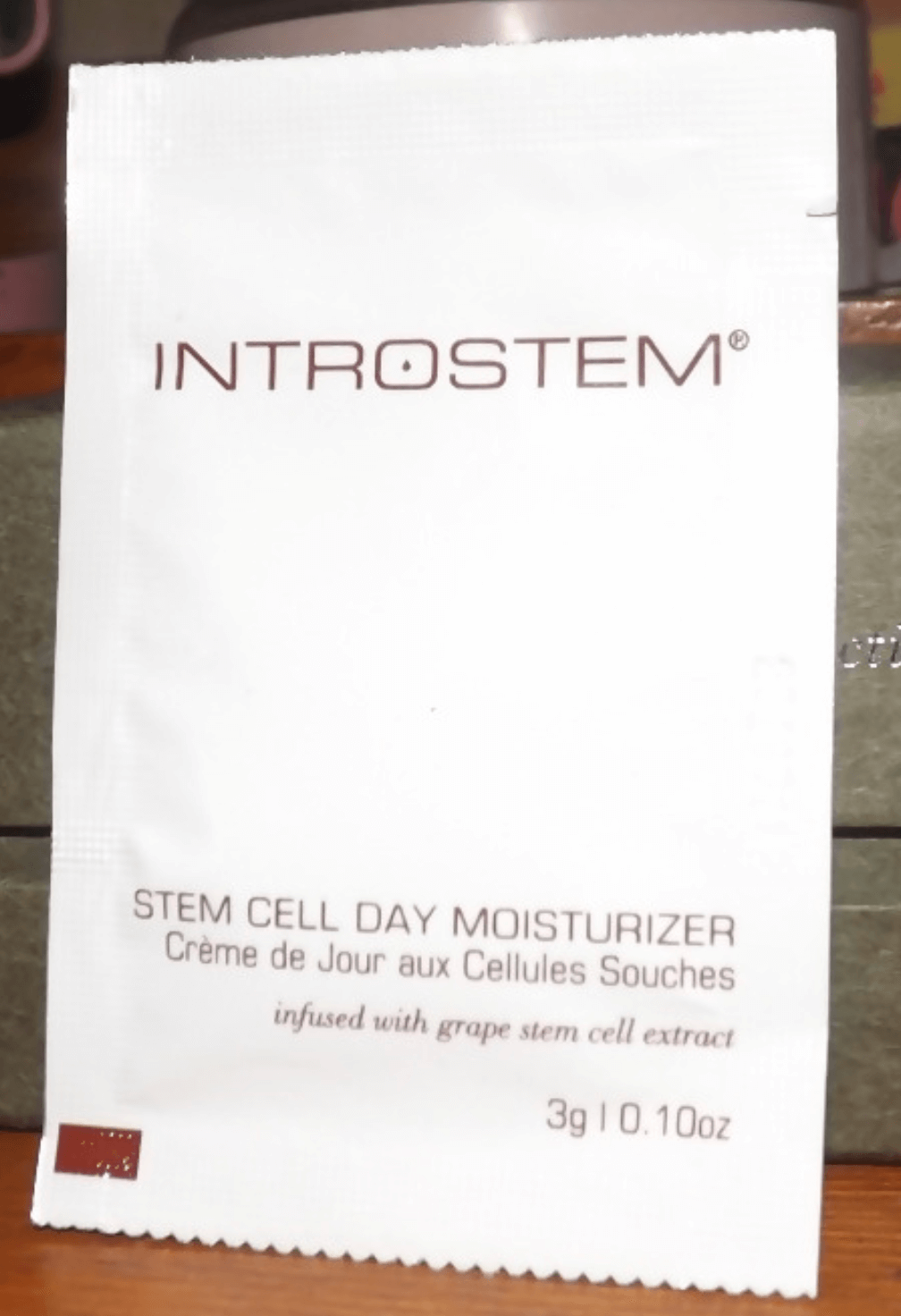 My Stem Cell Day Moisturizer came in a smaller package for me than the regular jars, but even being sample size, I got a few uses out of it. This moisturizer is supposed to "deliver skin-loving nutrients while fortifying your natural skin-protective barrier," giving way to a plumper and more youthful complexion.
Some ingredients to note are:
Shea butter – moisturizing and soothing
Grape stem cells – protects and improves skin generation
Vitamin E – smooths and softens while hydrating
Glycerin – draws moisture into the skin
Hemp seed oil – extremely hydrating; helps fight signs of aging
Safflower seed oil – cleansing and hydrating
Retinyl Palmitate – improves skin tone
For best results, the Stem Cell Day Moisturizer should be applied each day. I did so about three times before running out, and based on those three uses, I would definitely invest in more. As I've said previously, I struggle with dry skin, so I know when a product isn't going to be moisturizing enough for me, but this one is perfect. Again, this product goes on incredibly smooth. It takes a second more to absorb if applied in generous amounts, but unlike many moisturizers, it leaves behind nothing but a glowing appearance.
Before and After
My before and after pictures don't do the products justice. I say this because my skin wasn't terrible to begin with, so the before picture is pretty similar to the after picture. One huge difference I could see was that my face was a bit brighter and all around hydrated and healthy-looking. The biggest factor that changed was the unevenness of my skin tone, but my discoloration is slowly faded to an even, brighter complexion. My skin is always going to be textured, but I can tell these products are beginning to help somewhat with that.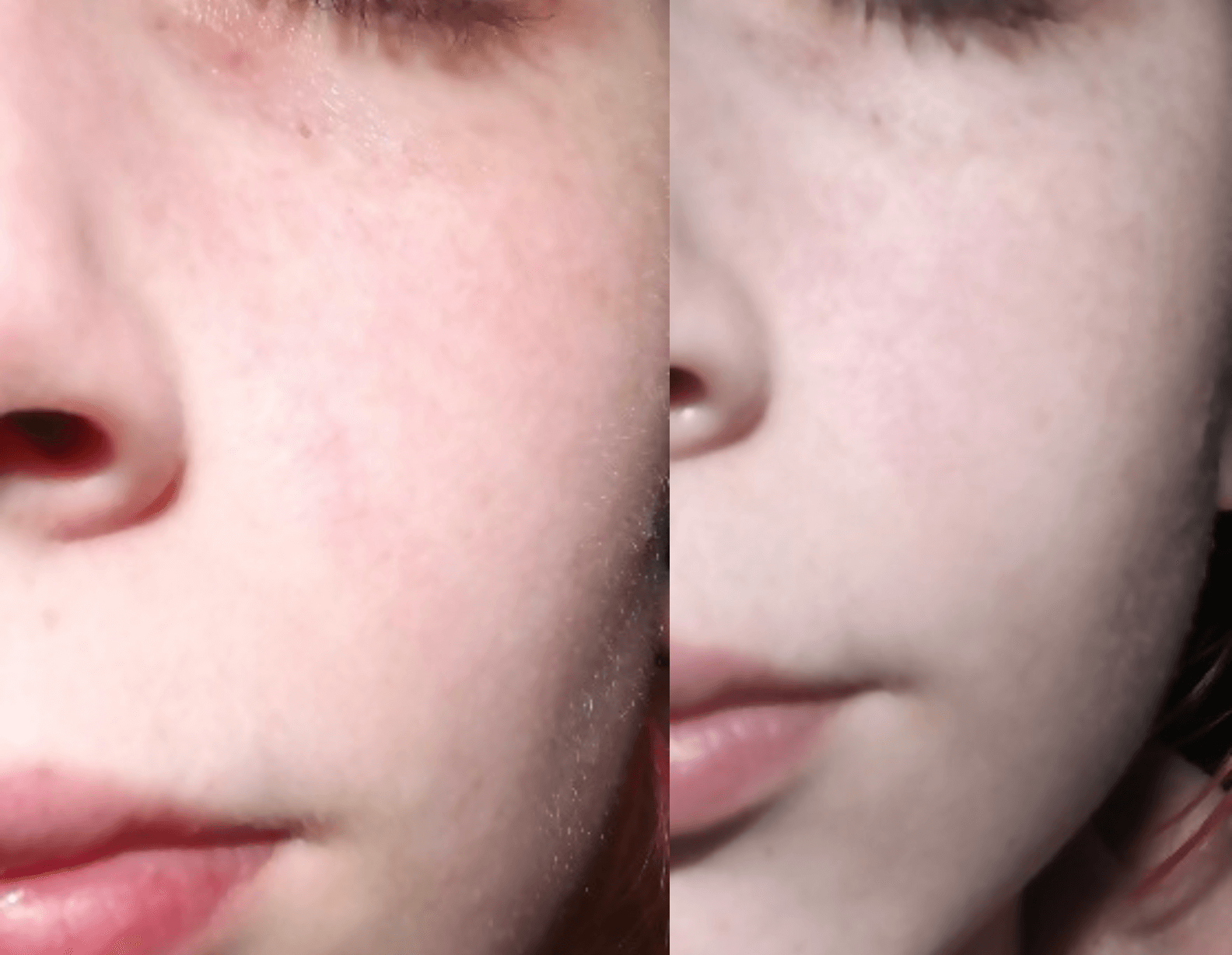 The Introstem website explains how some aspects of our skin is genetic and can't be changed, but focusing on what can be changed and improved, I believe these products will do the trick with more time and consistent use.    
Overall Opinion
I have previously tried luxury skincare and I thought it was phenomenal. I have also used cheap skincare products that have changed my skin for the better, though, so I never judge something solely on its price. I will say that once you start getting into quadruple digits, I do believe there's a standard to be upheld, but that never means it'll work exactly as you want it to.
So, do I think Introstem upholds that standard? Yes. Without a doubt, these products from Introstem are a gamechanger in my routine. I have even used more expensive items, and for me personally, Introstem's products has them beat. I am so excited to see more of an improvement in the brightness and tone of my skin!
My favorite product is the Lumi-cell Overnight Mask. I wish that it was a daily product, but I suppose it'll last much longer if I only use it weekly. And I want it to last as long as possible, as the price currently sits at $1,500. All three of my other products are also wonderful, and I am grateful to have received such great and effective items.
Should You Buy Introstem?
The question of, "Should I buy this?" becomes more difficult when you see the price on some items featured on the Introstem website. If you are someone who is serious about skincare and the appearance of your face and neck, and if you have a little extra money to treat yourself, invest in their products!
Their website has a list of skin concerns, and it makes it super simple to shop by what you are looking for. If you're worried about sun damage and aging spots, take a look at their Stem Cell Vitamin C Serum. For tired eyes, there is a firming eye cream (mentioned previously) or their Stem Cell Eye Serum. Concerned about dry skin? Check out the Stem Cell Day Moisturizer and Night Repair I mentioned in this review. Anyone seriously wanting to revamp their skincare game are going to be glad they starting using these products.