I just want healthy, youthful looking skin. Is that a lot to ask?
Honestly, I don't think so but it isn't the easiest thing to achieve especially as we get older. Unfortunately, we can't stop or reverse time. I've spent a great deal of my free time researching and trying as many anti-aging skin care solutions as I can get my hands on. I have faced the fact that I'm at the age where I need to focus my skin care routine on anti-aging if I want my skin to look a certain way for as long as possible. 
As I've experimented with different skin care treatments and products I have come to the realization that this is an area of our beauty routines that is worth investing in. The old saying, 'you get what you pay for,' seems to ring true in the skin care industry. I have used products at all different price points and continuously find the higher quality products yield the best results.
From my experience, I think a lot of that has to do with the technology and advanced ingredients that are typically found in higher quality products. It really does come down to the ingredients with skin care. You can use products religiously but if the ingredients aren't powerful it's going to be much more difficult to have the results you are searching for. 
Resveratrol is an ingredient I've been particularly interested in recently. I've read quite a few articles about the benefits from resveratrol, particularly with anti-aging. I have been taking resveratrol as a supplement for health purposes for the past couple of years and love that it's being used in skin care. This is why I was incredibly excited to try Vine Vera's Chianti collection. This particular collection from Vine Vera includes resveratrol as one of the primary ingredients. 
Resveratrol Chianti Thermic Mask
The benefits of resveratrol for anti-aging are plentiful so naturally I was totally down to use these products to see what they're all about. The first product I tried from the chianti collection was Vine Vera's Resveratrol Chianti Thermic Mask. I'm a total mask junkie so I couldn't wait to try this one.
I use masks at least twice a week, it's a real obsession and I always love trying different masks. Generally I use sheet and clay-based masks and I was excited to find the chianti thermic mask as something out of my norm. This mask, like the rest of the collection, lists resveratrol as a primary ingredient. It is also infused with sweet almond extract and aloe baradensis leaf extract. 
This particular mask provides a warming effect when applied to the skin. I haven't tried a mask with this type of effect before and to be honest, I wasn't quite sure what to expect. Vine Vera states the mask was designed to give you soft and radiant skin. As I applied the mask for the first time, to cleansed skin, I noticed the warming effect immediately!
The mask comes equipped with an applicator, I highly recommend using it as you apply the mask because the texture of the formula is a bit runny. The applicator makes it much easier to get from the jar to your skin without a big mess.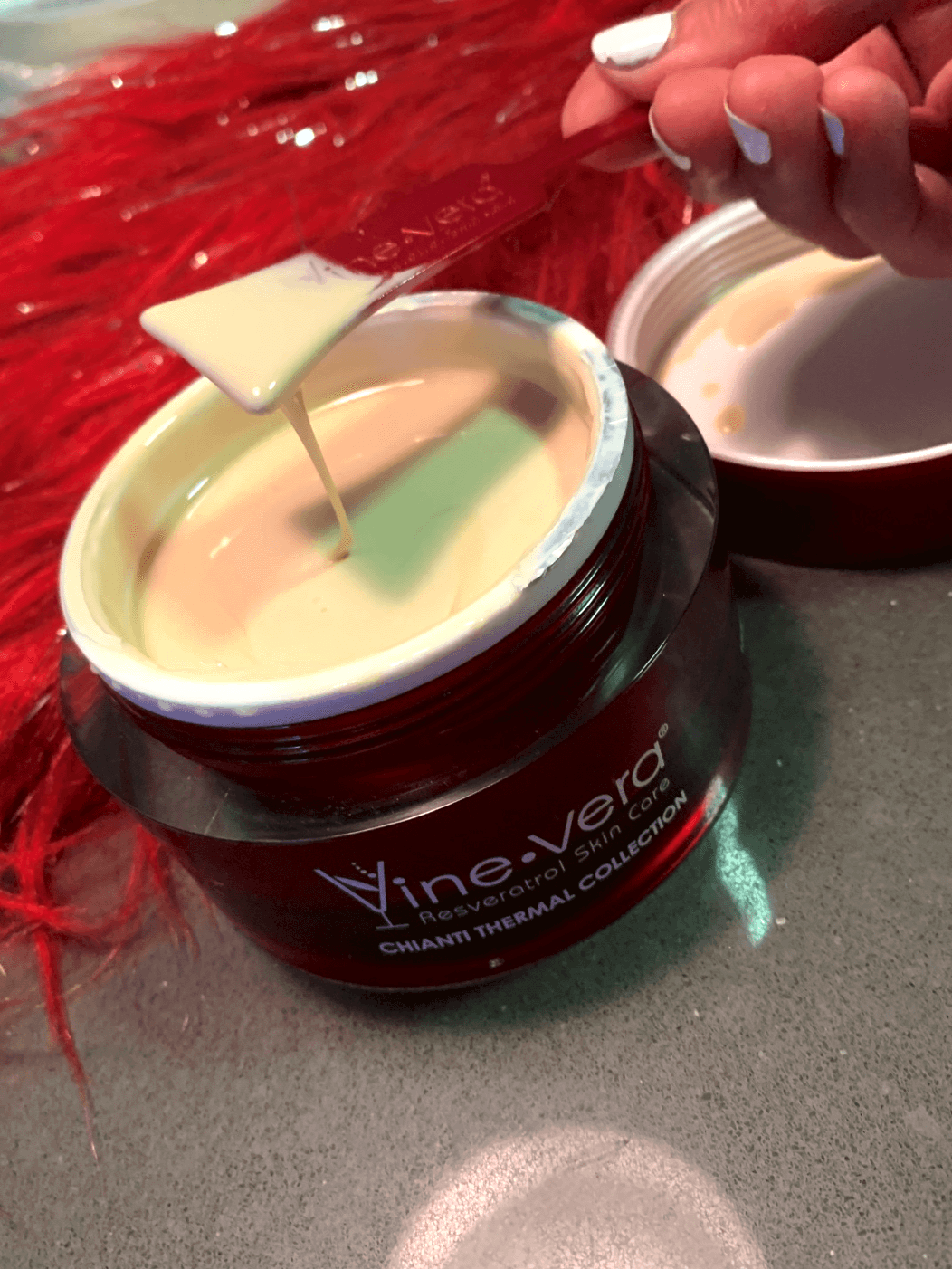 Plus, it allows you to not have to get your hands full of the mask!
I say this because I've used masks in the past where the applicator didn't make much of a difference but with this one it really is a must. Not to mention, I found it really helps you to get a more even application all over your skin.
After applying the formula evenly all over your skin you can relax, or do whatever you want, for 15 minutes. Once the 15 minutes is up simply rinse the mask off with cool water; make sure you use cool water to rinse off. Since this is a warming mask the cool water helps to cool your skin. You never really know how immediate results are going to be with skin care products, especially masks, but I was impressed at the results I experienced. My skin was definitely softer and had a healthy glow to it after the first use. 
Now, I always follow directions when I try a new product. As a skin care junkie I've found the directions are there for a reason and generally the company has tested the products for users to achieve results when the directions are followed. The Vine Vera directions for the mask included what I did the first time I used the mask, but it also included an additional step you can follow. I was really intrigued by this because I haven't used a product that offered an additional step with a mask like this.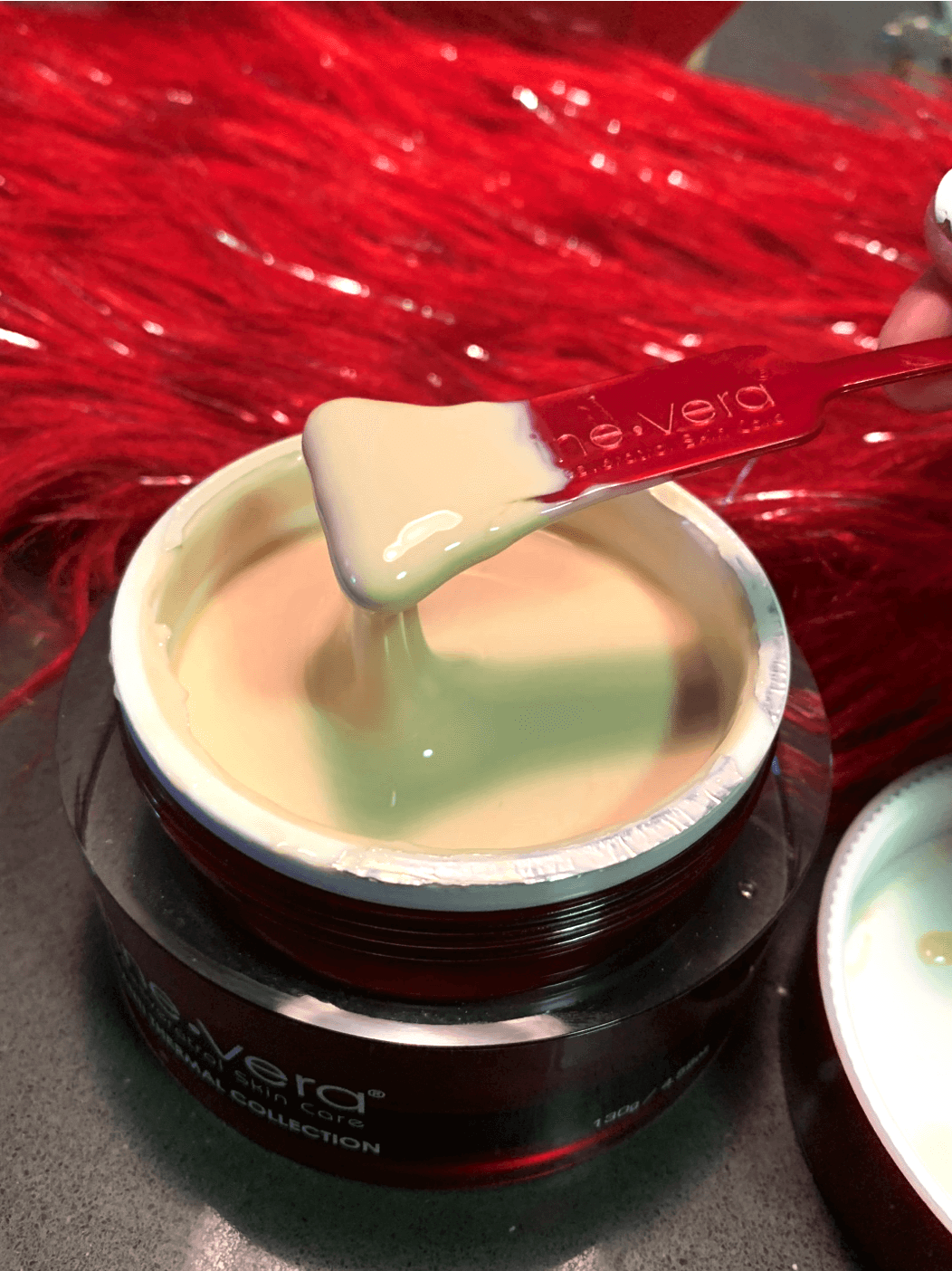 The box of the chianti thermic mask suggests applying the Chianti Revival Serum OVER the mask. It's said that this additional step is meant to increase the warming effect of the mask. I wanted to test it out to see if it really made a difference which is why I opted to try the mask without the serum the first go around. Since I was so pleased with the results from the first use, the second time I used the mask I added the serum to the mix.
My observation? Adding the serum over the mask really does increase the warming effect. When I washed off the mask and serum combination the second time around my skin definitely felt even softer and radiant.
My take away from that experiment is although the serum isn't a MUST to use the mask it definitely increases the benefits. 
Resveratrol Chianti Revival Serum
While I used the serum in conjunction with the thermic mask, I also used it on its own. I have to admit, I love how versatile the serum is that it can be used alone as well as a bonus with the mask.
Serums have been a long time love of mine, much like masks, because I've noticed such a huge difference in my skin's texture and appearance since adding them into my skin care routine. I enjoy serums because they give you a more concentrated dose of powerful ingredients, in this case that's resveratrol and vitamin C (among other ingredients).
The Resveratrol Chianti Revival Serum quickly made its way into one of my favorite serums of all time. For starters, I love that it's an extremely lightweight formula. So many serums I've used over the years often feel heavy when applied to my skin which isn't something I love, particularly in the morning when I apply makeup afterwards. Vine Vera's Resveratrol Chianti Revival Serum is said to reduce the appearance of wrinkles, add more radiance to your skin, aid in your skin feeling refreshed and softer.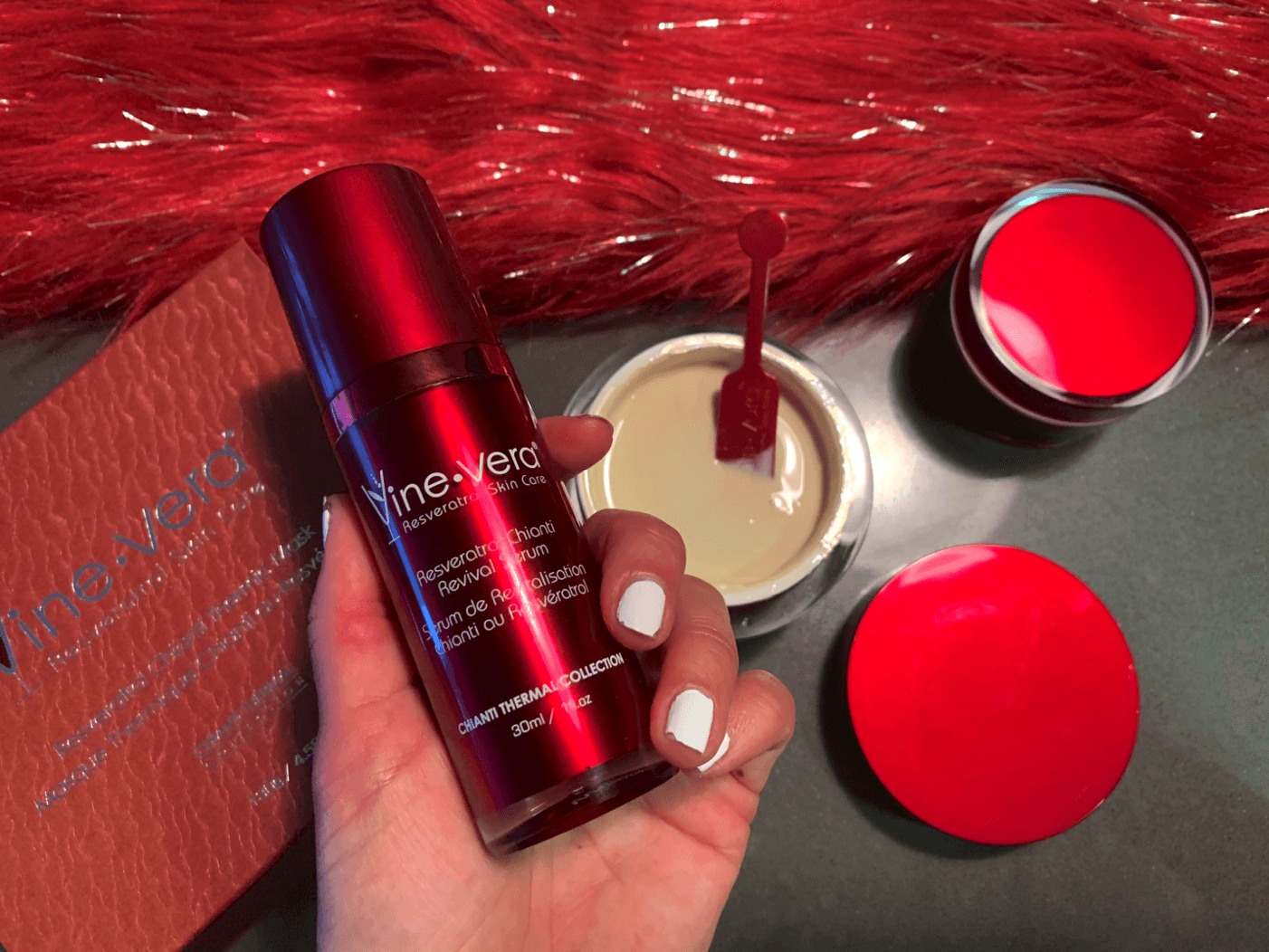 At this point I've been using the revival serum for a few weeks and it's been doing wonders for my skin. It's the middle of winter and I live in Chicago where the weather has been rather insane which has done a number on my skin. The lightweight formula instantly feels refreshing when I apply it to my skin, after cleansing.
In addition to resveratrol, the revival serum was also formulated with sodium hyaluronate, an ingredient that is amazing for hydrating the skin. As you can imagine, my skin has been in serious need of hydration. Prior to trying the revival serum I felt like I kept applying moisturizing products and nothing was really cutting it, my skin still felt really dry and dull. My skin has felt so much more hydrated and healthy and I love that I haven't had to glob on a ton of product every morning to achieve hydrated skin.
Even though I haven't had many wrinkles in my skin (yet), since adding the revival serum to my routine my skin has had a healthy glow to it. My biggest suggestion when using this product is not to overdo it. Because it is a lightweight product it's easy to feel like you need MORE of it to apply all over your skin and to really gain the benefits from it but you really don't need a lot to get the job done. I've found that one pump is plenty! It glides so smoothly over my skin one pump covers my skin thoroughly and effectively. 
Resveratrol Chianti Morning Recovery
As I mentioned my skin has been incredibly dry and dull with the harsh winter weather in the Midwest. The serum has been a game changer for my routine so I was excited to try a third product from Vine Vera's Chianti Collection. This one is their Resveratrol Chianti Morning Recovery.
Right from the start I was intrigued by this product being a 'morning recovery' specific formula. I've known and appreciated the importance of moisturizing products for skin. Dry skin shows signs of aging much quicker so I am all about the moisture!
The problem I have had with some moisturizing products in the past, mostly when they are formulated for anti-aging, is I tend to break out from them. My skin can (sometimes) be sensitive with anti-aging products and cause me to experience breakouts. While that was in the back of my mind, since I had such a great experience with the other two products from Vine Vera's resveratrol collection I was definitely willing to keep an open mind and try it out. 
Generally when I think of moisturizing, anti-aging products I often think of products with a heavier consistency. Upon opening the Resveratrol Chianti Morning Recovery product I was excited to see that it wasn't a really heavy product. Personally, I don't like heavy products on my skin in the morning. Even though I definitely feel like I need an added boost of hydration after sleeping all night it can feel way too heavy under makeup throughout the day.
The morning recovery product is very creamy but also incredibly lightweight which is amazing for an AM skin care routine if you ask me. Vine Vera kept it consistent with the other products and list resveratrol as one of the main ingredients in the morning recovery, in addition to a list of other powerful ingredients. This is a product that has been formulated to work with the other chianti products and provide you with even better results.
Similar to the other chianti products I used you really don't need a lot of the morning recovery. The product is creamy and truly glides onto the skin so smoothly, a little goes a long way. The directions suggest to focus applying the product to areas of concern, and suggest to bring it to your neck when applying. As I mentioned I don't have any strong signs of aging quite yet (fingers crossed that continues by using products like these!), I focused my attention on the eye area and smile lines. Although I did make sure to apply to ALL of my skin.
Now that I've been using the morning recovery for a few weeks I have to say I'm incredibly impressed with my experience. I haven't had any breakouts from the product and since adding it to my AM skin care routine my skin has felt so much more hydrated and smooth throughout the day.
I'm even more pleased to report that it's so lightweight it doesn't bother me AT ALL under my makeup. The formula soaks into the skin so nicely I don't experience any slippage while applying my makeup shortly after either, which is something I have noticed in the past.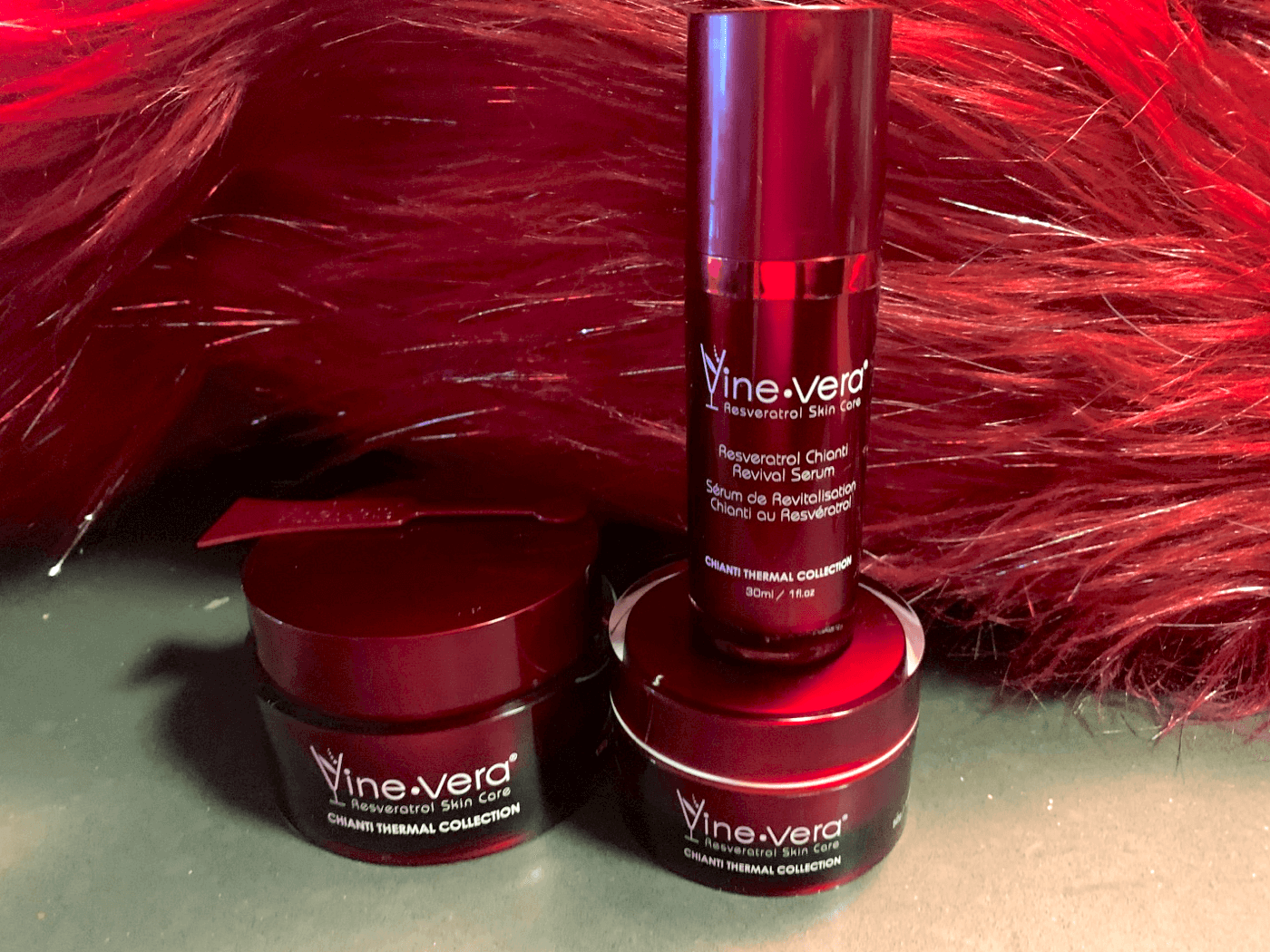 By now you've probably gathered that I am thoroughly enjoying using the Vine Vera Chianti Collection. All three products complement one another so well it's easy to see why the company suggests using them together. One of my favorite elements of these products, aside from their powerful ingredients, is that although they are anti-aging they don't feel heavy and haven't caused me to have any breakouts.
If you're currently searching for anti-aging products that actually work I highly suggest you try the resveratrol collection. Your skin will thank you for the beneficial ingredients!