Nothing says "I'm a force not to be reckoned with" better than the classic red mani.
It is the color most associated with fierceness; it doesn't hurt that it looks fantastic on your hands, too!
For many females, getting their nails done in classic red is a power statement which also boosts their confidence. If you get creative, you can even incorporate designs to the traditional color for an added sophistication!
It's okay to look fresh out of bed in your plain white tee and denim jeans. As long as your nails look good, so do you!
From vampy dripping red to a bejeweled and intricately designed manicure, here are the best red nail inspirations you can try:
Acrylic Red with Sparkles
https://www.instagram.com/p/BTe1t3JF2C2/
Christmas red and sparkles? That's festive!
If you want to achieve a sophisticated nail design without trying too hard, here's one you can try. Simply choose a classic high-gloss lacquer for a polished look and use to coat your four nails. With the red coat correctly applied on your nails, thoroughly dry while working on the fifth nail for a sparkly touch.
It's best to use silver, gold, or even white nail polish and glitters to complement the red. Once done, you can bejewel one nail (don't overdo it!) or leave as it is. This nail design puts a simple twist to the classic red and softens its rather strong impact.
Jelly Nails
http://www.instagram.com/p/Bm7bIsSAzqi/
Call it Kylie Jenner-inspired. But without the makeup mogul's Instagram photo of the jelly nails, this couldn't have been this big of a trend. The jelly and translucent nails are reminiscent of the '90s, along with fanny packs, jelly sandals, and backpacks.
It is the perfect red nail design if you want to make people take a second look and still be lowkey. It's not anything crazy. It kind of looks like strawberry jam, so it makes for an impressive sight.
Achieve the perfect jelly nails with these tips:
Add a clear tip to your nail and sculpt it nicely using clear gel.

An alternative option is to get press-on or translucent acrylic red-colored nails so you can see through them.

Try the

red jelly glitter nails

to make it perfect for the gram. The way the holo catches the light when you put it out under the sun looks amazing.
With bright red colored jelly nails, you're sure to look good in the summer!
Sleek Iron Man
https://www.instagram.com/p/BOXTYbnj7f1/
One of the most famous superheroes in this day and age is Iron Man. It only makes perfect sense, given all the rage for Marvel and Iron Man movies.
Believe it or not, female comics lovers and MCU fans are in love with this nail design. This nail design lets you show off your love and support to the godfather of MCU, without eliminating the need to look chic.
Your geeky side as shown in the Iron Man helmet paint given contrast with the long pointed nails that scream drama. Now, isn't that the best of both worlds?
What you'll need:
Acrylic nails (sculpt to a pointy shape, so it looks sleek)

Glossy red polish (you can also add chrome powder for a metallic effect)

Gold, white, and black nail polish to paint the Iron Man details

Gold foil for additional effect

Short-Pointed Nails in Classic Red Matte
Short-Pointed Nails in Classic Red Matte
https://www.instagram.com/p/BvWGz0CAqbq/
Claws don't always have to be killer-long. Sometimes, short-pointed nails can do the trick if you want to flatter your hands, and at the same time, seduce your man.
Also called the stiletto nails, this is particularly perfect for those with short and stubby fingers. The pointed tips draw you in and make you think the fingers are lean and completely glam. It's your very own illusion!
If you're tired of the usual glossy finish, why not settle for classy red matte nails?
It may eliminate the shine from your nails, but it will still command attention with the power color red!
Striking Chrome
https://www.instagram.com/p/BtU4t2KH1gr/
A jaw-dropping red nail inspiration is all it takes to make you appear futuristic and sharp.
There are instances when simple glossy nails feel lacking and a bit inferior — but problem-solved with the longest like the ones of a ballerina's, complemented with bloody red and chrome polish.
This nail design is for the most significant and fanciest occasions where you're all dolled up. Best when styled with:
Studded jewelry (diamond, or gold pieces of silver)

Black leather (clothing)

Sky-high stilettos

Futuristic clothes (on a fancy and themed event)
Red Heart Tips
https://www.instagram.com/p/BmT7dj5gD6D/
Red nails are not all about power. Often, it's about fluttering hearts and the feeling of being in love. Be Valentines-ready with these red heart tips painted on your nails! It's easy to do and isn't high-maintenance. What are you waiting for?
Here's how to do the red heart tips mani:
[APPLYING ACRYLIC NAILS]
Neatly trim your nails to get a good base for the acrylic. Afterward, get a soft nail file to buff the surface of your nails.

Use a nail primer to remove all remaining oil from your nails and get them ready for the acrylic.

Apply the acrylic tips and brush with the acrylic mixture. The mixture will smoothen the transition between the natural nails and the acrylic tips.
[GETTING RED HEART TIPS]
File your nails into sharp almond-shapes for a pointed look.

Apply a layer of base coat to prepare the nails.

Carefully paint small diagonal ovals from one side to the other to create a heart shape. Create the other half of the heart and repeat process with other nails.

Finish it with a top coat for a glossy finish. 
Blooming Flowers
https://www.instagram.com/p/BqwgNPAgtkt/
Having short nails doesn't mean you can't have fun with it.
Put a twist to your regular red-coated nails by infusing a floral design pattern. You don't have to work on all your nails. You can merely choose about four to six nails where you can highlight flowers as a large part of the design.
It helps to have steady hands and an artsy mind to pull this off. But don't worry. You can always come in and have your nails done at the salon if you can't do it. Just have a photo inspiration ready in case the nail artist couldn't visualize your ideal design.
Halloween Nail Art
http://www.instagram.com/p/Ba4dsqZgVPY/
What's red, black and white, and perfect for Halloween? This nail art is!
It's easy to impress your friends and neighbors with a good, old scary costume. But with these nails, it's something even more exciting! If you want to go all-out during the haunted season, you better have good Halloween nails!
Listed below are some tips on what you can paint on your nails:
Dripping blood (suggestive paint for a vampire digging into his victim, or a bloody murder)

Vampire mouth with fangs

God of death silhouette

Scythe

Skull

Witch hat

Bat

Coffin

Tombstone
Just remember, the colors you want to highlight are red and black. Stick to that color scheme.
Perfect for Princesses Nail Art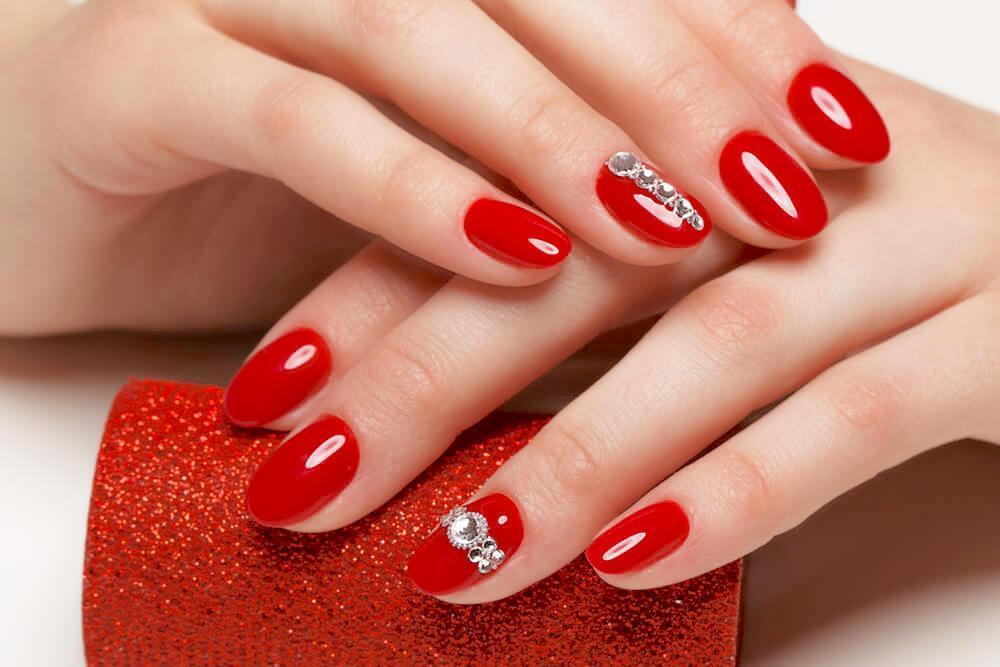 The difference between good nails and great nails often takes the form of gems and rhinestones. Embrace your inner Princess Jasmine with a bejeweled nail design which looks enchanting as it is precious.
Choose a red micro-shimmer nail polish for your base and adorn with simple stones and charms for an elegant touch. This nail design looks beautiful if you have short-pointed or stiletto nails.
Here are some recommendations on how to choose glitzy gems and make sure it stays put:
Acrylic gems are the least expensive, but they also lack in luster and may not work with gel or acrylic.

Choose glass crystals if you want something more durable and sparkly.

Limit the size of your

preferred stones

to 8mm or less. This way, you won't lose it easily and it won't snag on things too much.

If you are only going for short-term use of the gems in your nails, you may apply it using nail polish.

If you are going for medium-term use of the gems in your nails, you may apply it using glue or resin. The nail glue sets pretty quickly and is a strong adhesive that can hold all the stones. Just be sure not to put a lot to avoid corrosion of gems and stones over time.

If you have large stones for your nails, you may apply it using gel to make sure it doesn't fall off. It can quickly be soaked off, saved, and reapplied for another time.

Place the gems and stones closer to the cuticle to get a stable surface.
The process for getting this brilliant red nail design may be long, but it's worth it! You'll feel a whole lot better and confident after seeing your nail's maximum brilliance.
Designer-Inspired Nail Art
https://www.instagram.com/p/BuVXCAWAvfJ/
You see many celebrities with nails like this. Maybe it's worth trying!
The designer-inspired nail design is a good way of showing you are as timeless as the brand you are sporting. The key is to choose the darkest shade of red to make it appear regal. Then, paint the details with shimmering gold so it could easily stand out.
Compatible nail shapes for this design include:
Long squared oval

Stiletto

Ballerina

Almond
Color Blocking
http://www.instagram.com/p/BbVFgJAHKK9/
You can always take the easy route if you're running out of ideas for red nail designs. Simply choose a complementary color combination (three nail polish) with red as the primary color. It creates a simple and color-blocking design perfect for when you're hanging out with friends. You can also be as free and creative as you please. Try creating different shapes and figures. The tape is your best friend.
It is worth noting that different contrasting colors can exude different styles. To get you started, here are some color combination ideas:
Red – Yellow – Orange: Tropical or sunny

Red – Black – Yellow: Comics

Red – Black – White: Queen of Hearts

Red – Pink – Green: Rose

Red – Dark Violet – Blue: Sunset

Red – Green – White: Holidays or Christmas
Minnie Mouse Nails
https://www.instagram.com/p/Bs7psgAnqjY/?utm_source=ig_share_sheet&igshid=iqqg5hj3o4gc
Show this design to any Minnie Mouse-lovin' female and she would surely freak out! One look and she'll say, "Yes, please!"
For your next manicure session, shake things up by partnering the sweet, timeless character with meticulously shaped stiletto nails. Many are sticking to the usual glossy, matte, or bejeweled nails that it's becoming a bit boring.
Incorporate the Minnie Mouse details on your painted nails, and feel free to mix it with glitters or jewels. You don't want your nails to be a reflection of your hardcore fangirling. Keep it low key but still fancy.
Sometimes, to stand out, you need to take what you love and flaunt it!
Red French Manicure
http://www.instagram.com/p/BvsA7-ggPjS/
The classic French manicure uses a clear base coat to highlight the white crescent tips. 
It is a common manicured style for those lazy to glam up their nails. Hey, if you're going to be lazy about it, you might as well use a striking red color to make it fancy. How about that?
Ge long coffin-shaped nails to immediately snag the "highly sophisticated" effect. What's the twist? Paint in such a way that you are only working on the sides, and the whole nail shaped like a mountain peak. The result is a stunning french manicure unlike any other.
Rose Ombre
https://www.instagram.com/p/Bv0c77DAwGl/
The classic red may give the power statement you so need.
But sometimes, you want it to be laidback and cute. If you prefer to soften it a bit, turn it into an ombre style by pairing it with a baby pink shade. It will bring out your femininity and sweet side.
Here's how you can achieve smooth ombre nails:
Prepare red and pink colored-polishes and a topcoat.

Apply first the pink nail polish (light color) and wait for it to dry completely.

On a flat surface, put the two colors next to each other and mix the middle section with a toothpick.

Dab the sponge directly down on the polish before dabbing it down to your nail. Repeat as many times as necessary and until you achieved your desired look. 

Add a top coat for a glossy effect and to even out the surface.
Simply perfect!
The classic red mani is something any female would feel confident in wearing. With a creative twist, you can get up your game and nail your style!