As we move into the winter months and embark on a new decade, the most significant trend that will be around for a very long time is a strong focus on individuality.
Individuality doesn't mean one style you must abide by. Who still lives by that rule? Cultivate a variety of makeup looks for different ensembles. Your closet is bursting with clothes dying to be worn, so get them out and start creating your distinctive styles.
Give a nod to the past, try something new, and create a look that personifies you. 
Need some additional inspiration? Then look no further than this year's winter makeup trends. 
Here are 9 winter make-up trends worth trying:
The Red Lip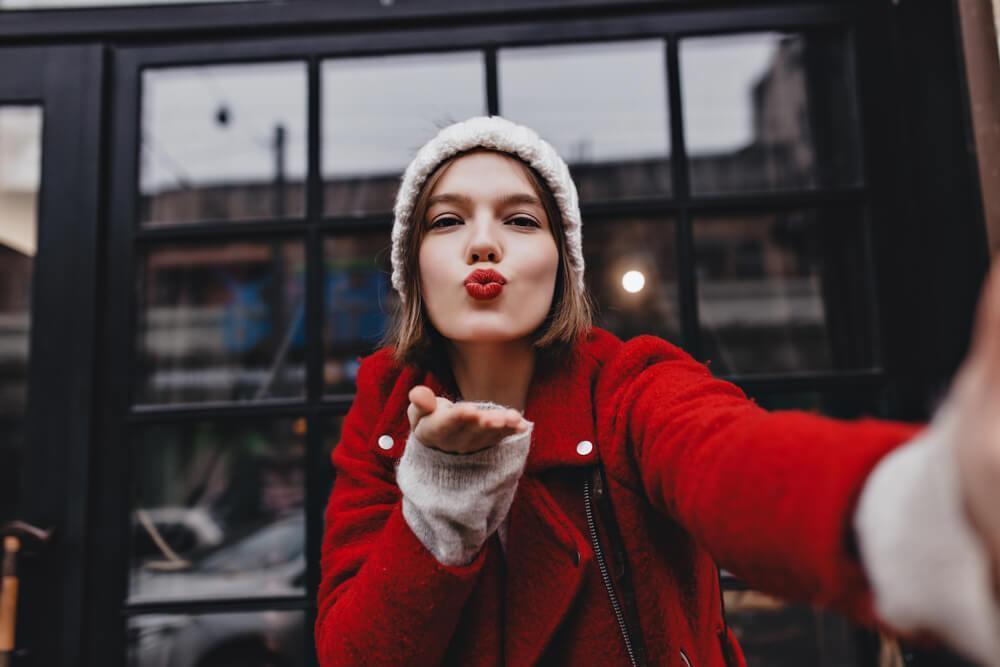 If you are looking for a way to get noticed, this is it! 
Sophisticated and elegant while cool and classic. This is one beauty staple that will never go out of style. 
To be ravishing in red, please do a little lipstick homework before heading outdoors. You don't want to end up looking like a child in mom's makeup, so take a look at a few things to consider when wearing red lipstick:
Find the right shade for your skin tone. There are so many different shades of red, some with an orange undertone, some more purple.  It's worth taking the time to discover the best red for you. You will wear it for years to come.

Looking for the matte look? Pressing your lips with powder will help you achieve the look you want.

A little gloss over your red lips will add a dash of luster. This looks great when paired with that cocktail dress you've been dying to wear.

Minimal make-up is the best way to pull off the bold red lip. You want one feature to stand out, and in this case, your lips.

One exception to the rule above: bold eyebrows. Keep the make-up natural when you have both bold brows and lips.
The Smoky Eye
Alluring and elegant, this understated, sophisticated look is another timeless beauty classic. 
The grey hued smoky eye works well with the dark shades of our winter clothing. Perfect for that cashmere sweater in black, grey, or wine. Planning to wear something in camel or warm tones? Try working with shades of brown for a coordinating look.
The smoky eye is striking for daytime when blended with a neutral make-up palette. Keep your lips coated in a complementary shade of nude with a matte, satin, or shiny finish. You will create an even more dramatic impression by sweeping your hair off of your face into a low ponytail or messy bun. The result will be all eyes on you.
Need a few tricks to get started? First, find the best shades to work with your skin tone. You can use any color combination you want, but make sure the hues you choose work well together. 
Learn how to apply the right shades in the right places for your individual style. Too much can make you look as if you just left a fight club, so try this out at home before heading out. 
Going dancing later? Take your smoky eyes to the next level with metallic shadows. A grey metallic smoky eye blended with a dark lip, such as berry or wine, will yield a smoldering effect.
Go Glossy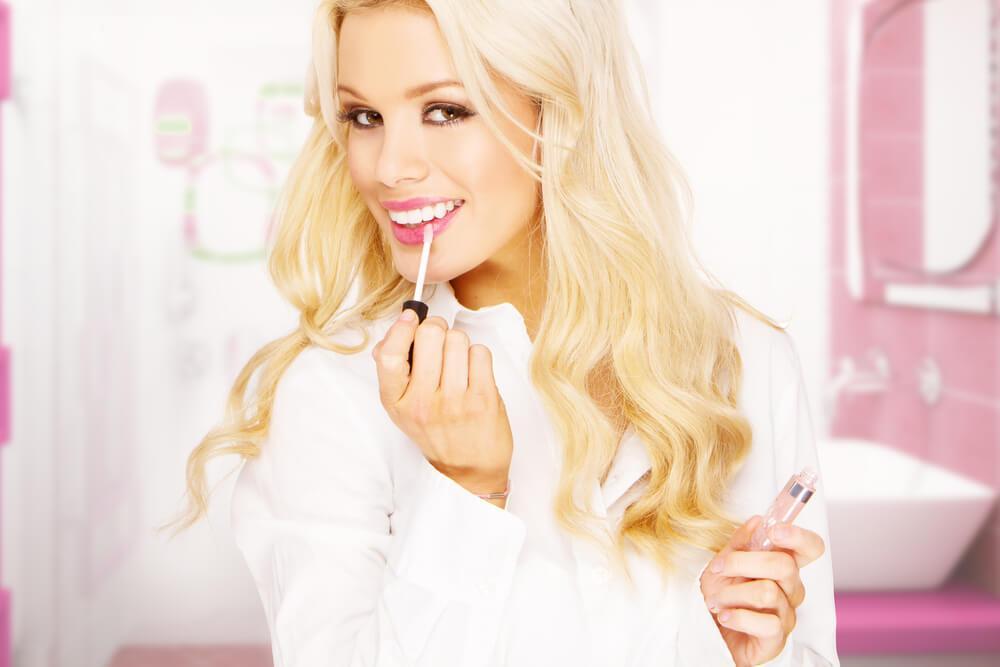 Lip gloss is a basic necessity every woman should own. Whether you wear on bare lips or over your favorite color, the lip gloss shine is a simple way to achieve a polished look without too much effort.
Gliding gloss over your eyelids is one of the newest trends in make-up. Just like the lips, skim over your eyeshadow or bare lids.  The result is an instant kick-up in glow. To keep the sticky at bay, you may want to check into using a lip balm or a gel, liquid, or cream made specifically for your eyes, but using your lip gloss is fine.
Another popular trend is to use your gloss as a highlighter. Dab a little on your brow bone or cheekbones. The effect will be illuminating.
The Softer Side
Bring in some softness on those harsh winter days with some hints of pink or peach. The soft pastels will freshen up your look, leaving you feeling radiant. Finding the right shades of pastel is the key to making this look work for you. 
While pastel blue is a popular shade this winter, the delicate look of mono-tone make-up is the most significant trend with pastels. Single tones in pale pink with soft eye-brows whisper an air of innocence and romance. Similar shades of eyeshadow, blush, and lipstick will give you the lovely, intimate look you want to achieve.
Apply blush high on the apples of your cheekbones for a bit of color. For a natural flushed look, sweep across your cheeks close to your nose. Your goal: make your blush look like a natural flush. If you put on too much, blend with some powder to correct any mistakes.
Bold Eyeliner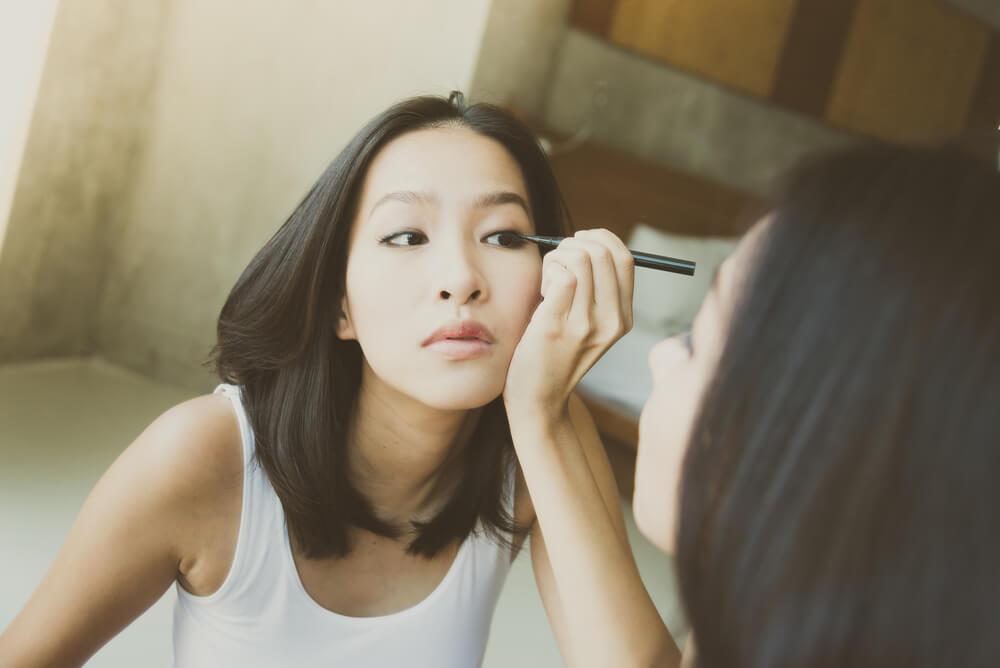 Looking for a look that screams sexy, sultry, and sophisticated? A little aloof, yet playful? Then go big and bold with your eyeliner.
Cat eyes and winged eyeliner may be a nod to the past, but this trend is here to stay. Whether you are dressing for a gala or heading to a rock show, you can't go wrong with thick and bold classic black eyeliner. The trick is to make sure your lines are neat and clean.
Not sure how to apply? Definitely choose liquid eyeliner for an uncomplicated application and a thicker, smoother look.
For the cat eye, start by drawing a line from the corner of your eye outward. Next, draw a line connecting the first line to the middle of your upper lash line. After filling in the outline, draw another line connecting the inner corner to your cat eye. 
For the winged look, start with pencil eyeliner and draw a thin line close to the upper lash line. Next, draw a diagonal line extending from the top lash line, but it should look like a continuation of your lower lash line. Once your line is complete, fill in and thicken with liquid eyeliner.
While these two looks are not the simplest to perform, practice does make perfect. 
Master this retro look, and you'll be the coolest chick at the party.
Shimmer
Enhance your softer look with the addition of a little shimmer. A bit of glitter or metallic shadows in pastels will give a definite sparkle without being over the top. It's more of a twinkle, twinkle little star instead of going completely futuristic.
Glitter eyeliner is another option. While there are many types on the market, look for glitter eyeliners with a subtle shimmer.
Top of your new look with color or glitter mascara. Mascara in white, silver, or flecked with glitter will give your eyes a definite shimmery boost.  Pair with a neutral face for an optimal effect.
Glitter liquids, gels, and highlighters are a great way to add that extra sheen to your face or body. Either gently brush on or mix with your make-up or cream for an all-over shine.
Brightly Colored Eyes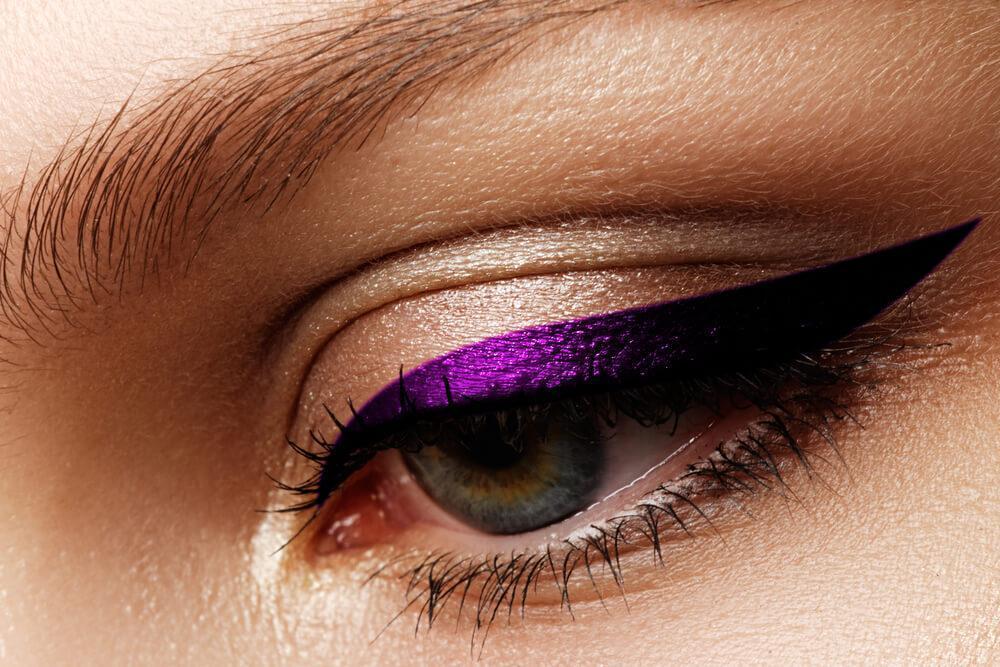 Your eyes may be the windows to your soul, and this year it is ok to drape your windows with as much opulence as you wish. The rule book has been thrown out, so proceed without caution and have a lot of fun!
Use contrasting colors with your eyeshadow: one on top and the other on your lower lash line.
White eyeliner in a geometric pattern starting in the crease of your eyelid up to your brow line will give you an edgy, runway look.
Take the color to the next degree with neon. A little splash of neon eyeliner above your black eyeliner adds a subtle pop of color that won't overpower your daytime look.
Want a bolder look? Go for the floating liner trend. Forgo adding a neon liner to your lash line and opt for a broader stroke in the crease of your lid.
Choose to make your cat-eyes or wings in hot-pink or blue, or use both colors. Colored mascara will perfect the look.
Find your inner artist and create. It's all about you. 
Grab the Spotlight
Accentuate the glitz for maximum impact. It's all about the sparkle, so bring on the silver and gold, or any other high impact shine you like.
Heavily glittered lips, eyes, nails, and some sprinkles on other bare areas will keep you twinkling all through the evening.
Try sparkling your face for festive events with face gem stickers. It's fun and definitely easy to get substantial sparkle without trying too hard.
Go big for those special events this winter. Whatever you're celebrating this season, it will be a lot more fun with an eccentric and unforgettable look.
Nourished Natural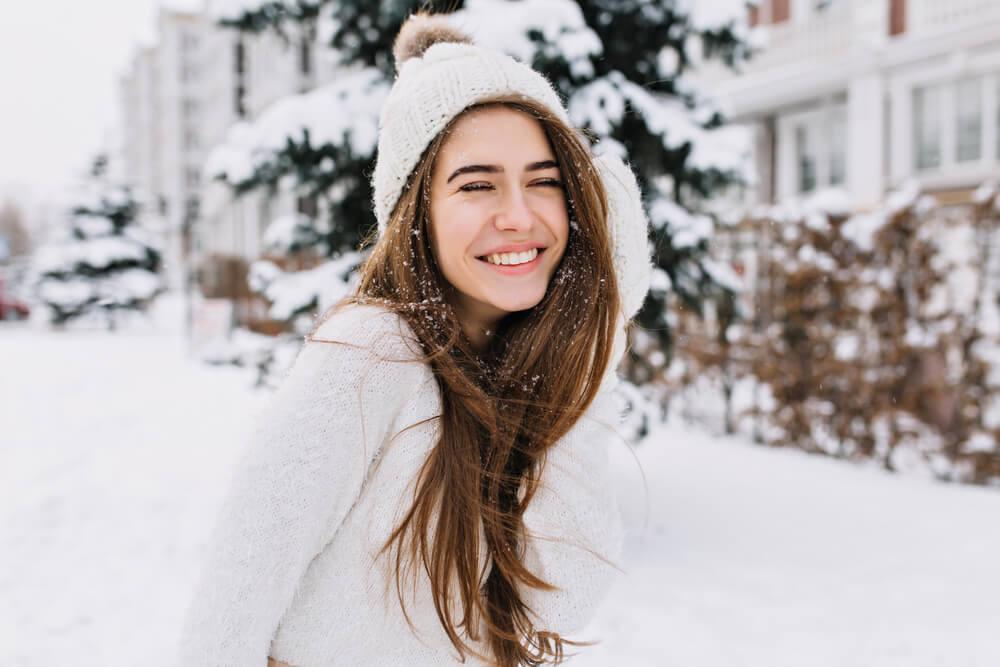 A natural face never goes out of fashion, but the newest trend to natural is nourished and dewy.
Achieve this luscious look by taking daily care of your skin and adding a little glow with oils, moisturizers, creams, or gels. Make sure your morning and nighttime cleansing routines offer enough hydration to keep your skin fresh and youthful. Proper diet, exercise, and plenty of rest will also give your skin a healthy glow. In a pinch, you can use a little lip gloss to add some shine to your skin. Use minimal foundation or concealer, a neutral shadow, and a hint of mascara. 
Another way to achieve a beautiful glow: facial massages. A few minutes each week can help brighten your skin tone while increasing circulation and collagen, and relaxing facial muscles. Learn the technique for a do it yourself massage or check out your nearest spa. Not only will you get that glow, but you may reduce the signs of aging.
This is the winter to discover your favorite looks by trying new makeup trends.
Find your sexiest red lip. Identify the right shades for your smoky eye. Tame the beast of liquid eyeliner, and pick up a little neon or glitter, or both. Determine which pastel works for you, and learn the art of shimmer. Most importantly, remember to take good care of yourself, and your skin will show its thanks.