I am a huge fan of Dr. Oz. I love to watch his show and find out how I can keep my skin healthy. There are so many things that we tend to ignore on a daily basis, and just watching his show is a major eye opener. I remember watching one of his shows where he featured a platinum skin care brand, and that's the first thing that came to my mind when I first heard about Bionyx.
Bionyx is a skin care brand which uses platinum in each of its products. This exotic metal has been in skin care news because of the studies which show that it offers natural antioxidant properties to the skin, thereby helping out with anti-aging and leaving the skin looking flawless.
The Bionyx product that I came across was the Platinum Intense Eye Serum, and as you can imagine, I was ecstatic to try out this brand. Who wouldn't want to get rid of those tired, lined eyes???
Let me tell you a bit more about the serum. According to Bionyx, the Platinum Intense Eye Serum "is designed to reduce the appearance of fine lines and wrinkles around the eyes". All you have to do is gently apply the serum daily all around your eye area and along the orbital bone. A word of advice – use your ring finger while applying the serum on your eye area.
The first thing that catches your eye is the packaging. The product comes in a beeeeeautiful container and looks really fancy. I love that! Using effective products is a pre-requisite, but I certainly don't mind if the product looks so good.
I am a working mom who constantly has to deal with her career and her kids, so obviously I end up skipping on my beauty sleep. As a result, I often wake up to a lackluster looking eye area, and it just keeps getting worse with every passing year. Think about it. Work, kids, homework, cleaning, laundry, cooking – these everyday things can really take a toll on you. By the time I come back home, spend time with my kids and complete the house work, I am so exhausted that I just drop off to sleep. And there isn't a minute to spare in the mornings either.
Over the years, I tried a few eye creams for my wrinkly eye area, but they didn't seem to work. I finally gave up and resorted to hiding the lined appearance with makeup. But, when you're using makeup, you become subject to constant mirror checks, just to see if it hasn't melted off.
So you could understand my dilemma and my excitement. I was really looking forward to a few of the benefits that the brand promises. I could do with some of them. But, I didn't want another useless product occupying my vanity. Well, I wouldn't know until I tried it, right?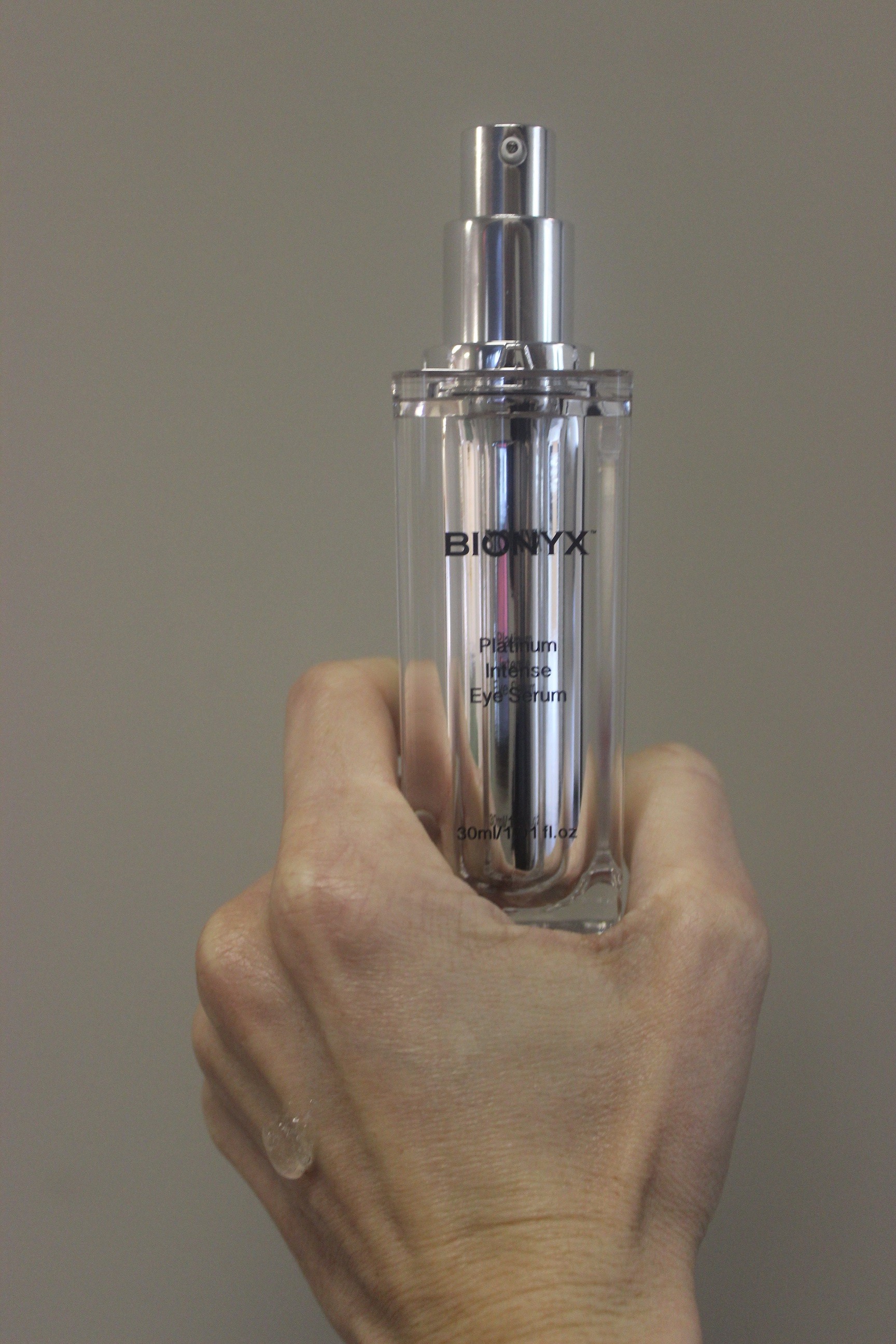 I took the serum out of its packaging and this is how it looked. It feels silky smooth to touch and literally glides onto my skin. It also brings about a cool sensation which immediately rejuvenates my tired eyes.
The best part about this routine is that it only takes a minute of my day. All I need to do is take a drop or two of the serum and apply it on both eyes. I started off my Bionyx eye care regimen by applying the serum on a daily basis, in the morning. It became a regular ritual and I kept at it for a couple of weeks. And I am happy to tell you that this product has really worked well for my eye area. YES! The wrinkles have certainly reduced tremendously within the first couple of weeks and my eyes don't look so black either.
Looking back, I don't know what I was expecting with this product, but I certainly wasn't expecting the kind of miraculous results it ended up offering. I really couldn't believe my eyes. The amount of reduction in the lines around my eyes is just crazy. I have enjoyed using this product and am so glad that I came across Bionyx. I hope it performs similar miracles for your eyes as well. After all, those eyes are the windows to our soul. Nothing but the best will do!