I have entered the Led hairstyling life and I will never go back. Ever seen those blow dryers or straighteners with led lights and just asked yourself what is that, why does it have a light and what does that do? Well, here your questions will be answered like never before. I recently tried the newest and coolest Evalectric product, the Iconix Led Blow Dryer and Iconix Led Straightener. But before we even start describing my experience with these two awesome products let's begin explaining how the red light therapy helps your hair.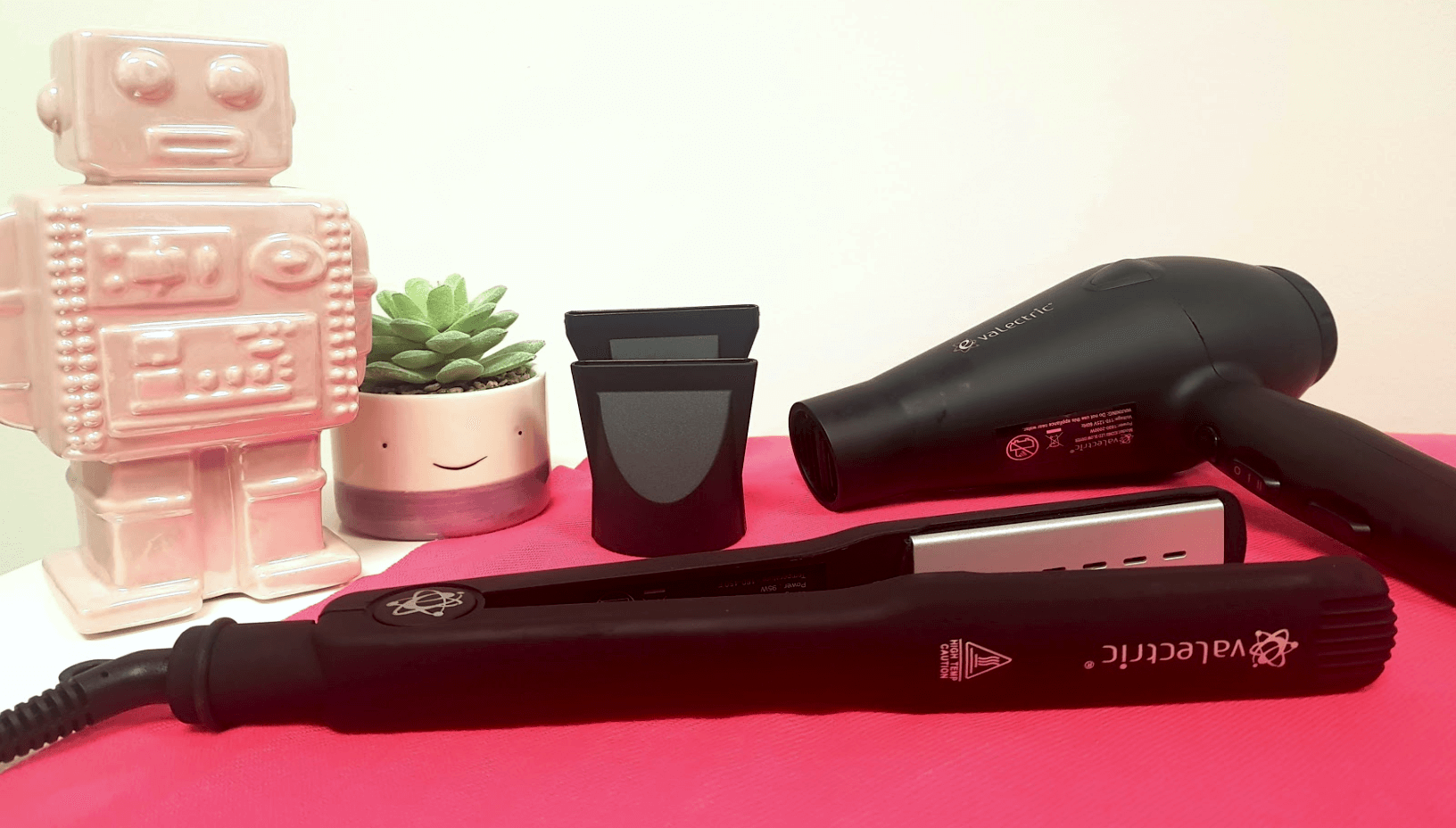 If you haven't heard of red light therapy, let me explain this easily for you. This light therapy is the newest trend not only for your hair but for your overall health; there are different types of light therapy products for each of your needs. Red light therapy has awesome benefits for your hair, when you turn on both of these products the red led light will turn on, except if you turn on just the cooling option on the dryer this light will not turn on. This light stimulates blood flow, collagen and even helps in tissue recovery. It also promotes hair growth and releases negative ions that helps reduce the appearance frizz, and seals your hairs cuticle, which makes your hair extra smooth and when I say extra smooth I am not lying. If you are worried if this type of light therapy is negative for you, have no fear or worries this treatment is non-invasive and painless, you literally won't feel a thing.
Iconix Led Blow Dryer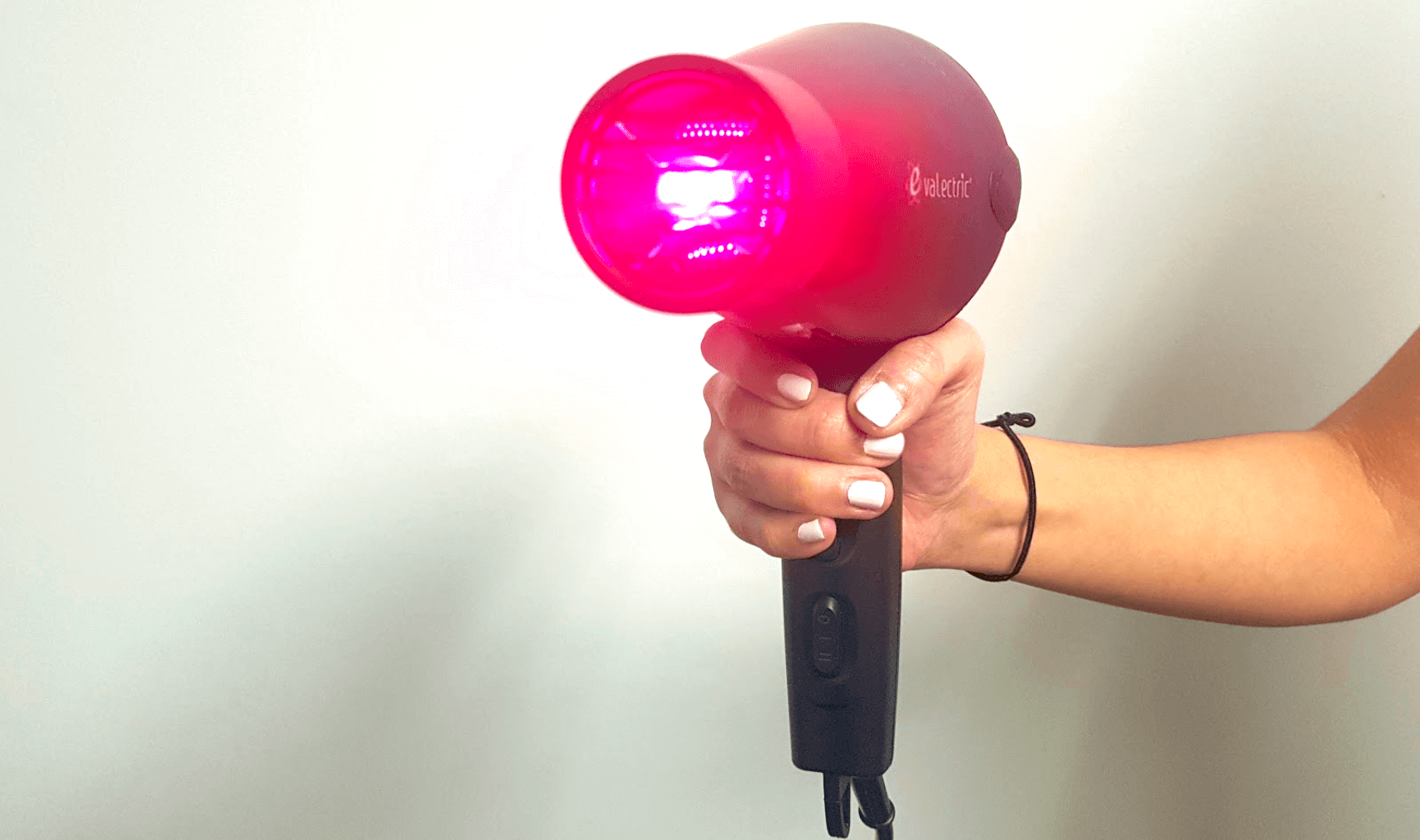 The first product that I tried was the Evalectric Iconix Led Blow Dryer and the first thing that we see once we received the product is the packaging, it comes in a cute black box that shows the product and it's very easy to open and close the box. Once you open it the magic starts, this dryer is big no lie, I felt like a professional hairdresser and once you turn it on and see the light this feeling triples. It comes with the blow dryer and two nozzles. Other than this it also includes a small guide on to what is red light therapy and warranty & safety card, that yes you should read and fill.
Once I got this blower dryer out I washed my hair, applied some heat protective cream and started drying my hair. To turn on this dryer you have to turn both the cold and hot switches to on, that way the light will automatically turn out and the red light therapy starts. If you want to use only the cool air function turn down or off the red switch and the light will automatically turn off giving you're the cool air feature. If you are worried that the red light will burn you, as I mentioned before you really do not feel any difference the light is doing its thing, while you dry your hair as usual so you do not have to feel worried. It will heat fast, making the drying process faster. It took me around 10 minutes overall to dry my hair and even though a have short hair, I do have a lot of volume and a bit frizziness, but my hair ended up flawless after using this once.
This blow dryer was so good in making my hair soft and smooth, normally when I dry my hair with a regular blow dryer my hair would get puffy but not with this one, my hair felt smooth, it looked shiny and to be honest I can't wait to continue to use it before styling my hair.
Iconix Led Straightener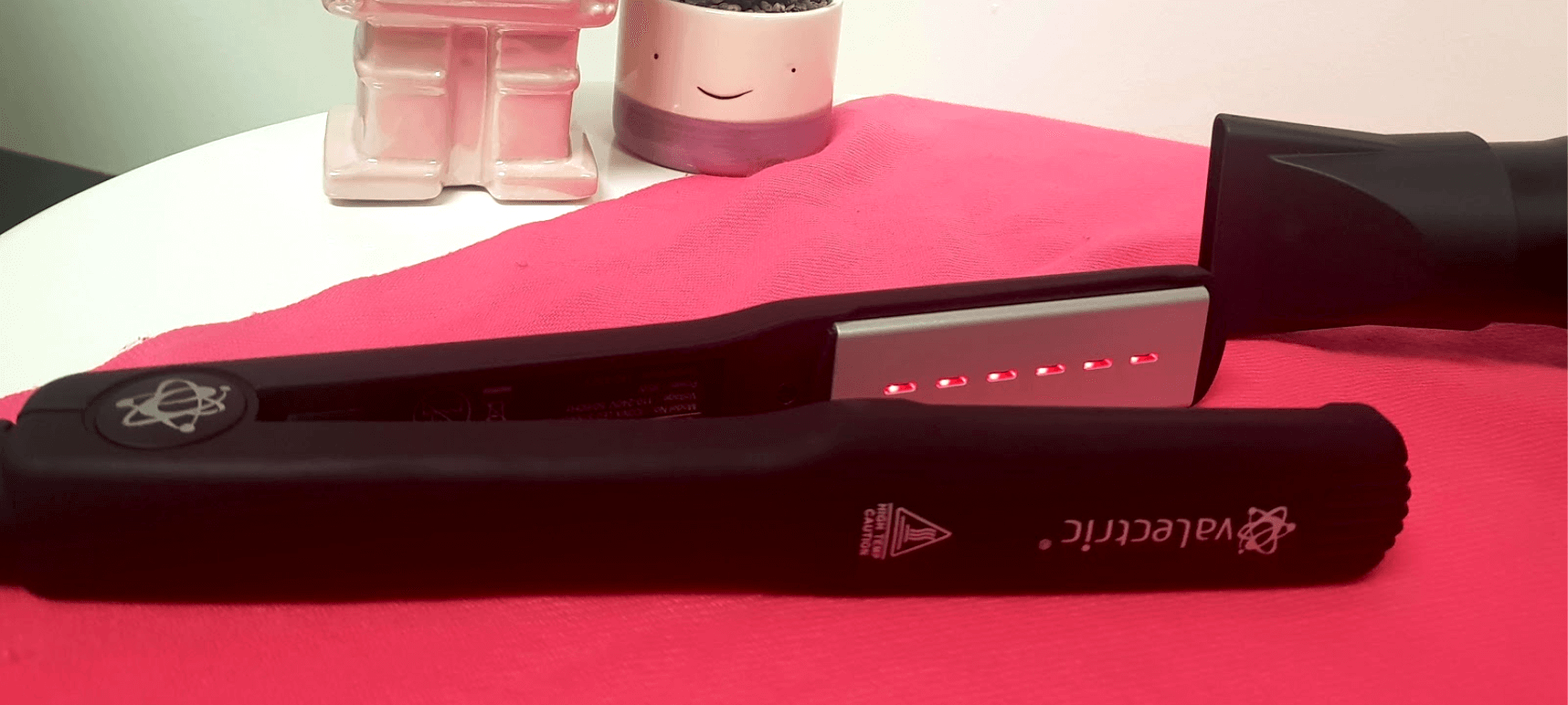 Now let me begin with my favorite of the two products the Iconix Led Straightener, this "1.25" ceramic plates flat iron is all you and I were looking for. This straightener just like the blow dryer is all black except for its plates which are silver colored ceramic plates. Only one side has six small indents which are where the red led light therapy can be seen. It heats up from 180 to 450 ºF, and takes approximately two minutes to heat completely for you to style your hair. You should be careful to grab it correctly it does turn hot on the top surface but just on the top of the iron, there is a lined surface that you can grab to style your hair.
Before I started straightening my hair I applied heat protective cream, and started styling my hair, to style my hair it takes me around twenty minutes, with this styling tool in ten minutes I had my hair done perfectly. The flat iron that we all need is this one, it's the first time I use an iron that distributes the heat evenly in combination with the red light therapy your hair will end up smooth, frizz free and with extra shine. Other awesome props that this straightener has is its 360 swivel cord you can move around freely while styling your hair, it's easy to hold and not heavy at all and it has a super sleek look.
The iron also includes on it's on and off board the microchip temperature control; this is a feature that flat irons that work with ion or led technology have. To explain this feature easier, this microchip controls the heat that the irons emit preventing the iron to damage your hair because of extreme temperatures. Which means you can turn the straightener one to its highest temperature which in this case is 450 ºF and not worrying a bit about your hair being damaged. This also means that this technology lets you straighten your hair faster, because you can apply higher temperatures and your hair won't be damaged compared to straighteners that don't have this technology in which higher temperatures means burned hair or straightening it with low temperatures which means extra time to style your hair.
Even though I have volume and tend to have a bit of frizziness in my hair, after using these two products to style my hair, I had beautiful smooth hair for two days before of course, I had to wash it. If you are worried that your hair will burn or if this is not effective, you don't have to worry these products will work great with your hair. I tried both the blow dryer and straightener with some friends for scientific purposes; I wanted to know if this worked as effectively on other hair types as it worked with me.
Friend #1 with long wavy hair
Let's begin with friend #1; she has long hair with a bit of waves and lots of volume. For a hair as long as hers, it would take her around 30 to 45 minutes to get all her hair ready. But with the Iconix Led Straightener it took me to get all her hair straight around twelve minutes these including the times I removed the pins that we used to separate her hair in sections to make it easier to get all her hair perfect. Even though I was already surprised with how fast these products worked with me, I was even more surprised how this iron got all her hair perfect in twelve minutes.
Friend #2 has short curly hair
The combination of the red technology, with the microchip temperature control and the ceramic plates makes hair styling or hair straightening so easy, that to be very honest I am totally surprised yet in love. The second friend who I tried the straightener has short and curly hair and she normally does not straighten her hair because it is a hassle for her to get a straightening iron that will leave her hair straight yet with no frizz and that has long lasting results. We tried the Iconix Led Straightener and her hair was straight in around 8 minutes frizz free and she did not have to worry to straighten her hair again the next day because it was still smooth and soft.
Hairstyles
One of the things that I loved about this straightener is that you can also style your hair in different ways. When I mention hair styling before, I am not joking you can make waves and curls with this straightener. Disclaimer before starting any of these hairstyles please remember to always use and have a heat protecting cream or spray of your personal preference, even though this straighter is fantastic and left my hair smooth this still is a product that heats your hair so please always with any product that you use for styling your hair remember to apply first a heat protector.
Hairstyle #1 Wavy
To get a wavy hairstyle with this flat iron, turn on your iron as you usually do, but turn it on to medium heat. Apply a heat protecting cream and then you can divide your hair into sections if this is easier for you or just take pieces of your hair. If so get one inch of hair and place between the ceramic plates near your nape. Then claps the straightener and from there on, in one fluid motion twist your wrist away from your face, so the hair can flow easily over the iron. Make sure to do this in one fluid motion if not it will not make the perfect wave. Next, continue to work your way up toward your hairline making sure not to take the iron completely near to your scalp leaving it midway so it can be the perfect wavy look.
Hairstyle #2 Curls
Just like with the wavy hairstyle, turn on your straightener as usual and apply a heat protecting cream while you wait for your straightening iron to turn hot completely in this for this look you can use your iron in full or medium temperature. You can divide your hair into sections or start from the bottom part as you wish or prefer. Take a one inch piece of hair and place under the iron then that same piece place it between the plates and clasp it near your scalp not too near to burn but enough to make the perfect curl. In one fluid motion twist the iron and let go once you have reached the bottom part of your hair and your curl is done. Continue to do this with all your hair and show off your beautiful no curling wand used curls.
Bonus Hairstyle #3
If you are like me and you are always on the run but you want to try some new hairstyles or just a new look for the day. This is an easy way to have pretty waves and have a new look.  After washing and drying your hair, turn on the straightening iron and apply some heat protecting cream, while the iron heats up, remember to have it in 450 ºF. Divide your hair into three sections these will be bottom, middle and top of your hair. After dividing your hair into sections, do two or three braids in each section and clasp each braid with the Iconix Led Straightening iron three to four times. After that remove your braids and apply a little bit of hair mousse and there you have it easy done waves you can achieve in around fifteen minutes.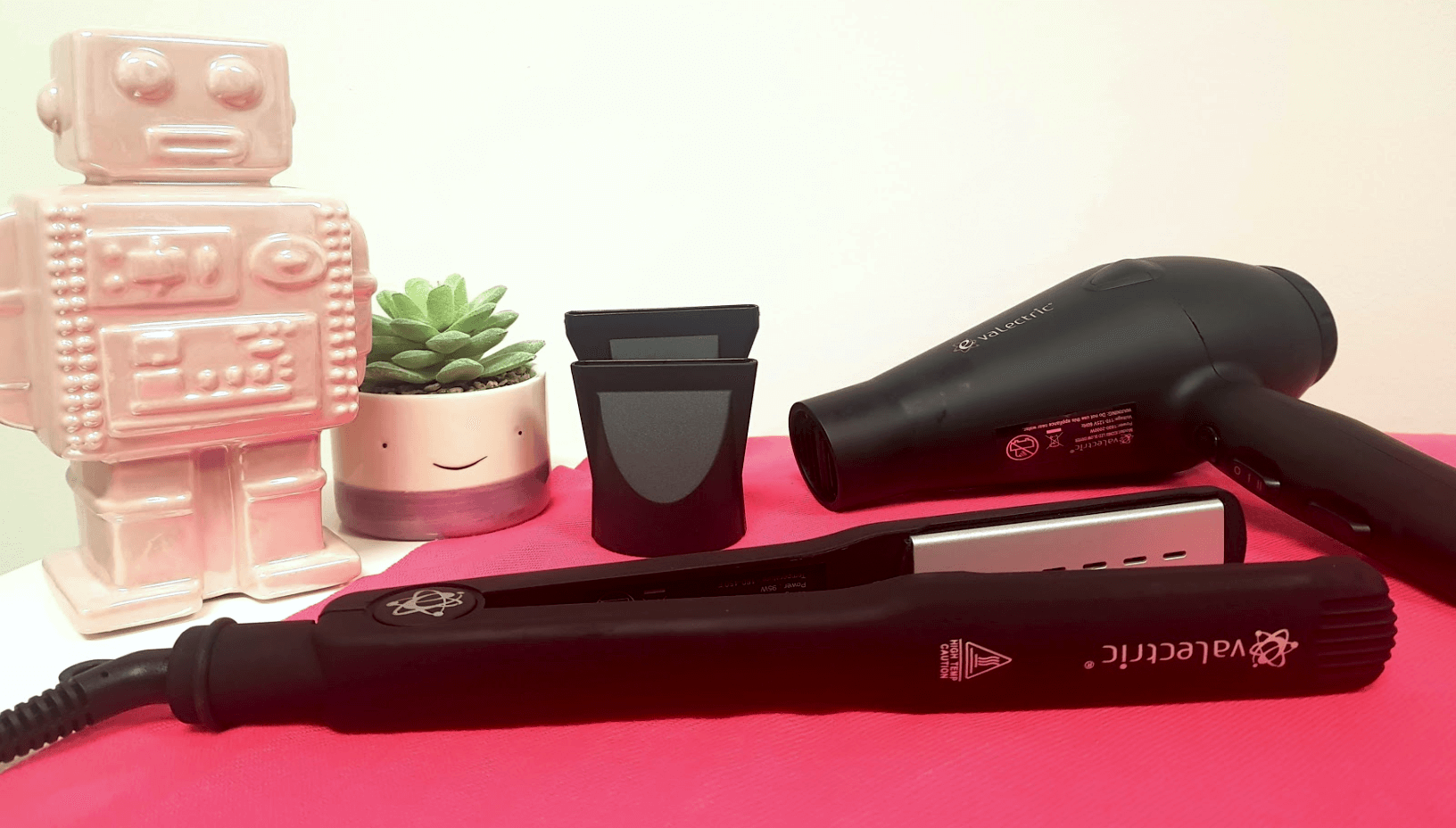 This red light therapy really works, and as I said before I am more than impressed. Not only did it work fantastically with my hair it also did work great with my friend's hair without causing any harm to their hair. Both of these products work with any hair type, I verified and can assure you it works wonder on any hair. If you struggle with having frizzy hair, or you can't find a flat iron that will leave your hair straight, without causing damage and that can style your hair in more than one way you should give a try to both the Iconix Led Blow Dryer and the Iconix Led Straightener.