Whether you have naturally curly hair or have curled your hair yourself, curly hair can sometimes be so difficult to tame and manipulate into a presentable style, making it harder to think up of new and exciting looks for this hair type.
However, experimenting with different styles is the key here, as this will prevent you from falling into a hair rut.
Not sure where to start?
Here are some stylish curly hairstyles to try out, each one perfect for the months of spring.
The Perfect Pouf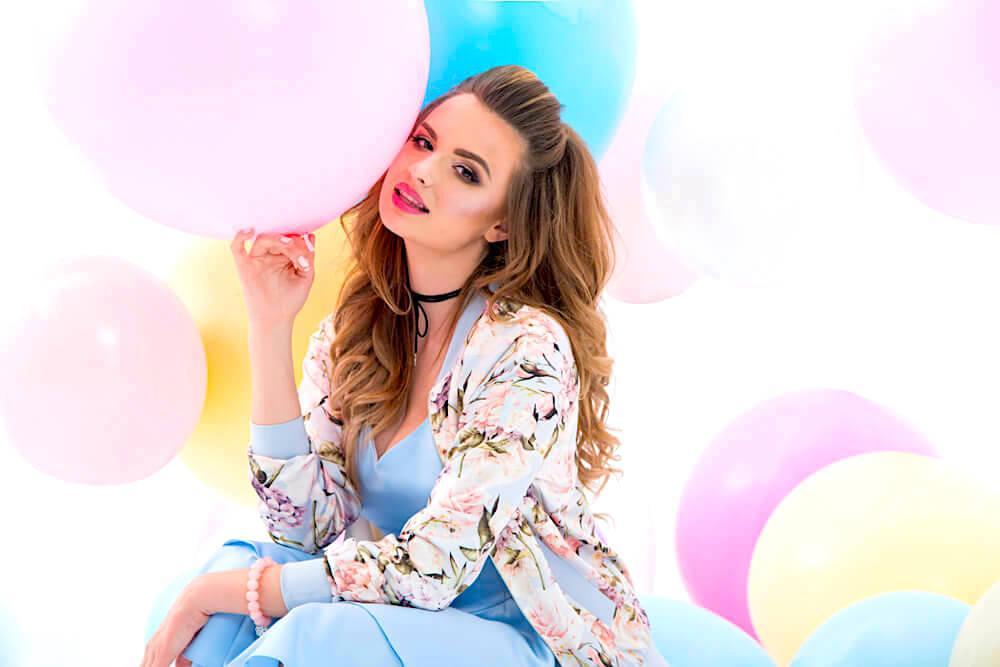 Although the pouf dates all the way back to 18th century France, having been made popular by Marie Antoinette, the Queen of France at the time, this is a hairstyle that has never gone out of fashion.
It is also one that looks especially good when paired with curls.
Why?
Because the softness and volume of the pouf complements the texture of curls so well.
So, how do you actually create a pouf?
There are a few different ways in which you can do this:
Using a regular comb

to section off some hair from the crown, before pushing it forwards and then securing it at the back with bobby pins

Using a rat tail comb or teasing brush to back comb

a section of hair from the crown of your head, before securing it with bobby pins at the back

Using a hair pouf insert

to help emphasize the pouf shape, although keep in mind that removing this can be difficult if you have used a large amount of hair spray

Creating a mini bun

underneath the section of hair at your crown, before wrapping this section over it. This method is ideal for those who have thicker hair 
Now that you know how to create the perfect pouf, you are probably wondering what to do with the rest of your hair.
Use a curling wand to add some curls to your hair, deciding for yourself how tight or loose your curls will be. The pouf will work well with either, so feel free to experiment with this.
Side-Swept with a Braid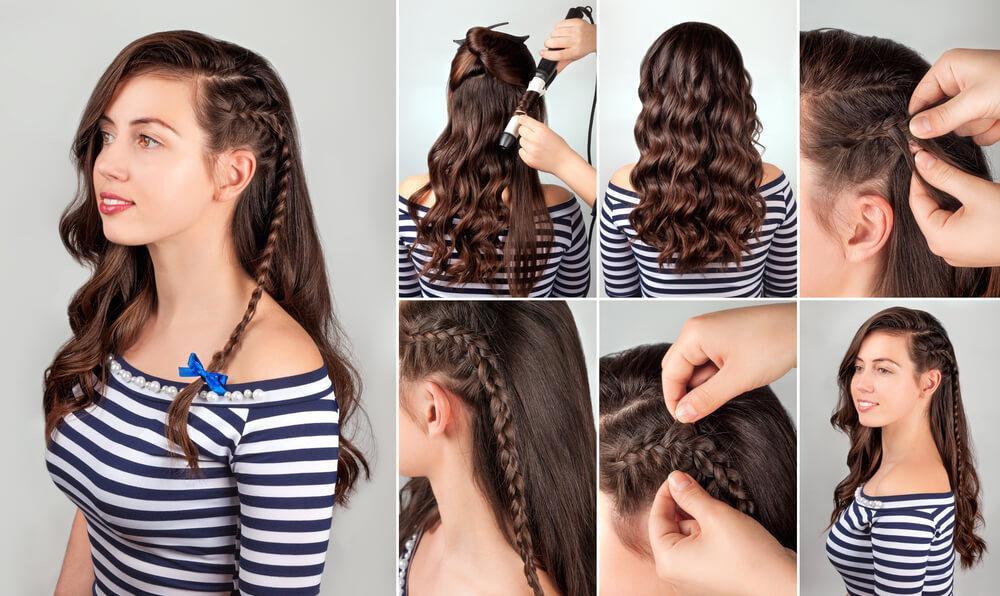 This is such a cute spring style with the braid adding a whimsical, feminine touch to the glamor of the curls.
As you can see, this is quite a straightforward style to create…
Begin by creating a deep side part and then sectioning off the top part of your hair, pinning this out of the way.
Then, use a curling iron to add some curls to the rest of your hair.
Release the front of your hair and take a section from the side, braiding this up the side of your head, behind your ear, and then down with the rest of your hair. Try to keep the braid quite tight to begin with, as you can always pancake it out later to add some volume and texture.
If the front part of your hair could do with some extra movement, your curling iron will be able to help you with this too.
Once you are done, give your hair a spray with some hairspray for extra hold.
Natural, Loose and Free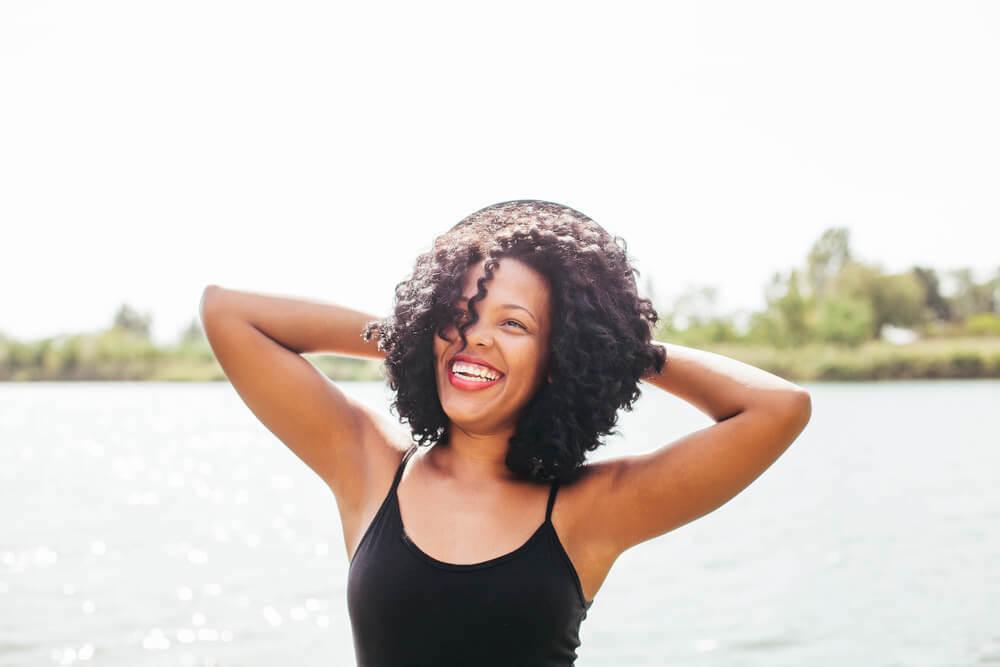 Leaving your hair open and natural is a great way to embrace spring, but for those with naturally curly hair, frizz is an extremely annoying problem to deal with.
Fortunately, there are so many steps that you can take to control frizz, including:
Make sure that you keep your hair moisturized with a high-quality conditioner

Apply your styling products while your hair is still wet

Leave your curls to set and dry naturally, because blow drying them will only increase frizz
A Curled Ponytail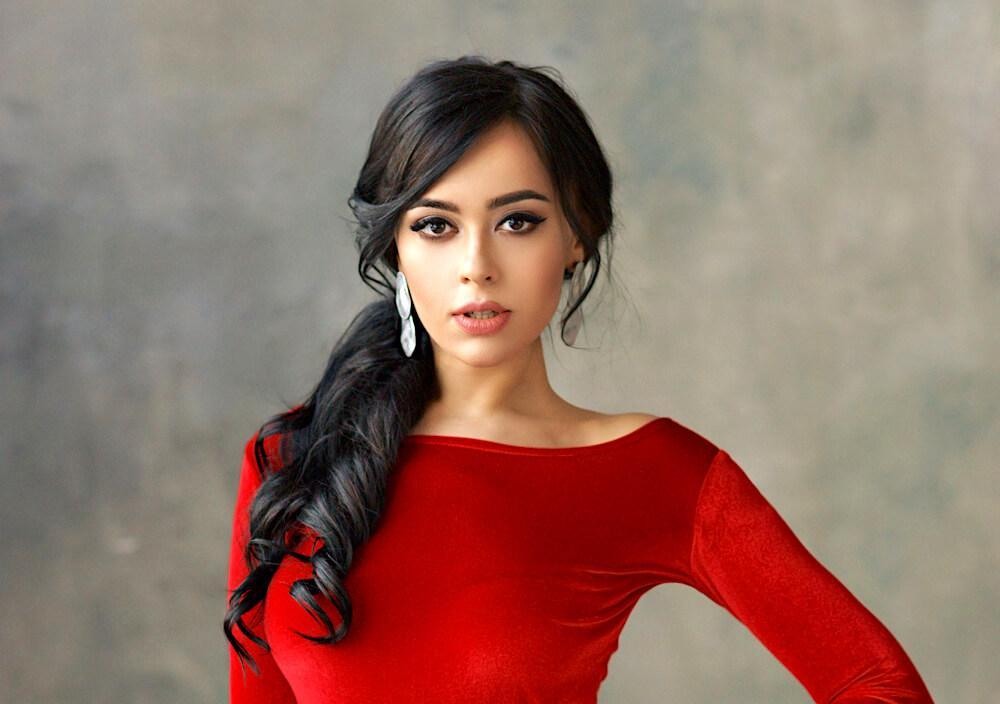 The ponytail is one of the most classic hairstyles out there, but it is also such a simple one.
Want to add a bit of flavor to yours?
Try incorporating some curls into your ponytail.
The beauty of this look is that it looks completely different depending on where you place your ponytail, so try this with both a high and a low ponytail to see which one suits you best.
To begin with…
Choose between a deep side part or a center part.
Then, before tying your hair back, lightly tease your roots if you know that you could do with the extra volume.
Once you have tied your ponytail, use a curling iron to curl small sections of this at a time.
Finish it off with a spritz of hairspray and you are ready to go! 
Relaxed Waves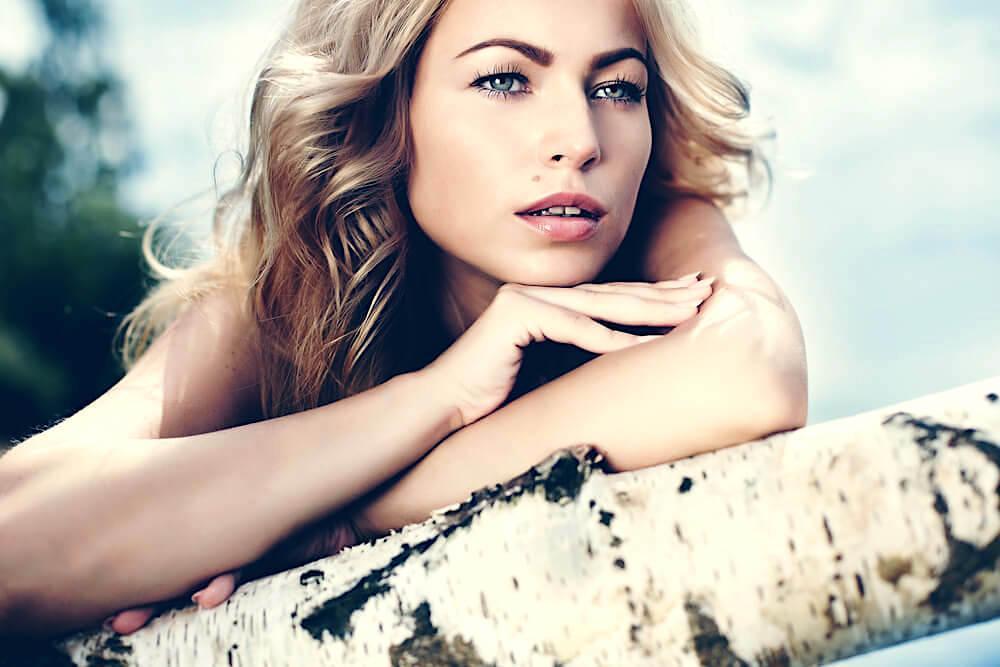 Stylishly relaxed waves are always on trend, and this is a style that can be achieved in multiple ways.
One easy method is by tying your hair into a ponytail before curling this with a curling wand, in the same way that you would to achieve the curled ponytail mentioned above. The difference here is that once you are done curling, you can then release the ponytail to show off your waves.
You could also twist a couple of buns at the back of your hair while it is still wet, pinning this in place and then leaving it to air dry.
Do you usually create this style with a curling iron?
If so, then you likely use a large barrel curler for this.
Try this instead…
Use a small barrel curling iron on large sections of your hair, as this will not only get the job done so much quicker, but will also leave you with beautiful, bouncy waves.
Just make sure to curl away from your face, rather than towards it.
Why?
Because curling towards your face can make your face appear much smaller than it really is.
Don't have a curling iron?
You can use a flat iron to create waves too, although this does tend to take slightly longer than the other methods mentioned above. 
Braided Pigtails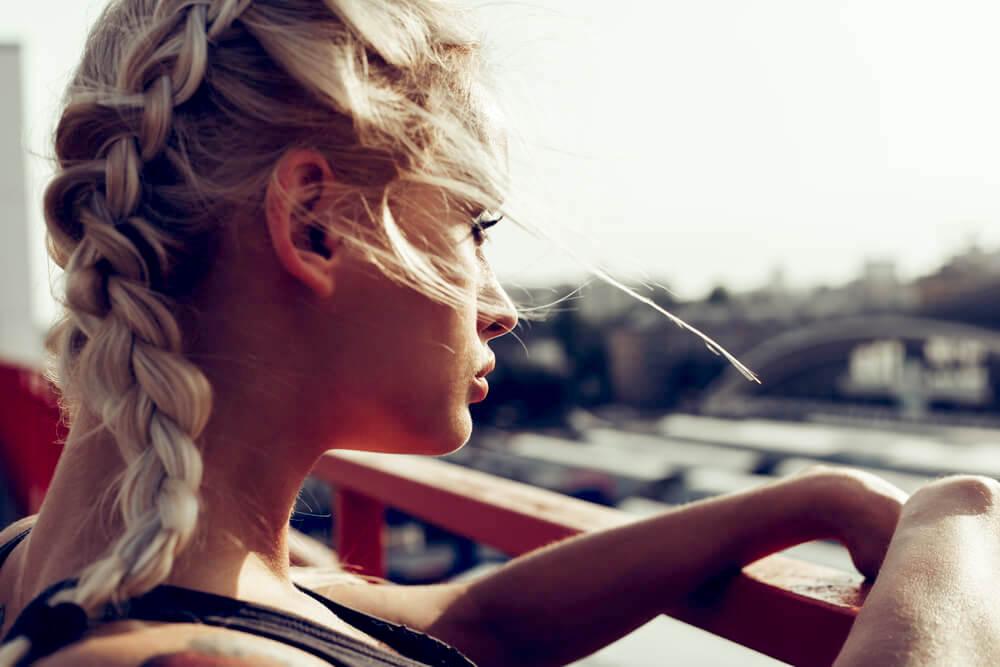 A braid is always fun for spring, but for those of you who have naturally thick and curly hair, a single braid can sometimes end up being too voluminous.  
This is where braided pigtails come in, as this gives you the chance to split your hair in half, making it much easier to manage and style.
Of course, the style of braid that you do is completely up to you, and there are certainly numerous options to choose from, including:
A standard three-strand braid –

the simplest of all braids, and easiest done on second-day hair
A French braid –

creates a beautifully patterned texture
A Dutch braid –

this one is basically an inverted French braid
Do you find that you have a high number of flyaway hairs when you braid your hair?
One way to get around this is by combing each section of your hair before braiding it in. For even more help, try spraying some hairspray onto your comb, so that small amounts of this are transferred onto each section when you comb it.
A Vintage Faux Bob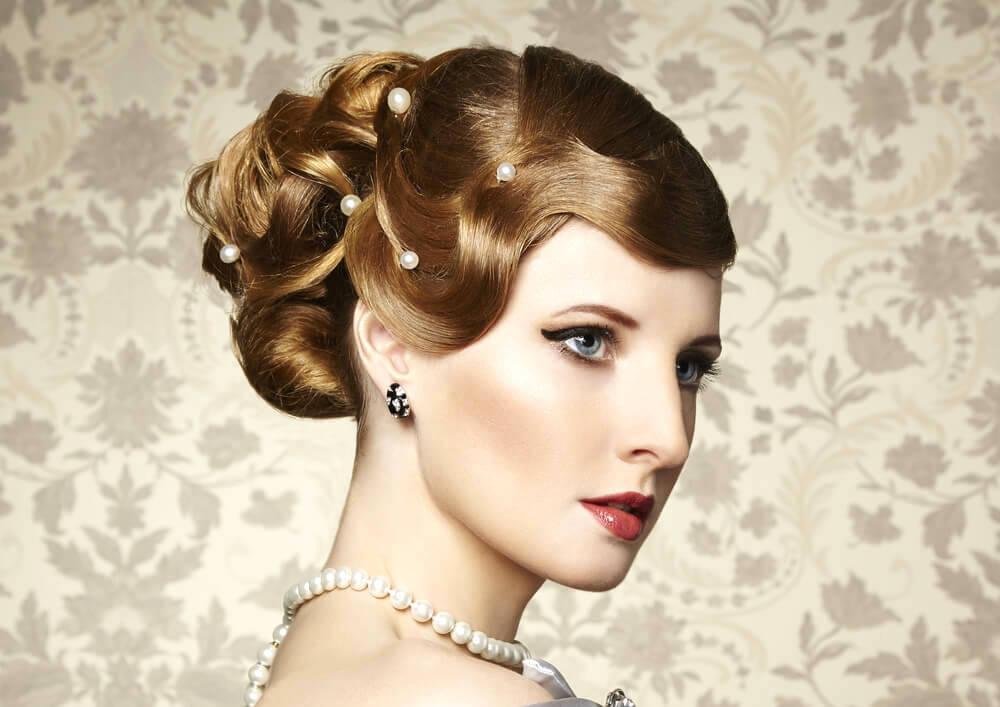 Nothing exudes glamor quite like this vintage-style faux bob. It is also a fantastic way to give a shorter style a try, without having to actually chop any of your hair off.
Begin by brushing your hair with a large brush, splitting it into sections and then back combing them. Spray each section with some hairspray once you are done, and then run some hair straighteners through the roots to help set your hair and smooth down any flyaways.
Use a curling tong to curl small sections of your hair, so that you are creating curls that are defined but quite loose at the same time.
Do you find that your curls keep dropping?
Try taking smaller sections at a time.
Once you are done curling, pull your hair into a low ponytail and secure with an elastic band.
Now for the tricky part…
You need to tuck and fold your hair underneath itself, in the direction of your crown. Keep in mind that you will likely need quite a few bobby pins to hold this in place. 
Once you have achieved the look you are after, give your hair a spray with some hairspray.
A High Top Knot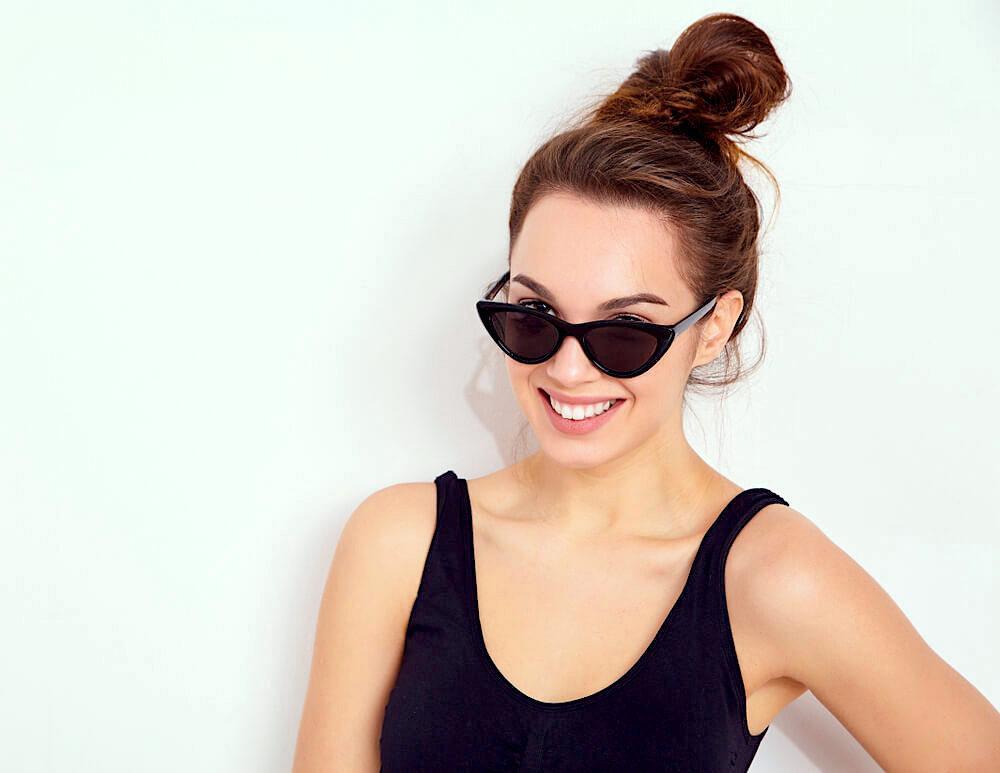 Also referred to as a high bun, a high top knot works with just about every hair type, and is the perfect way to keep your hair out of your face. Plus, with so many celebrities sporting this look, from Kelly Osborne to Miley Cyrus, this is a style that is likely to stay on trend for years to come.
This is an easy style to put together, simply requiring you to pull your hair up and twist it into a bun, before securing it with an elastic band and some bobby pins.
Is your bun not quite as thick as you would ideally want it to be?
A hair weft, also known as a hair extension, could be the answer here. Simply clip this in underneath a layer of your hair, somewhere between the nape of your neck and the crown of your head. Just make sure that you put this in upside down.
Why?
Because then when you pull your hair up into a ponytail, it will not end up bulging out.
Of course, as versatile as this style may be, it does tend to hide any curls away.
If you want your curls to still be the center of attention, pull some strands out from the sides of your hair, leaving these curls to frame your face.
Half Up, Half Down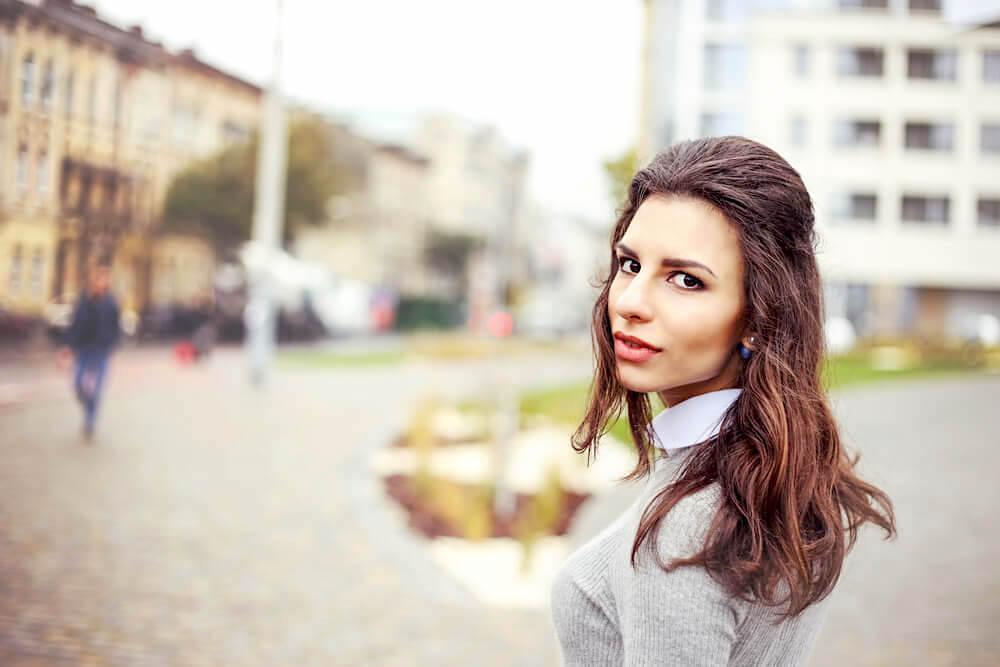 You have likely seen the half up, half down style everywhere lately, from the red carpet to social media, as everyone from Beyonce to the Kardashian sisters have been sporting this look lately.
This is another style that works so well with just about any hair type, as it allows a part of your hair to just be open and natural, while the front part of your hair is pulled back, enabling your face to really shine.
This style is also so versatile, and you can mix it up quite a bit depending on how much of your hair you actually put up.
If you would like the majority of it to be left loose, simply tie back a small section from the front of your hair. This would be similar to the pouf hairstyle mentioned above, except for the fact that you would not need to add in any extra volume.
Alternatively, if your hair is quite thick, pull back a larger section of it, as this will also help to thin down the part that you leave loose.
Finding it hard to decide where to pull your hair back from?
Here are a few tips to keep in mind based on your face shape:
Oval face –

the edge of the eyebrows, or even the arch of the eyebrows, are a good guide
Round face –

placing your half ponytail or bun high up on your head will help to lengthen your face  
Heart-shaped face –

try pulling your hair back right in front of your ears, so that the rest of your hair falls softly onto your jawline
Wondering if there are any differences when doing a half ponytail or a half bun?
Yes, there are…
If you are doing a bun instead of a ponytail, place this further back on your head, so that it does not end up looking too contrived.
Hopefully, after seeing all these stylish looks, you are now inspired to try your own hand at curly spring hairstyles. Whether you opt for something simple, such as a curled ponytail, or go for something more elaborate, such as the vintage faux bob, these styles will have you covered no matter the spring occasion you are preparing for.