Have you ever treated yourself to an actual spa day? What an experience! From the paper thin lemons floating in the cool ice water to the fluffy white bathrobes, they treat you like the star of the show. But did you know that you can do the same for yourself at home? Sure, it's not quite the same thing but it is noticeably cheaper and requires less time out of your busy schedule.
I am a huge fan of taking the time for taking care of yourself. I rarely have a whole day rarely available, but a fifteen-minute facial on a quiet evening or slowing down my morning routine on the weekend for just a few extra minutes. It can make all the difference in my mood. It can restore my patience, uplift my spirit, and make me feel ready to face the world again. And who doesn't have a little bit of time to do that for themselves and the people around them?
When you treat yourself to a spa day at home, a good rubdown with a vigorous body scrub and a relaxing massage with sumptuous body butter into your freshly smoothed skin are almost essential in my book. Especially when those products are as luxurious as the Vivo Per Lei Botanical Matcha pair.
Vivo Per Lei Botanical Matcha Renewing Body Scrub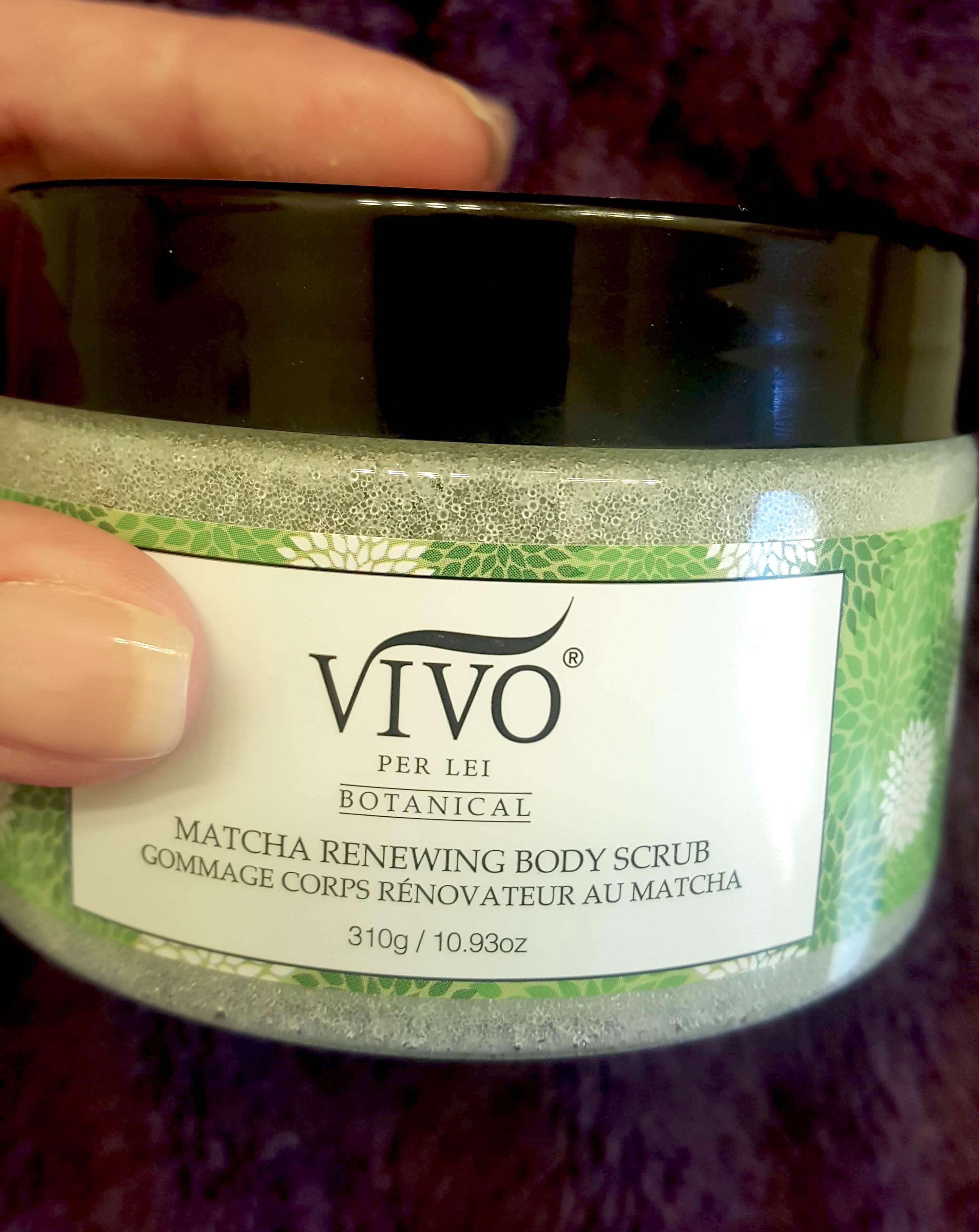 Product Description: Vivo Botanical Matcha Renewing Body Scrub offers a refreshing and purifying spa-like treatment for your whole body. Its botanical-based formula is brimming with purifying, anti-aging ingredients. Matcha Green Tea extract and Sea Salt work to smooth the surface of your skin while restoring a look and feel of resilience and suppleness that is silky-soft to the touch.
Review Recap: Oh this is a wonderful body scrub. I am very particular about the way I like my body scrubs. I do not much care for the products that are salt or sugar particles suspended in oil.  To me they leave my skin with a terrible oily residue, and I struggle to get my body wash to lather afterwards. Likewise, the particles are usually too big for me to feel like they are truly effective; they just sort of slide around inside the oil suspension. But this one was fabulous!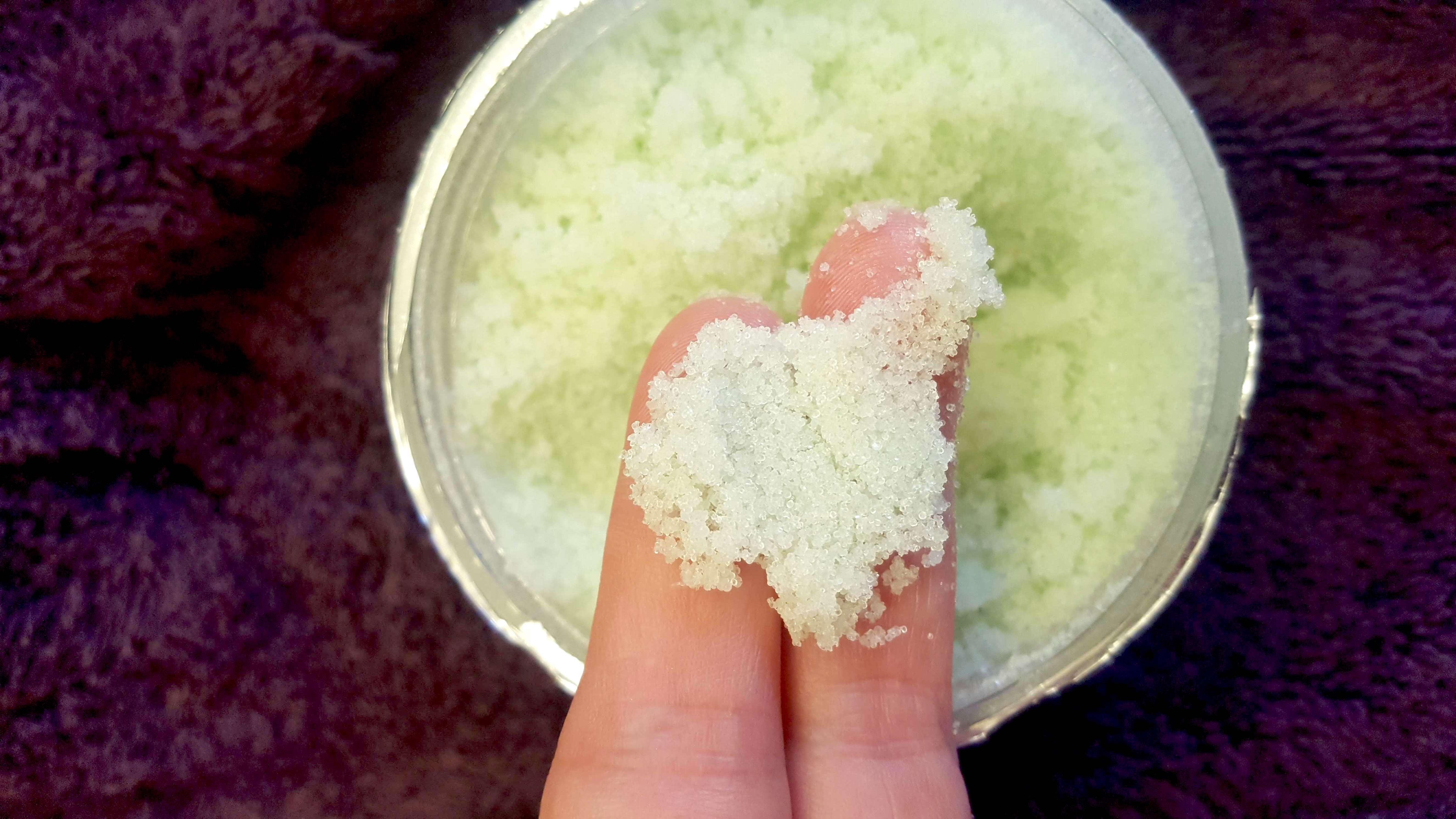 There was no oily residue left behind, and my skin felt soft and smooth. The grains were large enough to be felt but small enough to be effective. I have been known to throw out products after one use because of the way they make my skin feel or even just the scent. Oh and the scent!  It was fresh and green and soft, but left no lingering smell afterwards. I was fine with that, since it did not interfere with my perfume.
Vivo Per Lei Botanical Matcha Purifying Body Butter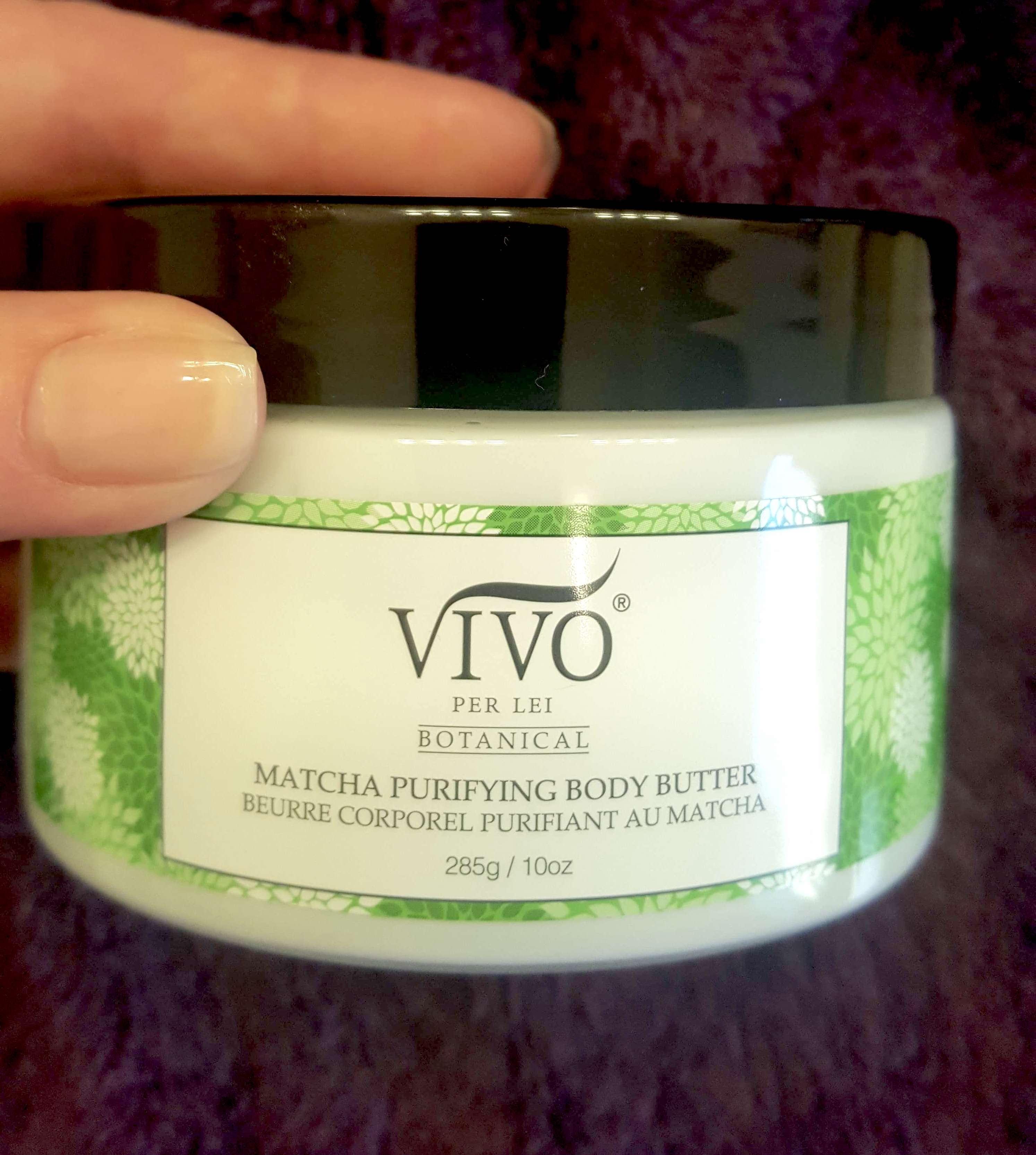 Product Description: Give your dry skin comforting care with Vivo Botanical Matcha Purifying Body Butter. This sumptuous blend of moisturizers features a lusciously rich consistency that will soothe flaky or parched skin. Infusions of Matcha Green Tea and other botanical extracts provide your skin with the utmost of assistance in restoring a softer and more supple look and feel from head to toe.
Review Recap: Most body butters can be so thick they are nearly impossible to apply and massage in. Think of the old-fashioned Crisco that my grandmother used to fry chicken with. This butter was completely the opposite, almost whipped in texture. It sunk right into my skin and left it soft all day long.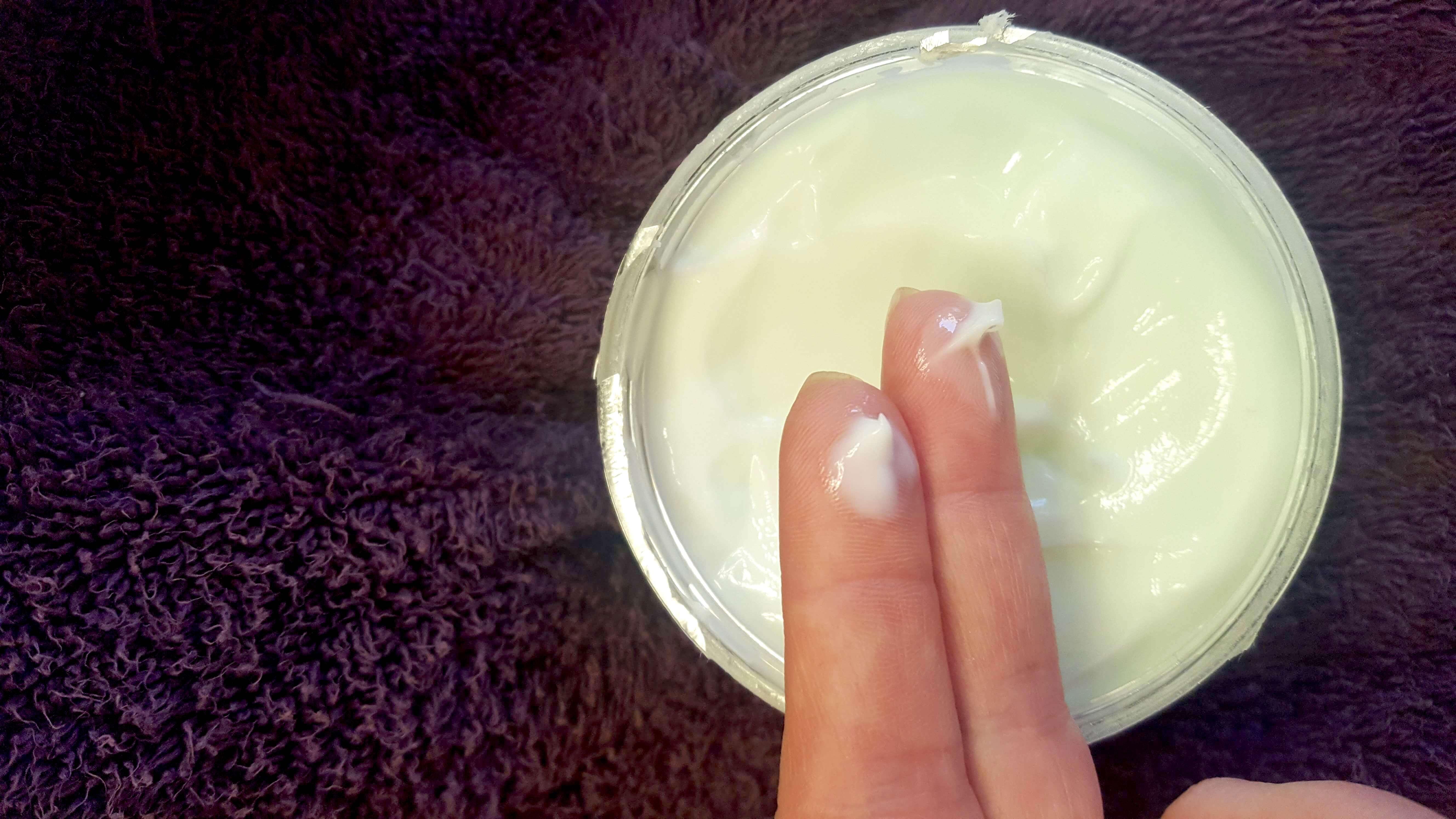 It was especially lovely after shaving; I could hardly believe how smooth my skin felt. The combination of the body scrub before shaving and the butter after my shower – just unbelievable! The scent was the same as the body scrub which is a nice layering technique, but it still was not overwhelming after it absorbed. I even used the pair as a quick manicure before heading out for the evening – exfoliating my hands and then lathering on the butter. Overall I was very impressed with the results, and the price point is extremely reasonable for the huge jar.
Ingredients
Now that we have refreshed my reviews of the Vivo Per Lei Botanical body care pair, I wanted to also take a little time to really look at the ingredients of these products. After all, we spend time picking out the right ingredients to put into our bodies, why don't we spend the same care with ingredients to put onto our bodies. After all, they absorb right through the skin! We may be enticed by advertising or swayed by promotional offers or convinced by good salespeople, but when it comes down to actually buying and using a product, we should consider the ingredient list first and foremost. Does coconut oil clog your pores? Does argan oil leave you dry after application?
Let's take a look at these Vivo Per Lei Botanical products. I've tried the products, but it all boils down to the deliverable – what can these ingredients do for my skin, and yours. Here are a few of the key ingredients for these creams.
One quick disclosure – if you are unfamiliar with the EWG Skin Deep Rating system that I have mentioned in the following ingredient reviews, I highly recommend you check out this resource. If you are curious about a certain ingredient and how good it is for you and your skin, they are an amazing impartial database. They do their research and then rate different products and ingredients on a scale of 1 to 10 (1 being low concern and 10 being high concern) for various factors and risks. 
Glycerin (in body butter only)
What is it? Glycerin is a naturally occurring alcohol compound, of either animal or vegetable origin, often used in skincare and beauty products for its moisturizing and humectant benefits. It is a secondary product typically created from making soap.
EWG's Skin Deep Rating: 2
What are its benefits? Glycerin is prized primarily for its humectant properties, which means that it is able to attract and bind water particles to the skin, contributing to a 'moisturized' look. Don't underestimate it because of the 'alcohol' in its makeup; not all alcohols are drying. Glycerin's powerful humectant properties mean that fine lines and wrinkles will appear smoothed out and skin will look 'plumper.'
Mineral Oil (in both products)
What is it? Technically speaking, mineral oil is a distilled derivative of petroleum.

 

In itself, it is a clear, colorless, odorless product that is chemically very similar to petroleum jelly (aka Vaseline).

 

If you have ever slathered your feet with Vaseline and then slept in socks, you know the benefits of this ingredient!
EWG's Skin Deep Rating: 1-3
What are its benefits? Firstly, I know this ingredient gets a bad rap most of the time.

 

But the Skin Deep Rating reflects a different opinion.

 

I think that when it is used in the proper amounts inside a product, you can really feel the benefits.

 

It is an emollient and nourishing skin conditioner which is what helps the moisture stay locked in from the glycerin or shea butter.

 

It also serves as a skin protectant to help lock out the environmental factors that can negatively our skin.
Shea Butter (in body butter only)
What is it? Derived from the fruit of an African tree, Shea butter is a 'vegan fat' made of stearic acid and oleic acid. This rich, silky butter is solid at room temperature, but melts when it touches the skin, thanks to the human body temperature.
EWG's Skin Deep Rating: 1
What are its benefits? Rich in vitamins A, E and F, Shea butter helps to relieve and minimize the effects of skin aging, reduce redness and inflammation, and helps improve skin concerns like minor burns, skin allergies, and eczema. Its intensely moisturizing properties also mean that it is able to form a thin 'shield' for the skin and protect from moisture loss via evaporation.
Sea Salt (in body scrub only)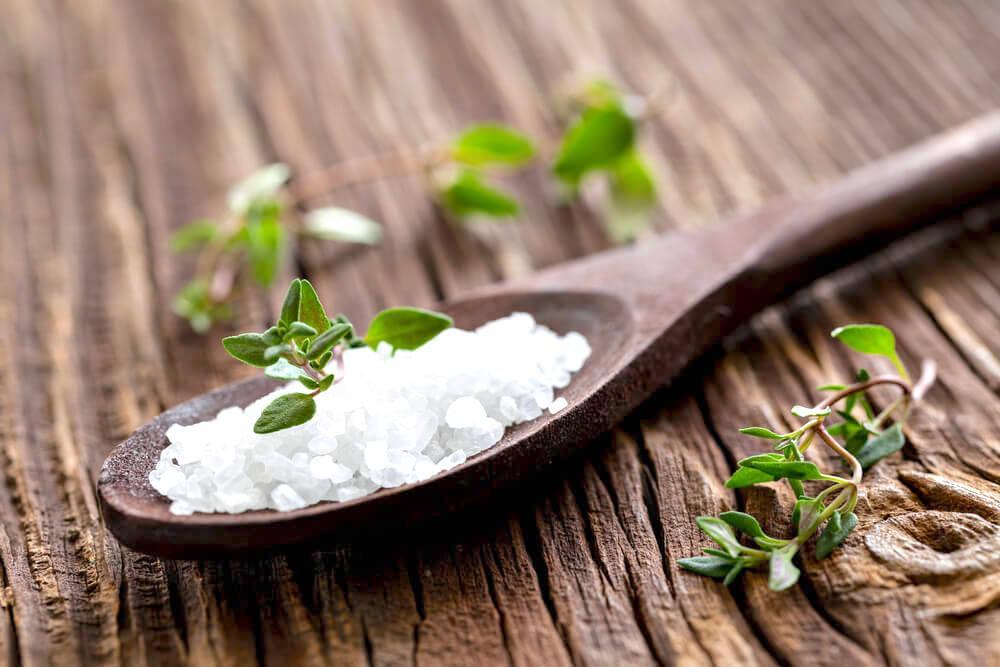 What is it? This one is pretty straightforward – it is a mixture of inorganic salts distilled from salt water.

 

It is usually grainer than regular table salt, but the grains in this body scrub felt closer to table salt than the big particles I normally associate with sea salt.

 

It also can contain trace minerals such as iron or magnesium.
EWG's Skin Deep Rating: 1
What are its benefits? Sea salts have been known to improve the skin's barrier function (the ability of the skin to protect itself and retain moisture inside itself) and reduce inflammation.

 

Many of the sea salt varieties contain high levels of magnesium which also helps detoxify the skin.

 

Dissolving sea salts into your bathwater is particularly good for fatigue, inflammation, and muscle soreness.
My goodness, what a lineup. You can tell that the creators put a lot of thought and effort into the construction of these products. I also figure, if you can use a product by itself (like shea butter) or internally (like sea salt), they make wonderful additions to any skincare product. I have not attempted to make my own body scrub or body butter before, but I like to think these are the ingredients that I would choose. I just prefer to let the professionals handle that, and I just enjoy the results!
And as a side note, make sure to give your hands the same Tender Loving Care – focus the scrub and the butter on your nails and cuticles to smooth out any rough areas and get them ready for your home manicure.  Even if you don't paint your nails, smooth moisturized cuticles always look polished.  Same for your feet since they are probably one of the hardest working yet most neglected areas of the body.  With or without nail polish, soft heels always look great in sandals.
I don't always take the time to give the skin on my body the care it needs, but trying these products made me want to find the time.  It really would only add a few minutes to my morning routine (I have to stop hitting the snooze bar), and I know I would reap the results.  Our skin has remarkable maintenance and restorative capabilities however that does not mean we can't help it along.  Body scrubs can help invigorate the skin, reduce the signs of aging, and even improve circulation.  Both of those results can boost overall health, not to mention mood!  Think of it as a cup of coffee for your skin.