Gen Xers will probably have gotten their first introduction to luxury cruises on "The Love Boat." For those not in the know, "The Love Boat" was a long-running show on ABC that took place on a cruise ship. Each week, regular crew members Captain Stubing, his daughter Vikki, Doc, Gopher, Isaac, and Julie would welcome aboard a cast of rotating celebrities who would play out their romantic adventures, looking to make love connections with the sage advice of the crew as guidance. Thus, a generation's perception of cruises was shaped.
Cruise ships were places of glamour, of mystery, where new relationships were formed and old ones rekindled. They were places of fun, of laughter, of fine dining and ocean views, and luxury cabins with TVs and king-sized beds. Any Gen Xers would be more than happy to come aboard, and many of them did.
In the coming years, Gen Xers would become some of the most avid cruise takers, and there was no decline in the generation that followed. It seems that you didn't need Captain Stubing to tell you how relaxing a cruise could be.
These days, people of every generation are lining up to embark on some of the most exotic cruises the seven seas has to offer. If you're looking to set sail on a cruise any time soon, here are some of the hottest options.
Crystal Ship
Move over "Love Boat," the Crystal Ship has enough luxury to blow you out of the water. Talk about a room with a view. Each verandah state room and suite on the Crystal ship gives a new meaning to drinks on the deck. Take your complimentary croissant out on your own private patio overlooking the ocean, or rather on the ocean, and get ready to start your engines.
What will it be today? Are you planning a trek through the rainforests of Costa Rica, taking a little downtime in Copenhagen, spending one night in Bangkok, eating pasta in Tuscany? How about just staying on the ship? Whether you plan on venturing out or not, you can count on the Crystal Ship's opening arms of civilization welcoming you.
Worry not if you missed out on the pasta in Tuscany; the Crystal Ship has some of the most masterful chefs cooking up gourmet meals from every country in the world. Didn't make the daily excursion, just take a walk around the 360-degree teak promenade deck for a great view. Dancing, drinking, entertainment: the Crystal's got it all. If you want a sexy getaway, nothing will get you more in the mood than the Crystal ship.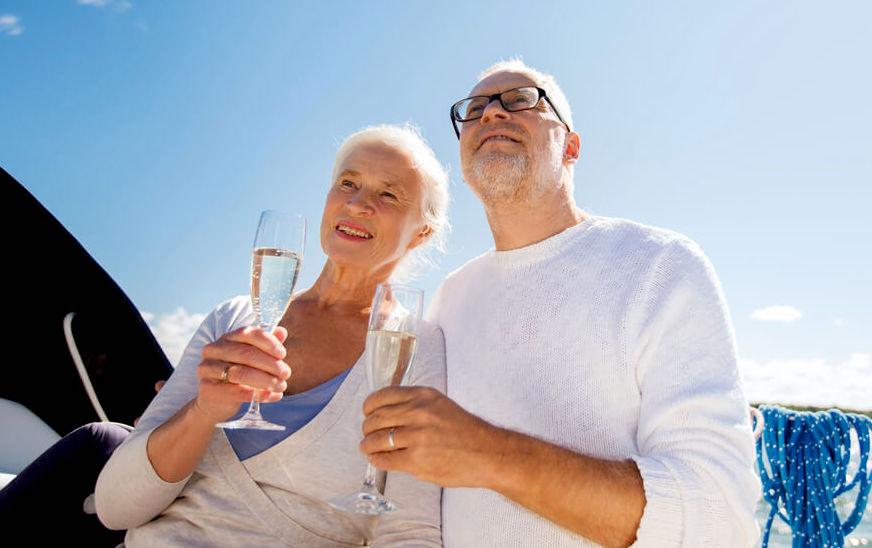 Seabourn Cruises
If you think those guys on the Love Boat had some pretty accurate intuition about their passengers, wait 'til you get on a Seabourn Cruise. From the way the staff on this ship anticipate your needs, you might just find the dinner of your dreams on your plate before you even order. When you're on the Seabourn, you're where everybody knows your name, literally, and that's not all. This crew not only knows your name, it knows your personal preferences as well. Now you know why you should never overshare on Facebook.
When it comes to the accouterments, this is no Nina, Pinta and Santa Maria. Whether it's the Odyssey, the Ovation, the Quest, the Sojourn, or the Encore, you can count on all the luxuries of modern life, on a Seabourn ship. You'll wake on fine sheets, and king-sized feather pillows, to your own personal ray of sunshine, and that's not referring to the views from the 5 ft windows. On the Seabourn, every day begins with a complimentary bath drawn by a smiling stewardess, and she takes requests. She'll even sprinkle rose petals on your bed as a little added extra.
However, try not to get too comfortable in your room, the Seabourn will be docking in some of the most exotic locales. You can explore the islands of the Mediterranean, take a ride down the Panama Canal, or eat the finest Nobu cuisine Asia has to offer. Just make sure to it back in time to hit the fully stocked bar in your room and watch the surround sound flat screen TV.
Regent Seven Seas Cruises
As soon as they pop the cork on the complimentary champagne bottle on the Regent Seven Seas Cruise, you start to get an idea of what the rest of the cruise has in store. Luxury suites, well-stocked mini-bars, breakfasts eaten on private balconies, lounging around in plush his and her bathrobe and slippers – you've arrived in every sense of the word.
Is it possible to have a penthouse on a ship? Apparently, it is on the Regent Seven Seas. Spring for one of these, and you get your own butler, Bottega Vonetta bath amenities, a selection of bath salts, and a complimentary party for eight. Well-stocked bar, king-sized bed, feather pillows, eight tipsy people – get your mind out of the gutter. It's all above board on the Regent Seven Seas.
Thinking of leaving the ship? Step off board and bask in the Mediterranean sunshine, take a trek through an African Rainforest, or enjoy a shore excursion. Foodies might want to check out the Gourmet Explorer Tour in which you get to sample some of the world's best food and wine in the company of a master chef! Better bring your appetite!
Still got some life left in you? Back to home base for cheese and wine tastings (you may want to lay off these if you just got back from the Gourmet Explorer Tour,) culinary classes, or a visit to the spa. ( The Couple's Massage comes highly recommended.) Do some dancing, hit the bars, take in some live entertainment, and back to the room, with the king-sized bed, feather pillows, and fully stocked bar. Suite dreams!
Silversea Cruise
On the Silversea Cruise, you can take the expression, "The butler did it," to a whole new level, because on the Silversea Cruise there's not much the butler doesn't do. As soon as you come on board, you're assigned your own personal butler, tails, bowties, and white gloves included. He takes you to your room, unpacks and hangs your clothes, chills your favorite beverage, makes dinner reservations, arranges fitness sessions, notes dietary limitations, presents your bathroom amenities to you, and offers you a choice of pillows: goose down, hypoallergenic, or therapeutic. Good luck finding this at your local Motel 6. From then on, this guy is your right-hand-man.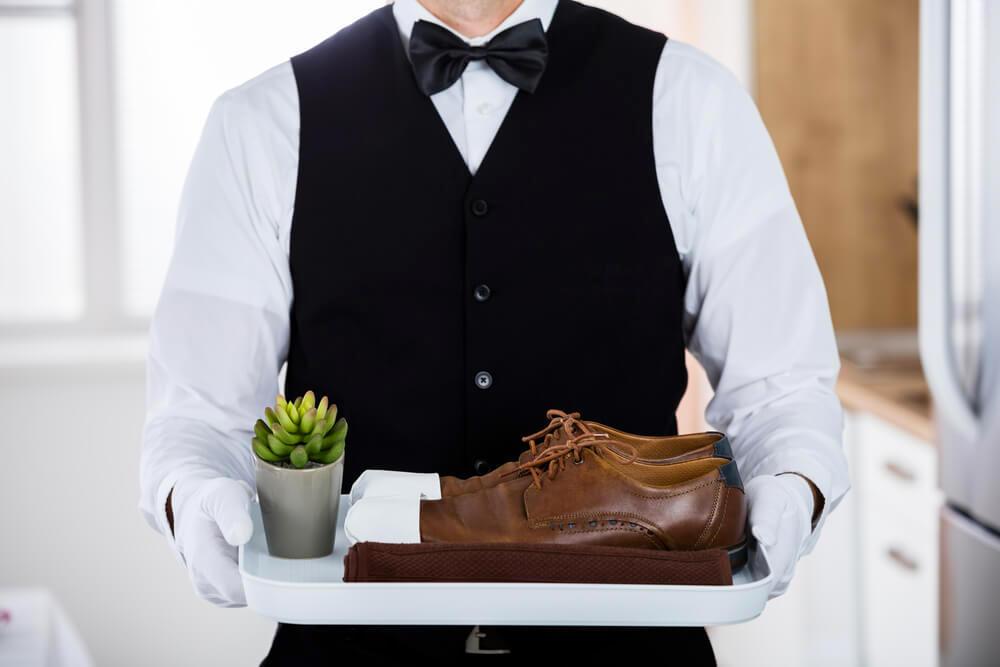 He makes sure your suite is sparkling, recommends and serves breakfast, polishes your shoes (really?), takes care of the laundry, replenishes the bar and ice bucket, and turns down your blankets. And you thought Alexa was efficient?
Plus, if you want to go deluxe, the butler can also plan offshore excursions, draw a whirlpool bath, and even arrange for a little house party in your room. You don't even have to invite him! He can also serve some afternoon canapes when that midday slump hits.
When the butler takes a hike, you can too! Take a wine voyage in Italy, a culinary voyage in Japan, a whale-watching voyage in Vancouver, ballet voyage, opera voyage, even a voyage for bridge enthusiasts! There's nothing Sevenseas hasn't thought of.
Get your hair and nails done, get a massage, even get a few facial injections: Botox, Dysport it's all on the boat. This is an ice bucket list cruise; get the champagne flutes ready. Gratuities are included, unless you're feeling a little extra tipsy.
Paul Gauguin Cruises
You don't have to leave the ship to have a good time on most cruises, but if you go on a Paul Gauguin cruise, chances are you'll want to. Sure, Paul Gauguin cruises have the staterooms, the balcony views, the onboard entertainment, they even have a butler available, but with the Gauguin cruise, the destination is the real star.
The Gauguin is a mid-sized ship built exclusively to tour the waters of Tahiti, French Polynesia, and the South Pacific, and if you're looking to party like a rock star in any of these destinations, the Gauguin just about wrote the book. Not only does the Gauguin have access to seven award-winning luxury hotels, it has its own private white sand private beach on Bora Bora, and if you booked with Gauguin, you have an exclusive invite. Hey, Gauguin Cruises even throws in some specialists from its water sports arena to deck you out with some paddle boarding, kayaking, or snorkeling equipment to get the party started, and if you really want to go big, there's even a lagoon tour in a hydraulic Aquabike underwater (wonder if you can take a selfie in one of those – this is definitely Instagram worthy.)
French Polynesia more your style? Swim with the stingrays in Moorea, and eat with the natives at your own private motu where you'll get to witness the preparation of poisson cru with coconut milk, with time to snorkel, swim, and enjoy.
Royal Caribbean
There's a hint of romance in every cruise, but at Royal Caribbean, there's a whole lot of it. The Royal Carribean doesn't just hint at romance, it actually arranges whole cruises around it. (Talk about the Love Boat!) The Royal Caribbean Romance package has everything you need to get in the mood, from Moet and Chandon, to chocolate covered strawberries, to rose petals – and the wedding packages put the icing on the cake.
A Royal Wedding is a great choice for making it official; they'll even throw in some mimosas in bed, a dinner for two, and the honeymoon is taken care of. Just invite your pals, and let the Royal wedding planners take care of the catering, documentation, photography, flowers, and entertainment, and reception arrangement. You'll save your mom a lot of grief, and they'll even set up a gift registry so all your friends know what to get you.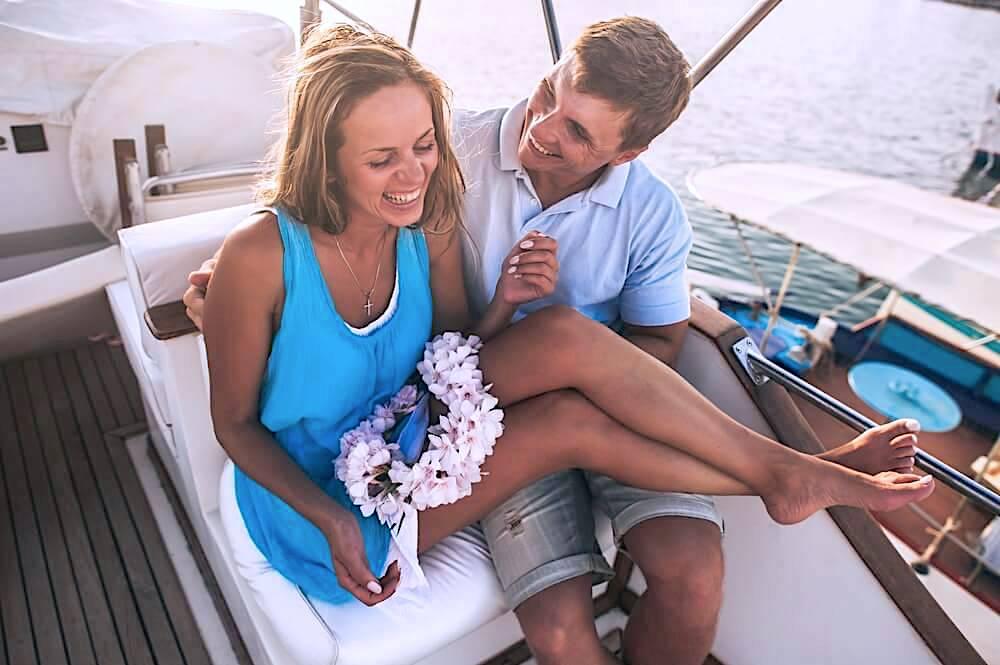 Wedding night jitters? Royal Caribbean knows the first time is tough, and that's why we provide services to help you unwind. If the thought of your wedding night encounter has your stomach in knots, the Royal Caribbean is there to relax you with a couple's massage, warm towel shave, and choice of spa services to foster a nurturing relationship to last you for years to come.
SeaDream Yacht Club
With the tagline,"It's not cruising, it's yachting," the SeaDream Yacht Club is more about lifestyle than it is about cruising. This is the chic, intimate, stylish version of cruising, the tasteful cruise, the discerning man's (or ladies') cruise, if you will. After a welcome aboard party with the captain and crew, it's off to the Balinese Dream Beds, combining all the comfort of Laz-y Boy recliner with a lounge chair, surrounded by a fabulous ocean view. Then it's time for a little action.
What would a proper yachtsman's ( or yacht woman's) vacation be without some personal sailboats, banana boat's, catamarans, and water skis? The SeaDream cruise is always there to provide guidance and ensure safety. Yoga, pool, and golf more your speed? Never fear, the Thai certified yoga trainers, saltwater pool and jacuzzi, and golf stimulator are at your disposal.
Hit the Top of the Yacht, for the Early Riser's cognac and coffee or a late night cocktail, live guitar and dancing, but if you prefer your treats without alcohol, hit the dessert extravaganza, just try not to eat with your eyes, the selection is a bit overwhelming.
Parting Thoughts
If the best gifts are experience gifts, these cruises are some of the best gifts you could give or ask for. They're thoughtful, luxurious, pampering, decadent, fun, adventurous, and above all, made to be shared. Share a cruise with the one you love on your next big occasion, and let us know how it went. We love to hear from you.