You may think that a beach outfit begins and ends with a simple bikini, but this couldn't be further away from truth.
Lounging by the sea can actually be an ideal opportunity to experiment with different trends – whether that's cute, classy, boho or sexy.
Here are some tips on how to keep your seaside fashion in check.
Find A Swimsuit You'll Love
Choosing a perfect bathing suit is essential for your summer look, as this is what you will style the rest of your outfit around.
Depending on what you feel most comfortable in, you can opt for a playful bikini, a timeless one-piece or a chic tankini.
Don't be afraid of playing around with colorful patterns, or even mixing and matching pieces from different sets.
Have Fun With Extra Layers
You can easily transform a beach outfit by adding an extra layer.
A loose cardigan, flowy caftan or belted maxi dress will elevate your look, but also protect you from the sizzling sun.
You can also use extra cover when it gets chilly in the evening hours.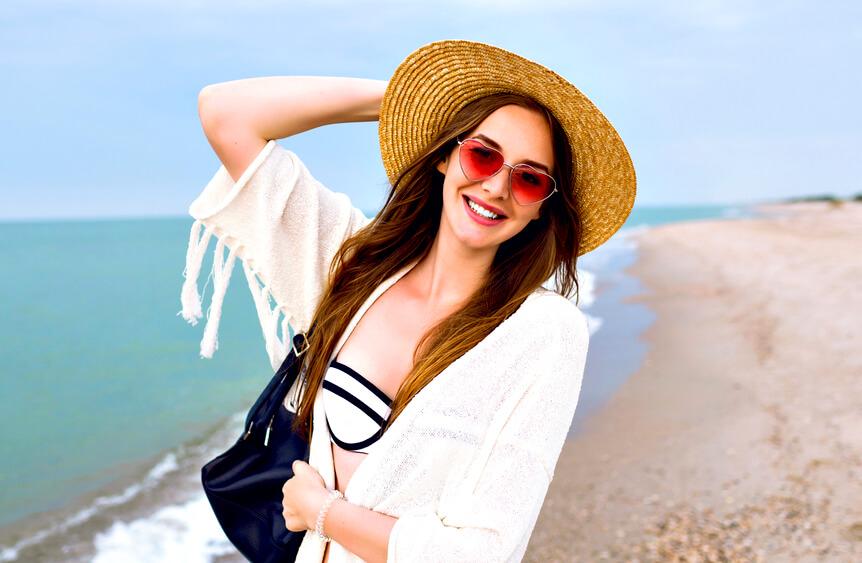 Go Big With Accessories
A visit to the beach is a great excuse to try out new, fun accessories you might not normally wear.
For example, an extravagant wide-brimmed sun hat will instantly make you look like a bona fide diva. A statement beach bag is not only chic, but it will help you keep all of your essentials at hand.
Finally, don't shy away from bold jewelry: a pair of oversized bangles can be a great addition to any beach look.