Each new season brings with it a whole host of exciting beauty trends, and summer 2018 is no different.
From peacock eyes to nail art, these are going to be some of the hottest trends this season.
Nail Art
Whether you love it or hate it, nail art is back in full force for summer 2018.
Need some inspiration?
Here are some of the designers who have done it best:
Helmut Lang –

manicures featuring the Helmut Lang logo

Tom Ford –

ombre glitter nails

Naeem Khan –

crystal embellishments

Manish Arora –

tie-dyed and marbled nails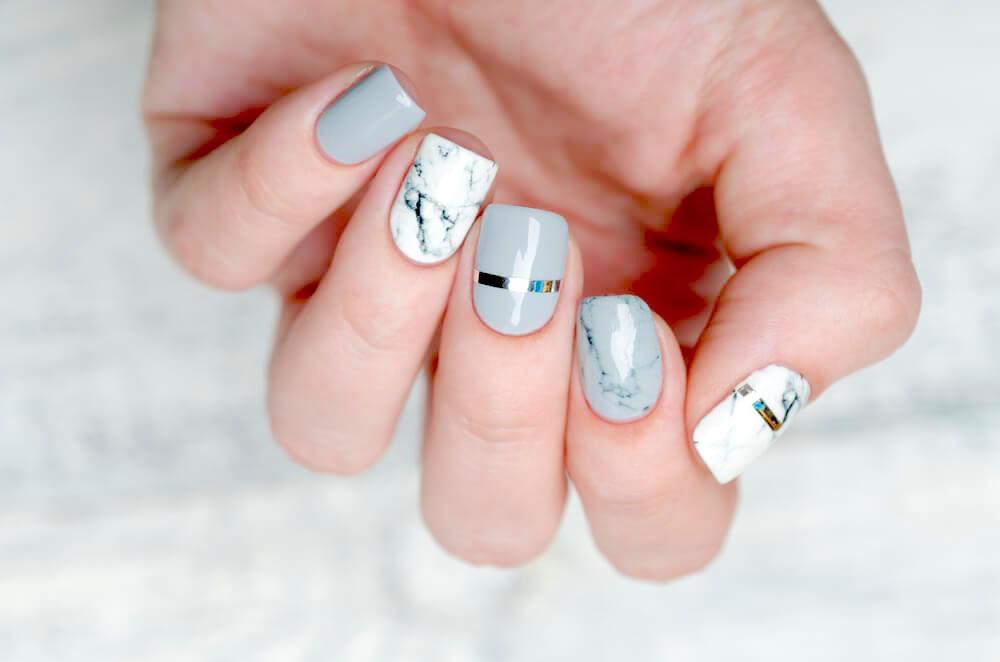 While nail art may look quite complicated, this is actually quite an easy trend to pull off. There are so many different tutorials on the internet that you can follow, so whether you are after feminine florals or edgy graphics, this is the season to let your nails make a statement. 
Sunshine Eyes
What better way to emulate the summer months than to wear a vivid shade of yellow on your eyes?
While yellow eye shadow may not have been your initial choice, there is no ignoring the fact that this shade is definitely going to be big this season. Not only has it been seen all over 2018's spring and summer runways, but it also makes an appearance on the majority of the latest makeup palettes that have been launched.
Not feeling bold enough to wear yellow on your eyes?
Try easing yourself into this trend slowly. Begin by applying it to just the inner or outer corners of your eyes.
If you are feeling brave…
Don't be afraid to cover your eyes in yellow, all the way from the base of your eyelashes to your brow bones. Take a look at the models from Fenty and Self Portrait for inspiration.
Still not convinced your eyes can pull off yellow?
The trick is to find a shade of yellow that complements your skin tone…
If your skin tone is quite fair, go for a muted yellow, whereas those with a medium or dark skin tone should opt for a brighter shade with a warm undertone. 
If you are still not sure…
Gold is a fail-proof option that works with just about every skin tone, and is extremely complementary in the summer sun.
Clipped Back
Hair accessories have made a huge comeback this year, with everything from printed scarves to vintage-style headbands being seen on recent runways.
However, the hair accessory that ruled over everything else was the hair clip.
From the sleek styles at Versace to the pearl-laden clips from Simone Rocha to the embellished versions from Dolce and Gabbana, the hair clip is going to be the must-have accessory for this season.
Not sure how to wear it?
Experiment with different styles, although the most popular runway look was wearing one hair clip above each ear, similar to the way you would have worn hair clips when you were in school.  
Peacock Eyes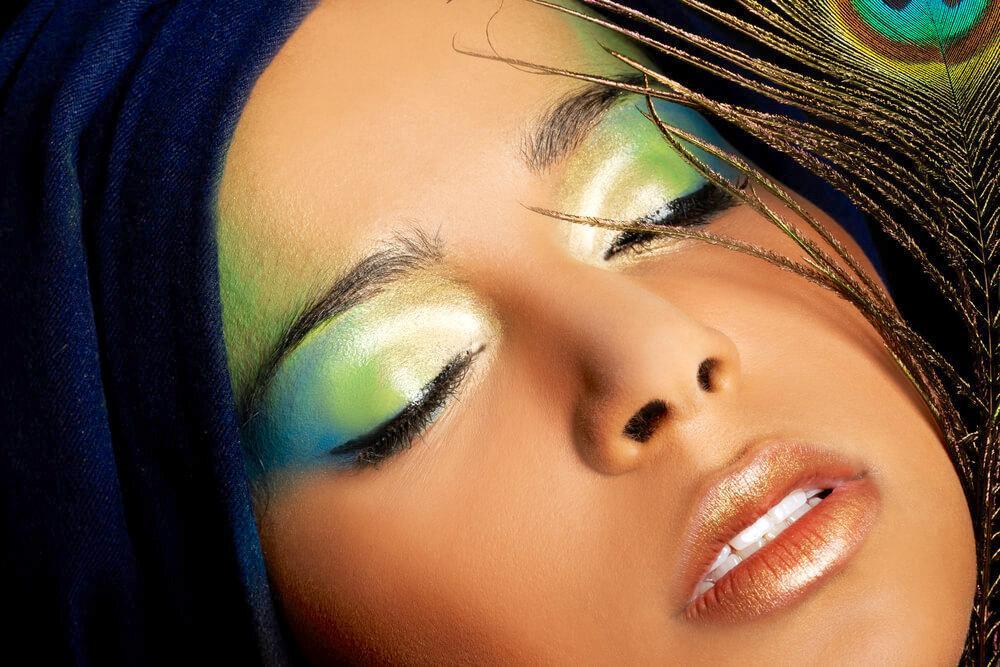 Peacocks are known for displaying their colors with the utmost of confidence, and this is the exact attitude that the peacock eye trend mirrors.
Not only does this trend focus on the colors that you would see on a peacock, but it also mimics their tenacity by extending these colors away from the outer corners of the eyes.
This is a trend that has been seen on a number of runways, including House of Holland, Marni and Fendi. In fact, the makeup artist who created the look for Fendi recommends that you "explore without caution", going for vibrant hues that will contrast well against your skin tone.
Colorful Cat Eyes
The cat eye is such a classic, go-to style that works for so many different occasions.
However, this look has been around for so long now, and while it will never really get stale, it will always benefit from being amped up, just a little bit more.
There have been so many variations of the cat eye over the years, from bold and graphic lines to glittery feline ticks.
This summer, the cat eye is all about color…
Opt for floral shades, such as lavender, yellow and magenta, and either use this shade to create the whole cat eye, or dab some in the corners to give your black cat eye a pop of color.
Beautiful Bangs
Have you been looking for a way to freshen up your hairstyle a bit?
If so, one of the hair trends for summer 2018 is bangs, and this is such an easy style to incorporate into your existing one.
The bangs that are going to primarily dominate are sweeping fringes, which were seen at Tom Ford and Fendi, and choppy fringes, such as those seen at Prada.
Not sure which one to go for?
While there will always be certain styles of bangs that initially appeal to you, the key is to finding a style that will complement the shape of your face, as well as your features.
Here are a few guidelines to keep in mind:
Round Face –

thick, angular and side-swept bangs are ideal. Make sure that you avoid straight bangs

Oval Face –

your face shape is quite versatile, so you should be able to pull off any style of bangs

Long Face –

longer bangs that get even longer at the sides are perfect for this face shape, while baby/micro bangs should be avoided

Square Face –

heavy bangs that hit mid-eyebrow level are ideal

Heart-Shaped Face –

layered side bangs will be most flattering, and stay away from full bangs 
No matter which style of bangs you opt for, remember that bangs can sometimes be quite a high maintenance style. They require a trim every couple of weeks in order to maintain the ideal length, and will also need to be washed more frequently, and then styled each morning.
The Statement Bottom Lip
You may have heard of the phrase statement lips before, but how about just the bottom lip?
This trend can be traced back to Concept Korea, where models wore a punchy shade of pink on just their bottom lip, leaving their upper lip bare.
This is a look that will definitely have people stopping for a second glance, which is not a bad thing at all!
A Glowing Complexion
Beauty trends can often be quite over-the-top, which is why many will be happy that a fresh and dewy complexion is bang on trend for this summer.
Take a look at the fresh-faced models at Versace, Bottega Veneta, Isabel Marant and Altuzarra, all of whom show that this look is going to be so popular for summer 2018.
Flawless skin is key here, and the best, and easiest, way to achieve this is by focusing on the health of your skin.
Not sure how to do this?
The most effective way to develop positive skin care habits is by establishing a daily skin care routine.
This should consist of the following steps:
Cleanse –

this is best done at the end of the day

Tone –

a toner helps to rebalance your skin's pH levels after cleansing

Eye Cream –

vital when it comes to minimizing wrinkles around the eyes

Serum –

gives your skin a boost of nutrients

Moisturizer –

nourishes and protects your skin
If you follow this routine each and every evening, it will not be long before you notice that you naturally have the glowing complexion that is so in demand this season.
High Gloss Lips
One of the hottest trends for this summer is ultra glossy lips, and this is a look that is so easy to pull off.
Although pink seems to be the color of the season when it comes to the lips, the glossy trend works with just about every shade, so feel free to experiment with a variety of colors.
Rose Gold Cheeks
Rose gold is a color that seems to keep making a reappearance, and this time it is focused on the cheeks.
The perfect blush for 2018 is one that will give you a rosy glow, but with a gold flush emanating from it.
There are several brands out there that already create this shade, such as with the NARS Super Orgasm Blush.
Alternatively, if you already have a rosy pink blush that you absolutely love, try layering it with a soft gold highlighter to achieve the same effect.
Underlined Eyes
The most common place to wear eyeliner is on the upper lid, close to the lash line.
However, things are going to be slightly different this summer…
One eyeliner trend that seems to be becoming increasingly popular is underlining the eyes.
Not sure what this means?
Well, rather than drawing your line along your top lash line, follow your lower lash line instead. Once you get to the edges of your eyes, flick your eyeliner outwards and upwards, giving yourself an upside down cat eye.
Take a look at some of the models from Jill Stuart and Ulla Johnson for more ideas on how to pull this off, as they are the designers who brought look into the spotlight.
Take it a step further…
Rather than using a single dark color of eyeliner, go for something colorful instead, and even throw on some glitter too if you are feeling brave.
Glitter and Sparkle
Glitter is a trend that often comes and goes, especially around the holiday season, but it is definitely here to stay for summer 2018.
It is easy enough to experiment with glitter when it comes to makeup, applying this everywhere from your eyes to your lips.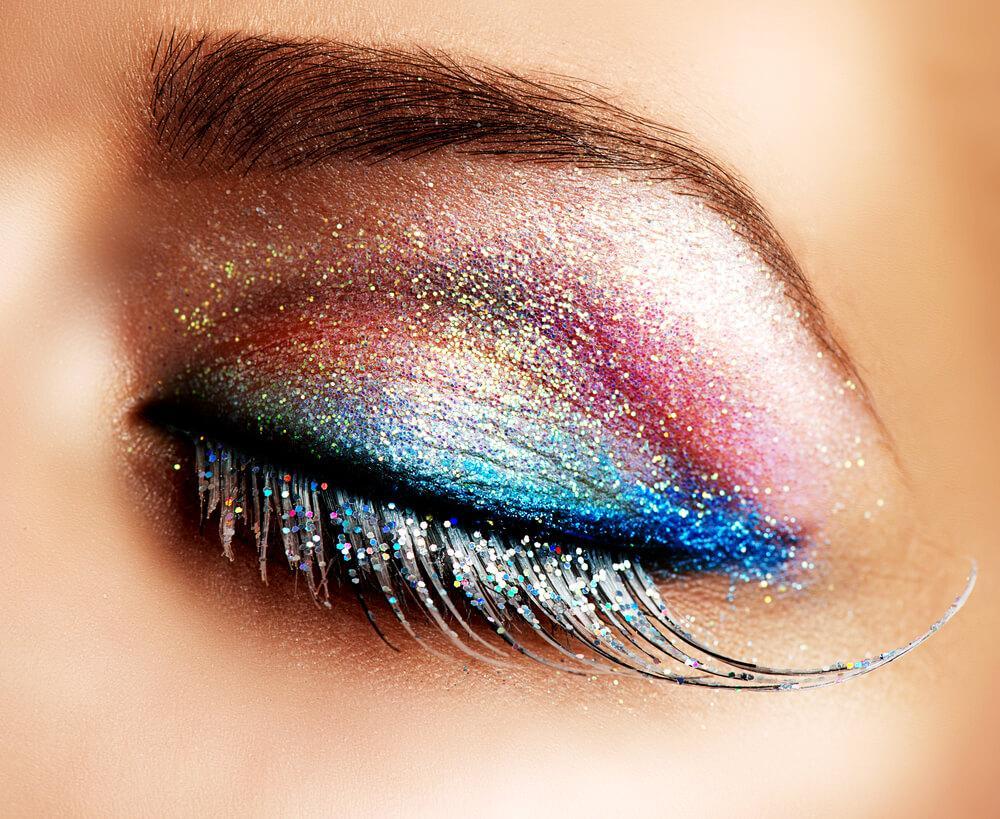 Want to really stand out?
Try placing a crystal on your face for a sparkly faux beauty mark, or invest in some glitter fake lashes to really enhance your eyes.
A Soft, Classic Blush
Contouring has been in the spotlight for so long now, but it would seem as though the days of sharp, defined contouring are now drawing to a close.
There was a deliberate lack of contouring at the summer 2018 shows, with makeup artists opting for a soft and classic blush instead.
Whether you opt for a feminine pink, or go for something bolder, such as a red, a quality blush is all you need to highlight your cheeks this summer.
Bakery-Inspired Buns
Need some hair inspiration?
Head on over to your local bakery.
Some of the most stylish looks for summer 2018 almost seem to have been inspired by artisan baked goods.
Not sure what this means?
Try a chignon shaped like a croissant, or a top knot inspired by a cinnamon bun.
Don't forget…
Updos, especially more complex styles such as these, are always easier to create on second-day hair.
If you have already just washed your hair but want to create an updo, then dry shampoo will be your best friend here, as this will give your hair the texture and hold needed to manipulate it into an updo.
The Scrunchie
The scrunchie has been trying to make a comeback for quite a while now, and it seems that it may have finally achieved this.
Can't quite work out how to wear a scrunchie without it looking too 90's?
The key is to keep it simple. Here are a few ideas to try out:
Create a sock bun and then place a scrunchie over the top

Use a scrunchie to tie a high or low ponytail

Wrap your scrunchie around the end of a braid

Use a scrunchie to secure a high, messy bun 
Trends are always so much fun to follow, providing endless inspiration of ways in which you can add a new twist to your look. Whether this may be by adding some gold to a rosy pink blush, or unleashing your artistic talents on your nails, allow yourself to have fun with all of this summer's hottest trends.