We frequently visit nail salons to get a manicure or a pedicure to glam up for events or as a way of self-care. Your nails may look prettier after the manicurist applies the nail polish and does their magic, but do you know some of them contain ingredients that pose a significant hazard to your health? It is essential to be aware of the ingredients of the nail polish you're using and know which components you should consider and avoid upon your next manicure or pedicure session.
What Makes Nail Polish Toxic?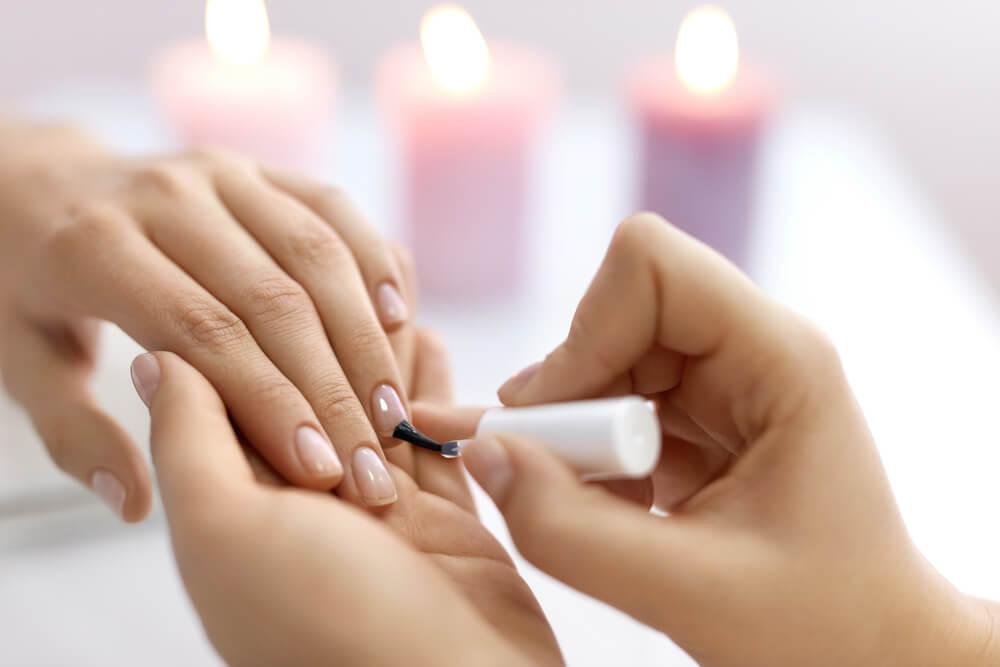 From drugstore to high-end brands, we see several nail polish brands sold everywhere. While you may simply think that these nail polishes give you pretty, high-intensity colors on your tips, some of them can affect your health.
Consumers typically opt for products that are fast-drying while providing an intense shine or pretty matte and bright colors on the nails. Since people tend to be busy with work and have little time for the salon, they may choose to go for a more convenient choice. Beauty companies would incorporate chemicals that would help accommodate these needs without concern for health risks. Now, if we look at the ingredients, many nail polishes include the toxic trio: 
The Toxic Trio
Dibutyl Phthalate (DBP)
DBP is a commonly used plasticizer, which makes products more flexible. According to the Environmental Protection Agency (EPA), animal studies on DBP has shown to cause short-term and long-term toxicity. These studies also showed the chemical's damaging effects on the reproductive system. The Department of Labor Occupational Safety and Health Administration also warns against this chemical, which may affect not only you but also nail salon employees. Some short-term effects include nausea and irritation to the following:
Eye

Skin

Mout

Nose

Throat
Toluene
Toluene is a clear, colorless liquid with a distinctive smell. It is produced in the process of making gasoline and other fuels such as crude oil. It is also used as a paint thinner and in tanning leather. Its health hazards include the following:
Dizziness
Numbness
Dry skin
Irritation in the eyes, nose, and throat
Aside from nail polish, this chemical is also present in hair dyes.
Formaldehyde
Formaldehyde is basically used to prolong the storage life of the polish. While this is not prohibited in various products, its quantity must be set to a minimum. However, this is overlooked because some nail polishes have a formaldehyde concentration of 0.5%, and 5% for nail hardeners. It can cause skin irritation and other allergic reactions. Moreover, too much exposure to formaldehyde can trigger heart rhythm disorders, convulsions, and cancer.
The chemicals mentioned are not a conclusive list, but these are seen in most nail polishes and are the most harmful. According to a study conducted by researchers of Duke University and Environmental Working Group, an endocrine-disrupting chemical called triphenyl phosphate or TPHP was found in the bodies of women who volunteered to get their nails done. TPHP is used in plastic manufacturing as a fire retardant in foam furniture.
Non-Toxic Nail Polish Formulation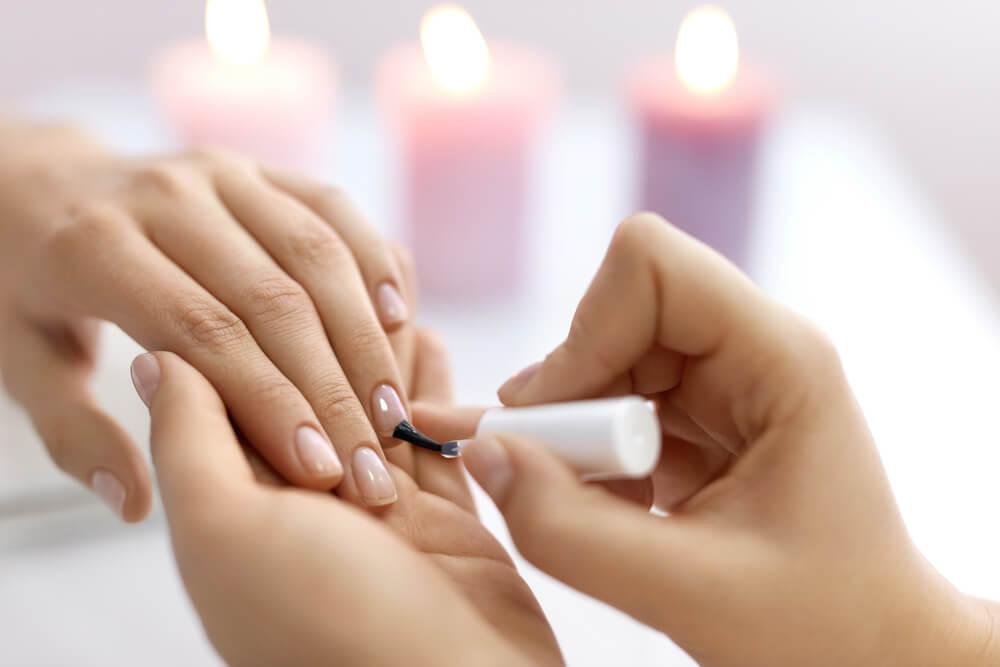 Despite these health hazards posed by the chemicals in nail polish, it doesn't mean you have to stop using it altogether! The cosmetic industry has been formulating nail polishes that do not have harmful chemicals. In choosing your next nail polish color, consider the following:
3-free
3-free nail polish simply means that its formulation does not include the toxic trio—DBP, toluene, and formaldehyde. These three ingredients are commonly used to assist in the reduction of chipping and improvement of flexibility.
5-free
Aside from the toxic trio, these 5-free nail polishes exclude formaldehyde resin and camphor in the ingredients. These two are known to be allergens.
Formaldehyde resin is a nail hardener that can cause dermatitis. It is not yet proven to be carcinogenic like formaldehyde, but studies show that it is allergenic. On the other hand, camphor makes your nails take on a yellow color, and it dries your nails as well. This compound is used in insect repellants, in embalming fluids, and topical skin preparations. Excessive exposure to camphor can put nail technicians who use this at risk to a reaction.
7-free
7-free nail polishes go even further by excluding two more harmful chemicals: ethyl tosylamide and xylene.
Ethyl tosylamide is commonly used as a plasticizer and a film former in coatings. It makes a synthetic polymer flexible and durable and also holds color to the nail plate. It has been banned from beauty products in Europe due to its antibiotic resistance.
Xylene is a colorless liquid or gas that occurs naturally in coal, petroleum, or tar wood. It is a solvent used in several industries, such as in printing, rubber, paint, and leather. Small amounts of xylene are also found in gasoline, airplane fuel, and cigarettes. Exposure to xylene can cause depression in the nervous system, such as dizziness, vomiting, and nausea. With overexposure, it can also gravely affect the liver, kidney, and lungs.
9-free
9-free further excludes parabens and acetone from the nail polish formulation. Parabens are commonly used in cosmetics as preservatives, preventing the growth of bacteria in the products. If parabens are applied to our bodies, it can enter the bloodstream.
A British study found traces of parabens in the breast tissue of 19 out of 20 women in the study. The study identified that the preservative can penetrate the skin and remain in the tissue.
Acetone, on the other hand, is mostly found in nail polish removers. It is also used as a solvent in manufacturing plastic and other industrial products. Acetone has low acute to chronic health hazards, but if inhaled, it can cause a sore throat or cough, as well as respiratory toxicity. Acetone, along with other chemicals, is regulated by many food and drug agencies across the world.
10-free
10-free formulations are made without any animal by-products. Tert-butyl hydroperoxide (TBHP) and gluten are also removed from the ingredients as well. TBHP is used as an antibacterial and oxidizing agent, and it is an endocrine disruptor and is easily absorbed in the bloodstream. And while there is no evidence to prove that gluten can cause bodily harm, it is still avoided as a precaution. Ingredients for fragrance is also excluded in 10-free formulations.
The Best Non-Toxic Nail Polish Brands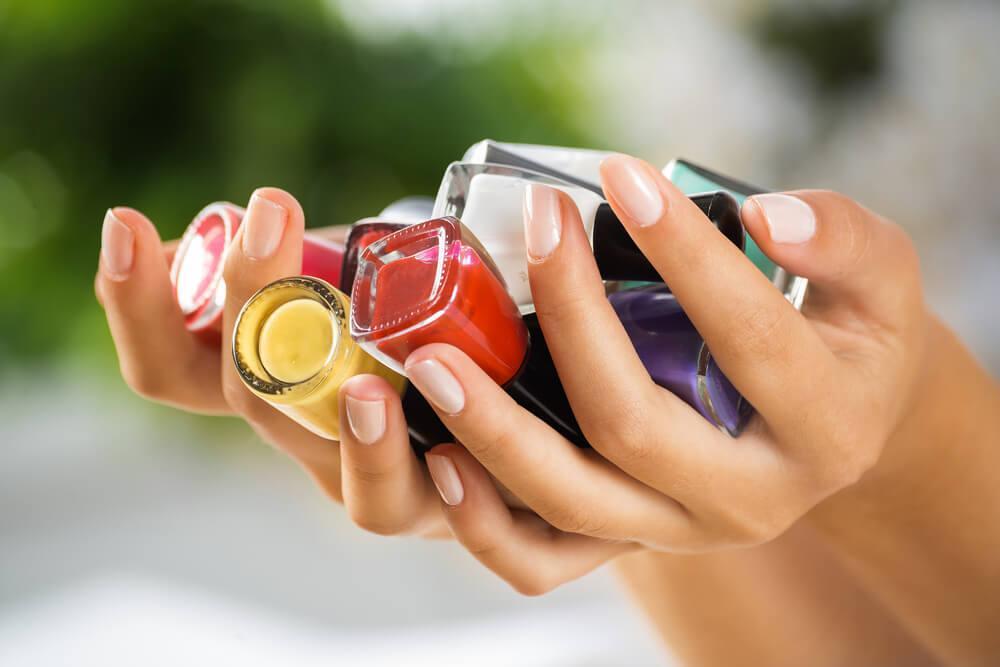 Now that you already have an idea of the harmful effects of those chemicals on your health, what should you do next? Of course, you have to choose non-toxic and safe options!
Here are 12 nail polish brands you can check to get those beautiful nails without compromising your health. If you are doing DIY manicure, make sure you have the nail care must-haves to create the perfect manicure!
You may be wondering, though, is there even a lot to choose from? And what about the color choices?
We assure you, you do have choices! Get rid of the notion that you have limited options of nail colors and finishes. You can achieve beautiful nail art designs using the nail polish brands below!
1) Butter London
Since 2005, Butter London has been faithful to its objective by being the "first to offer toxin-free nail lacquer without compromising on color, quality, or performance." Their nail products are 8-free, cruelty-free, and vegan-friendly.
One of their bestsellers, Patent Shine 10X™, has a formulation with bamboo extract, which makes the nails brighter, healthier, and stronger. It delivers a high-shine finish like a gel polish, and its wear-time lasts up to 10 days without chipping. Patent Shine 10X also has UV absorbers to prevent fading.
2) Deborah Lippmann Nail Lacquer
Want a nail lacquer that doesn't chip easily and dries quickly?
Deborah Lippmann got you covered.
Its nail polish uses a 7-free formulation that creates a vibrant color when applied. It is infused with ten ingredients, such as biotin and green tea extract, to nourish the nails while preserving the gloss and the color. The colors are all named after songs, because Deborah, aside from being a nail guru, is also a singer.
3) Smith & Cult
If you want to splurge a bit for your nails, Smith & Cult is a must-try!
Aside from its 8-free formulation, its nail products are also cruelty-, paraben-, and phthalate-free. The shades, when applied, creates a beautiful gloss, and it also does not chip instantly. The vibrant color and gloss last for more than two days.
What also makes Smith & Cult unique from other nail products is its beautiful gold-capped glass bottle, which can also double as décor at home.
4) Zoya
Zoya is one of the most common brands you can spot at nail salons. This brand focuses on maintaining nail health, as well as the well-being of its customers, hence, excluding 10 major chemicals from its nail lacquers. Zoya, while being all-natural and vegan-friendly, also carries 400 different nail polish colors and finishes to choose from! That's a lot of choices.
Zoya was also awarded as the longest-lasting natural nail polish by Women's Health Magazine.
5) Côte
Côte is a nail salon that caters to all who opt for a cruelty-free and paraben-free lifestyle. Since the founders of Côte, Mary Lennon and Leah Yari, are advocates of "Cleaner Safer Beauty," all its nail polish products are free from 10 major chemicals.
One of their sought-after products, the Cotê Traveler Strengthening Base & Top Coat, has vitamin B5 and coffee extract in its ingredients to help rehab weak nails. It also works as both base and topcoat!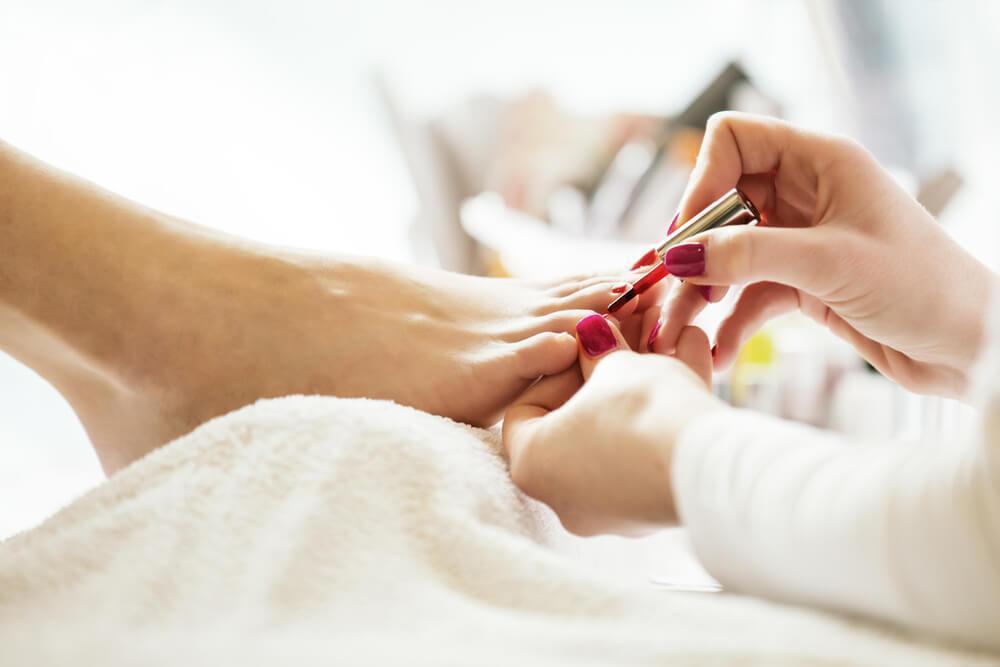 6) JINsoon
A couple of A-list celebrities patronize Jin Soon Choi and her nail products. Not only does her nail polish collection provide the best quality for your nails, but it is also 9- or 10-free! 
She has several nail salons across New York, which is a go-to for most people, and her collection has a double-patented, quick-drying formula that is perfect for busy customers. It has a glossy finish, silky texture, and beautiful color payoff. It also includes a UV filter, which prevents the nails from turning yellow.
7) Tenoverten
Tenoverten started as a salon in lower Manhattan, where its founders focused on the well-being of their staff by providing fair pay and benefits, and a non-toxic setting in the workplace. As the business flourished, the brand continued its pursuit of non-toxic nail care by launching a collection of 8-free nail polish, naming each color after the streets of New York. Tenoverten's non-toxic product line also expanded, which now includes polish remover, nail dryer, and nail care essentials.
Tenoverten products eliminated acetone, parabens, and other eight harsh ingredients, and replaced it with essential oils, vitamin E, and aloe. Since Tenoverten's red nail lacquers are to die for, you might as well check out the hottest red nail designs for inspiration on your next manicure session! 
8) Piggy Paint
Piggy Paint nail polish is suitable not only for kids but for adults as well. It is 7-free, cruelty-free, and vegan-free formulated with water-based ingredients such as water, acrylates polymer, and neem oil. Despite being water-based, Piggy Paint nail polishes dry to a hard finish and do not chip off easily. 
9) Ella+Mila
While there are a lot of non-toxic and cruelty-free nail polish collections, Ella+Mila nail polish collection stands outs as it is PETA-certified. In addition to this, its nail polishes are chip-resistant, quick-drying, and high-shine. The collection is also a 7-free, living up to its name of being eco-friendly and having high-end quality.
10) Sundays
Sundays recognizes that going to nail salons is a practice of self-care for the mind and body. So, it lives up to its philosophy by creating non-toxic formulas for their nail products. Its nail products are 10-free and vegan-friendly.
11) Londontown
Londontown's business began in the founder's small flower garden in Radlett, England. They discovered that oils from flowers and some botanicals create a remedy to hydrate nails and hands. This 9-free, non-toxic formulation infused its very own Florium Complex® to the ingredients.
This proprietary formula includes natural botanicals like vitamin E to enhance nail growth, garlic extract to strengthen nails, cucumber extract to prevent splitting, and grapeseed oil. These ingredients are a perfect combination for having beautiful nails and promote ultimate nail health. 
12) Flora 1761
Flora 1761's gold and floral embroidery design on its bottles is truly eye-catching and sophisticated. Aside from colors that resemble the elegance and timeless beauty of flowers, it has an 8-free formula, which makes it a healthier alternative to major brands in the market. The products are also vegan and cruelty-free and are recognized by the Leaping Bunny Program, an organization that makes shopping for animal-friendly products easier. 
Final Thoughts
Beauty and health are not mutually exclusive. Some of these non-toxic nail polish brands may be expensive, but splurging on these is definitely worth the investment. Don't risk your health for the sake of cheaper nail polish alternatives.