For some time I've wondered: How well does a hair mask work? My hair is naturally straight and very thin and a lot of the times it gets greasy or oily very easily. Maybe it's probably the reason why I'm scared to try a lot of different hair products, aside from the obvious ones like a shampoo and a conditioner. But, that doesn't mean that getting the chance to try out some new hair products isn't both exciting and scary, because you don't know how your hair will react to them.
Naturally, before using this product, I was pretty worried about using it, not knowing what the results would end up being. But, before we go through my experience with HerStyler's Argan Oil Hair Mask from their Hair Care collection, it's important to keep in mind the importance of a hair mask, its benefits and what it actually is.
What is a Hair Mask?
Hair masks are great with helping in protecting the hair from harsh environments, it helps to keep your look lustrous and healthy and it also allows you to keep your hair hydrated, which is super super important. The same way we want to keep our skin looking healthy, hydrated and beautiful, we have to provide the same treatment and emphasis to our hair. Using a hair mask, in my opinion, is like basically having a personal spa experience but instead of having it for your skin, it's for your hair.
Some hair products may be dangerous for us to use and some may even cause a reaction, but a hair mask with natural and beneficial ingredients, on the other hand, helps restore the beautiful and healthy hair we always wanted or in a moment of time, had.
There are a lot of benefits for using a hair mask, they are so important that it's highly recommended during harsh weathers: summer and even winter. One of the benefits that I was really surprised by it's that it can replace your conditioner. Usually some of us use a shampoo and right after that, we use a conditioner, but in some cases a lot of people switch the conditioner with the hair mask. They can even help you out on those awful split-ends, so it can help prevent further damage.
The HerStyler Hair Mask in specific is a nourishing mask that prevents further breakage due to these primary factors: over-processing, dryness and damages.
Over-Processed Hair
Over-processing occurs when you color your hair too often, when getting perms and when you apply a lot of chemicals to your hair, either at home or in the salon you may frequently visit. Coloring or bleaching your hair is a really fun process for a lot of people who enjoy having different color hairstyles or creating a platinum style, but these chemical procedures don't help neither the shaft of your hair, nor does it help the natural pigments our hair creates.
This procedure helps the hair to break very easily and lose luster. Aside from creating damages to your hair, it's been said that these procedures are also known to create allergies, due to some hair dyes containing paraphenylenediamine (I can't even pronounce this, to be honest) which is a common allergen. Not to scare anybody from dying their hair, it's just important to keep in mind what we do/put on our hair. Especially when knowing that coloring and/or over-processing our hair is a very long term commitment that may involve a lot of procedures most of the time, depending on the type of hair.
Dry and Dehydrated Hair
Dryness on the other hand, may be a very common problem for most of us. Normally this problem doesn't have to do with over-processing procedures, but it does affect our hair's natural oils. Dryness normally develops when your hair doesn't retain a lot moisture. That may be the cause for some frizziness and lifeless hair, which none of use really want.
Sometimes we even tend to wash our hair too frequently thinking that we're maintaining it clean but, funny enough, we are causing a negative effect on our hair. It's also important to keep in mind not to use harsh shampoos and conditioners or any strong styling products like blow-dryers, irons, etc. It's not that we can't use them, but we should keep in mind the importance of a very well balanced use and always be aware of the ingredients some shampoos and conditioners use in their products.
Damaged Hair
These problems can also create damaged-looking hair. Sometimes we go crazy over styling and dying our hair without keeping in mind the effects we are doing to it. Damaged hair is a problem no one wants, especially if you like to distinguish yourself by your hair, whether it's a new and fun hairstyle or a different hair color, you can be creating a lot more damage than good. Thankfully this hair mask can help prevent these problems from accruing or at least help prevent them.
Herstyler Argan Oil Hair Mask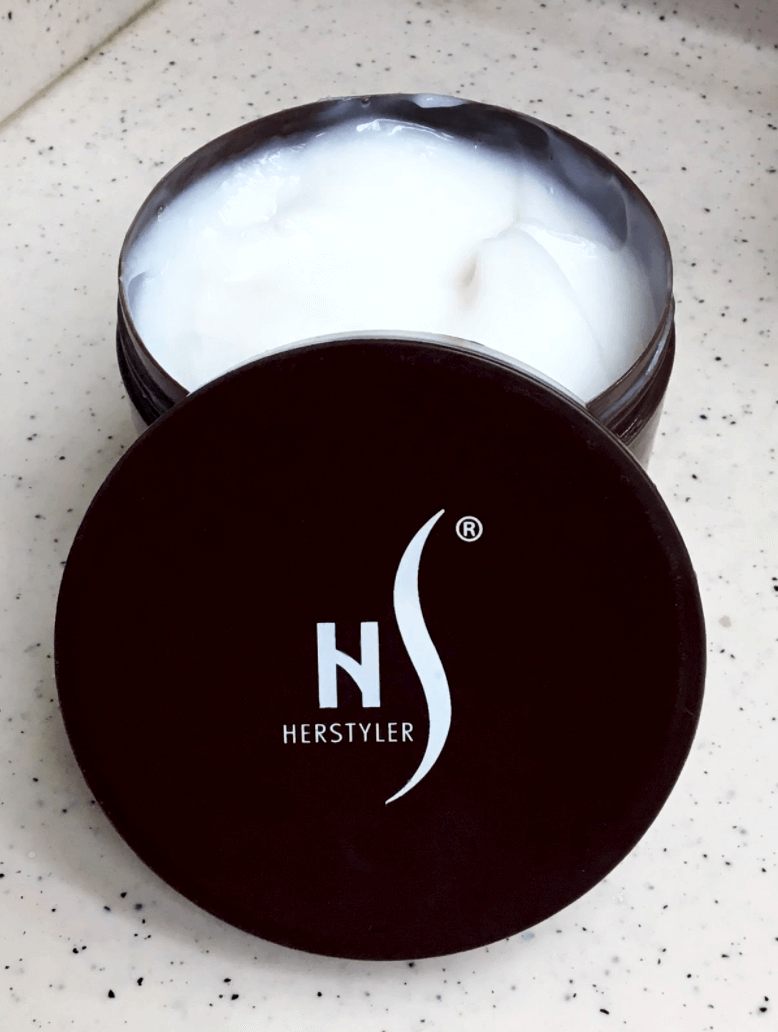 One of the things that caught my attention was it's infused with Argan Oil. This ingredient is not only good for your skin but it's good for you hair as well. The fact that it's a non-greasy oil is a super plus and it also helps you to style your hair a lot easier while helping repair those awful split ends that no one likes!
Argan Oil comes from the inside of a fruit (yum!). It's curious to know that this oil comes from the inside of a nut that's inside of a fruit and not only can we use it in our skin care and hair products but it's really beneficial for our diet as well (noted). It's high in both omega 9 and omega 6, among others. Even cooler? it helps with acne-prone skin, which is huge for those who go crazy finding something to help their acne-type skin.
In this case, with the HerStyler Argan Oil Hair Mask it helps the customer to have shinier, thicker and healthier-looking hair. Because healthy hair is very important and it should be taken into consideration when doing your weekly hair routine, when going through a chemical procedure or dying your hair.
Regarding the product itself, I was impressed by the size of the packaging of this product. The cream inside had a really lovely soothing smell which made me more excited to use the product, knowing I was hopefully going to have good smelling hair, and let's be honest, who doesn't want that?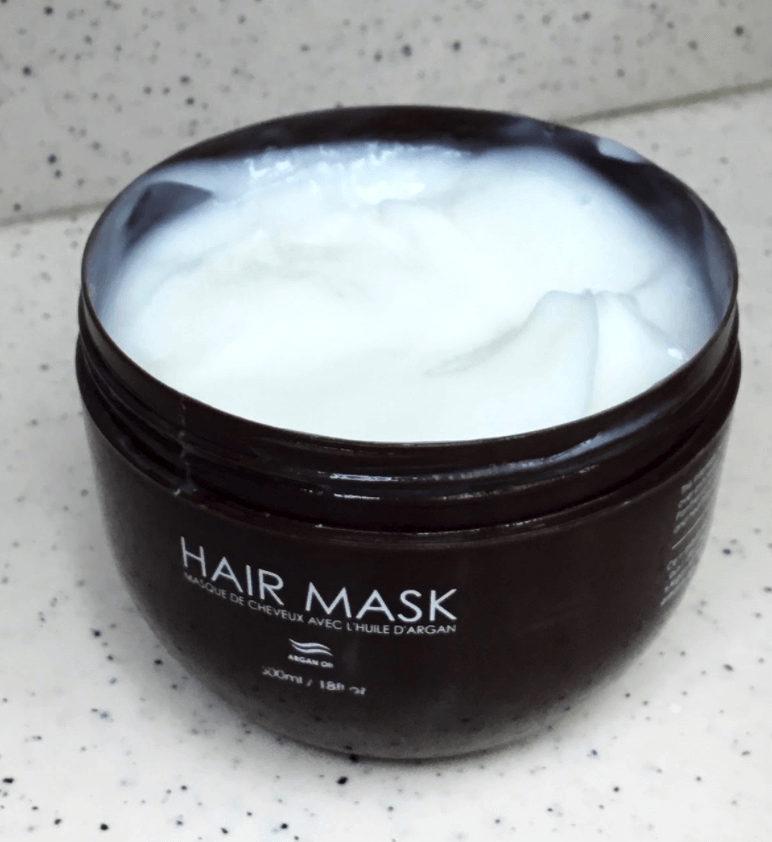 The cream felt really soft in the tip of my fingertips, the texture and smell made a really great combo in this product. It was amazing how you could feel the softness in your fingertips after removing the cream, so in my honest opinion, that was a good sign.
How to:

The proper instructions for this specific product is to apply a

generous

amount after

washing

your hair in the shower.

You can

massage

the amount applied and wait approximately

5-8 minutes

before

rinsing it

. Having in mind that my hair is very thin, I got scared to wait so long in case of a bad reaction so I ended up only waiting the first time a bit less than 5, maybe 4 minutes.

I

rinsed

it for a little while and dried my hair using a towel, instead of a blow dryer.

After a couple of minutes I

removed

the towel from my head and started brushing my hair.

Keep in mind that my hair can get easily tangled after the shower, normally this is why I use a detangle brush. When I first started combing through my hair with the detangle brush, it felt as it was the

easiest

thing in the world. Between the smell and the softness, my hair felt completely

new.

I let it dry up the natural way and in a couple of hours, maybe 1-2 hours, when it dried completely, It felt

different

,

smooth

and with more

volume

. When I say 'different' I mean it in the best way possible. It's felt

softer

,

healthy

, and it didn't get the amount of frizz I was used to having due to the weather where I live, so that made me really happy with my end results. Not only did I see results that same afternoon, but I also saw how my hair looked and felt during the entire week as well. I usually use irons or dryers and after using these products my hair still felt smooth and healthy, not dried or frizzy.
I gave it about a week and a couple of days and decided to use it again after washing my hair, but this time I left the mask for more than 5 minutes, approximately 6 or 7 minutes, after having a lot more trust in the product than the first time before using it.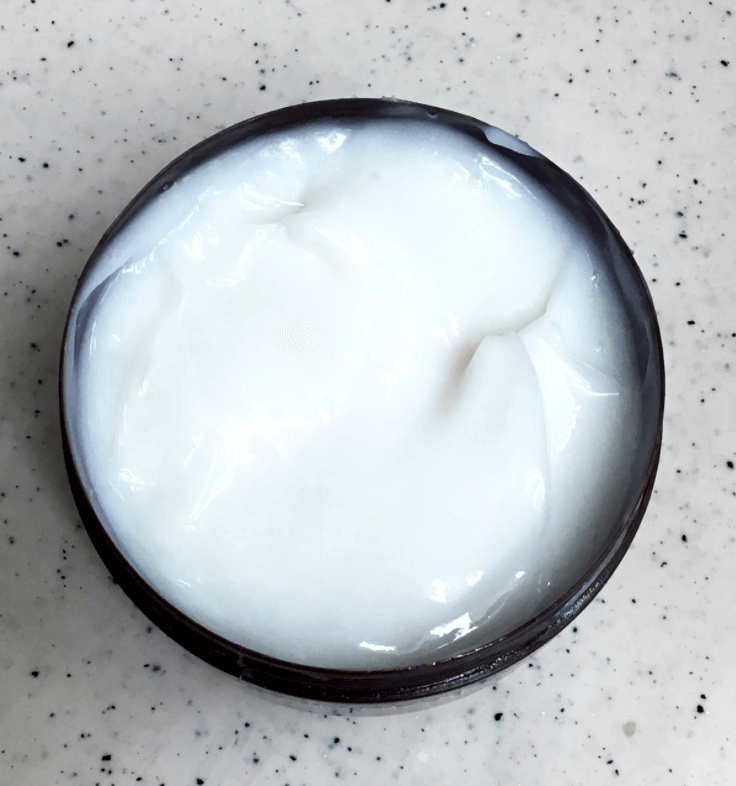 This time I dried my hair with a blow dryer to see if I would get better results and, surprisingly, I did (yay!). Even though a dryer can be a bit harsh on your hair sometimes, the hair mask, in my opinion, helped my hair when it came to the frizziness I sometimes would get after blow drying my hair, even if using a hair serum, hair oil or a heat protector before and after drying.
So, basically, it allowed my hair to maintain its nourished smoothness. After trying it out twice, I was curious to see if it would work the same way it worked on me but in other types of hair, so I recommended the product to my boyfriend and he was actually up for it.
Yes, THE BOYFRIEND (*gasp*). There are not many times a guy would even go ahead and try products aside from a shampoo, even though there are a lot of men that deeply care about their hair, but yet, it's still surprising. But with my luck (and fingers crossed), he accepted the product and gave it a first try that same afternoon.
The reason I wanted my boyfriend to try it out was because:
a) I knew he would probably say yes and give it a try, knowing he's never used a hair mask before.
b) He has really curly hair and it's a lot more thicker and voluminous than my thin, straight hair.

After he

washed his hair

and rinsed out the shampoo, he

applied

the hair mask for a bit longer than I did the first time, maybe almost

7 minutes.

After

rinsing it

and

drying

his hair with a towel, he noticed how his curls would have a more

voluminous look

. They looked

healthier

and a lot more

softer

and

shinier

. He's always been very vocal about having a bit of a frizz problem after washing his hair, but when seeing the end results with the HerStyler hair mask, he noticed a

big difference

that a lot of shampoo and conditioners never gave him.
It's truly a great feeling having the time to use a product and see the amazing results. I've always been very cautious, like I've mentioned before, with trying new products, but I've learn that there are actually really great, amazing and very productive products in the market and HerStyler's Hair Mask is definitely one of them.
After me and my boyfriend used it and saw how great the results were, we've started to recommend it to other people, because having great, beautiful, healthy and shiny hair is always a plus. It doesn't really matter what type of hair you have.
Taking care of your hair is very important and I've learned that the hard way. I've always thought that having naturally straight hair would not obligate me to "take care of it" but, with time's passing and getting older, I've realized that it's not only important to take good care of your skin, but it's super important as well to take care of your hair. Because just like our skin, our hair receives numerous amount of damages and when we love the feeling of having beautiful and clean skin, it's just as exciting to have beautiful, clean and SMOOTH hair.