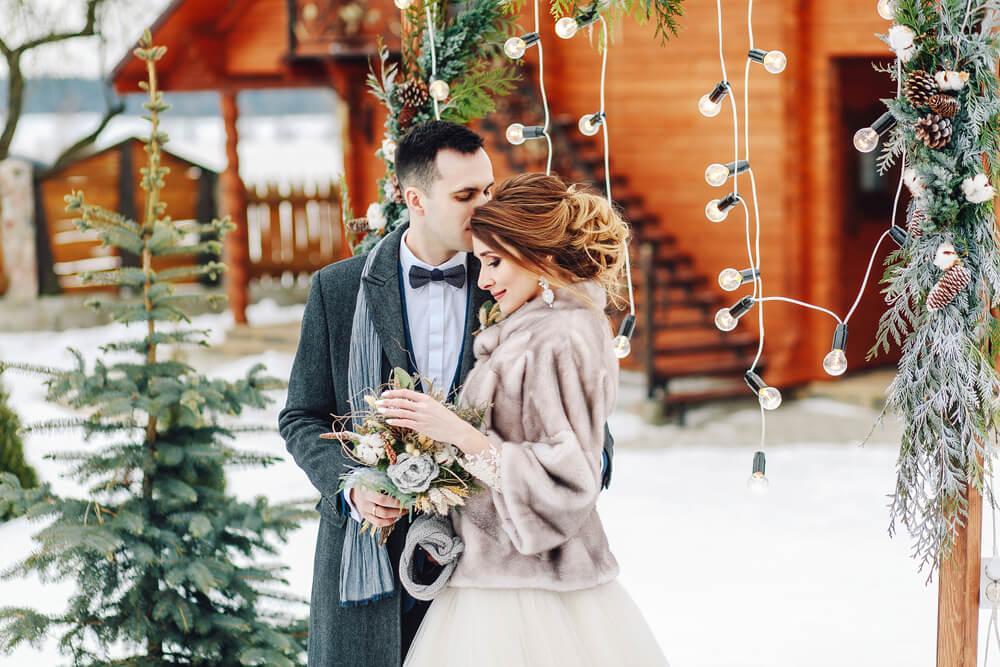 It's any bride's dream to have a winter wedding. Just imagine—the bright gleam of the snow in the background, the white color that makes you stand out from the crowd, your prince waiting for you at the altar on this magical setting. Winter weddings may seem to be a simple wedding arrangement, but it could be one of the most beautiful if planned right…
And part of that planning is preparing yourself for your winter bride transformation.
Of course, you can't just rely on your makeup artist to beautify you for your special day. You have to do your part as well! If you can't prepare your skin and hair for your wedding day, then no amount of makeup or hairstyle can change the way you look! 
So, if you're planning a huge winter wedding where you'd want to look your best, then follow these beauty tips below!
Gloss Up Your Hair
Why are we all about the hair? Shouldn't it be as important as makeup? 
Yes, your hairstyle would complete your overall look at the altar. You have to look presentable and neat despite all the stress and activities during the wedding. You're the bride of this wedding, the shining star of the event.
And what does every shining star need? A good set of locks.
If you wish to be a winter bride, you need to make sure that your hair is hydrated as well. Use deep conditioning hair masks to hydrate your hair to give it a short vibrant work. Of course, there's another way to hydrate your hair, but this is one of the most recommended. 
Choose Hair Accessories
After preparing for a vibrant and smooth hair, the next step is obviously…
Hair accessories! 
If you're going to glam up with makeup, you'll need to have hair accessories to prettify your hair. Here are just some of the popular hair accessories for winter brides: 
Flowers are absolute wedding classics. You'll never go wrong choosing flowers for your headpiece. And since it's winter, your flower hair accessory should be white to match with the season.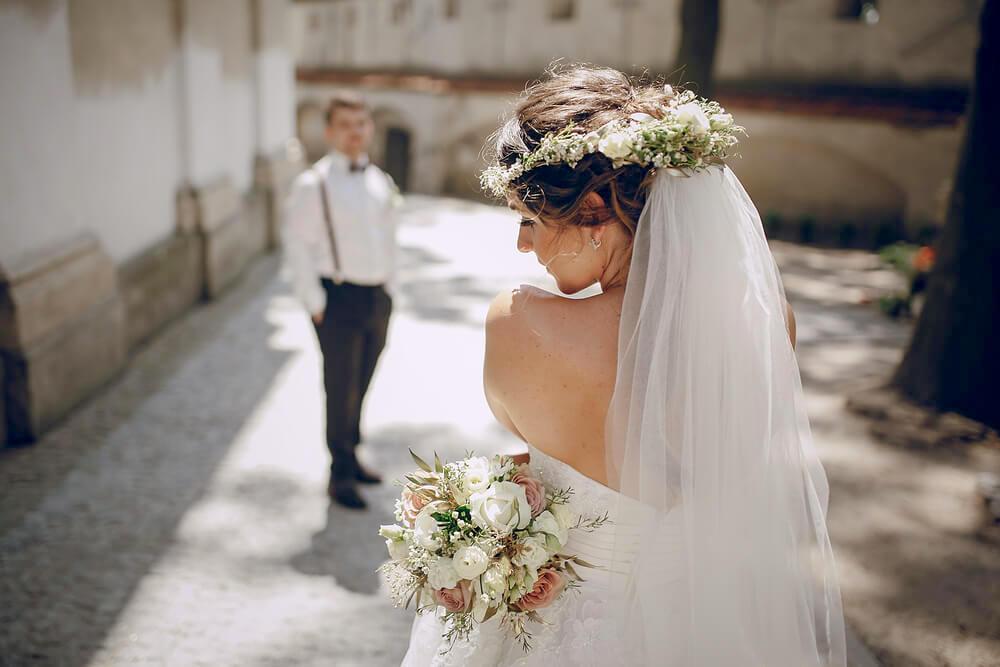 Are you feeling a bun for your wedding? 
Then go for it! Buns and different hairdos are welcome in winter weddings. You can even mix your hairstyle with flower accessories to create the maximum glam effect!
To do this, simply wear your hair in a bun then pull some strands from your hair. Don't be afraid to look a bit messy—that's intentional. Then, pin some flower accessories on your hair and tada—you are now instantly a princess bride!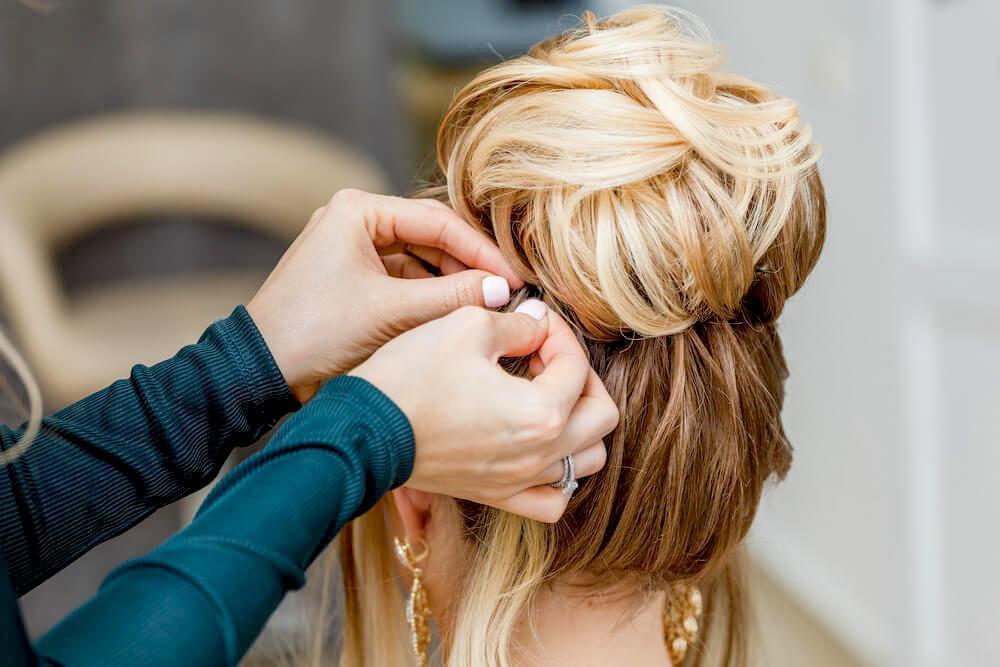 But remember: hair arrangements take a lot of time. So, make sure that you dedicate ample time for your hair and makeup.
Hydrate the Skin
The winter season can be quite harsh to the skin. Cold and dry temperatures can easily cause flaky and extremely dry skin. Moreover, UV rays have been found to be more severe in winter time, initiating a skin condition that's called "winter rashes."
To avoid this phenomenon in time for your wedding day, there's only one thing that you can do:
Skincare routine.
Above anything else, your skincare routine is more important. Keep your skin hydrated with high-quality creams and serums for moisture. Make sure to steer away from extremely cold and dry places especially when you know that your skin is dryer than other people.
You might want to try Golden Sapphire Solidifying Peel-Off Mask. This product is known to moisturize the skin while also removing dead skin cells to give a younger look. Another popularly recommended product is Vitamin C Facial Serum. Unlike other products, this is most suitable for hydrating your skin after daily wash.
Of course, these products won't work if you don't have the right diet for a moisturized skin. So, during the winter season, stick to hydrating foods and avoid sickness at all costs!
In addition, never forget to tell your makeup artist about your skin type. Makeup artists tend to have a wide array of makeup products geared toward all types of skin. If your skin is dry, your makeup artist may use makeup products that are suited for dry skin such as moisturizing BB creams.
So, if you want to look good on your wedding day, make sure your skin isn't dry first.
Cover Up Rosy Cheeks
Aside from dry and flaky skin, the weather can also cause you to go red!
For most people, the cold weather can cause them to emit a red, rosy blush almost similar to Snow White. Having that natural feature could be a flattering look and contribute to the overall look of your makeup. You don't need to put on blush because you've already got one.
But…
If the cold makes your whole face red, then that's a problem!
So you won't look like a tomato by the altar, cover your skin with a full coverage foundation and concealer (if needed). The foundation will cover your red blush hopefully until the ceremony is over. But to be sure, let your bridesmaid take a good look at you just in case your blush shows through the makeup.
Some tips: If your blush is showing, try covering it up with foundation, concealer, and some power.
Prevent Dry Lips
While winter may cause your skin to dry, it also causes your lips to lose moisture and eventually crack. Having dry lips can make anyone's day go bad, most especially brides. With cracked and flaky lips, any bride's first kiss in front of the altar can be downright disappointing.
So what do you do? You use a lip balm of course!
Lip balms will keep your lips from cracking under the dry pressure of the season. Drinking water will also help retain your lips' moisture.
With the problem solved, it's time to choose your lip color. Now, there are two recommended lip colors for a winter wedding:
Pink mattes or red lipsticks.
Matte colors like pink emit a soft and dewy kind of look, but red lipsticks make the best statements. When worn right, your lipstick will be the center of attention. Just make sure not to put any lipstick stains on your wedding dress, though.
But those things are not enough for the lips.
What you'll need is an extra shimmer which a good lip gloss can afford. Combine this with a dewy look or subtle highlighter, and then you're good!
Have An Eye Look in Mind
Doing the eyes is the most exciting part in makeup. They are where you can make a big statement with your look. But with an array of eyeshadow colors and eyeliner styles, which one would you choose? And which ones would suit the season better? 
Here are what experts say: 
A lot of makeup stylists like experimenting with eyeshadow shades of beige, silver, platinum, or champagne. These colors are very flattering with white dresses and most especially in a white and pristine environment like winter. 
And what's more—glitter and metallic shades are always welcome. If your winter wedding is set at night, you can rest assured that your glitter shadows will shine throughout the night!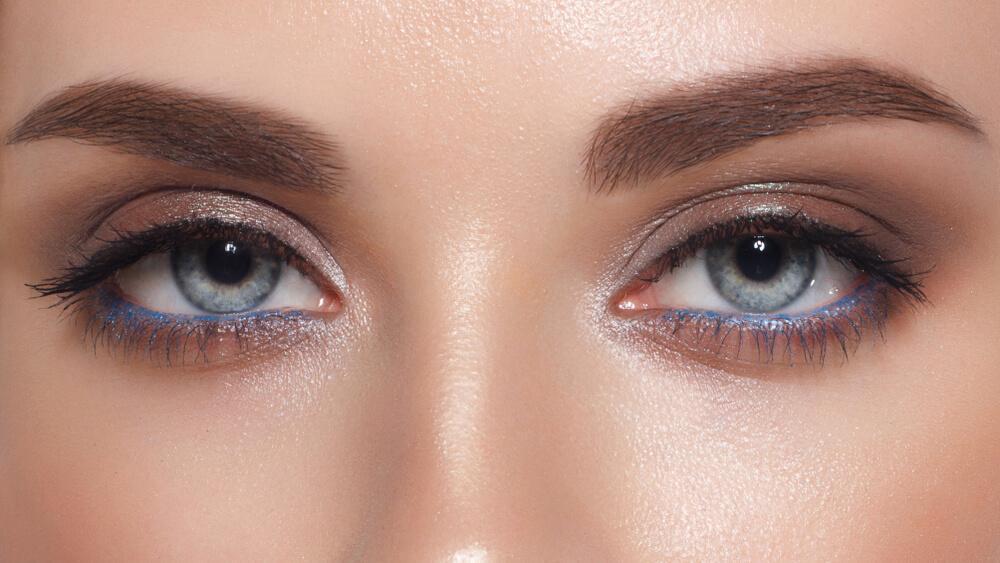 Do your eyes look dark and puffy? Well, worry not because we have a trick just for that!
If you add some under-eye highlighter and some shimmery eyeshadow, then your eyes are good to go. 
As for the eyeliner, subtlety is the key. You don't need to draw a long wing or even a cat eye for your wedding. But if dramatic eyeliners are your style, then so be it. This wedding is yours, so you can do whatever you like! 
Take Care of Your Brows
What's the point of having a good eyeshadow look when your brows look barely there? To have the best look for your makeup, you should trim your brows neatly. Although you can shave your eyebrows by yourself, you can only do this if you know how. Just be careful in trimming brows as any unfortunate accidents may cost you one brow! 
But if you don't trust yourself, then beauticians can gladly do this for you. They can offer to shave parts of your brow with a blade or through threading. 
With your brows clean and shaved, it's time to choose the perfect makeup for your brows. 
Eyebrow powders and eyebrow pencils are any girl's best friends. Using these products has become so popular ever since the hip brow trend came about. While most trends rise and die early, this one seems to be staying for the next couple of years. And it's a trend worth following for your wedding! 
To get the best look from your brow, you'll need to:
outline your brow with the pencil
fill in this outline through a well-angled brush dipped into the eyebrow powder
blend thoroughly unless it looks rough.

 
Get A Tan
Tans are incredibly popular for incredibly pale people. It helps them separate themselves from the whiteness of the dress and the environment. 
You see, having pale skin tones will make you look dull in winter weddings. So the only way to combat this dullness is to wear warm hues. Thus, brides are also recommended to wear shimmery and warm colors. 
So if you're considering to get a tan, what recommendations should you take? What is the expected look? 
You can opt to get a tan from a local tanning salon. Since it's your first time, experts in local tanning salons can show you the ropes in this experience. But if you've received a tan before, you can do it by yourself! Just be sure to pick a tan color that best suits your appearance. 
Prepare For the "Winter Light"
Photo ops will never disappear in any wedding. But the winter light can make you and the photos look ugly. 
What is the winter light? 
Basically, the winter season casts a bluish light which a camera captures. Under this bluish light, dark circles and red blemishes are prominent. Your skin's true pigment won't also show under this kind of light. 
So how do you prevent this disaster? 
You can opt to use light-reflecting foundations or concealers on your special day. These products are known to neutralize your skin tone and prevent the color blue from bouncing back from your skin. 
Another advisable makeup trend to wear is blue-toned lipsticks and blushers. Their colors absolutely won't shift even under the winter light! 
Sparkle!
As the biggest star on your special day, what else do you need? 
Sparkles! 
Highlighters are absolutely welcome in your wedding. In fact, there's no reason not to use highlighters on your most special day. You can either use highlighter to have a soft, dewy kind of look, or… 
Embrace the Elsa in you by having a frosted type of look. Liquid highlighters are particularly good at achieving this kind of look.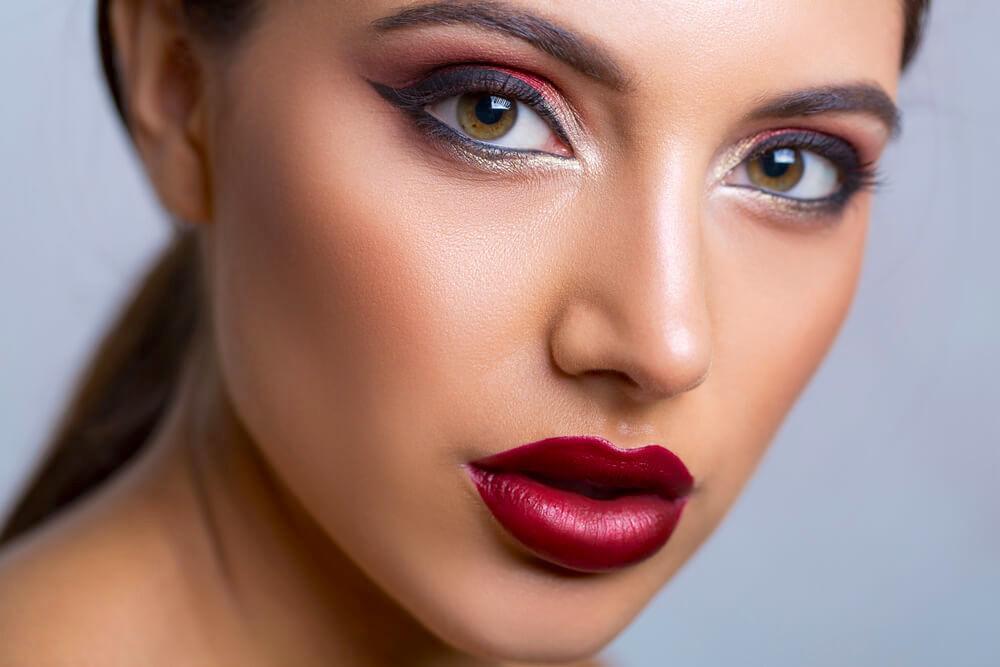 But in applying highlighters, you'll need to remember that you can't just spread it everywhere. It is advisable to put highlighters in one or two parts of your face—your eyes and your cheeks. You wouldn't want to blind your guests with the excessive highlighter, would you?
Get Ready To Say 'I Do'
Getting married is a life-changing event. In most cases, weddings only happen once in a lifetime. So you should always make it count because, if you're lucky, you won't go through this ceremony and all the preparations it entails again. To realize the winter wedding of your dreams, you would need to complete several preparations, from venues to guest invites. And, of course, that includes preparations for yourself. 
The bride's appearance is the highlight of weddings. However, you can't just depend on the stylists and makeup artists to do the magic; the bride must do her part! That means adopting beauty practices that would ensure your skin, hair, and face are flawless on the day of the wedding. 
Hopefully, these tips and tricks are enough to prepare you for your wedding day! Once again, congratulations and best wishes on your wedding!