Winter Wedding Beauty Tips
|
The majority of couples we know get married in summer or in early autumn. Some couples, however, choose winter for their big day. Just imagine: white dress, white snow falling from the sky, the band playing "Baby, it's Cold Outside"… Sounds thrilling, doesn't it? But getting married in winter comes with some challenges. The following article is for those couples who love challenges and who are ready to take risks, EVEN on the most important day of their lives.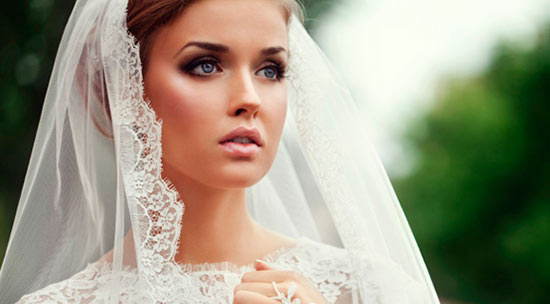 What hairstyle to choose?
Although cold weather will ensure that you will avoid makeup meltdowns, it can also have a negative effect on your hair, making it too dry and stiff. According to hair stylist, updo hairstyles are the best in such kind of weather. Nevertheless, it's always a good idea to have a plan-B, because you can't really be sure what the weather is going to be like.
If you have dry skin
According to Lori Taylor-Davis, the director of Global Pro Lead Artistry for Smashbox, "women with dry skin suffer even more during the winter because of the constant change in the environment — both naturally and artificially". If you have dry skin, avoid using powder on your wedding day. "Liquid and crème foundations tend to work best on a drier skin, especially during the winter months," states Lori.
What colors to choose?
Taylor-Davis suggests to avoid "matte skin and lips, neon or electric colors, and metallic liquid liner". "I always recommend a classic look to brides", says the artist. Choose a bright lip color which will make you lips stand out.
Glittery or shimmery?
"Glitter of any type should be avoided when choosing a look that will stand the test of time," says Lori. A light shimmer is what you should go for.
So if you and your fiance feel that you're ready, don't wait till next summer to tie the knot. A little more careful preparation and almost nothing can spoil your big day. One thing is for sure: your wedding photographs are going to be different (in a good way).