Zoom meetings are nerve-wracking enough without the added pressure of spending hours preparing for them! Therefore, we're here to help you with some gorgeous, super quick, and simple make-up looks for your next video chat. Whether it's with your boss or your bestie, you'll be ready in no time!
Super Soft Pink Makeup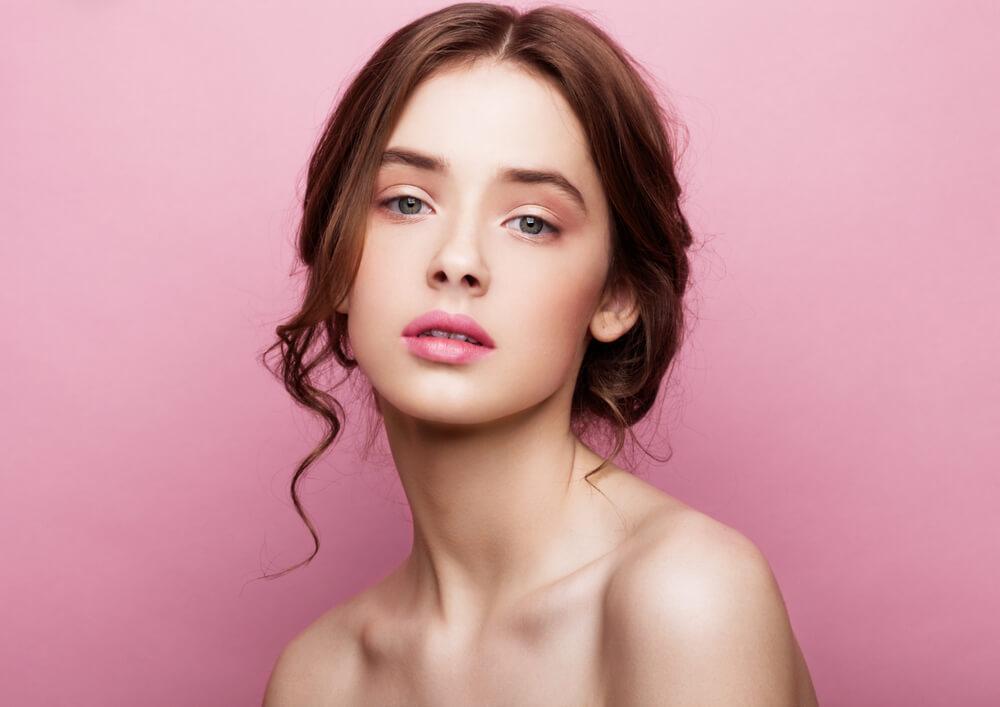 Summer officially begins in a couple of weeks but we're already prepared for its arrival!
How, you ask?
With this dreamy, soft pink makeup look.
It's perfect for days when you want to add a little something extra to your makeup routine without going all-in on a vibrant shade. Additionally, you won't even have to think about who you're meeting on Zoom throughout the day because the look is so beautiful and subtle, it'll suit calls with work colleagues, friends, or family. Not to mention it's super easy to create!
Create The Look
Start with a light base for this one. Make sure your skin is moisturized and apply a light layer of foundation, BB cream or even just a few dots of concealer to even out your skin tone in the areas around your nose, chin, and under your eyes. 

Next, take a brow pencil in the lightest shade possible whilst still matching your natural brows and add subtle definition. We're definitely not looking for a hard edge or anything overly defined for this sweetly soft look!

Then, using the lightest pink eyeshadow you can find, sweep a light dusting of eye shadow powder or cream (whichever is your preference) across your lids using your ring finger. Blend it out towards your brow bone. You can also add a slightly darker shade in the crease of your lids to add more definition and dimension if you wish!

Now, take a small amount of blush and use it to lightly define your cheekbones – only a very small amount is needed for the apples of your cheeks on this one.

For the finishing touch, add a light pink lipstick or gloss to your lips and a 'barely there' sweep of black or brown mascara!
Mellow Yellow Makeup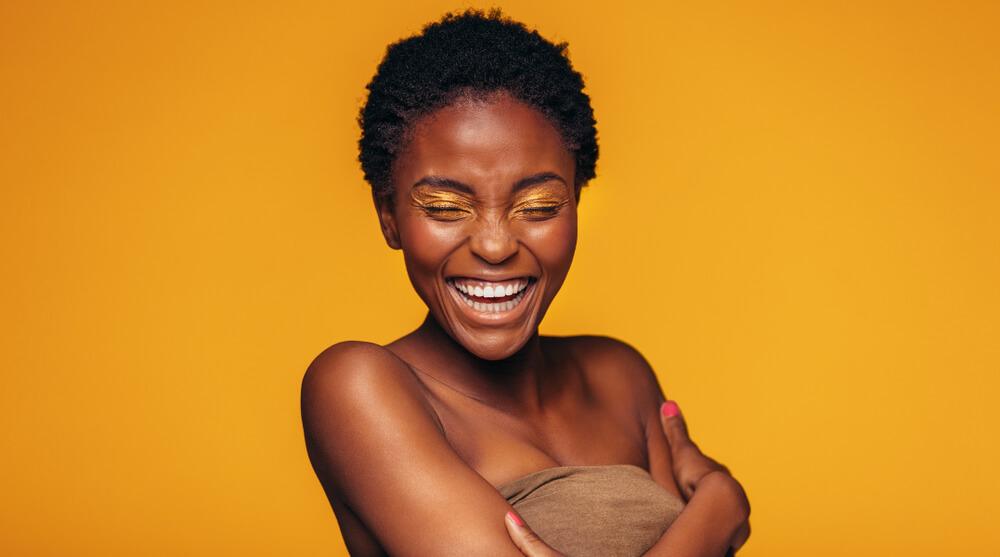 Nothing says summertime quite like vibrant tones of yellow. That's why we're SO in love with this golden, sunshine yellow makeup look! Once again it's super easy to create but will make a huge impact on whoever's lucky enough to be on the receiving end of your next video call.
Create The Look
As before, you'll want to start with moisturized skin and a light layer of your chosen foundation or BB cream. However, this time you'll want to define your brows a little more so they hold their own against the vibrancy of your eyeshadow. 

Once this is done, reach for your chosen golden shade of yellow. Make sure to choose one with a high, iridescent pigment and sweep it all over your lid. Don't be afraid to apply a good amount, this look may be simple but we still want to make an impact! 

Blend it out towards your brow bone and apply a light sweep of black mascara once you're done to make the color really pop!

Finish off your look with a touch of highlight where the sunlight kits your face, and peach tinted blush on the apples of your cheeks. Now you're more than ready for that call.
Statement Blue Shadow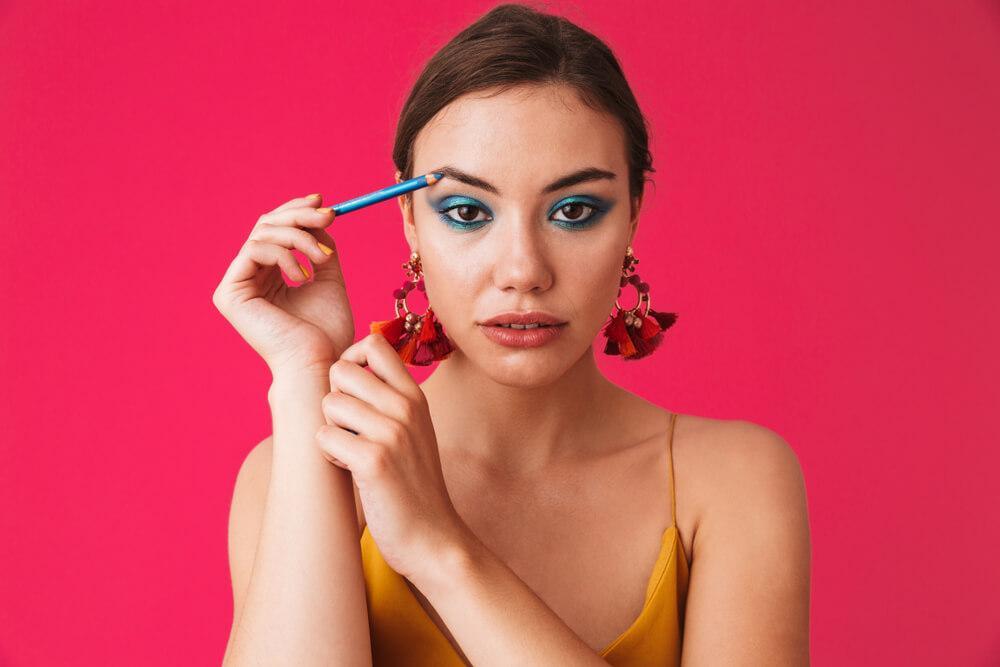 Another simple yet statement-making makeup look we're coveting right now is blue-lined eyes. This is a great way of enhancing your natural eye color whilst also creating an unforgettable look in a matter of minutes! It's perfect for after-work Zoom drinks, weekend video catch-ups with your besties, or a romantic, virtual date night! 
Worried you don't have the skills to pull it off?
Let us show you just how simple it is!
Create The Look
Once your face is moisturized, primed and the foundation has been applied, take your brow pencil, cream, or powder and fill in your brows. You can afford to go a little darker and defined with this one as we'll be applying a lot of color all around the eyes. 

Once that's done, use a blue eyeshadow stick to apply your chosen shade all over your lids stopping at the crease.

Next, you'll want to take the color beneath your bottom lashes. To do this, create a line around half a centimeter thick which runs along the lash line from corner to corner. Once you reach the edge, continue the line softly upwards as if you were creating a cat-eye. You can then blend this into the color already on your lids!

Finish off with a light sweep of mascara and a tinted lip balm to make sure the blue hue takes center stage!
A Playful Pink Lip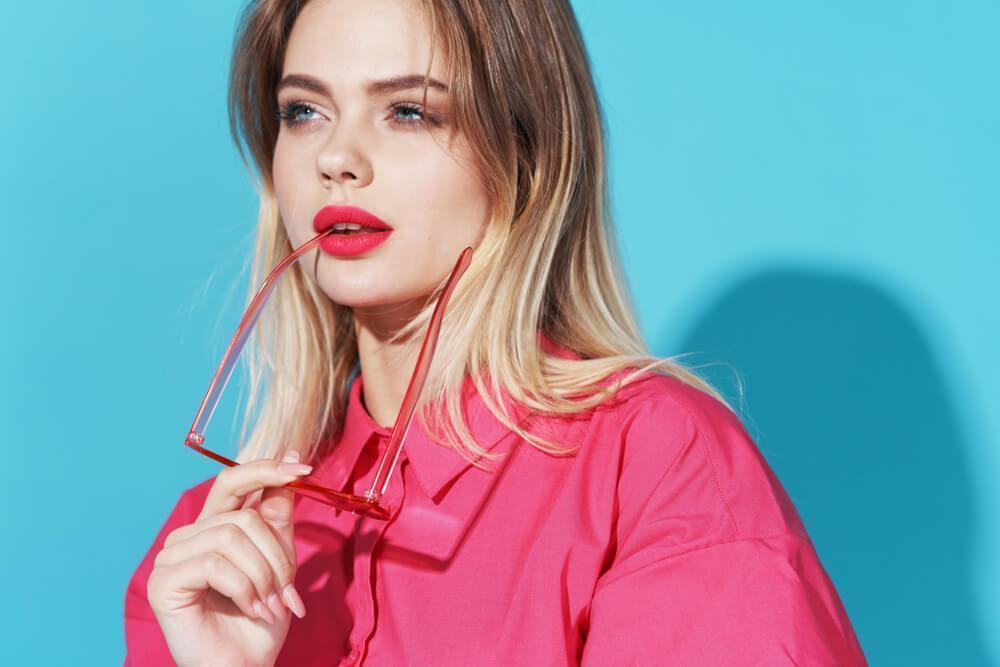 Mix things up this summer with an array of lipstick shades that make you smile! Whether you're a sucker for classic reds and pinks or you prefer something bolder like an orange or even blue, puckering up and slicking on a vibrant hue can really make your day! For example, we're head over heels for vibrant shades of fuchsia right now. We love how they can quickly transform your look from simple to sensational without making your entire makeup look too OTT! We recommend trying this gorgeous look immediately with our super-simple how-to…
Create The Look
As with a red lip, keeping your base classic and simple is key when opting for a bright pink lipstick! Choose a lightweight foundation or tinted moisturizer and conceal your concern areas, then you're ready to start applying!

Slick your lipstick on straight from the lipstick itself to get an instantly vibrant, solid color from the get-go! If you prefer to build it up with a brush, that'll work too, of course, it's just a little more time consuming when everyone else has already joined the meeting!

Once you've applied your color, go ahead and give it a light blot to set it in place without removing too much vibrancy.

To finish the look, a super light dusting of blush to highlight the cheekbones and a sweep of black mascara are all you'll need to bring it to life!
Perfect Peach Makeup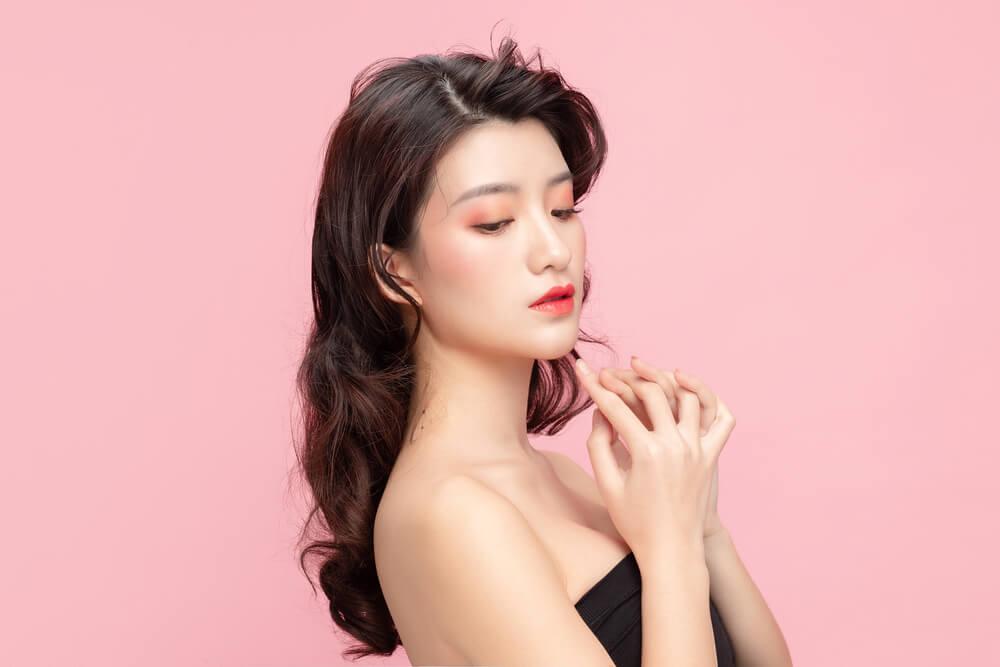 This perfect peachy makeup is perfect for summer, quick and simple to create and super versatile for Zoom chats from work to weekend! 
Create The Look
With your base done and eyebrows filled in lightly, use the same peachy colored blush and sweep it across your cheeks and lids. Concentrate a little more on the eyelids as that's where we want the most powerful color!

Then, using a similarly colored lipstick or gloss, slick it onto your lips to create a block color look.

Finally, a sweep of black mascara will offset this sweet peach hue and make your eyes pop on camera!
Gorgeous Green Shadow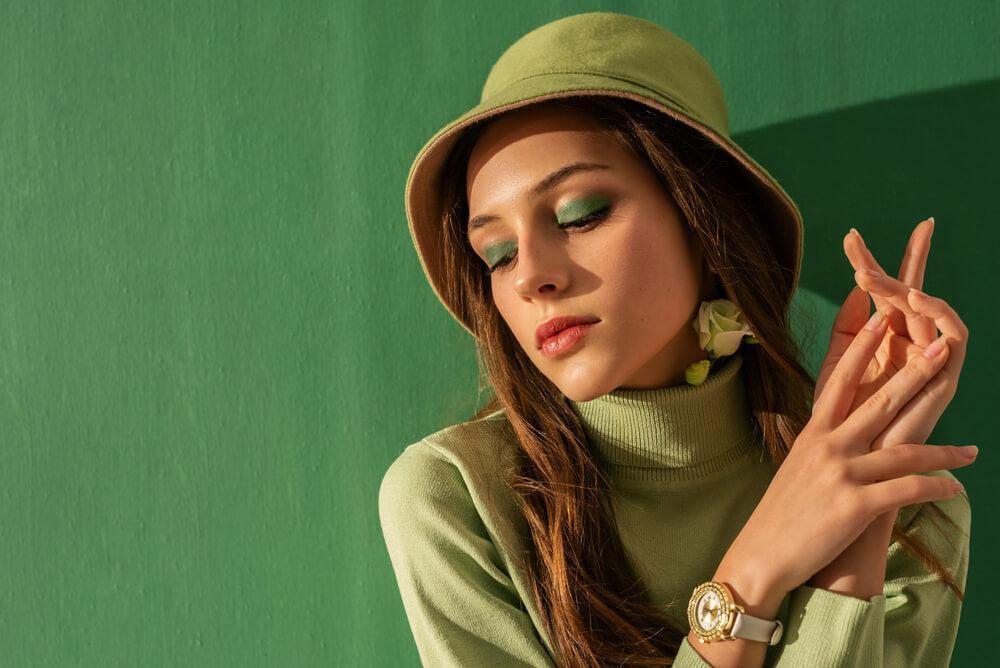 We're really trying to avoid the old cliche that your friends will be 'green with envy' when they see this look, but we just can't because it's so true! If you've never tried a green makeup look before we suggest you do so now. It may be a quick look to create but the results leave a long-lasting impression…
Create The Look
Start with your skin primed and moisturized, and your eyebrows filled in neatly. Then, take a nice shade of deep green shadow and use your finger to sweep it across the lid, starting at the lash line and finishing up at the crease. 

Now, for your cheeks and lips, we suggest a nude lipstick or gloss and a bronzer in lieu of blush to highlight the subtle tones in your green shadow and define your cheekbones.

Finish off by curling your lashes and applying black mascara. Now you're ready to face anyone and everyone in your contacts list!
A Classic Red Lip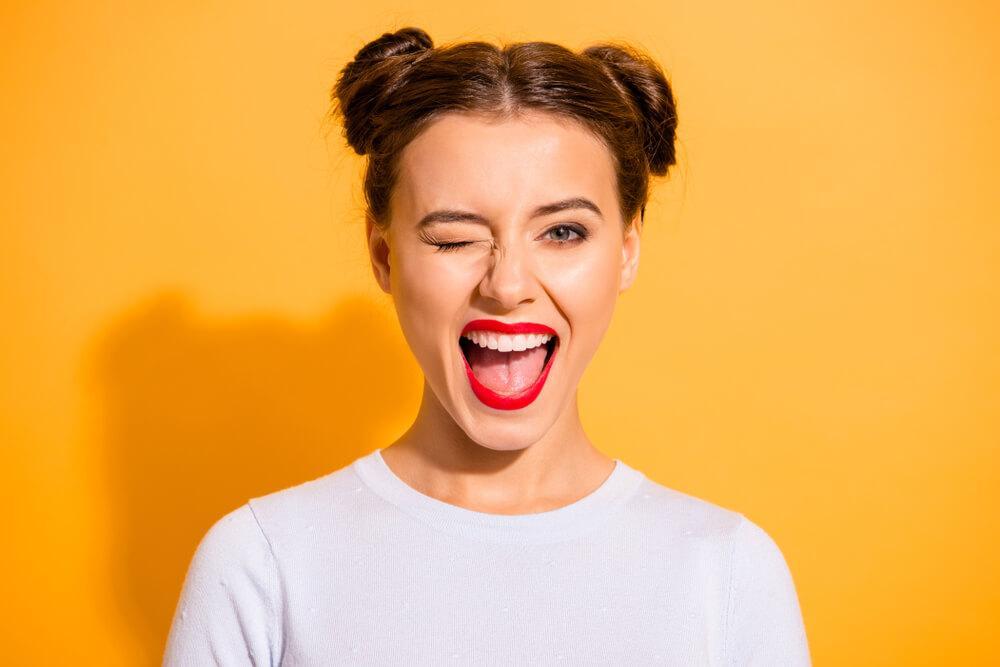 We know we've already touched on this one but when it comes to impactful makeup looks that are simple and super fast to create, a bold red lip is right at the top of our list. Whether it's your go-to or brand new idea for you, our step by step guide will show you just how easy it is to do!
Create The Look
After you've finished creating a light, even base with your foundation, BB cream or concealer, go ahead and give those brows some extra definition. 

Next, use a small amount of bronzer to define your cheekbones then pop a little cream highlight onto the apples of your cheeks and blend for that dewy glow!

Finally, slick on the boldest shade of red you dare to and define your eyes with black mascara. Your lips should be the main focus here so keeping everything else nice and minimal will make sure that happens!
Check out our blog on the Hottest Red Nail Art Designs to match your new makeup to your nails!
Blush All Over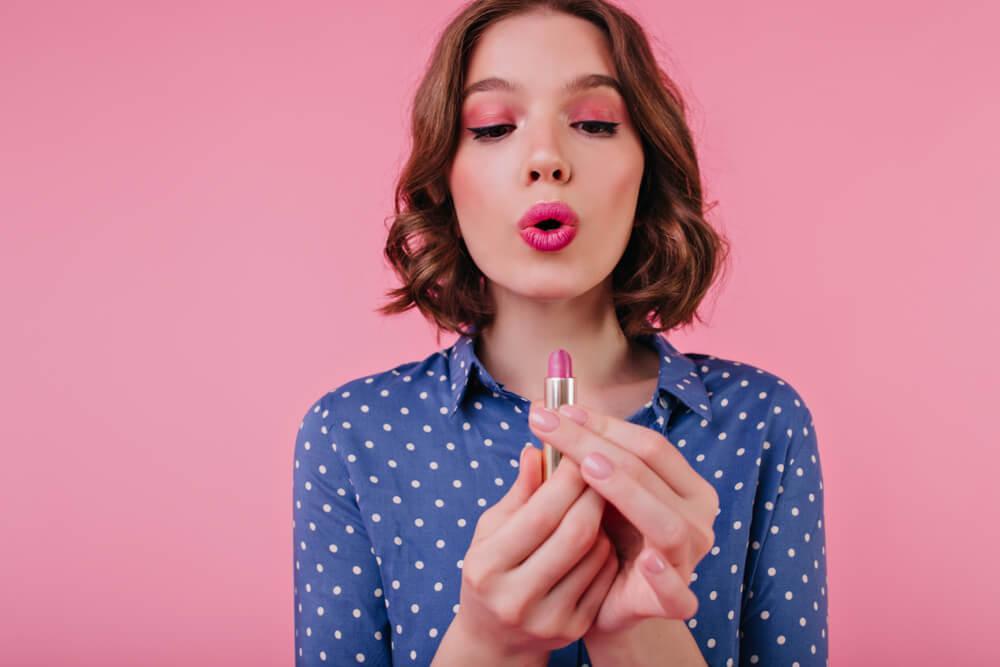 Looking for summers hottest makeup trends?
We have you covered!
Summertime is the perfect time to create sweet blush looks that resemble the beautiful floral landscapes outside. This particular look is even more ideal in that we can use just one product for every bit of color we need! 
Create The Look
We suggest using a cream blush for this look as it's most easily applied to all areas of the face!

So, with your skin freshly moisturized for that dewy appearance, take a little cream blush on your ring finger and apply it to your lids, the apples of your cheeks, and your lips. 

Now, blend! Blend the cream into your skin until you're happy with the finish, then gradually use the same color to build it up on each area of the face for a more intense look.

A trusty slick of black or brown mascara will enhance your sugary sweet hue and bring this look to life in an instant!
Tinted Lip Gloss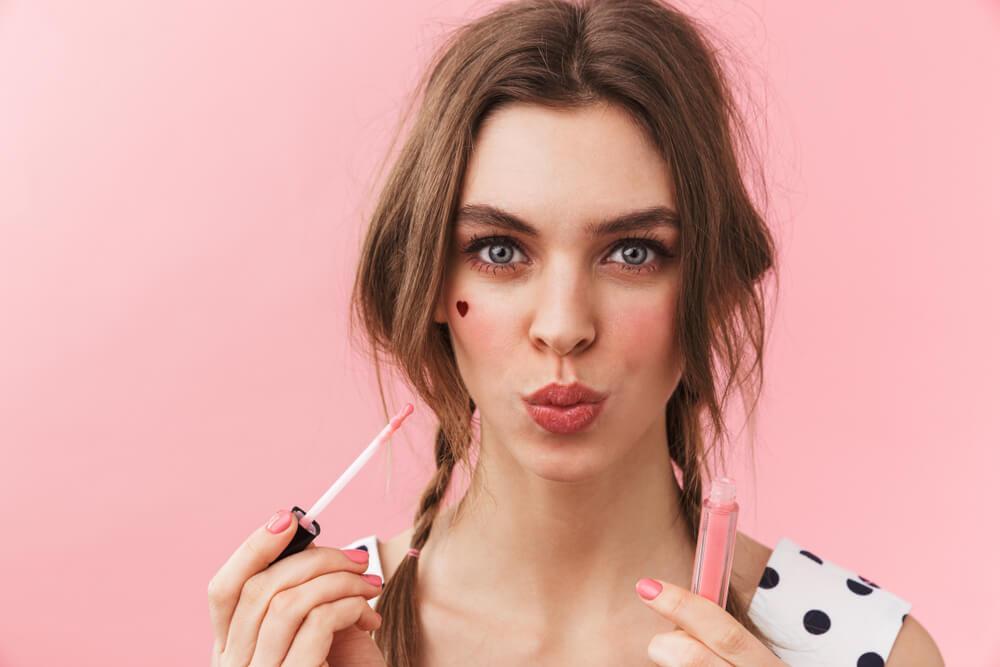 For those who love a little lip color but aren't so fond of the solid coverage lipsticks often provide, this one's for you. A tinted lip gloss will give you all the color you need whilst also being much simpler and quicker to apply! 
This one's all about enhancing the makeup look you create most days so go ahead and do your thing when it comes to your base, cheeks, and mascara (but keep things nice and simple!).

Then, apply a coat of a lightly tinted gloss to your lips to elevate what you've created! 

We also recommend using a small sweep of eyeshadow or cream in a similar shade to your chosen gloss to tie it all together! Unlike most lipsticks, a gloss will leave you with a dewy looking lips both on and off-camera. Not to mention, virtual indoor meetings mean we don't need to worry about those fly-away hairs getting stuck in our freshly applied gloss!
Barely There Makeup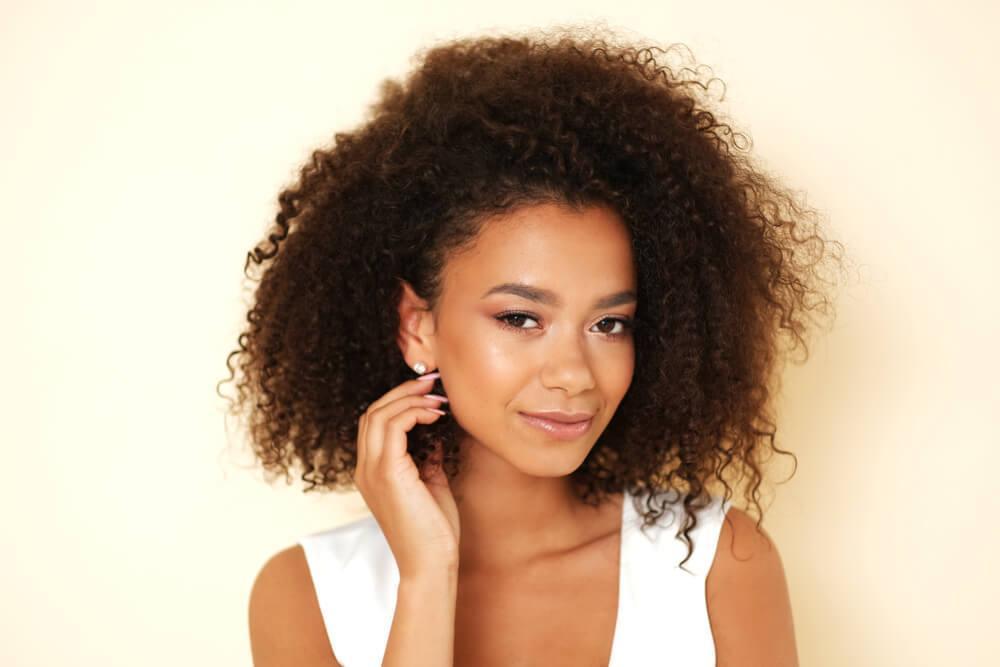 You might think there's no point in 'barely there' makeup. Afterall if the point is to make it look as though you're not really wearing any, why bother right? Wrong! Barely there looks are designed to keep you looking like your naturally beautiful self whilst elevating your features and enhancing them to perfection without any harsh tones or distractions. 
Create The Look
Firstly, this one is all about showcasing your skin and features in all of their beautiful, natural glory! Therefore, taking care of and moisturizing your skin beforehand is key. We recommend treating yourself to a mask the night before and going above and beyond with your morning skincare routine on the day you choose to create this look. 

So, starting with bare skin, apply a light layer of tinted moisturizer rather than a foundation. This will offer coverage without concealing the natural look and texture of your skin. 

Next, lightly conceal any concern areas around your eyes, nose, and chin. 

Define your brows with a pencil and use feathery sweeping motions so you can barely see you've touched them.

Now, use a light cream blush to add a small amount of color to the apples of your cheeks and use the remaining color on your finger for your lips. 

To finish off this look, we suggest a clear mascara for those with naturally defined lashes, or a light brown if your lashes are blond. And that's it! A natural look for your Zoom call that will have your friends and colleague thinking you woke up looking this fresh!